I've just uploaded G-Wizard Editor v2.2 (click link to download) with a brand new feature called "Export Hints".  It's accessed from the File Menu: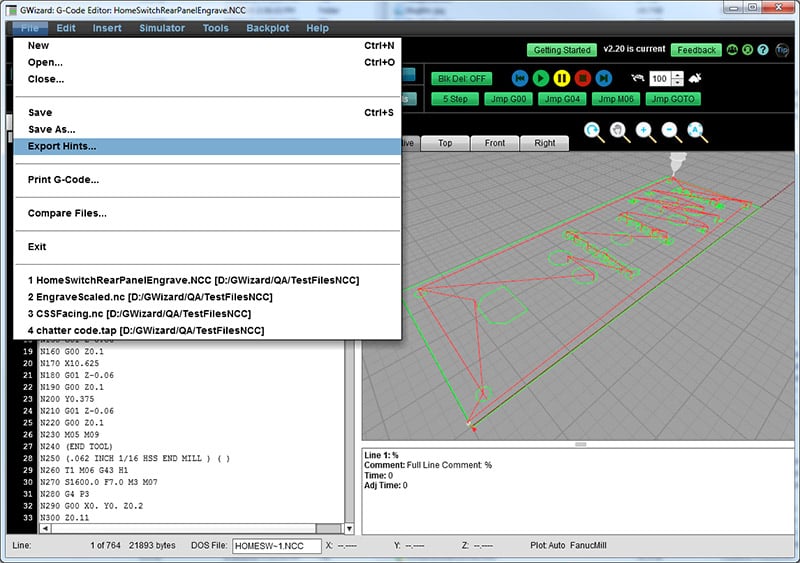 Export Hints may be found on GWE's File Menu…
Make sure you're working with a file that has been saved at least once because Export Hints wants to take the same file name, and add ".csv" to get the name of the CSV (spreadsheet) file it will save to.  When you open that file, here's what you'll see (with a touch of column width and word wrap tweaking to make it more obvious what's there):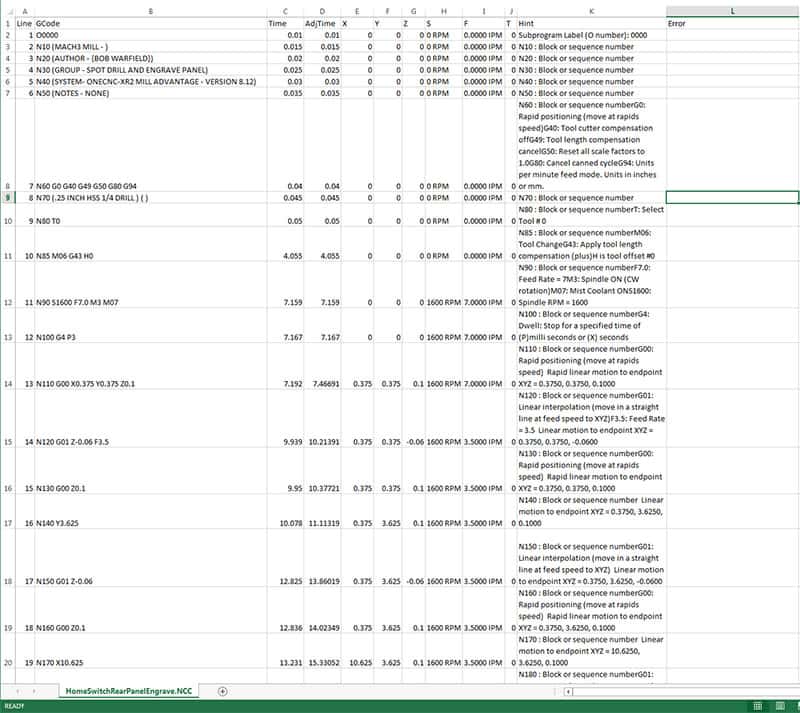 The output of Export Hints is a CSV (Spreadsheet) File…
Here in one file you get a whole bunch of useful columns that tell you:
–  The GCode line
–  GCode text
–  Time to get to the line, in seconds
–  Acceleration adjusted time to get to the line, in seconds
–  Final XYZ coordinates after executing the line
–  Speeds (S) and Feeds (F) in effect for the line
–  Tool (T) loaded for that line
–  Hint:  This is our special GCode-Explained-In-Plain-English hint seen in our Hints view.  There's tons of additional useful information in there that you could pick apart with spreadsheet formulas if you needed to.
–  Error:  Full text of any errors associated with the line of GCode
That's a lot of useful information in a spreadsheet format that makes it easy to manipulate.  Use it to print columnar reports as an aid to documenting your GCode.  Add formulas to do analysis of various kinds on the GCode.  Use it to make it easier to understand what the GCode is doing.  Give a copy to an Operator they can mark up while they watch the program run to give ideas how to improve it.
There's a lot of potential for anyone who can run a spreadsheet to do creative things with the information found here.
If you've never played with our G-Wizard Editor, be sure to check out the free 30-day trial.  It's a very unique program that can give you insights into your GCode that can't be had anywhere else.  Definitely something you'll want in your CNC digital toolkit.
Like what you read on CNCCookbook?
Join 100,000+ CNC'ers!  Get our latest blog posts delivered straight to your email inbox once a week for free. Plus, we'll give you access to some great CNC reference materials including:
Our Big List of over 200 CNC Tips and Techniques
Our Free GCode Programming Basics Course
And more!
Just enter your name and email address below:
100% Privacy: We will never Spam you!