Home Machine Shop Hall of Fame, Page 4
I've been keeping my eye peeled for notes from this fellow ever since seeing his fabulous collet chuck made from an automatic transmission planetary gear set:
Beautiful Shopmade Collet Chuck (it's in my wish list to do one for myself!)…
Here are some photos of his extremely well equipped shop which is built as a kick out on his existing garage:
The door into the shop reveals a Monarch 10EE lathe and big Cincinatti Cinel 60 mill…
The Monarch 10EE is a round dial version. These lathes are art deco gorgeous, no?
Looking back towards the entrance door you can see a second much larger Monarch lathe and a collection of tool boxes full of tooling…
Looking into the shop more deeply from the door, a Bridgeport, a Shaper, a Surface Grinder, and a lone Arbor Press…
Get a load of that huge 22″ Cincinatti Bickford drill press! That baby will handle about any drill press job you can imagine…
Here's a better view of the big Monarch Series 50 15″ x 64″ lathe…
And a Brown & Sharp Micromaster Surface Grinder…
The two mills, but you gotta love the overhead travelling crane!!!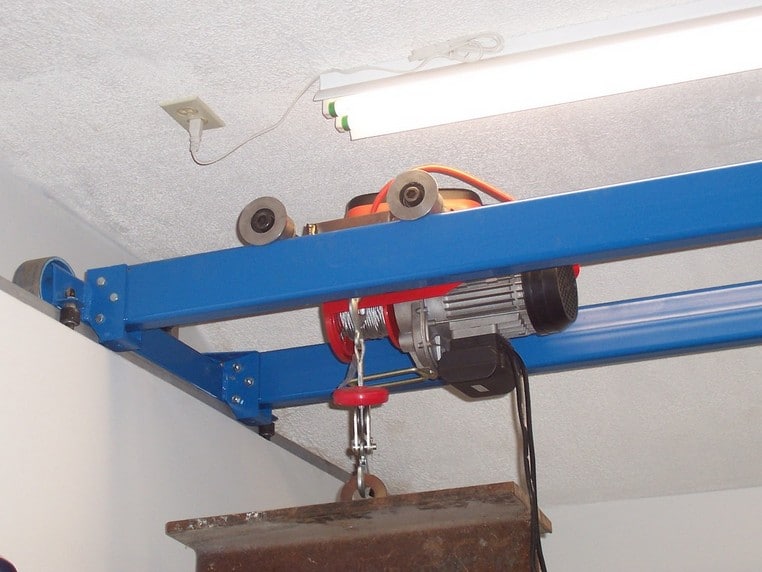 Traveller Close Up…
There's even a pro-style carrier for the power cable…
The crane is handy for lifting a 15″ rotary table. Check some of the big angle blocks on the shelves at left too…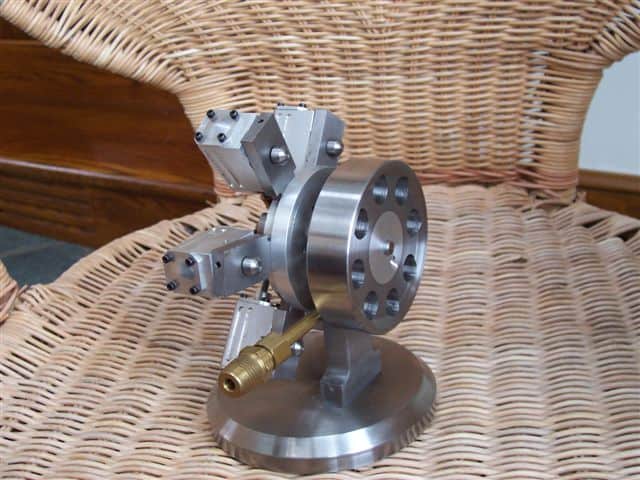 It's not all giant scale machinery, here's a Hula Hula engine J. King made in his shop…
Xtremecycle Shows What a Young Guy Can Do
Let's admit it, a lot of the home shop crowd are old guys. First, not many young fellas seem that interested in building things, and second, it can be kind of expensive to acquire the machines and tooling. I was really impressed with Xtremecycle's clean well organized shop, but especially with the custom bikes he builds there and some his tooling that he's made.
The basics: a drill press and bandsaw. These are exactly the first two machines I bought!
Nice square column mill similar to my IH mill…
Looks like a very decent lathe. Larger than my Lathemaster 9×30 I started with…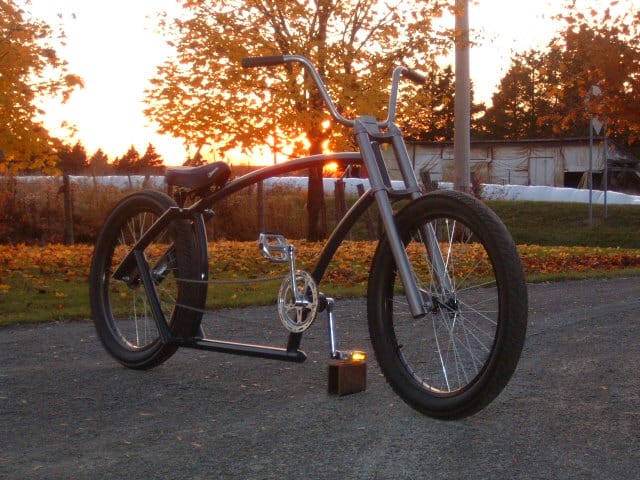 Cool bike!
Radical chopper bikes…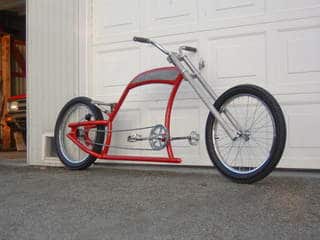 Fork brackets look really nice…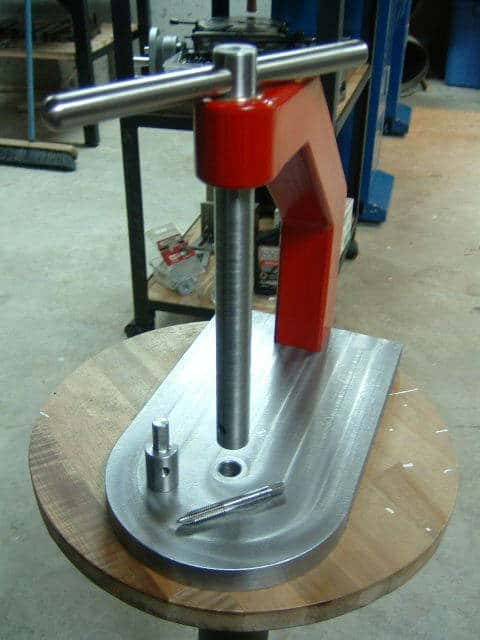 Hand Tapper is nice. I should make one similar…
This is the tube bender he uses for the bikes…
S_J_H: A Mixture of Old and New
Old school lathes…
Grinding and bandsaw…
Stock rack, arbor press, surface plate, and some counter space to work on…
New age: CNC mill and a scratch-built CNC lathe…
Like what you read on CNCCookbook?
Join 100,000+ CNC'ers!  Get our latest blog posts delivered straight to your email inbox once a week for free. Plus, we'll give you access to some great CNC reference materials including:
Our Big List of over 200 CNC Tips and Techniques
Our Free GCode Programming Basics Course
And more!
Just enter your name and email address below:
100% Privacy: We will never Spam you!
Recently updated on May 18th, 2023 at 08:02 am
Bob is responsible for the development and implementation of the popular G-Wizard CNC Software.  Bob is also the founder of CNCCookbook, the largest CNC-related blog on the Internet.