G-Wizard Thread Calculator:
Awesome New Software [Free + Advanced]
Have you had a chance to try our new Thread Calculator?  It's free during Beta Test, you just need a working trial or subscription copy of our G-Wizard Calculator.
Latest News
New Beta of G-Wizard Thread Calculator just uploaded!
The latest Beta release is contained in G-Wizard Calculator v4.15.  It adds the following:
– New Thread Family Added: Iso Metric Trapezoidal Threads.  Metric's answer to ACME threads.
– New Feature: Manual Lathe Threading Instructions.  Scroll down to see a screen shot.  One of the coolest features is the guide will tell you how many passes are needed and the cutting depth for each pass for best results.
This version of GW Calculator also includes support for a new tool type: Lollipop Cutters.
I've also created a new Getting Started Guide for Thread Calculator.
G-Wizard Thread Calculator, a new software product for CNCCookbook, is available for Beta Test.  You can download it here:
[ Download G-WIzard with G-Wizard Thread Calculator ]
Like each of our packages before, you'll be able to use it free of charge during the Beta Test.
There's just one proviso–you must have an active G-Wizard Calculator Trial or Subscription, because G-Wizard Thread Calculator is an add-on module for G-Wizard Calculator.  BTW, we also have G-Wizard Estimator in development, which is the same deal–you can use it free as long as you have an active G-Wizard Calculator Trial or Subscription.
Remember:  This is Beta Software and you will almost certainly encounter bugs.  Just report them to me via email to bob@cnccookbook.com.
What is a Thread Calculator?
Screw Threads are complex beasts.  They're based on standards that run to hundreds of pages.  We depend on screw threads to be interchangeable if we follow the proper standard correctly.  The goal of a Thread Calculator is to give you comprehesive capabilities to deal with threads:
Calculate Thread Dimensions such as Major Diameter, Minor Diameter, Pitch Diameter, and dozens of other variables that specify a thread.
How to check those dimensions, for example use the "Measure Over Wires" technique or what the dimensions should be if you want to make Go/No Go Gages.
Tell  you what the tolerances are to keep your threads within spec.
Calculate all of this for standard and non-standard sizes.
Tell you what tap drills to use for tapping an internal thread.
Print detailed reports to be used for inspection, quality control, and documentation.
Handle the largest possible variety of thread types.
A good Thread Calculator can do all this and more.  The alternative is scouring the net, finding limited tools that only perform one task such as a thread minor diameter calculator.  Or worse, finding dozens of un thread calculators, but not being able to find help for your important but obscure thread at all.
Typical software that's available today ranges from free for relatively limited calculators to over $1000 for the most sophisticated that includes support for proprietary oilfield tapered threads.
Our G-Wizard Calculator has included a Free Thread Calculator since the beginning.  We'll keep offering that, but we're also adding an Advanced Thread Calculator with features and functions that rival the high-end packages at a much more reasonable price.
If you're going to be programming a CNC for threading, you want a high quality cnc threading calculator at your disposal.
Free G-Wizard Thread Calculator
We were one of the first machinist's calculators to include threads, and our Free Thread Calculator remains one of the most feature rich.  Here is G-Wizard's Free Thread Calculator: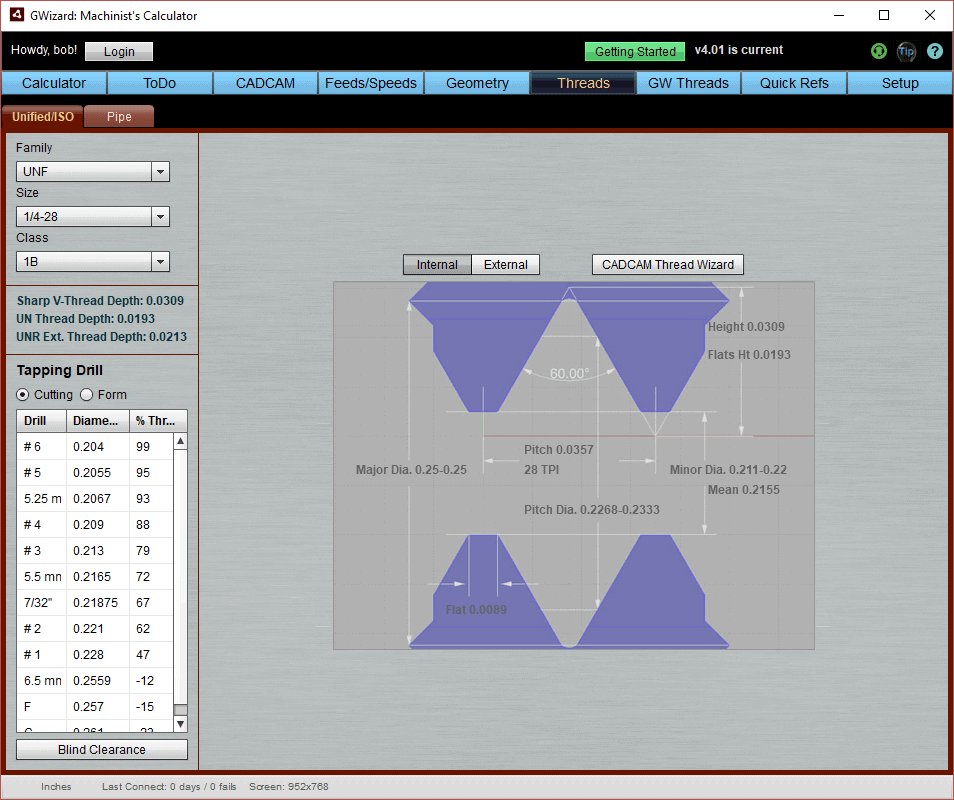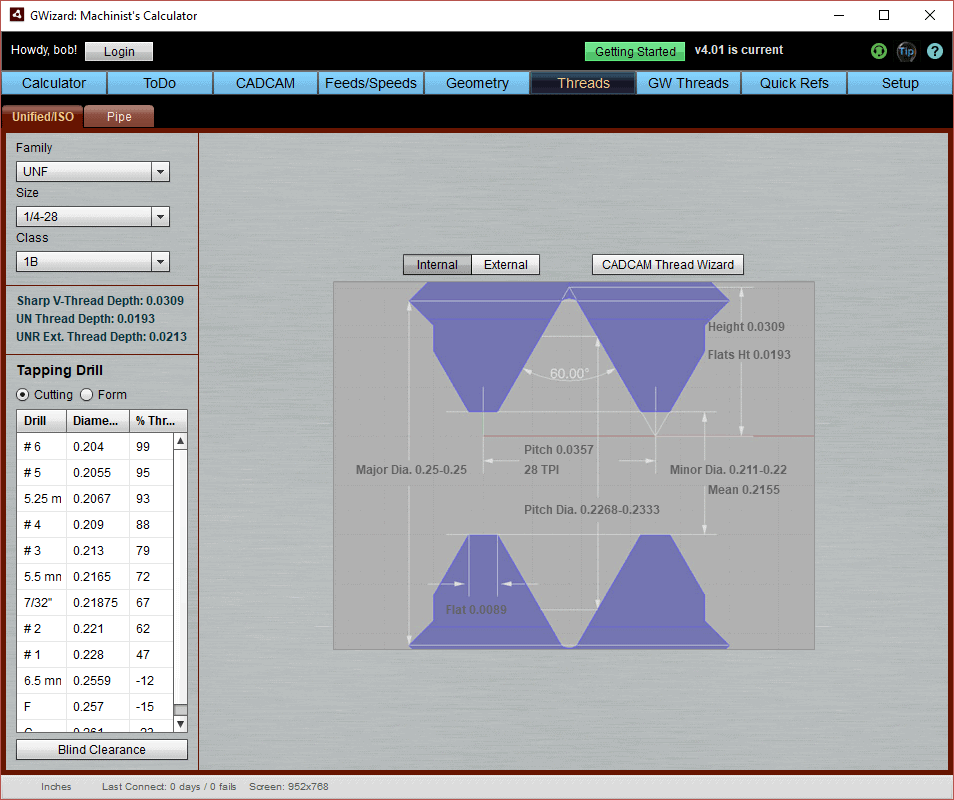 As you can see, it's a pretty nice calculator.  One of my favorite features is the Tap Drill Size chart, which helps you avoid broken taps by selecting the best drill for your application.  Even the free thread calculator has a number of excellent features:
Covers both external threads and internal threads for UN and ISO thread standards
Covers tapered external and internal threads (pipe threads) for NPT.
Key thread dimensions presented in graphical form such as pitch diameter, major diameter, minor diameter, threads per inch (or mm), thread pitch, and more.
Choose the tolerance classes.
If you just need a basic UN Thread Calculator or ISO Thread Calculator for metric users, it's hard to beat this free tool.  But, for more exotic thread families and for more features and thread information, you'll want our Advanced G-Wizard Thread Calculator.
Advanced G-Wizard Thread Calculator (New!)
The news today is our new G-Wizard Thread Calculator.  You'll notice in the screen shot above a new "GW Threads" tab in GW Calculator.  During the Beta Test, you'll be able to access the old and the new versions.  Once we roll out GW Thread Calculator, there'll be just one tab that says "Threads" if you have the free version and "GW Threads" if you've upgraded to our Advanced Thread Calculator.
Here's what the new Advanced Thread Calculator looks like for an internal thread: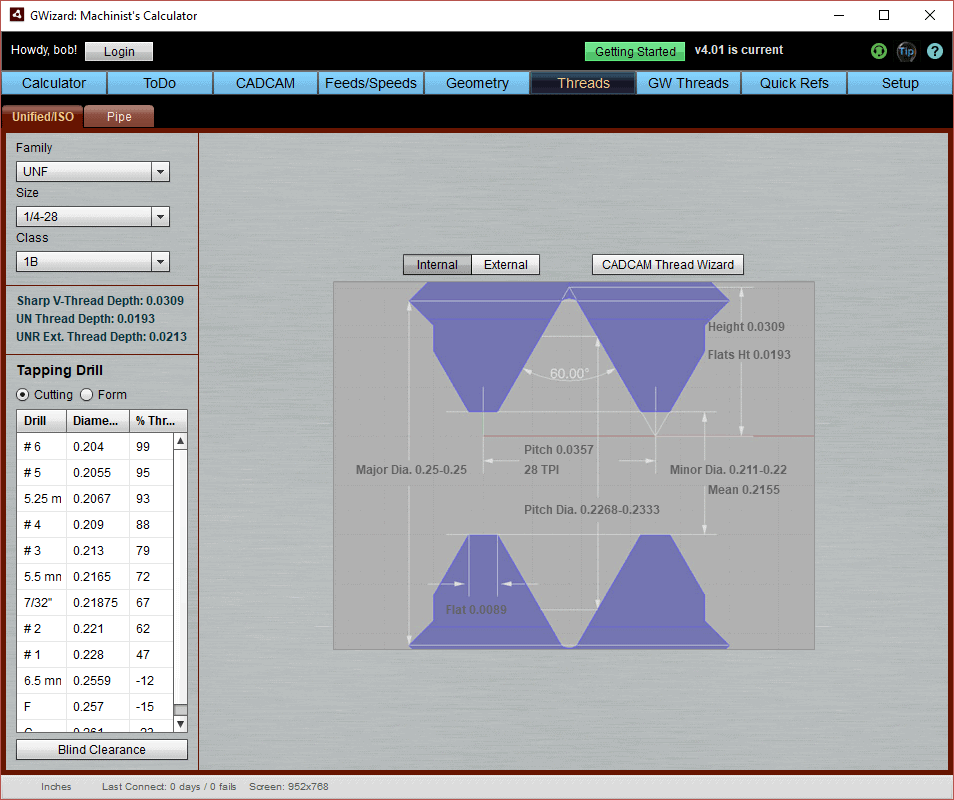 What's New?
The feature list for G-Wizard Thread Calculator is not frozen yet (see below to give us your input), but here are the major new things that are there:
More Thread Types
It goes without saying GW Thread Calculator will support a lot more thread types than our free version.  Be sure to tell us in the survey below which threads are important to you so they'll be properly prioritized.  Just as we do with all our products, we'll keep adding more thread types over time with new releases.
Custom Thread Calculator / Custom Sizes
Threads have preferred thread sizes that will appear on the Size list, but GWTC can also be a Custom Thread Calculator because it allows you to specify your own Nominal Size (diameter) and TPI (Threads per Inch or mm for metric) to get a custom thread.
Thread Measurement Over Wires Calculator
Measurement Over Wires (also called the 3 wire method) is the most common way machinists measure threads.  The method benefits from having all the parameters and information at hand in a calculator format.
Thread Dimension Chart / Report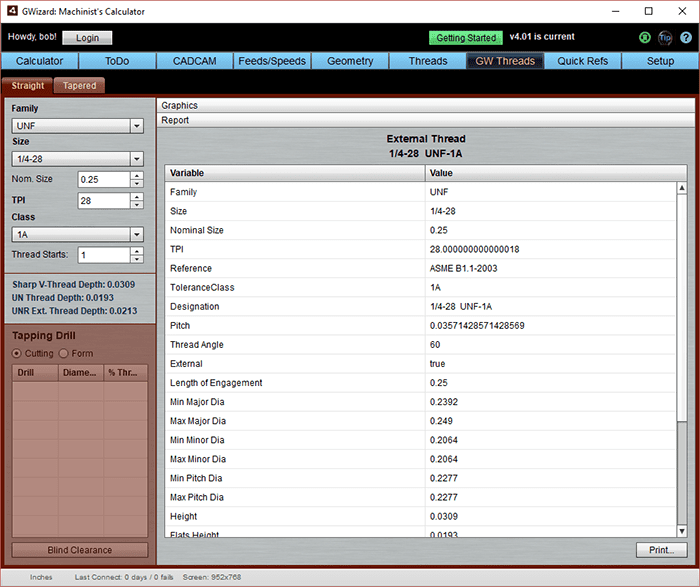 It's often important to print reports that contain all the details of a thread.  Whether you want a graphical view of the most important dimensions, a quick reference chart of all the details, or a printed report, GWTC has you covered.
Pluggable Standards-Based Engine Architecture
The biggest change from our old Free Thread Calculator is the completely new Pluggable Standards-Based Thread Engines.  Our Free Thread Calculator was built on a database approach.  All the key values were there so very little calculation was needed.  The new G-Wizard Thread Calculator is based on a calculated approach.  It uses the same formulas described in the thread standards, such as ASME B1.1-2003 for UN threads.
This accomplishes several things.  One, it makes it possible to calculate threads based on arbitrary combinations of Nominal Size and Threads Per Inch.  Second, it makes it easier for us to add large numbers of new threads over time, including much more exotic threads.
Thread Families Supported by G-Wizard Thread Calculator
Thread Family

Standard

Sizes

Free Thread Families included with G-WIzard
808 Sizes

 Unified National: UN, UNC, UNF, UNEF, UNS
 ANSI/ASME B1.1-2003

 371

GW Thread Calculator allows Custom diameter and TPI

 ISO Metric M, Coarse and Fine

 ASME B1.13-2005

(metric thread)

437

GW Thread Calculator allows Custom diameter and TPI

Premium Thread Families added by G-Wizard Thread Calculator

 UNM – Miniature Thread Sizes for Watchmaking and similar applications
 ASME B1.10
 14
 UN STI – Screw Thread inserts such as Helicoil.  UNC and UNF sizes.
 ASME B18.29.1-2010
 43
 ISO STI – Screw Thread inserts such as Helicoil.  Coarse and Fine sizes.
 ASME B1.13M-2005
 44
 Pg (Panzergewinde) Conduit Threads
 DIN 40430
 10
 UNJ – Aerospace Thread.  UNJC, UNJF, and UNJEF Sizes
 SAE AS8879-D

 82

Plus Custom diameter and TPI combinations

Metric MJ – Aerospace Thread.

 B1.21M-1997

(metric thread)

157

Plus Custom diameter and Pitch combinations

British Standard Whitworth (BSW)
 British Standard Whitworth (BSW)

19

Plus Custom diameter and TPI combinations

British Standard Whitworth Fine (BSF)
British Standard Whitworth (BSW)

16

Plus Custom diameter and TPI combinations

British Association (BA)
 BS 98:2008
17
 ISO Metric Trapezoidal Threads

ISO 2904 – 1977

(metric thread)

 378

Plus Custom diameter and TPI combinations

 
 
 
Manual Lathe Guides
Manual Lathe Guides give you step-by-step instructions for how to cut whatever thread you've selected.  Here's what they look like: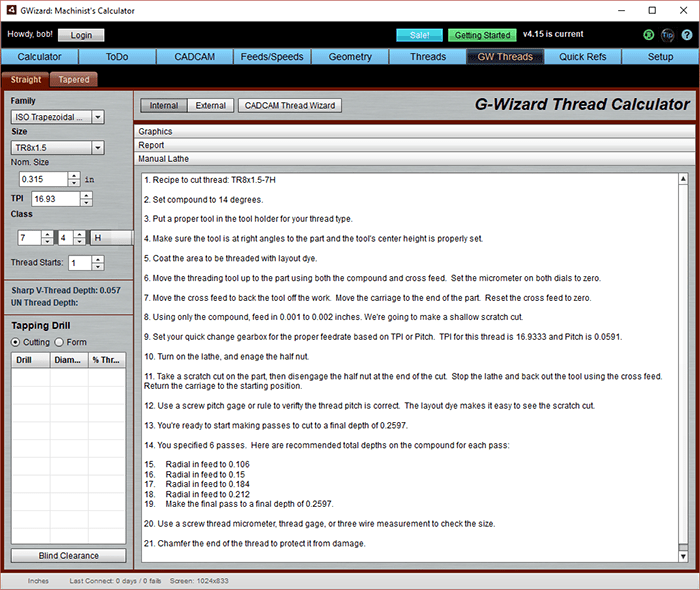 One thing that's really cool about them is they tell exactly how many passes need to be made and the depth of cut for each pass.
Tell Me More
You can learn more by trying G-Wizard Thread Calculator or by checking out the Getting Started Guide for the product.
What Will it Cost?
G-Wizard Thread Calculator will be a one-time purchase (no subscription needed) that acts as an upgrade for your G-Wizard Calculator.  You make the purchase and you're done.  Like all G-Wizard Software, all updates and support are yours for life at no additional charge.  As you'd expect, existing G-WIzard Calculator customers will get a sweetheart deal to add GW Thread Calculator.  Expect GW Thread Calculator to be one of the most cost-effective premium solutions in the market.
We'll announce the pricing when we're ready to start charging for GW Thread Calculator.  Meanwhile, enjoy it free of charge.
How Do I Get It?
This is a beta test so I can gather your feedback.  I don't expect the beta test to take long, so don't miss out on the free period.  There's been a lot of progress already, and I want to ship the product as soon as I'm convinced it fits your needs and is working properly.
To get G-Wizard Thread Calculator, all you need is a working copy of G-Wizard Calculator.  Once you've downloaded the latest GW Calculator, click the "GW Threads" tab to access GW Thread Calculator.
I'll report on Thread Calculator progress on this blog, so be sure you're subscribed for updates.  Just scroll down to the subscription form below.
Much more to come!
Improve My Feeds and Speeds For
Like what you read on CNCCookbook?
Join 100,000+ CNC'ers!  Get our latest blog posts delivered straight to your email inbox once a week for free. Plus, we'll give you access to some great CNC reference materials including:
Our Big List of over 200 CNC Tips and Techniques
Our Free GCode Programming Basics Course
And more!
Just enter your name and email address below:
100% Privacy: We will never Spam you!