Feed Rate and Speed Calculator
This is a simple online Feeds and Speeds Calculator that uses the classic formulas taught in shop class.
Hint: Keep scrolling to see a more powerful alternative!
Spindle Speed Calculator
Tool Diameter

inches
Surface Speed:

SFM (see table below for SFM values)
Spindle Speed:

RPM
Spindle RPM Formula = (12 * SurfacceSpeed) / (PI * CutterDiameter)
Feed Rate Calculator
Spindle Speed:

RPM
Feed/Tooth (Chipload):

IPT (inches / tooth)
Number of Flutes (Teeth):

Feed Rate:

IPM (inches / minute)
Feed Rate Formula = Chipload * NumberFlutes * RPM
Milling Surface Speeds for HSS End Mills

Material

Surface Speed (SFM)

Aluminum – Wrought (6061)
250
Brass
200
Cast Iron – Ductile
90
Cast Iron – Gray
100
Copper Alloy – Wrought
120
Magnesium Alloy
250
Stainless Steel
30
Steel – Mild
110
Steel – Hard Alloy
60
Steel – Tool
60
Drilling Surface Speeds for HSS Twist Drills

Material

Surface Speed (SFM)

Aluminum – Wrought (6061)
250
Brass
200
Cast Iron – Ductile
80
Cast Iron – Gray
120
Copper Alloy – Wrought
70
Magnesium Alloy
250
Stainless Steel
30
Steel – Mild
110
Steel – Hard Alloy
60
Steel – Tool
60
Milling Chiploads for HSS End Mills

Material

Chipload (IPT)

Aluminum – Wrought (6061)
0.005 – 0.010
Brass
0.005 – 0.010
Cast Iron – Ductile
0.004 – 0.008
Cast Iron – Gray
0.002 – 0.006
Copper Alloy – Wrought
0.004 – 0.008
Magnesium Alloy
0.005 – 0.010
Stainless Steel
0.002 – 0.006
Steel – Mild
0.002 – 0.010
Steel – Hard Alloy
0.002 – 0.006
Steel – Tool
0.002 – 0.006

Note: Chipload should be adjusted for tool diameter. Smaller tools tolerate much lower chip loads! You can look this up in the manufacturer's catalog, or we can help.
Hang on: You Deserve Better!
This simple calculator uses the same formulas taught in shop class since before World War 2.  The truth is, you can do better than those over simplified calculations.
Old School Feeds and Speeds…
There are a LOT of things it doesn't account for. Here are just a few:
– Rubbing: If you go too slow it's actually terrible for your tool life because of Rubbing.
– Chip Thinning: Taking light cuts can also be very bad for your tool life.
– Alloys and Conditions: There are tens of thousands of alloys out there in varying degrees of hardness. Feeds and Speeds should be fine tuned to account for this.
– Modern CNC and CAM Software: HIgh speed tool paths, helical interpolation, ramping–there's so much that's different than just spinning handwheels on a Bridgeport Mill or Southbend Lathe.
– Roughing versus Finishing: You want to slant your cut to what you're trying to accomplish.
– Tooling: The homely HSS end mill did it's duty, but now there's carbide, all kinds of coatings, variable flute geometries, and more, so much more. There are many other kinds of cutters too–corner rounders, chamfer tools, taps of various kinds, serrated roughers–hey don't get me started. Each one needs it's own special feeds and speeds.
– Micro-Milling: Are you working with small cutters? Less than 1/8″ in diameter? The physics are different down there, and your feeds and speeds should be adjusted to account for that.
– Machine: Your feeds and speeds calculations should be tuned for the needs of your machine–large, small, router, mill, or lathe.
Listen, that's just scratching the surface. The point is, a few simple formulas won't really do it in the modern world.
What did your end mill cost you? $20? $50? More?
What about the part you're working on–what's it worth?
Then there's your time. It has value. Even if you're a hobbyist, because hobbyists never have enough time to finish all the things they'd like to do.
There's help for all this. You need a Modern Feeds and Speeds Calculator, not a free simpleton, but something that will cover all these bases and will save you time and money. And something that's not going to break the bank, even for hobbyists.
You Need G-Wizard Speeds and Feeds Calculator
It took years, we analyzed data from over 250 tooling catalogs,
we built a powerful cutting physics engine with advanced algorithms
that consider almost 60 different variables,
and we worked with over 50,000 CNC'ers
like yourself to make sure you'd have
Better Tool Life, Surface Finish, and MRR with G-Wizard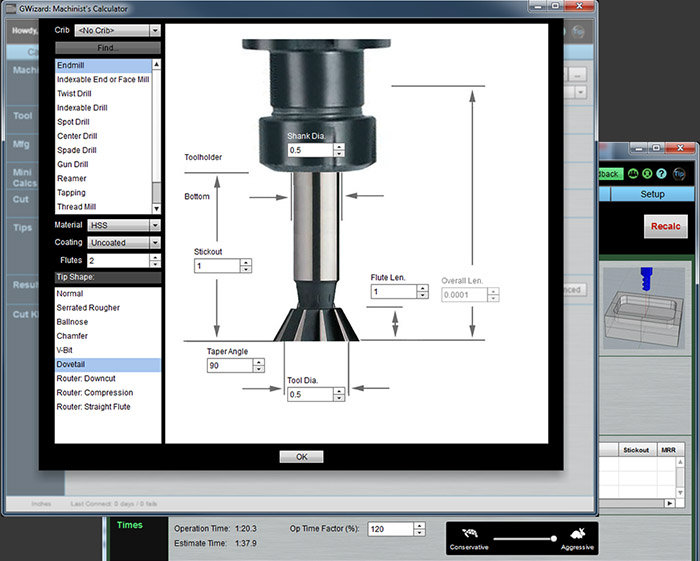 Master your Speeds and Feeds the easy way with G-Wizard.
"I've been asking for this for 30 years from the CAM guys. This program is the 'go-to' source for feeds and speeds" Ed
How much do you spend on cutters in a year? If each one lasted 56% longer, you'd save 56% of that. Plus what's the value of your time saved and time saved on jobs?
G-Wizard pays for itself very quickly–you'll see in the 30-day Free Trial.
G-Wizard Speeds and Feeds Calculator
Mill Features:
Get Speeds and Feeds in seconds

Getting good Speeds and Feeds is quick and easy: Fill in the blanks left to right, top to bottom and
G-Wizard instantly returns the best
Speeds and Feeds. Super simple for Beginners, powerful and flexible for Pros. Plus, the best training materials anywhere free with the product.
Figure the Best Cut Width and Cut Depth

How do you know when you've got the best Cut Depth and Cut Width? These two parameters matter more than almost any other for best Speeds and Feeds.

G-Wizard will find the best combination to keep tool deflection under control while maximizing Material Removal Rate. No other software can.
Adjusts to Your Needs

Are you looking to maximize tool life or material removal rates? Do you have a small CNC machine or a big industrial machine? Are you trying to hog out a bunch of chips or achieve the best possible surface finish?

G-Wizard makes it easy to dial in
exactly
the results you are looking for.
CADCAM Wizards: An Expert in the Box

How often do you get to experiment with hundreds of different feed and speed combinations to find the best one for your job?

CADCAM Wizards will do that for you automatically in a matter of seconds and without asking too many questions. It's like having a machining expert sitting at your shoulder telling you the right combination for the win–another G-Wizard first!
Extensive Tool Crib & Tool Coverage

G-Wizard Calculator handles more different kinds of tooling than any other Speeds and Feeds Calculator.

Import and Export tables from CSV files, use Manufacturer's Recommended Data, define tool geometry, and use dozens of tool types for Mills, Routers (special router cutters handled) and Lathes.
Geometry, Threads and More

Why leaf through old-style handbooks when you can have interactive calculators at your fingertips?

Bolt Circles, Trig, Chords, Thread Database, Fastener Dimensions, and much more. There's even a Turner's Cube calculator!

G-Wizard isn't just Speeds and Feeds, it has the most comprehensive reference resources available in any software package.
G-Wizard works for Mills, Lathes, and Routers.
Learn what G-Wizard Speeds and Feeds Calculator can do for you
Screenshots, feature descriptions, and more
"I'm in my 27th year and seen my share of 'machinist aid' software and this BY FAR packs the most punch for the dollar. Shop owners would be fools not having a copy." Michael
"I'm a total Newbie on hobby mill and had the crazy idea to jump right in on some plasma cut hardened steel. WOW! I did it and could not have done it without G-Wizard. I completed our very first EVER customer part in about 1 hour." Jeffrey
"I am amazed at all the data that is available when using the G-Wizard. I've been in the business for 43 years and sure wish something like this was around back in the day." Michael
See what else people are saying about G-Wizard
Over 60,000 machinists from hundreds of companies
have used our software. We hope you will too.

Our frustration free software is guaranteed to make your Speeds and Feeds easier
Here you can create the content that will be used within the module.