G-Wizard Tool Crib Software: Tool Management and Tool Tracker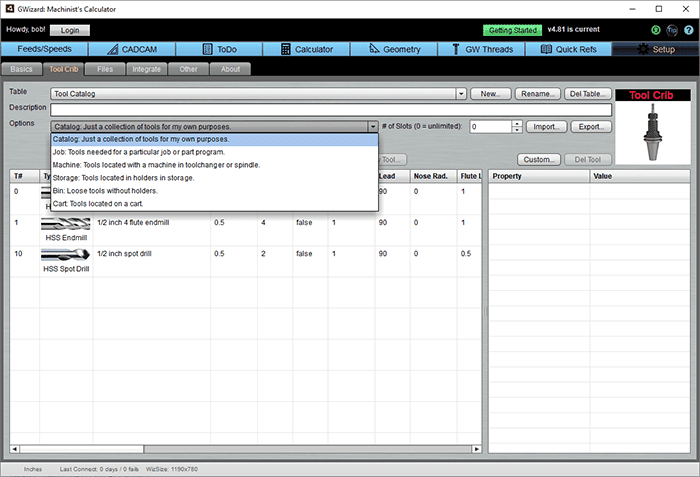 Have you had a chance to try our new Tool Tracker and Tool Management software?  It's free during Beta Test, you just need a working trial or subscription copy of our G-Wizard Calculator.
Latest News
New Beta of G-Wizard Tool Crib just uploaded!
The latest Beta release is contained in G-Wizard Calculator.
Like each of our packages before, you'll be able to use it free of charge during the Beta Test.
There's just one proviso–you must have an active G-Wizard Calculator Trial or Subscription, because G-Wizard Thread Calculator is an add-on module for G-Wizard Calculator.  BTW, we also have G-Wizard Estimator in development, which is the same deal–you can use it free as long as you have an active G-Wizard Calculator Trial or Subscription.
Remember:  This is Beta Software and you will almost certainly encounter bugs.  Just report them to me via email to bob@cnccookbook.com.
What is G-Wizard Tool Crib?
It's a Tool Tracker and Tool Management software.
A Tool Crib is a place to efficiently store, and control specialty tooling like cutters, toolholders, gages, and fixtures.  G-Wizard Tool Crib is designed to help you efficiently manage and control your specialty tooling.
In its finished form, G-Wizard Tool Crib will help you to efficiently solve the following kinds of problems:
Tool Tracking:  Where is my XYZ tool?  Who had it last?  Where is it being stored?
Tool Management / Tool Inventory:  Do I have enough of the right kinds of cutters to do the jobs I have coming up?  When should I reorder, what should I reorder, and how many should I reorder?
Tool Cost Analysis:  How can I assign tool costs to the proper jobs?
Tool Life:  How long are these tools lasting?  Which tools are giving me the best value based on MRR vs Tool Life vs cost of the tool?
Tool Setup:  What's the minimum number of tools I need to change on that machine to be able to run this job?  How do I make sure the right tools are in the machine to run a particular job?
Tool Selection:  How can I be sure the tools selected by our CNC Programmers are the ones we want them to use?
Tool Maintenance:  How can I be sure tools get resharpened, repaired, or have the correct inserts installed?
While individual tooling may be inexpensive, the total investment in consumables, fixturing, dies, molds, gages, and so on can represent up to one thrid of your manufacturing investment.  Being in complete control of these assets can make you hugely more productive and profitable if you're running a business.