Conversational CNC is design to make simple work simple.  The idea is to make it quick and easy to produce g-code for simple tasks–quicker and easier than having to do a CAD drawing and run your CAM software. Instead, you just answer a few questions in the Conversational Wizard and it'll generate the code right away.
Conversational CNC makes it super fast and easy to do simple parts just like you would manual machining.  In fact, you'll be able to do a lot of things much more quickly with Conversational CNC than you ever could manual machining and all without ever starting your CAD or CAM software.  We think this capability is so useful and important that we include it free of charge with every copy of G-Wizard Editor we sell.  The combination of a great g-code editor, simulator, and Conversational CNC is a real productivity booster to have in  your CNC toolbox.
To use a Conversational CNC Wizard, you select it from a graphical menu: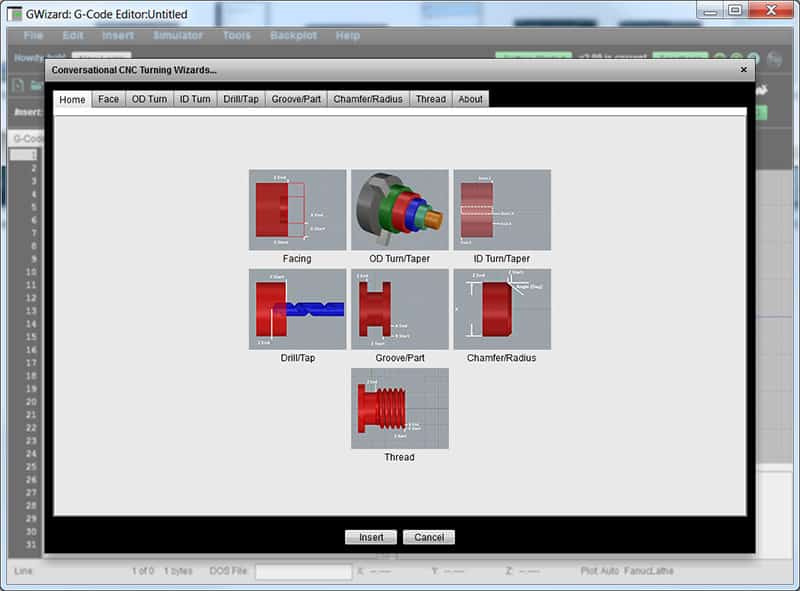 Graphical menu for Conversational CNC Wizards for Turning and Lathes…
There is an alternate menu for milling operations.
Let's take a look at the Conversational CNC OD Taper Wizard: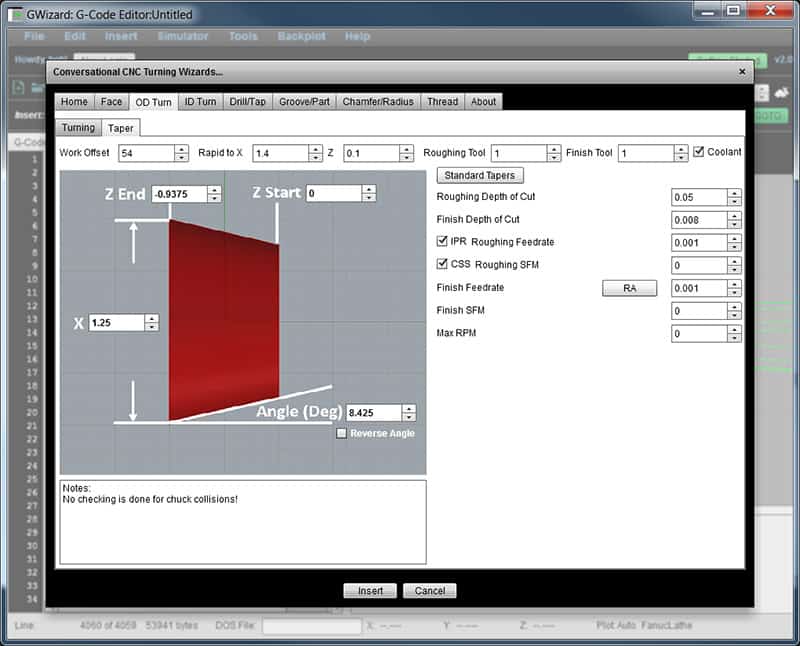 Conversational CNC OD Taper Wizard…
You can cut any arbitrary OD Taper with the Wizard, but the "Standard Tapers" button also gives you a long list of standarized tapers to choose from.  Pick everything from a CAT40 to an ER Collet taper and it'll fill in the blanks for you.  All the Wizards are just simple fill-in-the-blank forms.  Just go left to right, top to bottom, until you have it all filled out, press the "Insert" button at the bottom, and the g-code is automatically generated.
Here's a video from our G-Wizard University series that shows the whole process for the OD Taper Wizard, start to finish:
[youtube width="800″ height="540″]http://www.youtube.com/watch?v=27e3P2P6V0U[/youtube]
We've been adding a new Conversational CNC Wizard each week to the Editor.  Next week, we'll go through the ID Turning (Boring) Wizard.
Like what you read on CNCCookbook?
Join 100,000+ CNC'ers!  Get our latest blog posts delivered straight to your email inbox once a week for free. Plus, we'll give you access to some great CNC reference materials including:
Our Big List of over 200 CNC Tips and Techniques
Our Free GCode Programming Basics Course
And more!
Just enter your name and email address below:
100% Privacy: We will never Spam you!