Many believe that Apple's incredible success is due to its Vertical Integration Strategy.  The idea behind Vertical Integration is that by owning more of parts needed to create a complete solution its possible to make a much better solution.  Apple makes the hardware, the operating system, and many of the critical productivity apps in its products.  By contrast, Microsoft, Intel, PC Manufacturers, and Windows Software Makers all have to work together by loose (and sometimes factious) collaboration to produce an end result.  The latter situation is where we find CNC today.  It's actually not a bad thing at all for industrial users.  They're power users who want to be able to mix and match a solution to fit their needs.  Apple is not very strong in the equivalent PC Server market, despite having tried several times to gain penetration.  Where Vertical Integration matters is where maximum ease of use is needed, not where maximum power is needed, and Desktop CNC is exactly where such a difference will matter.
We've seen an increasing number of machines appear on Kickstarter and elsewhere as the market struggles to crack open the Desktop CNC Market.  There are some great solutions out there, with Tormach being perhaps the leader of the pack.  Their machines are not Desktop though, and are perhaps borderline too expensive for the broadest of markets.  What's left has been a gaggle of machines, many of them lightweight routers.  No one company makes both the software and the hardware, nor have they integrated all that to make a significantly easier machine.  Until now, at least that's the vision behind Carbide 3D"s (the company) Nomad (the machine).
I've been a believer in MeshCAM for a long time as being the easiest entry-level CAM package available for beginners.  It doesn't try to be all things to all people.  What it tries to do (and succeeds at brilliantly) is to be as simple as possible to use.  When MeshCAM author Robert Grzesek told me he was working on a complete solution from CAM through to a machine, I was intrigued.  Carbide 3D has just launched the Kickstarter program for their machine literally yesterday, and they've already reached their modest goal, so this machine will be a reality.  They've thought hard about how to simplify CNC for beginners, and the new machine shows it with a fully integrated software suite, built-in tool height sensor, and more.  I'll let Robert tell the story in his own words via this Guest Post, rather than steal his thunder.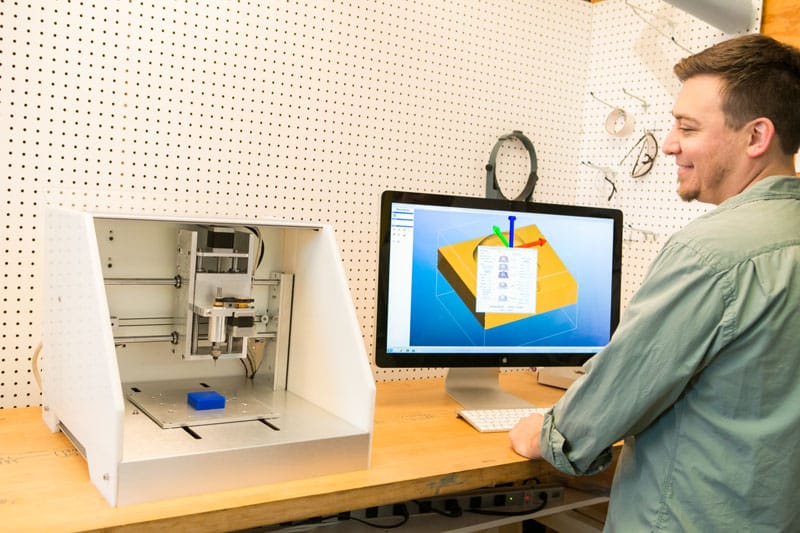 Hi – I'm Rob Grzesek, founder of GRZ Software, a CAM software company, and lately a co-founder of Carbide 3D, a desktop CNC manufacturer.
It's hard to read any tech news without coming across another article about 3D printing and how it'll change the world.  I don't know about you, but I've had more than one non-technical neighbor come up to me and ask about 3D printing and how it'll change things (or tell me how it'll change things).
Let me say up front that I love 3D printing and that I've owned an industrial-grade machine for years.  It really feels like magic each time I use it.
In the end though it's just another tool in the toolbox.  For all of the benefits, there are a number of built-in drawbacks:
1)     Material selection is limited.  For a given machine, you have very few material choices
2)     The process doesn't scale.  There's endless talk about 3D printing democratizing manufacturing but it won't.  It'll make prototyping and engineering easier but making 100 parts in a 3D printer takes 100 times the cost and time of a single part.  There's no economies of scale and no way to make the underlying process dramatically quicker.  It will never compete with injection molding.
3)     Accuracy is not great.  If you have two parts that need to fit together then you need to modify them to to account for the lack of accuracy in the 3D printing process (This is not as true for the very high-end machines)  I regularly have to shift parts by .3 to .5mm to get a proper fit.
In spite of the flaws, 3D printing has captured the imagination of a lot of people who were never deeply immersed in manufacturing before.  Interestingly, those flaws mirror some of the benefits of CNC machining.  The big problem with CNC machines is that they're intimidating on a number of levels:
1)     The machines are far from ready-to-run.  You've got to buy CAM software, G-Wizard (of course), cutters, fixtures, and then know how to use all of it.
2)     Job setup is a pain.  Figuring out how to hold stock is tough- figuring out how to maintain alignment for multiple setups is even tougher.
3)     They make a mess so they're generally not suited for environments that can take a 3D printer
Being a CAM software developer, I've always been a huge believer in CNC milling in spite of these flaws.  If you're here on CNC Cookbook then you're probably a believer too.
For CNC to get broader media coverage and adoption by a wider audience there needs to be a new class of machine and a new level of integration between software and hardware.  Current machines are too intimidating for "normal people".
For our part, we've been working on a first step to bring CNC machining to a wider audience.  We've just launched The Nomad on Kickstarter[ https://www.kickstarter.com/projects/178590870/the-nomad-cnc-mill ]- a ready-to-run desktop milling machine.  In particular, we focused on the following:
1)     Making it totally ready to run- all software is included for Mac and Windows, fixtures, cutters and materials are included to get new users up and running quickly.
2)     A full enclosure.  People we talked to were turned off by the mess of traditional machines.  We even made the enclosure available in HDPE or bamboo to make the whole machine more attractive to users who will keep it in their office or home instead of their garage or shop.
3)     As much automation as possible.  We made sure to include homing, tool length setting, and factory calibration to make sure we eliminate a lot of the tedium of CNC setup.
We believe that CNC milling is a hugely underrated technology, and that a product like this will help bring it to a new group of people who would be scared off by traditional CNC machine.
You can follow us on Kickstarter or at carbide3d.com to see if we pull it off.
We're fairly sure that there will be lots of new entrants into this category and we're hoping that more people will mean more exposure for CNC.
PS, I'm sure Robert will monitor this post, so please ask any questions you may have for him in the comments section.  And do check out the Kickstarter link.  There are a ton more pictures.  The ones of work done on the Nomad are especially interesting.  
We Robert and Carbide 3D the best of luck bringing CNC to a broader audience with Nomad.
Like what you read on CNCCookbook?
Join 100,000+ CNC'ers!  Get our latest blog posts delivered straight to your email inbox once a week for free. Plus, we'll give you access to some great CNC reference materials including:
Our Big List of over 200 CNC Tips and Techniques
Our Free GCode Programming Basics Course
And more!
Just enter your name and email address below:
100% Privacy: We will never Spam you!