What would the perfect July 4th CNC Story look like?
Of course it has to involve CNC, but I think also a story of hope, possibility, and potential would work. A story about how you can still succeed and win big manufacturing products in the USA also goes hand in hand with the Fourth of July. Finally, a story that starts from some adversity that would stop a lot of folks from even trying. Those are the ingredients I'd choose.
You couldn't ask for a better fit than the story of Colin Wayne, a 28-year old disabled vet who has made it big with his CNC business, Redline Steel. He's been written up in Forbes, Entrepreneur, and dozens of other places because his story is an awesome one, even when it isn't the Fourth of July.
HIs rugged good looks certainly haven't hurt his success, but there's a lot more to Colin Wayne and Redline Steel than a pretty face, and I'd like to tell his story for CNCCookbook's audience. Hopefully it will inspire you as much as it did me.
High School Dropout to Military Policeman
Colin was raised by a single mother and emancipated from her at the tender age of 16. He dropped out of High School and joined the Army as a Military Policeman by age 17. Hey, makes me think of the movie character Jack Reacher, played by Tom Cruise.
He earned his GED and served in combat in Iraq and Afghanistan. As a result, Wayne rose through the ranks to SSG/E6.
Disabled Veteran
In 2012, while working as a Department of Defense contractor in Afghanistan, Wayne was wounded by an enemy rocket that hit just 3 feet from where he was working out at a gym. It sent shrapnel tearing through his leg, stomach and arms. He was left with permanent nerve damage. The doctors were frankly amazed that he had survived at all.
The comeback from that near-death experience required 6 months of intensive physical therapy, but Wayne was no stranger to the gym.
"I started working out in 2009 at Fort Worth, Texas, right before I went to Iraq. I was like 150 pounds soaking wet," he said. At 6 feet, 2 inches tall " I was like a walking stickman."
Body Builder and Model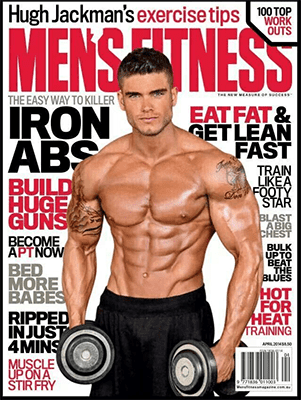 Wayne got his first modeling job with FuriousFotog in 2013 while transition out of the military. Within 30 days of taking photos he had gotten about 100,000 followers on social media. He became a "social media influencer" for nutritional supplement companies for more than two years.
The experience was his introduction to the power of Social Media for marketing:
"I acquired multiple six-figure contracts through digital marketing, and I learned very fast that this is something people need to take heed of," Erwin said. "If contracts are willing to pay so high for social influencers, imagine what they're making off of me."
To date, he has appeared on 50 magazine covers, and it is his modeling success that really helped him land so many Social Media followers.
Redline Steel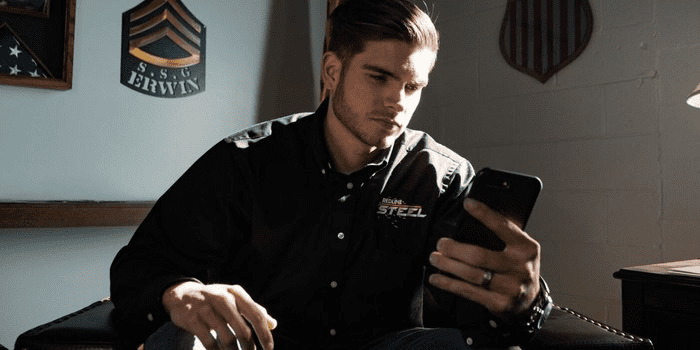 Wayne's latest venture is Redline Steel. In fact, you might call Redline his total obsession. His vision is to disrupt the entire Home Décor space to the point where he sells more Home Decor than even Amazon. He started Redline in 2016, is on track to gross $30 million just 2 years later in 2018, and says Redline will be a $1 Billion company in 5 years from now.
That's rocket ship growth!
He believes that in the digital era, you must sell directly to customers online, just like Amazon. But, he's not leaving it strictly digital. He has a Bricks and Mortar retail franchise he's building too, and the first store will open in Huntsville in Summer 2018.
It's no small vision, but he goes at it with laser-like focus and he's making rapid progress.
How Did Colin Wayne Build Redline Steel?
It Started With a Deal that Fell Through
The modeling gigs started demanding more and more control over Wayne, so he let those contracts run out and didn't renew. He went from there into consulting to help various businesses. That consulting led him into the steel industry.
While working out at the gym with Colonel Marc Neely, he learned about a steel baseball art piece Neely had made for his son. Wayne loved the piece and inquired about getting one for his own son. But the maker was backed up on orders for weeks.
In a lucky coincidence, the owner knew Colin Wayne from Social Media, and Wayne ended up not only getting his artwork but also consulting for the company. Eventually, he even became involved in a deal to buy into the company. But that deal fell through at the last minute.
Wayne was determined to get into the business though. In fact, he invested in the equipment he'd need to make products the day after the deal fell through.
"I saw a market opportunity based on a competitors analysis that there was a wide open market and that nobody had gone past a certain threshold," Erwin said. "I knew there was a lot of room for growth."
On top of that, he was sure he could use Social Media to supercharge the marketing and grow the business quickly. The competition just didn't have that direct channel to customers, and it was holding them back in Wayne's view.
"I think we're going to disrupt the market," he said. "The brick and mortar stores, they're having a very difficult time. Everything needs to be transferred over to digital and also social platforms and online shopping needs to be something that's very preemptive," Erwin said. "Setting short-term goals and carrying those out and making sure that they're achievable in your mind set.
Wayne launched Redline Steel in a 5,000 square foot building, doubled that to 10,000 square feet within 7 months, and went on to a 52,000 square foot facilityin January 2017.
First Contract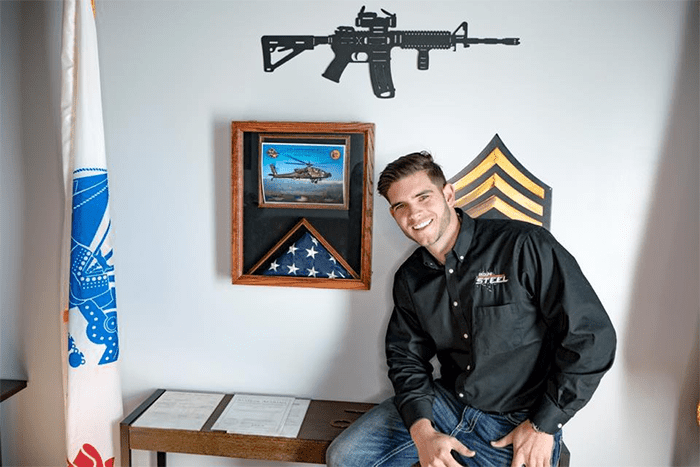 Redline Steel started with a contract that delivered much-needed seed capital and avoided getting investors involved too early. That first contract was making 500 copies of the AR-15 rifle art pictured at the top of the photo above.
Management Philosophy: Just like the Army
Wayne has modeled the way Redline works on what he learned about leadership and teamwork in the Army:
Dream big. Wayne is going to build a $1 Billion company in 5 years.
Employees put in as many hours as it takes to grow the business and provide the best customer experience possible. "If you live for the weekends this is not the place for you. You need to be all in or don't even jump in at all, because you're going to lose." He advises you to be the "hardest working person in your industry." Think of it as a competition to see who can work the hardest, "We work 7 days a week. I put in more hours over the weekend than my competitors put in Monday through Thursday."
"I prefer to hire veterans based on their shared core principles and values," says Wayne.
Wayne's advice for entrepreneurs is to focus on thought process and work ethic. You have to be laser focused and put in however many hours it takes. A new business is like a newborn–it's totally dependent on you and you can't let it down.
Find your vertical or niche market. Don't try to be all things to everyone. That's why Redline is focused on Home Decor even though their laser CNC machines could make products for virtually any market.
There are no individuals at Redline Steel, the emphasis is on the team.
Give your people a chance to prove themselves and promote from within as much as possible. "The military doesn't hire its top Generals or Senior Enlisted leaders from the outside," Colin said. "You must start at the bottom and work your way up from within." Not only does this motivate and create loyalty, but it gives everyone that shared set of common experiences as well as an understanding of the work being done at all levels.
Personal Style has Been a Key Marketing Component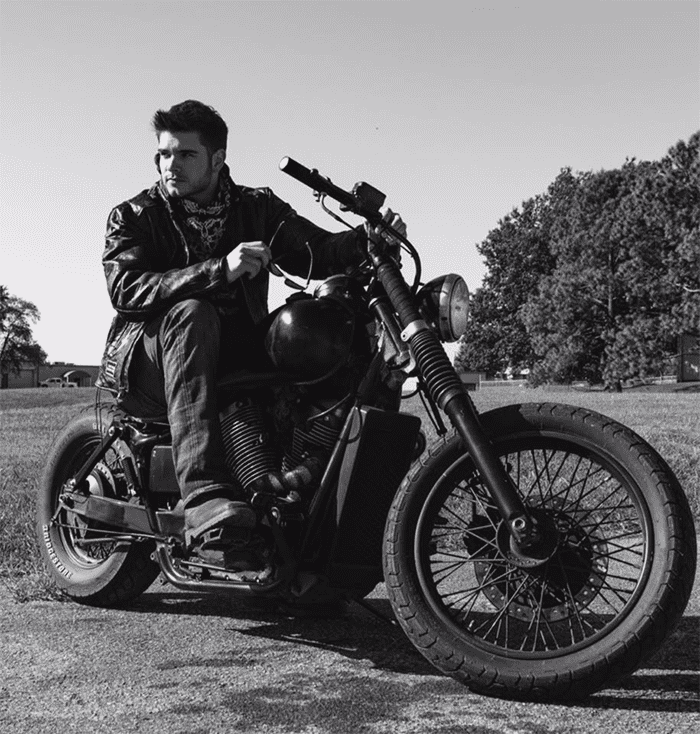 Colin Wayne (as you can see from the photos) is photogenic, charismatic, and not afraid to use that potential to help get the word out. He knows that for his market, he's selling Style just as much as Substance, and his personal style rubs off well on the business.
Social Media Maven
There's much more here than just style. Many of the articles I read about Colin Wayne call him a "Social Media Maven." What they mean by that is he is one Millenial who is digitally-obsessed and knows how to use the Internet, and especially Social Media to help him get his word out.
His personal Facebook page has 2.6 million followers as I write this. The Redline Facebook company page has another 500K followers, Instagram 500K more, and Twitter a 100K. His YouTube channel, which he call's "Wayne's World", has almost 12,000 subscribers.
Here's the very first Wayne's World video that he made last September, 2017:
Titan Gilroy, watch out, there's a young kid in the CNC world who is coming up fast!
Wayne definitely knows how to build an audience on Social Media!
The video shows their first CNC Laser, which they use to cut the home decor artwork.
Morning Ritual
Bang energy drink to get the motor running. "They taste really good, and it gets the job done." He's quick to point out his friend Jack owns the company and they send him several cases for free.
Special thanks to Bill Griggs of CNCRouterTips.com. Bill introduced me to the Colin Wayne story and piqued my interest.
Like what you read on CNCCookbook?
Join 100,000+ CNC'ers!  Get our latest blog posts delivered straight to your email inbox once a week for free. Plus, we'll give you access to some great CNC reference materials including:
Our Big List of over 200 CNC Tips and Techniques
Our Free GCode Programming Basics Course
And more!
Just enter your name and email address below:
100% Privacy: We will never Spam you!
Bob is responsible for the development and implementation of the popular G-Wizard CNC Software.  Bob is also the founder of CNCCookbook, the largest CNC-related blog on the Internet.