Recently updated on May 23rd, 2023 at 01:28 pm
Recently I had a chance to catch up with Robert Grzesek, one of the founders of Carbide and also of the
easy to use MeshCam CAM software
. I wanted to get an update on the Nomad as well as some idea of what he'd learned from the whole Kickstarter process and manufacturing the Nomad. For those who haven't seen it,
Nomad is a very cool vision for a CNC Mill that was a very successful Kickstarter campaign recently
. Be sure to check out our article on Nomad (that link just before this line) for more detail. They raised a total of $513,665 against a goal of $30,000, so this campaign definitely knocked the ball right out of the park.
Here's what I learned from my interview of Robert:
Carbide had a phenomenally successfully Kickstarter campaign for your Nomad CNC Mill. What advice do you have for would be Kickstarters about how to maximize their success?
I think you can distill it down into a few categories: product, preparation, and follow through.

Product:

First, we picked a product who's time had come. I knew from my work on MeshCAM, and my partners knew from our product development work, that there was a need for a ready-to-run CNC machine that doesn't have the massive learning curve of traditional machines.

We spent something like 10 months working on the Nomad before launching our campaign. It was not an idea or a concept, it was an almost-ready-to-make product. I think a lot of people go wrong by showing a product too early so it requires the potential backers to make a greater leap to understand what the product will end up being.

By putting the work in up-front, we were also able to commit to a much earlier shipping time than "normal" Kickstarter campaigns that might ask you to wait a year before you'll see your product. This was very important given the amount of money we were asking people to spend.

One of the other huge benefits though was my partner Apollo, who is an industrial designer. He was able to take the work that the engineers did and make it look like something that people wanted to buy. We knew design would be significant but, based on customer feedback, it turned out to be way more important than we expected.

Preparation:

There are lots of writeups out there for what you need to know to launch a Kickstarter campaign and Jorge, my other partner, read every one and made sure we did everything right.

1) If you meet something like 30% of your goal in the first 24 hours then you have an 80% chance of getting funded. (Don't quote me on the numbers but it's something like that) We presold 10 machines to local people before we ever went live (those 10 were for people who wanted machines- not our friends or moms). The pitch was, give us your phone number and we'll call when we push the "launch" button. You'll have limited time to jump on and get a machine incredibly cheap. In the end, every one bought even though a couple missed the window to get the cheap machine. Every Kickstarter campaign should be doing this.

2) Have a press list ready to go with all of the "need to haves" and all of your "want to haves" listed out with names, emails, and examples of things they've written about before. We approached a couple of them the day before launch to try and a story or post on day one. This was WAY harder than we thought. Traditional PR, where you write a release and then blast it out, is a complete waste of time from what we can tell. The only stories we got were from Jorge or I emailing people on a more personal level. The good news is that if you get a few stories or posts, then others will pickup and write their own. We got Engadget with no contact from us after a story on another site.

3) Watch the videos from a other projects like yours and copy the good ones. It's amazing how many people have videos with no call to action, they just end. What are viewers supposed to do next? Others have horrible production value or look like they're trying to make the video "all about them", not the product or the potential backer. Finally, style the video to fit in to the Kickstarter ecosystem. Our video would be very different if we made what we wanted, but we decided to copy the types of shots and music that others use. People reacted very well to it so I think there's a lot of merit to this.

Follow-through:

We spent the next 30 days answering every email, message, or comment. When we weren't doing that, we were reaching out to new press contacts to try to get links. Managing a campaign if a full-time job for at least one person if you're doing well. There were days with all three of us working on it.
What did you learn during the course of the Kickstarter campaign that helped you refine your product vision and what would you do differently for your next Kickstarter?
Kickstarter is amazing. There is a huge group of people out there monitoring Kickstarter looking for cool projects and I have no doubt that those additional backers more than covered all of the Kickstarter fees. Also, just being on Kickstarter seemed to make the project more legitimate in the eyes of the people we talked to. I do not think backers would have been as enthusiastic to preorder from our webpage instead of Kickstarter.

We also got great support from our Kickstarter contact, who did his best to get us featured because he really believed in the product. We have nothing but positive things to say about them.

What would we do differently next time? I'd be more open in the leadup to the campaign and make more of an attempt to build an email list. We did well without that but I think having more potential customers to contact at launch would be better.

I'd also make more of an attempt to reach out to press before launch. Knowing how hard it is to get coverage from even a tiny blog, I'd start earlier and have a bigger list.
In terms of how it changed the vision, our Kickstarter campaign was more successful than we ever anticipated and we attracted an even more diverse set of users than we expected. Because a lot of our backers had no CNC experience, we saw that they had really high expectations. We did not want to let them down under any circumstances after the trust they were putting into us. We ended up upgrading the machine a lot (at no additional cost). We built a good machine from the start but the one we're shipping blows it away; I think it's safe to say that no machine is our price range has anywhere near the capabilities or quality.
How do you best describe the vision for Nomad and Carbide today?

Everyone we talked to has an idea in their head for something they'd like to make. We'd like to provide to software and hardware to get it from their heads, into 3D.
How are things going as you move towards shipping the first Nomad units to your Kickstarter supporters?
The machine upgrades where a huge delay because we ended up having to redo almost every part of the machine in some way. We're just getting all of the parts from our machine shop and starting to put the first couple of machines together now. They're looking really nice so far.
Here's Jorge putting the first production frame together: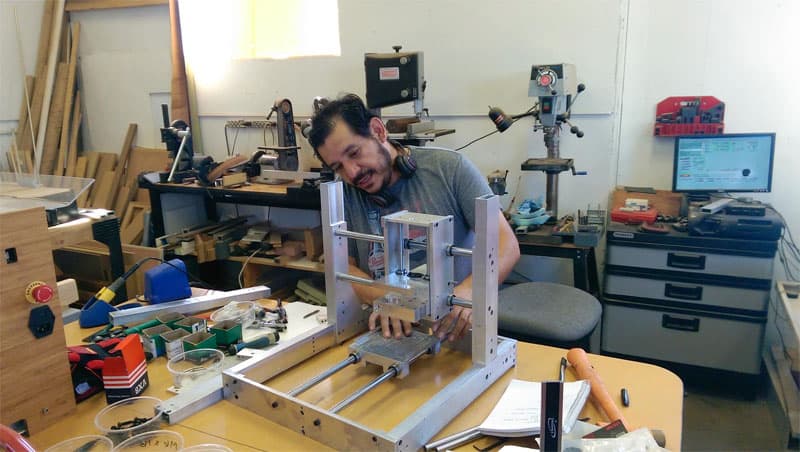 Jorge assembling the first production Nomad frame at Carbide LLC's shop…
What have you learned about manufacturing that you'd pass along to others who want to make and sell products like Nomad? Any shortcuts? Things to avoid? Things that will help make the process a lot easier?
-If I could go back, I'd look for ways to make parts on a waterjet or a laser. The idea of dropping a sheet of stock on a machine and having enough for a batch of machines in an hour is really appealing.
-When your parts are running in a mill, watch them run at least one time. We kept getting delays until I had the shop foreman let me watch our parts run. The operator had slowed the machine down because "the drill bit was dull" and the owner was out of town. He turned a couple of minute job into a 20 minute job. There were lots of delays like this because the owner was stretched too thin and the operators would do random things. We've got that under control now.
-When it comes to milling, modern 5 axis machines are great. We did a bunch of simplifications where we combined three 3-axis parts into a single 5-axis part and the results are great. For us, the total cost is about equal but we get a much better finished product and less labor.
-Don't send a PDF if the shop can take a Solidworks file. Way less goes wrong when they work from a solid.

-After a few months, I turned over the whole CAD file to them because they wanted to understand how the parts went together. This was a big turning point for us- they felt more ownership of the project and they even found a couple of errors in the design. If you can get to this point quicker than we did, you will benefit.
Robert, last time we talked you were planning to get a brand new Haas VMC and bring it in-house. Did you get the VMC? Any thoughts for new buyers of a machine like that?
I have that Haas quote on my desk right now- a VF2-SS with a 4th axis. We can't wait. We're trying to find new shop space with enough power but the areas we'd like to work in have really limited inventory. It looks like we'll make an offer on a new place this week, and if they accept the lease terms, the Haas will be ordered.

It's worth noting that the Haas will be a second production line and for R&D. We'd like to keep the current machine shop running so that we're not dependent on any single location.
Robert, what do people do who want a Nomad but missed out on the Kickstarter? Are you thinking about transitioning to taking new orders yet?
We just put our heads down and worked for about a week after Kickstarter and then we started getting requests from people who wanted to preorder a machine but missed the Kickstarter deadline. Coincidentally, we happened to be approached by a company called Celery that does nothing but handle preorders post-Kickstarter. It turned out to be a good system so we put a preorder link on our website and it's been active since. We received a significant number of orders through that system so it's something that I'd recommend to anyone after a Kickstarter campaign.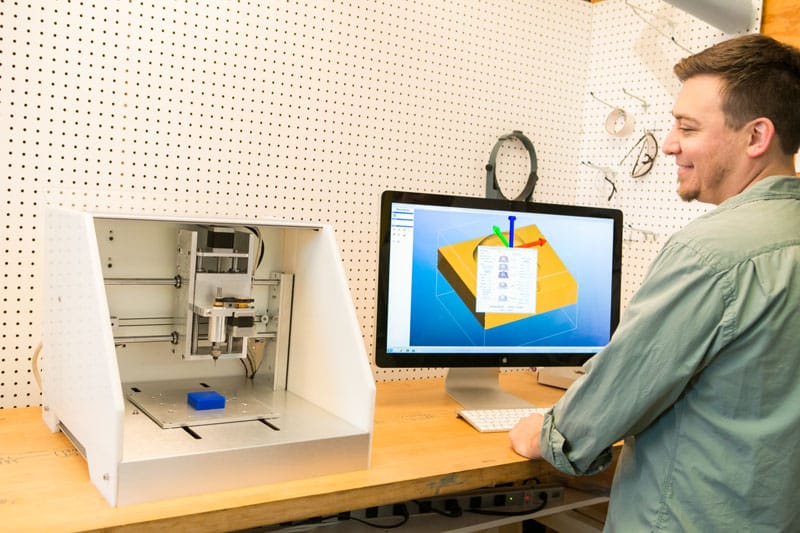 Here's Apollo running a Nomad at their offices from the pre-Kickstarter days…
Thanks Robert for the great interview!
Postscript
I continue to think the Nomad is a great idea because it brings Apple's Vertical Integration ideas to the entry level CNC space by combining hardware, software, and key accessories like tool probe in one well-designed packages. I'm hoping to get to play with one myself at some point. Robert has also given some great advice for folks who are dreaming of their own Kickstarter projects. It's rare that you can benefit from the insights of someone who has been as successful on Kickstarter.
Like what you read on CNCCookbook?
Join 100,000+ CNC'ers!  Get our latest blog posts delivered straight to your email inbox once a week for free. Plus, we'll give you access to some great CNC reference materials including:
Our Big List of over 200 CNC Tips and Techniques
Our Free GCode Programming Basics Course
And more!
Just enter your name and email address below:
100% Privacy: We will never Spam you!
Bob is responsible for the development and implementation of the popular G-Wizard CNC Software.  Bob is also the founder of CNCCookbook, the largest CNC-related blog on the Internet.