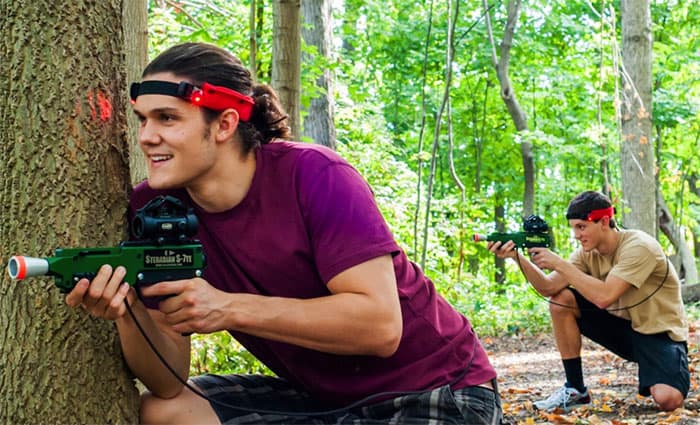 Steradian Tech: Laser Tag for Everybody…
For this Customer Spotlight, I'm writing about Steradian Tech, who make Laser Tag Guns for everybody.  If you've never tried laser tag, it's a real blast.  I haven't done it in years, but I played quite a lot back in my college days.  I'm interviewing Tom Baker, who co-founded Steradian.
Glad to have you for our Customer Spotlight series, Tom!  I'd like to start out by asking you to tell us a little about your business?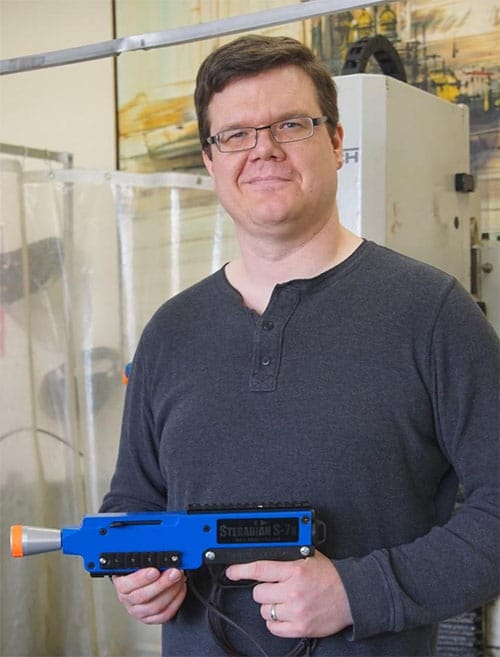 Tom Baker co-founded Steradian Tech…
Steradian Laser Tag makes the laser tag equipment which hundreds of businesses use every day. People often think indoors when they think about laser tag. But we revolutionized the industry by making equipment that works in full sunlight, the biggest challenge for laser tag. And we've kept innovating.
How did you come up with the idea for your business?
Alex Moon and I played laser tag together as teenagers back in the 90's. We were using toy equipment back then, and it was no longer commercially available. We decided to start making our own.
And how did you launch the business?  How did you make people initially aware of it?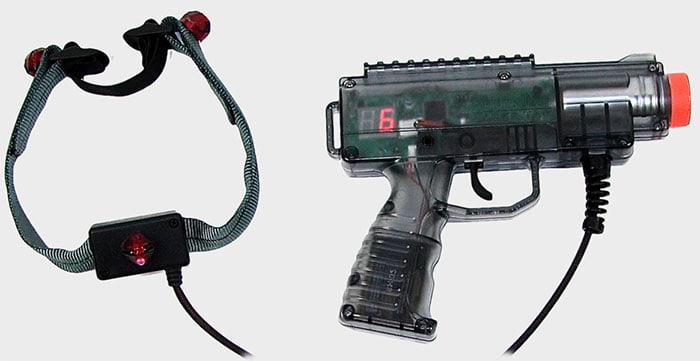 We started making equipment in my dad's basement. There was a group of enthusiasts on the internet, and some of them put on laser tag games commercially. They were very interested in the equipment we were making.
How did that launch go and what were some of the biggest challenges?
The biggest challenge was that we were inventing an industry, commercial outdoor laser tag. So it was tough going, but got easier as the word spread.
How is the business doing today?
Great. We have have 8 employees, and have been an LLC since 2003. We've never intended to be a giant company, but instead focused on making great products for a niche market.
What are your plans for it going forward?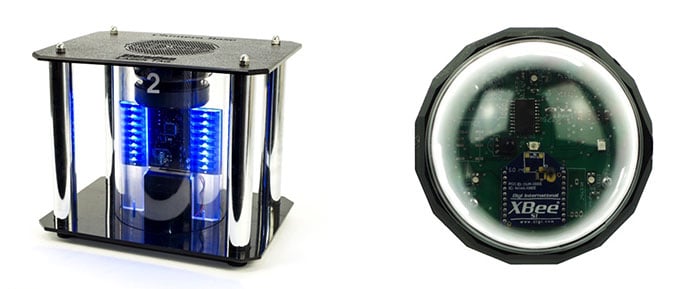 Chimera Base (left) and Target (right).  Play Capture-The-Flag with Base and use Target for weapon upgrades–just like modern video games…
We just launched our Chimera Targets, which add great variety to games, letting players upgrade their guns during the game. Our X-series of equipment delights our customers with games which are on a par with modern video games.
What were some of the biggest mistakes you made starting out and what would you do differently if you could start over?
We have never been a marketing company, and that made the growth slower than ideal.
How did you become aware of CNCCookbook?  Tell us what you think of CNCCookbook and our software?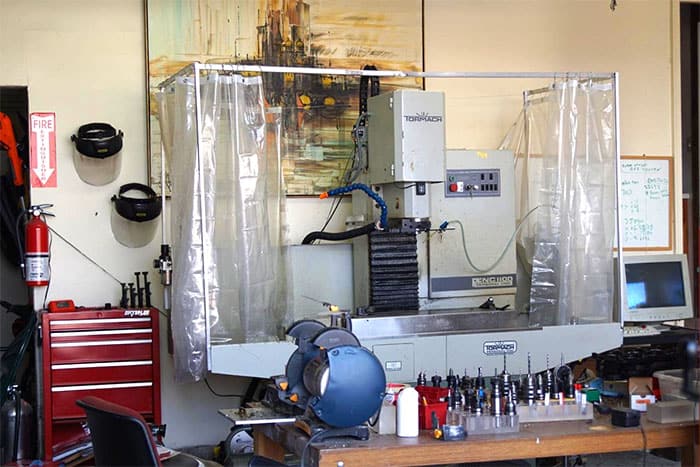 We bought our Tormach PCNC1100 back in 2007. We had no experience in machining, and we immediately realized the challenges we faced. But we loved it, and needed to find the best tools and resources to learn. CNCCookbook became in invaluable resource, since it was written in a logical way explaining the issues and how to tackle them. The industry was stuck in an apprenticeship model, and CNCCookbook broke down those barriers. When GWizard introduced tool deflection calculation, I fell in love. It has never left my side since then. We now use our Tormach in almost every single one of our products, and that wouldn't have been possible without GWizard and CNCCookbook.
Anything else you want our readers to know about your business or story?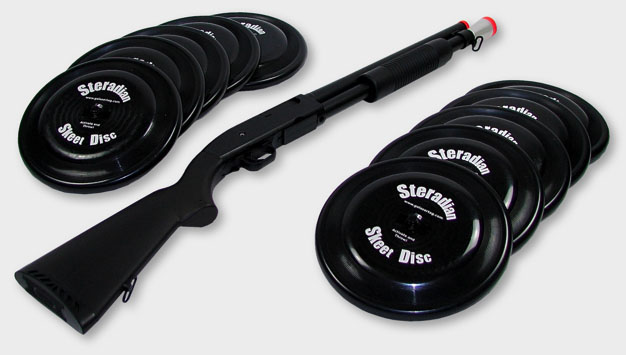 Laser Skeet Shooting set…
Starting a small business is extremely challenging and extremely rewarding. Surround yourself with people who feel passionate about what you are doing, and make sure you are having a great time. Your customers with recognize that passion and love your products!
I couldn't have put it better, Tom!
If you're a G-Wizard Customer and would like to have your business featured in a Customer Spotlight, drop me an email–I'd love to hear from you!
Like what you read on CNCCookbook?
Join 100,000+ CNC'ers!  Get our latest blog posts delivered straight to your email inbox once a week for free. Plus, we'll give you access to some great CNC reference materials including:
Our Big List of over 200 CNC Tips and Techniques
Our Free GCode Programming Basics Course
And more!
Just enter your name and email address below:
100% Privacy: We will never Spam you!
Bob is responsible for the development and implementation of the popular G-Wizard CNC Software.  Bob is also the founder of CNCCookbook, the largest CNC-related blog on the Internet.