Laser Sintering, or Selecting Laser Sintering as it is more properly known, is a process available today on expensive industrial 3D printers.  But, it has not been available to low cost 3D printers chiefly because the technology is locked up by various patents.  We saw the same sort of thing with FDM (Fused Deposition Modeling) the extruded plastic filament technology.  According to Shapeways' Duann Scott, when the patents on that technology expired, the cost of FDM printers went from fourteen thousand dollars to some being available for as low as $300 today.   The key patents for Laser Sintering technology start expiring in 2014.
Laser Sintering works by applying powder in layers and then using a laser to fuse the powder selectively into a solid.  There are several advantages Laser Sintering has over today's FDM technology.  For example, no support structures are needed by laser sintering because the walls that would need to be supported are surrounded at all times by powdered material.  Laser Sintering is compatible with a much wider range of materials than FDM as well, and has even been used to create metal parts from steel, titanium, and various other alloys.  Laser Sintering of metals requires a more power laser than sintering plastics though, so don't look for a $300 3D Metal Printer any time soon.  As mentioned in the title of our article, Laser Sintering is also capable of higher resolution than the average FDM process.
Laser Sintering builds a part layer by layer.  Typically there is a powder bed and a part floor.  These move in opposite directions.  When a layer is fused, the powder bed is raised and the part floor is lowered to expose a new layer of powder so the subsequent part layer may be fused.  There is typically a roller that moves across the top of the powder to make sure it is level.  Here is a schematic of the process from Wikipedia: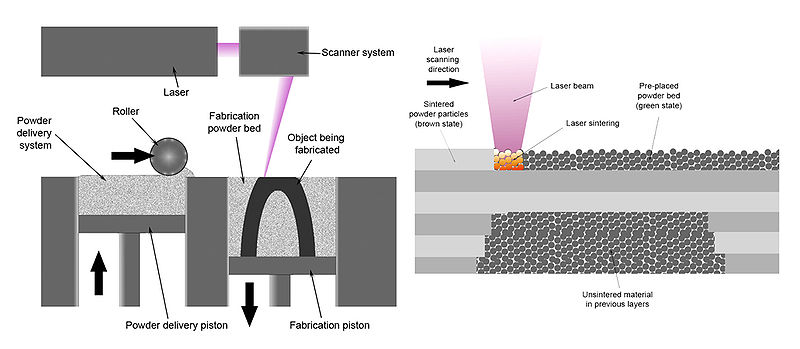 Parts can be made that have good quality finish (FDM is typically a pretty rough finish) and accuracy: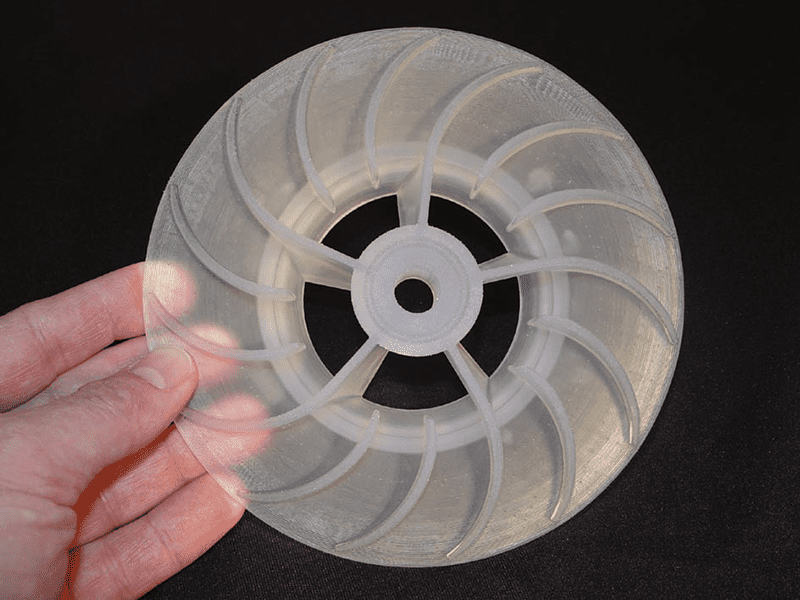 Image Credit: Laser Prototypes Europe…
There have been a small number of DIY experimenters who've tried Laser Sintering such as the Octocat, but we can expect that number to grow exponentially as the patents expire and companies get excited about competing for the low end.  Relatively inexpensive laser diodes can power a laser sintering printer aimed at plastic powders.
It's going to be very exciting to gain access to another high resolution 3D printing process.
Like what you read on CNCCookbook?
Join 100,000+ CNC'ers!  Get our latest blog posts delivered straight to your email inbox once a week for free. Plus, we'll give you access to some great CNC reference materials including:
Our Big List of over 200 CNC Tips and Techniques
Our Free GCode Programming Basics Course
And more!
Just enter your name and email address below:
100% Privacy: We will never Spam you!
Bob is responsible for the development and implementation of the popular G-Wizard CNC Software.  Bob is also the founder of CNCCookbook, the largest CNC-related blog on the Internet.