Most of you will have seen that we like to use photographs of female machinists from World War 2 like the one above on our product pages. I chose these photos because they are evocative of the "can-do" mentality that we Americans have always had and that is particularly strong among those who make things for a living. Nothing says "can-do" quite like the spirit of these photos. Those were dark days in the world, but we faced down the Evil and triumphed, albeit at a cost of many lives. Bob Marley put it well when he said, "Better to die fighting for freedom then be a prisoner all the days of your life."
I have a special treat this Fourth of July, 2013. I recently received a letter from one of the women in the photo series. She is 91, living in Mesquite, Texas, and she and her family had seen the photos on our web site. They brought back a lot of memories which she was kind enough to share. Here is the letter she sent to me:
To Whom it may concern,
I am Grace Brown, born Grace Ann Janota, Nov 29, 1921. Between the years 1942 and 1945 I worked as a machinist for Consolidated Aircraft of Fort Worth, Texas. The company made B-17 bombers.
When the war started in Dec 1941 I was working at the University of Texas Tea Room. Shortly after the war started, the tea room was converted into a mess hall for the Naval Academy. I was without a job and pondered on what to do. The government was offering classes for girls who wanted to help in the war effort. There were a few to become a pilot and fly transport planes. Well, I was too chicken for that so I chose machinist. The school was in Waco, Texas; it was with the N.Y.A. We got room and board and ten dollars a month, plus we were furnished uniforms to wear to class. Our classes were eight hours a day and we were there about six months, then hired by Consolidated Aircraft to work in the machine shop.
There were other machines but I was hired to operate a turret lathe. I made various parts for the B-17's. They were according to specifications and had to be very precise, using calipers. There were other types of machines in the shop, but only about three turret lathes. The only men were the supervisors; older men who didn't qualify for the draft. As time went on I took a job as an inspector of the machined parts, but that was boring so I took a course in engineering and learned how to design cams for the automatic screw machine. I got the job of designing cams and setting up the machines and did this until the war was coming to an end and we girls were sent home.
This I might add: after working at the plant for a while, a union tried to interveen and suggested we join the union, go on strike for higher pay. Most of the girls declined, including me, so the union lost.
I don't know how you acquired my picture to place in your ad. It was just a series of incidences that lead my grandson to recognize it as I was twenty one when it was taken and I am now ninety one.
This must be a little boring to you, but I don't do e-mail.
Sincerly,
Grace Brown
Grace, let me assure you, I don't find it boring at all. I am fascinated by the time and by your experiences and I hope our readers are too and will comment on it. We owe a debt of gratitude to Grace and most all of her generation. Let's remember them this Fourth of July.
PS The photos are from a series done by the government back in the day to use in promoting folks to help out the war effort. There are a number of them out there. I don't have a good link to give you to see them, but they all have a very similar look and lighting to the one above. Here are a few more: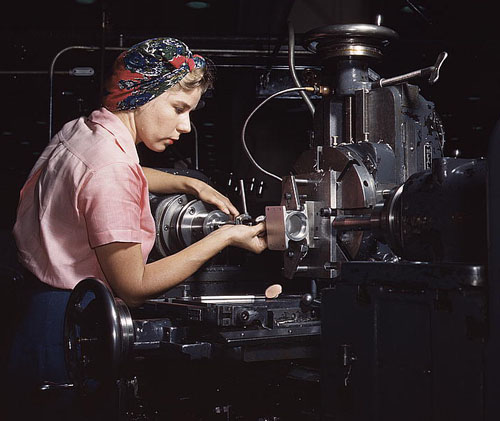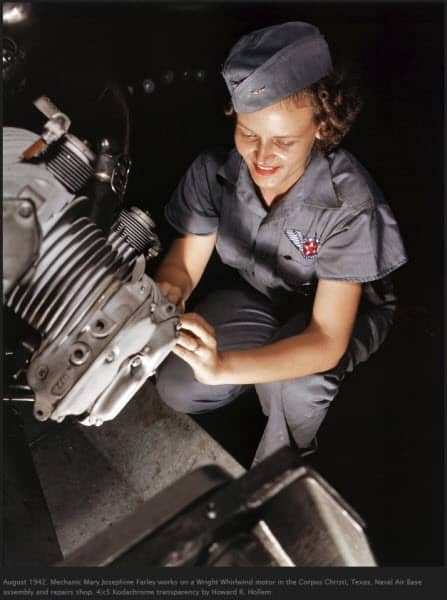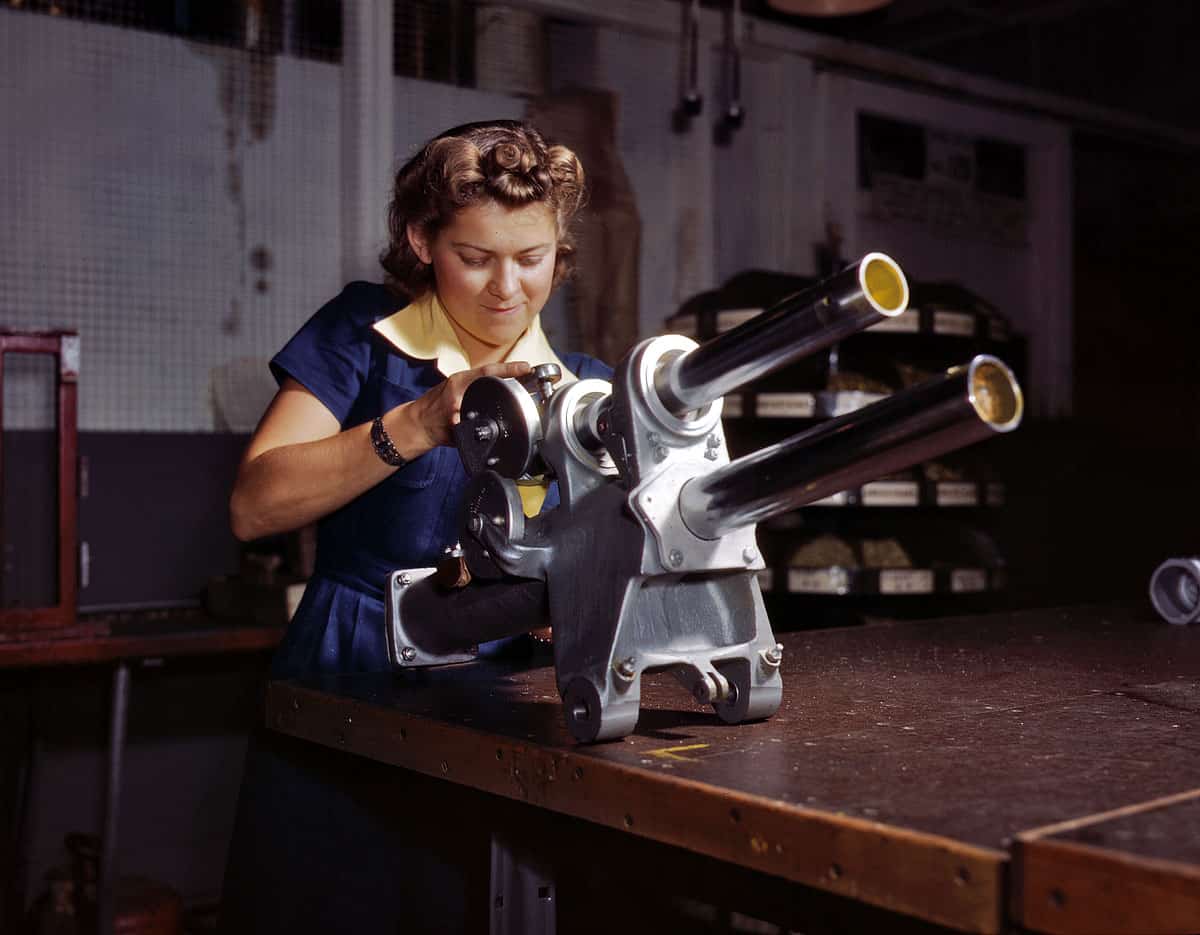 Like what you read on CNCCookbook?
Join 100,000+ CNC'ers!  Get our latest blog posts delivered straight to your email inbox once a week for free. Plus, we'll give you access to some great CNC reference materials including:
Our Big List of over 200 CNC Tips and Techniques
Our Free GCode Programming Basics Course
And more!
Just enter your name and email address below:
100% Privacy: We will never Spam you!
Bob is responsible for the development and implementation of the popular G-Wizard CNC Software.  Bob is also the founder of CNCCookbook, the largest CNC-related blog on the Internet.