What is Metrology? (Metrology Definition, Metrology Meaning)
Definition: Metrology is the scientific study of measurement.
Metrology and Inspection (Metrology and Measurements)
Like the definition says, Metrology is all about taking measurements.  But in machining, we often refer to taking measurements as Inspection.
3 Types of Metrology
There are three types of Metrology:
Industrial Metrology:  This is what we CNC'ers are concerned with and the subject of this article.
Scientific Metrology:  This is all about creating standard units for measurement.  It also involves research into how to improve Industrial Metrology.
Legal Metrology:  Legal Metrology will be the least useful to CNC'ers.  It's all about economic measurements, and we won't talk further about it here.
Metrology and Quality Control
Metrology goes hand in hand with Quality Control (QC) as it is practiced in CNC manufacturing. The strict definition of Quality Control is checking to be sure that Requirements for a manufactured part have been met.
The leading system of defining these tolerances is called GD&T or Geometric Dimensioning and Tolerancing.  We offer a free course on GD&T Basics if you want to learn, get a refresher or to better understand how it works.
Metrology provides the science, techniques, and precision measuring devices that are used to determine if parts or features of parts fit within the tolerances and dimensions specified for the part.
Metrology Lab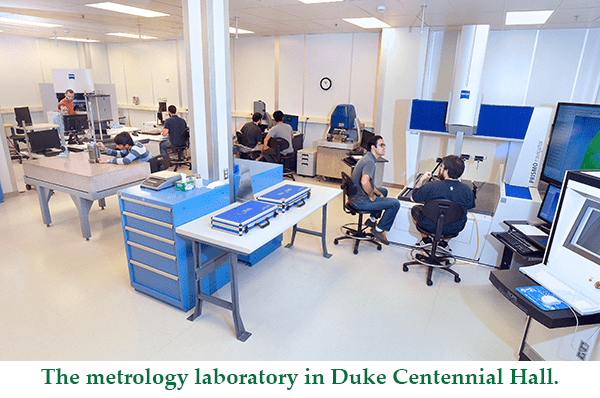 Image courtesy of UNC Charlotte…
To reach the highest degrees of accuracy in measurement, Metrology may be conducted in a Metrology Lab.  The essential characteristics of a Metrology Lab are that it be temperature controlled, clean, and well organized so delicate Metrology Instruments can be well taken care of.
A Metrology Lab should be clean because contaminants can get between Metrology Instruments and the parts they are measuring to affect the measurement.  They should be temperature controlled because both parts and Metrology Instruments change size based on the temperature of a room.  The most accurate measurements are expressed in terms of a Standard Reference Temperature.
Our G-Wizard Calculator software includes a Thermal Expansion Calculator if you're curious about how much temperature can change the size of an object:
Building Your Metrology Toolkit
As a machinist and CNC'er, you're going to need some measuring tools.  I confess, I'm a Metrology Junkie.  I have more measuring tools than I need.  In this section I will try to map out what the minimum tool kits might be at different levels.
Just Starting Out
There are three measuring instruments every CNC'er needs when they start out:
Digital Calipers
Micrometer(s)
Dial Test Indicator with Magnetic Stand
Each one serves a different purpose, and taken together you can do a lot of measuring.  Don't skimp on these 3.  Buy good quality versions of each.  Even after you've gotten past the Beginner stage of the trade, you'll find you still use these three more than all the rest.
Intermediate
Tools here fall into two categories.  First, are tools I think every CNC'er will want sooner or later.
I think everyone should add a Height Gage and Surface Plate to their toolkit.  They enable a lot more measuring to be done and are really helpful.  I use mine constantly.  I would also put a nice Micrometer Stand into this category.
You can use a DTI (Dial Test Indicator) to clock a 4 jaw chuck in a lathe, but it's touchy work if all you've got is a tenths indicator.  For quicker work, I prefer a Dial Indicator.  I'll explain the difference between a DTI and a Dial Indicator below.
Second, there will be a collection of measuring tools that are dictated by the projects you're working on.  For example, if you need to make accurate bores, you might invest in a Dial Bore Gage.  Or, you might purchase additional micrometers in size ranges your original micrometer won't cover.
Buying Measurement Tools as needed by projects will eventually land you in the Advanced category just by the sheer weight of your tool collection.
Advanced
The sky is the limit at the more advanced levels.  Shop Floor CMM (Coordinate Measuring Machine)?  Wow, very powerful instrument.  Optical Comparator?  Again, very useful and not something you see very often in an individual CNC'ers tool kit. Perhaps one of those slick motorized and computerized height gages?  They're the next best thing to a true CMM.  I have coveted one for years, but never pulled the trigger.
What is a lot more common would be the reference standards such as Gage Blocks, Pin Gages, and perhaps even a Cylindrical Square.
Metrology Tools (Measuring Tools, Instruments, and Equipment)
In this section we will walk through a list of Metrology Measuring Tools, Instruments, and Equipment so you're familiar with what they are and how they're used.
Contents
Gauge Measurement
Measuring Tools for Length or Thickness

Micrometer
Dial Indicator & Dial Test Indicator
Height Gauge
Planer Gages & Adjustable Parallels

Edge Finders, 3D Sensors, and Coaxial Indicators
Measurement References

Surface Plate
Gauge Blocks
Gauge Balls
Squares
Cylindrical Squares & Angle Blocks
Pin Gages
Plug Gages
Go / No-Go Gages
Ring & Outside Gages
1-2-3 & 2-4-6 Blocks
Feeler Gages
Angle Gages

Bore Measuring Tools
Angle Measuring Tools (Angle Measuring Devices)
Precision Levels
Digital Protractor
Thread Measuring Tools

Thread Micrometers
Thread Pitch Gages
3-Wire Thread Measurement

Surface Roughness Measurement
Optical Metrology (Optical Measurement)
Coordinate Measuring (CMM, CMM Machine, Coordinate Measuring Machine, Measuring Machine)

CMM Programming
CMM Inspection
Portable CMM / CMM Arms
CMM Training
Coordinate Measuring Machine PDF
CMM Metrology
CMM Fixtures
Optical CMM
CMM Probe

Laser Metrology (Laser Measuring Tool, Laser Measuring Device)
3D Touch Probes
Like what you read on CNCCookbook?
Join 100,000+ CNC'ers!  Get our latest blog posts delivered straight to your email inbox once a week for free. Plus, we'll give you access to some great CNC reference materials including:
Our Big List of over 200 CNC Tips and Techniques
Our Free GCode Programming Basics Course
And more!
Just enter your name and email address below:
100% Privacy: We will never Spam you!
Bob is responsible for the development and implementation of the popular G-Wizard CNC Software.  Bob is also the founder of CNCCookbook, the largest CNC-related blog on the Internet.