Good Machinist's Tools can be expensive. Working with metal as a machinist is definitely more expensive than working in wood as a woodworker. Achieving the precision required for metal is more expensive for one thing. If you're a Beginner Machinist, putting together a fairly complete tool set with the right equipment really adds up.
So what's the secret to buying good tools on a budget you can afford? And if you are a Beginner, which tools should you buy first? What are the tools good machinists really need most?
This article takes you through it.
Machinist Tools: The Essential Tool Set for Machinists
What are the must have machinist tools versus the basic machinist tools?
Every machinist has a little bit different Top 10 list, and some of them I have been scratching my head over. They're prioritizing tools I never used and never wished for. Sometimes this is the difference between manual and CNC machining needs. Other times I think it's just history. Once upon a time machinists bought certain tools up front so they tell other machinists to get the same thing.
Let's leave aside basic hand tools and focus on tools that are special to machinists. I'm going to assume you've got wrenches, hex keys, screwdrivers, and that sort of thing. Although a machinist may want finer quality versions of some of these tools like screwdrivers.
I'm also not going to list safety glasses as they are so essential to any machinist you should have a pair and use them constantly in the shop.
That leaves my Top 12 list of machinist tools to start with. I'm only going to list the high quality tools, not the bargain basement. Why? Because you'll use these tools constantly throughout your machining career. Higher quality often means higher precision as well as higher durability (because they use better grades of steel, for example).

I have a couple pairs of Mitutoyo's excellent AOS (Advanced Onsite Sensor) Digital Calipers, and they have served me well.
Calipers are one of the tools a machinist will use constantly, so get the nice ones. You want minimum 6″ and if you can afford them, the 8″ are even better.
The 6″ model goes for $115.20 as I am writing this on Amazon. I also have an 8″ model, which goes for $178.75. It's nice to have a little more range if you need it.
Check our Caliper article for more info.
Micrometers
When a pair of calipers just isn't accurate enough (i.e. need to measure a tolerance that is less than 0.002″), most machinists will turn to a Micrometer Reading for more precision.
Micrometers come in digital, dial, and vernier styles, much like calipers. If you didn't grow up reading the non-digital style, I would skip immediately to the digital. Also, you want the ratchet style thimble to reduce the likelihood of errors through inconsistent tightening.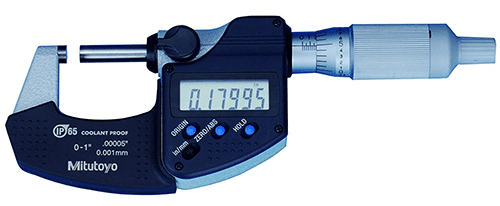 Mitutoyo Digital Micrometer…
Your next question is, "What size or sizes to get?" Digital Micrometers are expensive machinist tools. I can't imagine buying a big box of them all at once. I'd start with a 0-1″ then add Micrometers when you work on projects that require different sizes (or types).
Here's a decent one:
Mitutoyo 293-185, 0 – 1″ X .00005″/0.001mm IP65 QuantuMike Outside Micrometer, No Output, Ratchet Thimble

Amazon Micrometer Deal: $192.02
Edge Finder
Yes, every other article on which tools a machinist should buy has you starting out with a "Wiggler" Edge Finder like this one:

Mitutoyo Mechanical Edge Finder. About $12.77 from Amazon...
They work surprisingly well, but this another of those tools a machinist will use often. Why not get an edge finder that is more versatile, faster, and easier to use?
I'm referring to the Haimer 3D "Taster":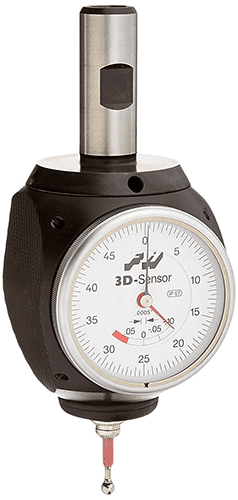 Haimer 3D Sensor. About $408.46 on Amazon…
They're not cheap by any stretch, but quality tools never are. The Haimer is well made and a joy to use. Just one thing–be sure to buy some extra tips. It's not a question of "If" but rather "When" will you crash and break the tip.
Dial Test Indicator – 0.0005″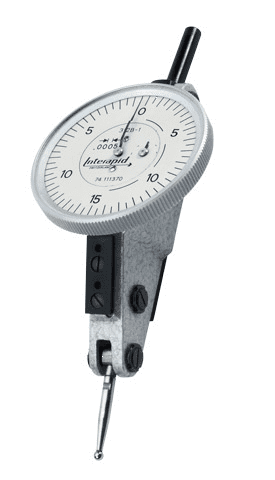 Interapid Dial Test Indicators are the best…
A Dial Test Indicator (DTI) one of the tools of choice for many setup tasks such as sweeping the jaws of your milling vise to be sure they're square to the travel of one of the axes.
I've tried a bunch of Dial Test Indicators from Starrett, Interapid and others, and I have to say, the Interapid's are my favorite. They're Swiss-made tools, and a half-thou Interapid DTI costs about $184.69. Get a half-thou before you get a tenths indicated–they're a little less sensitive so adjustments are less fiddly.
Magnetic Base Indicator Holder
To hold your DTI, start out with a Magnetic Base indicator holder with the jointed arm. Noga makes the nicest tools for this purpose: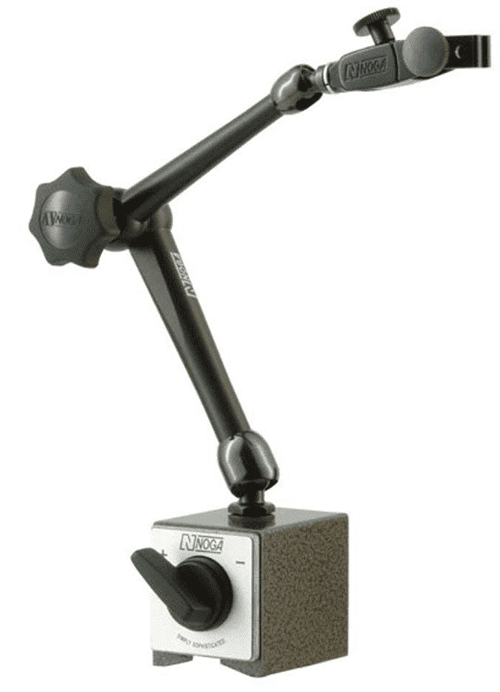 Noga Magnetic Indicator Stand (about $84.95 on Amazon)…
Calculator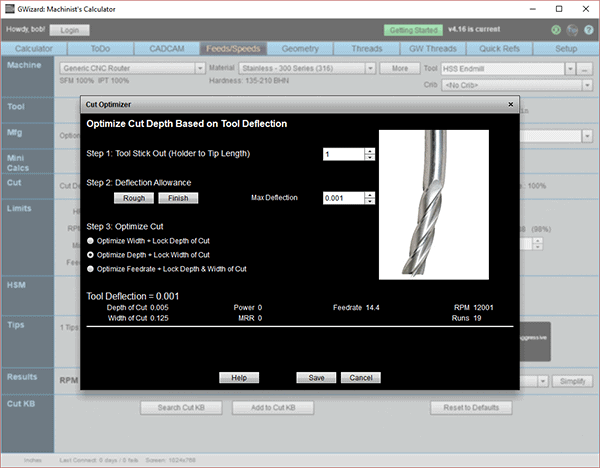 G-Wizard CalculatorSoftware that will make anyone a better CNC'er.
Almost any scientific calculator will do, so rather than recommending one, I am going to suggest you take the next step. Get a small inexpensive Windows-compatible laptop for cheap. You want one that can sit in the top of your tool box and be ready to use any time.
If there is no web access available in your shop, you can create a mobile Hot Spot with your phone. Having the ability to quickly look up information and perform calculations will quickly become one of your favorite productivity-boosting tools.
But it can be even better if you install CNCCookbook's G-Wizard Calculator software on your machine and use it as your primary Calculator.
Why?
Like our slogan says, "it's software that will make anyone a better CNC'er." That's because it does so much more than a basic scientific calculator. It will save you tons of time and give you machinist super powers compared to the guys that only have a basic scientific calculator.
Here are some examples:
Feeds and Speeds
Trig and other geometry calculator tools
Reference information such as standard drill bit sizes and fastener dimensions
A thread database
And much more. Plus, having that notebook lets you look up all sorts of useful information on the Internet.
This is way better than just a scientific calculator.
G-Wizard Calculator Free Trial
Notebooks and Sharpies
You may not think of these things as tools, but they can definitely make your jobs easier and raise your productivity.
Especially when you're first starting out, get in the habit of writing things down. I bought a big box of Sharpies plus a box of steno pads and scattered them all over my shop so they'd always be handy. I hung one up as a "Squawk List", a term pilots use to write down things they need to fix, take a look at, or purchase for their airplanes.
Stones
Stones are super handy tools for machinists. We're talking simple abrasive stones here. They're great to knock off burrs and perform similar touch up work by hand.
Get yourself a selection of stones in various shapes and grit values.
Machinist's Hammer (or Ball Pean)
Over time, a machinist will accumulate a bunch of hammers among their tools. They're not precision instruments per se, but they are used to help ensure precision. That's why you need to start with a hammer you can use to tap things into place for fine adjustment, such as your vise. Yes, you can use a Ball Pean Hammer or a mallet, but a machinist's hammer is much nicer.
Many machinists make hammers during their apprenticeships as students. If you want to buy one, here's a typical example: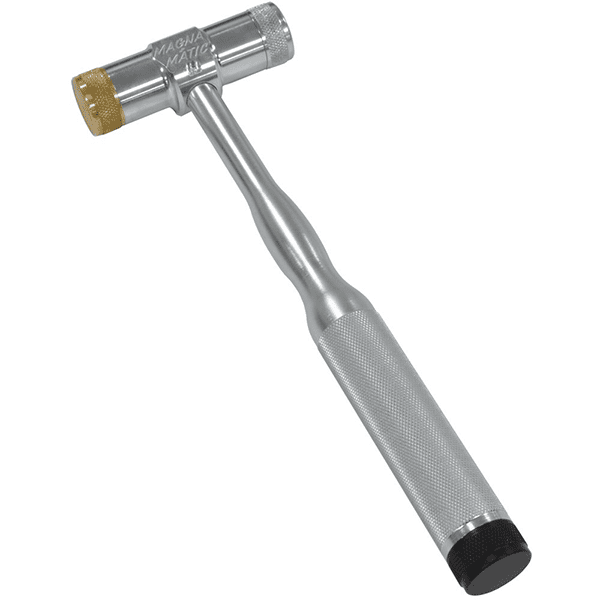 If you can afford it, get a deadblow hammer too. These tools are perfect for seating parts in your vise before tightening down hard.
Deburring Tool
Deburring Tools make it easy to slice a nice chamfer into sharp edges. Noga makes a great one: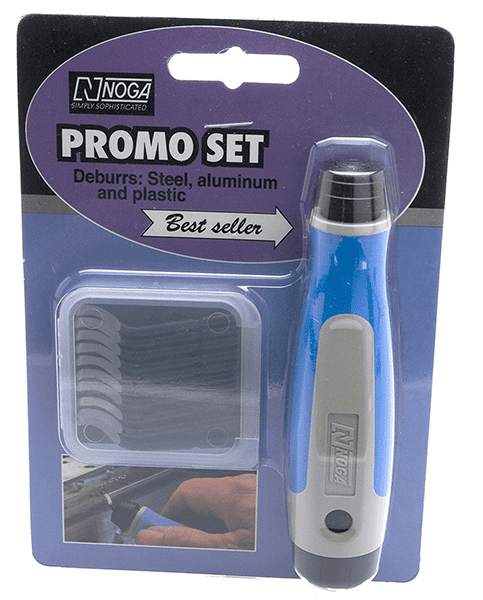 Just $11 on Amazon as I write this…
BTW, there are lots of slick tools to make the task of deburring faster. Over time most machinists will accumulate a variety of deburring tools. Try this article for information on deburring.
Machinist's Parallels
A good machinist uses parallels. These tools are used to sit parts up properly in a milling vise so they can be cut square and machined on the sides. Get a nice set and take care of them. You'll be using them quite a lot on milling machines.
1-2-3 Blocks
1-2-3 Blocks are one of those machinist tools that are jacks of all trades. You'll discover uses for them you never knew you had. Get a nice set and take care of them.
Machinist Toolbox
The most popular toolbox for machinists is the Kennedy: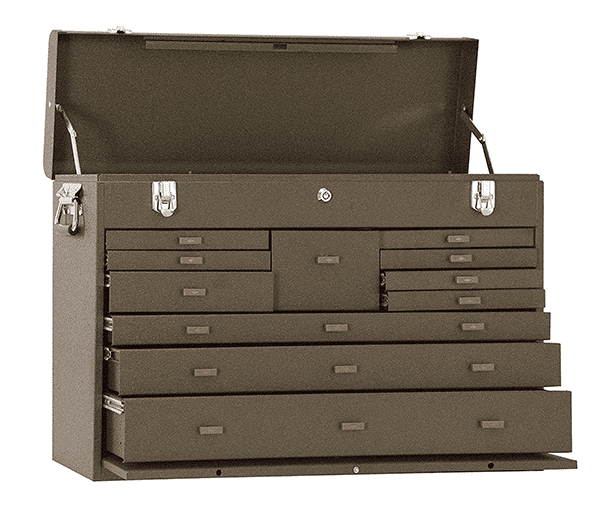 That Kennedy machinist toolbox is listed for $501 on Amazon as I write this.
Kennedys are built like tanks and have lots of drawers to help organize and separate your tools. But, there's no law that says you have to do what everyone does. You may prefer your favorite rolling tool chest so you have room for expansion.
I'm fascinated by the relatively new crop of modular tool boxes. I like the idea of being able to separate small and easy to carry subsets of my tools to use for specific tasks.
Machinist Tools: Next Step Tool Set
If I had all the machinist tools listed above, I would add these tools to them to round things out and make myself more productive.
Files
I suggested getting some stones first, but files are tools that remove material a lot faster. Get some nice files with handles for them. The handles are cheap and make the tool so much nicer to use. Also, get a big hunk of railroad chalk and a proper file card are essential tools for cleaning your files.
Lastly, learn the right way to work with files. Back in the day, a lot of machinists were made to square a block of steel with nothing but a file for a tool. This ensured they really knew the ins and outs of file work as a good machinist should.
Feeler Gages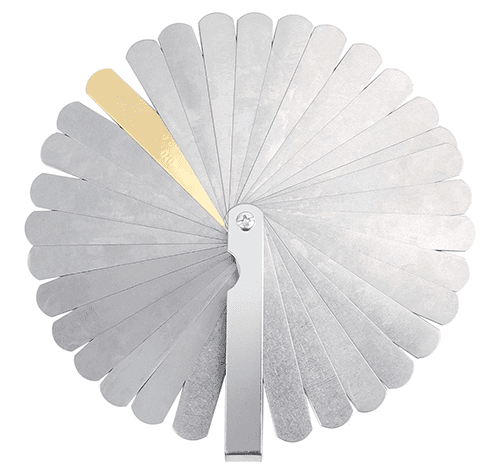 Imperial & Metric Feeler Gauge Set. About $5.95 from Amazon…
These tools are handy for lots of things. Get a decent set and stick it in your machinists tool set.
Thread Pitch Gage
Also handy to have on hand: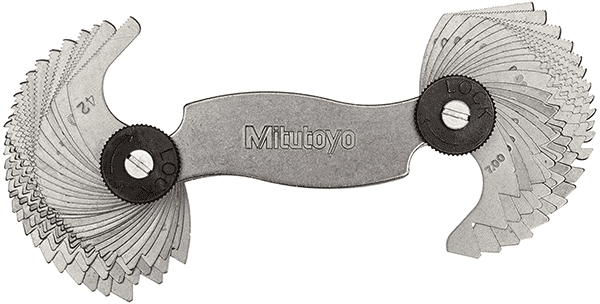 Mitutoyo Thread Pitch Gauge. About $47 on Amazon…
Each leaf has a set of serrations that match the teeth of the thread to help you decide what the thread pitch is. While threading on the manual lathe, it is reassuring to make a light "ghost" past and check the helix with your thread pitch gauge to make sure you've got it right.
Mighty Mag Base
Remember I said you'd be getting more tools to hold your indicators? Here's one: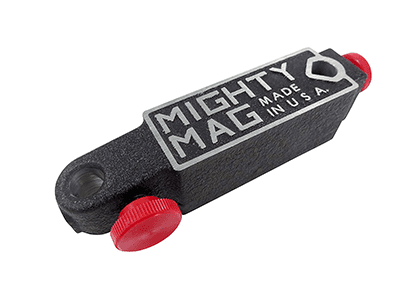 Mighty Mag Base: About $17.90 on Amazon…
They're handy for all sorts of situations where the full on mag base with swivel arm is cumbersome and takes to much space. This tool will be handy for those cases.
IndiCol
This indicator holder clamps to your machine spindle: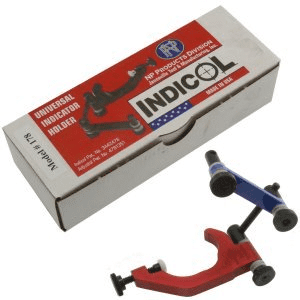 Indicol. About $73.15 on Amazom…
Be sure to match the size to the actual diameter needed to clamp it to your spindle.
Dial Test Indicator – 0.0001″
Add a tenths indicator to your arsenal of machinist tools. It's a super-sensitive tool, but sometimes you need to get things that close. It's never a bad thing to improve your ability to measure with higher precision.
Get a nice one, preferably an Interapid.
Telescoping Mirror and Magnet Set
For that part you dropped into an unreachable location (hope it isn't aluminum or a magnet won't grab it!), and for seeing into places that are hard to see. These are just handy tools to have available.
Transfer Punch Set
Transfer punches are really handy for ad hoc layout work, especially repair work with manual machines. They'll be less used for pure CNC manufacture of new parts because you just draw up all the matching holes in CAD.
Still, they're one of those "machinist's tools" that made the light bulb go on when I first discovered them and bought a set. I've used them a lot more than expected over the years, perhaps because I make a lot of parts that have to fit existing parts.
Here's a typical set for a machinist: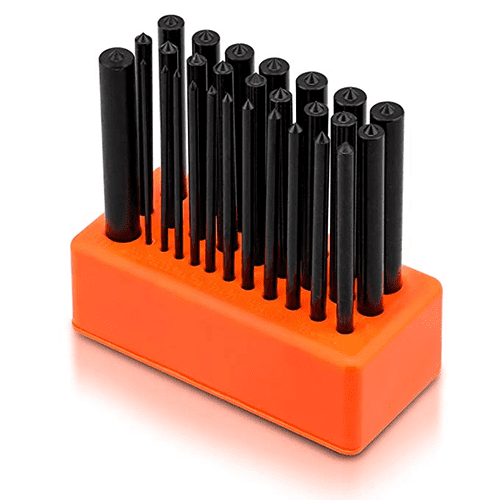 They're not costly, about $19.87 on Amazon.
Automatic Punch
Another handy machinist gadget is the Automatic Punch. Basically, you press down on it and it cocks and fires the punch hammer-style to leave a mark on the workpiece. No need to try to grab a hammer with your "third" hand to clobber the punch.
Here's a Starrett: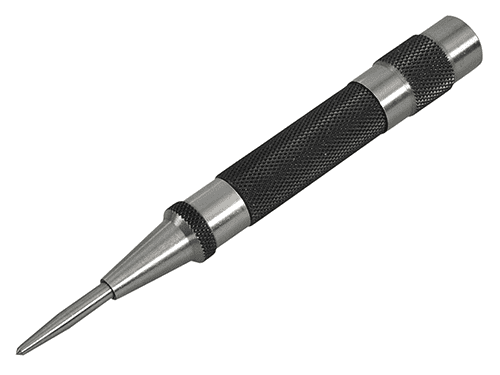 I'll warn you in advance there are cheaper automatic punches, but I like nice tools. The Starrett is not too bad at $36 on Amazon.
Machinist's Dye and Scribe
While we're dealing with punching and marking, you might want to add a little jar of Dychem Machinist's Dye to your machinist tools set: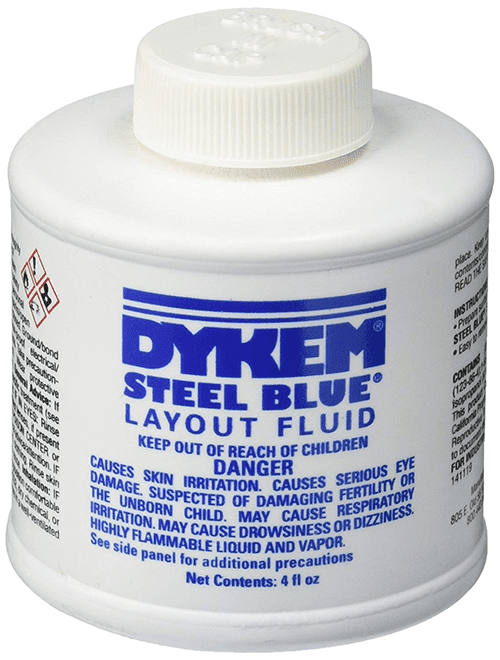 Paint it on your metal workpiece and it makes it instantly easier to see scribed lines and marks. I find the blue is higher contrast than the red, but either will work.
While you're at it, grab a nice scribe set: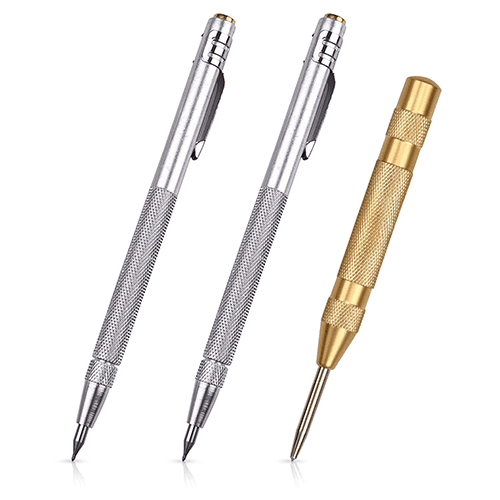 It's another $14.98 from Amazon. BTW, the final crowning touch in marking tools is a height gage and surface plate (see below) for precision scribing and layout on your workpiece.
Machinist Tools: Productivity Bump Tool Set
Height Gage and Surface Plate
This pair is going to set you back a bit, but they will seriously upgrade your measuring and layout tools to a higher level of precision. They're also handy for reverse engineering, for example for repair work.
Most all the other tools are pocket sized and easily fit into your tool chest. But a height gauge and surface plate need a little more breathing room. Make sure you will have a spot for them or delay purchase until you do.
First up is the height gage. I have two choices. I notice this 12″ Mitutoyo is on sale for a great price ($573.49) on Amazon: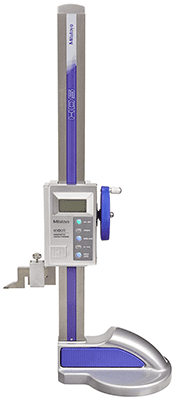 That's a really nice 12″ height gage, but maybe more than some will want to spend on tools. For a little less, you can get this 12″ digital height gage: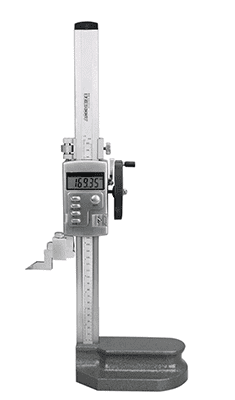 This Accusize Gage is $358.40 on Amazon as I write this.
You'll also need a granite surface plate for your height gage. This is a Grade A 18 x 24″ surface plate: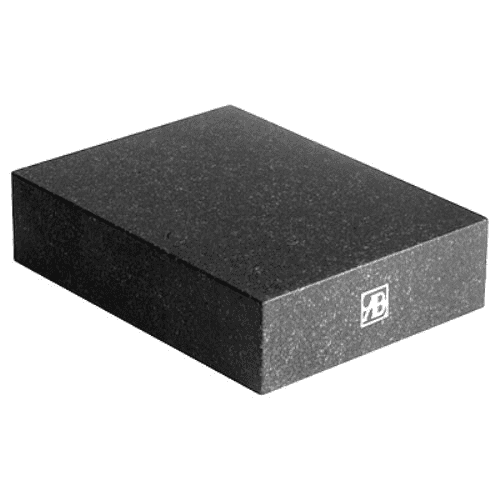 For more on how to use a height gage and surface plate, check out our guide.
Adjustable Parallels
Adjustable Parallels frequently come in handy. Use them to extract a dimension from an inside area, bring them out, and measure their width easily, for example.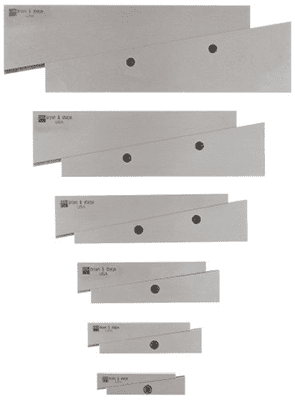 This is a nice Brown and Sharpe set for $158.85 on Amazon.
Planer Gage
The Big Brother but slightly different than adjustable parallels is called a "Planer Gage".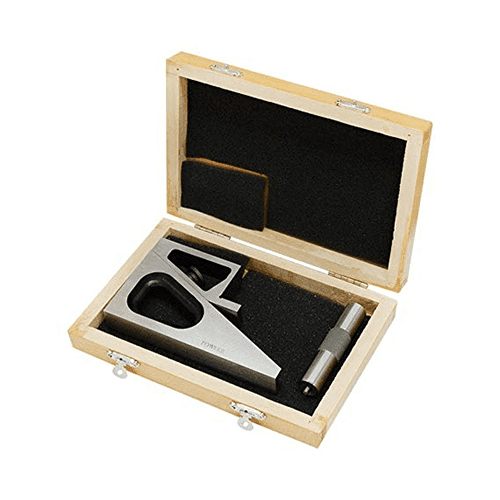 This DBM Planar Gage is a little over $60 on Amazon.
Kant-Twist Clamps in all Sizes
Kant-Twist Clamps are the best tools ever when it comes to clamping. They come in handy in all sorts of ways. For example, as an improvised vise stop:
Next time you see them on sale, grab a bunch and stick them in your tool box.
BTW, next time you have a little extra time, make yourself a nicer vise stop. You'll use it constantly and it is worth the trouble to have a nice one. Here's a Kurt vise stop I made to give you an idea:
2-4-6 Blocks
These are the larger version of 1-2-3 blocks. They're also handier tools than you might think for setups of various kinds. For example, here they're being used to provide extra support and rigidity in a vise: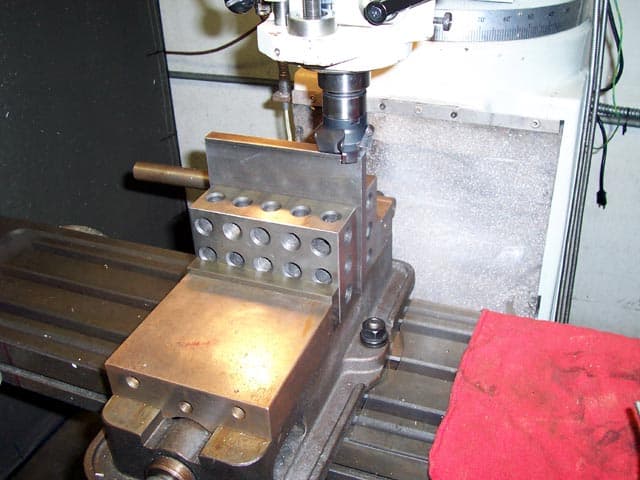 Dial Bore Gages
Measuring Bores is hard. A good machinist can do it with Telescoping Gages, but those machinist tools require a little touch. If I am particularly concerned about a bore, I will often make a go/no-go plug gage for the job. But for sheer convenience, it's hard to beat Dial Bore Gages: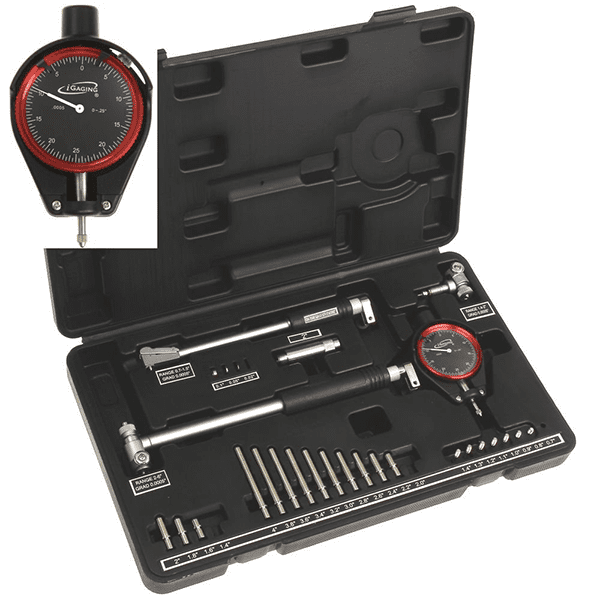 The problem is they are expensive tools. That set pictured above is a good deal–0.7 – 6″ bores for $109.95 on Amazon (think that's a special deal). I have heard iGaging makes decent tools, but haven't tried them myself. The equivalent Mitutoyo set is gorgeous but costs $750 and that's on sale for a special Black Friday price!
OptiVisor
If you work on small parts, but have never tried an OptiVisor, you're in for a treat: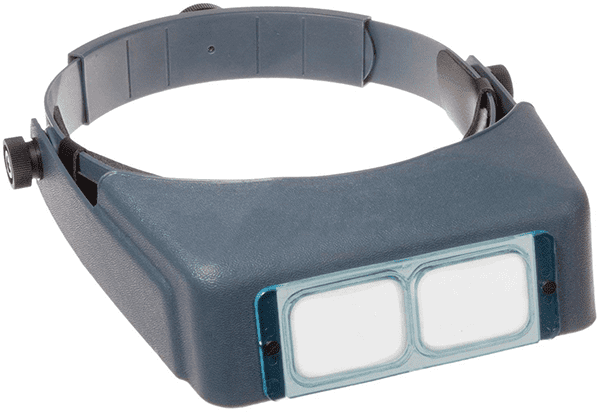 They're comfortable and the magnification makes them great for tired old eyes like mine. But you can peer under them or flip them up to see without magnification too.
Best of all, they're inexpensive at $41.98 on Amazon.
I find my OptiVisors indispensable tools for my arsenal.
Machine Shop Tools: What can you wait to buy?
In an industrial setting, it's expected that the shop should have most of what's listed here and more. You may be able to wait quite a long time to buy such tools. The deal is, having your own machinist tools means you don't have to go looking for them and you can ensure they're well taken care of.
You should not need to invest appreciably in bits, taps, dies or cutting tools. The shop should carry them. But, it can be nice to have a drill index full of quality bits that are always sharp in your kit.
Beginners: What Shouldn't You Buy?
Taps and Dies
Don't buy the cheap tap and die assortments found at the local hardware store. Machinists need better quality and those really are the worst quality. Check out article for more on choosing the right tap for your jobs.
Cutter Assortments
Likewise, cheezy cutter assortments seem like a boon, but don't go there. Buy quality cutters as you need them. BTW, I have purchased lots of quality name brand cutters from eBay using the techniques I will describe below.
Cheapest Alternatives
There's no end of providers who will sell you the cheap Chinese knock off tooling. Resist the urge to buy most of it. The lower the precision and durability required, the more you can live with the cheap stuff. For high precision and durability as well as for the tools you will use often, wait until you can find and afford the good stuff.
Used machinist tools for sale: Get some deals
I tried to find some deals on these items and I'm writing this during Black Friday/Cyber Monday week, so there are some deals. Still, if you had to buy every one of the tools listed in the most expensive version, it would cost you over $1800 for the basic tool set and a tool box.
Yikes!
So what's a poor beginning machinist to do?
I'll tell you what I did, I bought gently used tools and lots of them. Most of them came from eBay. You'd be surprised at the kinds of deals a machinist can find there.
To be a good eBay bargain hunter, you basically need 3 things:
The willpower to limit yourself to paying half what the best new price you find elsewhere is.
The ability to search out mispelled ebay ads. Want Mitutoyo Digital Calipers? Search for mispellings like mitutoya, mitotoyo, and so on. Over time, build yourself a library of these mispellings because you'll want to haunt the best brands for deals. You can use eBay's email search to let you know when new things are listed. I would just login every morning and look.
Auction Sniper software and a nose to seek out auctions that close at odd hours.
Let me explain the Sniper bit. It's software that waits until the last minute to inject your bid so nobody has time to respond to it. Seeking out mispellings and off hour closes are tricks I learned long ago. Bidding stops when the auction closes, so if it closes at like 2am Pacific, not too many are there to bid last minute. Your sniper ensures nobody can sneak a bid in higher than you.
With patience, I've been able to find most anything I want for half of new price, and often got essentially new merch. Pretty cool, eh?
BTW, I founded a software company one time whose business was helping buyers and sellers on eBay. That's where I learned my eBay chops.
And while we're on the subject of auctions, haunt the industrial auctions in your area as well as Craigslist. Manufacturing businesses and job shops close and the industrial auctions can yield a wealth of machinist bargains, particularly on small tools and hand tools. You may land an entire assortment of well cared for machinist tools in one bid if you're lucky. Estate Sales for old machinists are another good source.
You will occasionally get a bad deal–some piece of merchandise you bought at auction that looked perfect was broken and needed repair. It doesn't happen often in my experience, and the repairs may be easy, but scrutinize the photo and stick to purchases where you can make any repairs cheaply that might be required.
Conclusion
You've got a pretty good machinist tool list here to choose from. And, the season is right if you can take advantage of Black Friday/Cyber Monday. Even if it isn't, I've given you some tricks to help win tool bargains on eBay. The rest is up to you!
One more thing: it's not just about the tools. It's also about doing your homework. Try to learn as much as possible on your own time. Whether it's about techniques, how to use a particular tool, or basic homework on the material you'll be machining, you'll be much more successful if you've done your homework. Knowing the key tips about machining a tough material (for example, Tungsten is very tough to machine) can save you a lot of pain.
Like what you read on CNCCookbook?
Join 100,000+ CNC'ers!  Get our latest blog posts delivered straight to your email inbox once a week for free. Plus, we'll give you access to some great CNC reference materials including:
Our Big List of over 200 CNC Tips and Techniques
Our Free GCode Programming Basics Course
And more!
Just enter your name and email address below:
100% Privacy: We will never Spam you!
Bob is responsible for the development and implementation of the popular G-Wizard CNC Software.  Bob is also the founder of CNCCookbook, the largest CNC-related blog on the Internet.