More Free CNC Software
Downloader Beware:  The software mentioned above this section is our software, so we know it is wholesome and safe to download.  Below this line you'll find free CNC software from others.
Every now and then a great piece of fr
ee software will save you time and money. Just be aware it is a big bad world online, and free software or freeware is a tool used from time to time by those up to no good. CNCCookbook isn't vouching for any of this software and we don't necessarily use it ourselves. It's just stuff we've come across or had recommended to us by readers. Make sure your antivirus program is tuned in and turned on if you decide to download freeware and start using it. Just sayin'!
Best Free CAD Software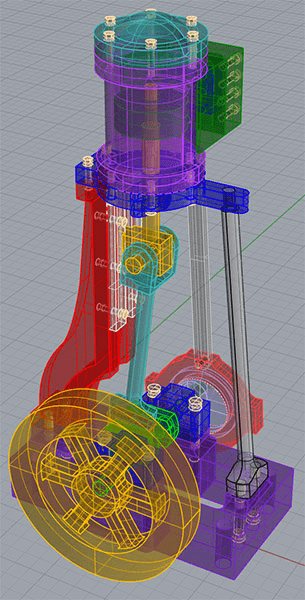 CAD Software (Computer Aided Design) is used to create drawings or 3D models of the parts you'll be making.  There is CAD Software for CNC and CAD Software for other purposes like architecture.  You want the CAD Software for drawing a CNC design.  Avoid the temptation to choose drawing programs like Adobe Illustrator or Inkscape.  You want a CAD program, not a drawing program.
In addition to finding the package that has a user interface that is the most intuitive to you, there are some other things to be on the lookout for:
File Types:  You want a program that can handle dxf files and stl files.  DXF is a 2D file format that's great for cutting outlines.  CNC Routers and Plasma Cutters will thrive on it.  STL is a 3D file type.  There are more modern file formats–those two are pretty generic.  But they're what you'll see most often in this class of software.
Personal Use:  A lot of the free packages are only free for personal use.  They're not suitable for businesses.
CNC Routers need more artistic features as you'll be making signs and other decorative items for the most part.  Milling Machine users need more functions aimed at precision.  That probably means more functions in general–think something like Fusion 360 instead of the simpler programs when choosing your best cnc software.
A lot of free software is Cloud Based.  There are pros and cons to it, but I wouldn't shy away just because the software is cloud based.
Which one of these packages is your pick for the Best Free CAD Software out there?  Click here if you want help choosing CAD Software.
| | | |
| --- | --- | --- |
| Carbide Create | CAD CAM | https://carbide3d.com/carbidecreate/ |
| A9 CAD | CAD | http://www.a9tech.com/products/a9cad/ |
| Blender | CAD | https://www.blender.org/ |
| Vectary | CAD | https://www.vectary.com/ |
| eCabinet: CAD for custom cabinet makers | CAD | http://www.ecabinetsystems.com/ |
| gCAD3d | CAD | http://www.cadcam.co.at/freiter/gCAD3D_en.htm |
| FreeCAD | CAD | https://www.freecadweb.org/ |
| Trimble Sketchup | CAD | https://www.sketchup.com/ |
| Fusion 360 | CAD + CAM | https://www.autodesk.com/products/fusion-360/students-teachers-educators |
| Onshape | CAD | https://www.onshape.com/en/products/free |
| HeeksCAD | CAD | https://github.com/Heeks/heekscad |
| OpenSCAD | CAD | https://openscad.org/ |
| nanoCAD | CAD | https://nanocad.com/products/nanocad-free/ |
| LibreCAD | CAD | https://librecad.org/ |
| Solid Edge Free 2D Drafting | CAD | https://www.plm.automation.siemens.com/plmapp/education/solid-edge/en_us/free-software/free-2d-cad |
| TinkerCAD | CAD | https://www.tinkercad.com/ |
| Wings 3D | CAD | https://www.wings3d.com/ |
My favorites on that list are Carbide Create, because it is simple and clean, and Fusion 360, because it is powerful and cheap.  Our CNC With Jaime video course for CNC Beginners will start out using Carbide Create.
Free CAM Software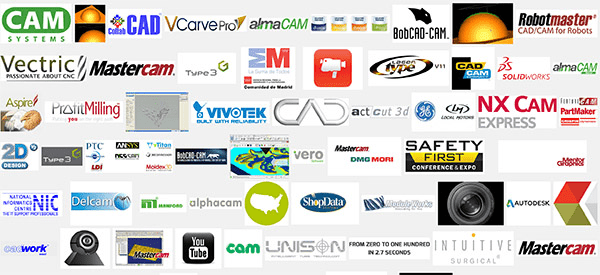 CAM Software takes a CAD drawing from your CAD software and converts it to g-code files that your CNC machine can run.  Free cam software won't have as many kinds of tool paths or other advanced features as paid, but it should be enough to do most simpler jobs.  In some cases, like Fusion 360, it can do quite sophisticated jobs too.
Note that some software does both the CAD and CAM functions.  It's typically called "CAD CAM Software".  It can be advantageous to combine the functions to create a more consistent user interface.  The very simplest CAM programs only do 2D work.  That's fine for something like a plasma cutter and even for many cnc router jobs.  But someday, you may want 3D tool path capabilities.
I need to burst another bubble here.  Many beginners want to skip CAD altogether and convert images to g-code.  Some CAM programs can do an image trace, but you're going to find this is very restrictive and you'll outgrow it in a hurry.  Sorry, but you're better off learning CAD from the get go.
Click here if you want help choosing CAM Software.
| | | |
| --- | --- | --- |
| Estlcam | CAM | http://www.estlcam.com/ |
| Free Mill: 3D Milling from the makers of Visual Mill | CAM | http://www.mecsoft.com/freemill.shtml |
| DeskProto | CAM | https://www.deskproto.com/products/free-ed.php |
| OpenBuilds CAM | CAM | https://software.openbuilds.com/ |
| Fusion 360 | CAD + CAM | https://www.autodesk.com/products/fusion-360/students-teachers-educators |
| Carbide Create | CAD + CAM | https://carbide3d.com/carbidecreate/ |
| Heeks CAD/CAM | CAM | https://www.heeks.net/ |
The best free CAM software programs are again Carbide Create and Fusion 360.
Free CNC Control Software
Control Software is what takes the g-code and converts it to control signals to operate the motors and other components of your CNC Machine.  Think of it as the CNC Machine's "Brain".
There are only 3 good choices for free Control Software to use with your CNC Machine:
| | | |
| --- | --- | --- |
| GRBL | Free CNC Control Software.  Can run on a Raspberry Pi. | https://github.com/gnea/grbl |
| LinuxCNC / EMC2 | Free CNC Control Software | https://www.linuxcnc.org/ |
| PlanetCNC Software | Software is free, but you have to buy their controller hardware, so is it really free? | https://planet-cnc.com/software/ |
Try to avoid software that relies too heavily on parallel ports.  Fewer and fewer PC's are available with a parallel port these days.
Free Laser Cutter Software
Note:  I'm not delving into this space yet.  Laser Cutters are specialized beasts and I want to wait until I have more experience with them and their software before commenting.
Free 3D Printing Software
Note:  I'm not delving into this space yet.  It's once again specialized.
Other Free CNC Software
| | | |
| --- | --- | --- |
| GCode Ripper | Wrap GCode for 4th Axis or do Engraving on Irregular Surfaces after Probing | See article link |
| Jedicut | CNC Foam Cutting | http://www.aeropassion.net/index-en.php |
| Ace Converter | DXF to G-Code | http://www.dakeng.com/ace.html |
| 2linc Engraving Software: Light Version | Engraving Software | http://www.2linc.com/cnc_programming_software.htm |
| DeskEngrave | Engraving Software | http://www.deskam.com/download.html |
| PCB-GCODE | G-Code for Eagle PCB | https://groups.yahoo.com/group/pcb-gcode/ |
| Auto-trace | Image or bitmap to g-code | http://autotrace.sourceforge.net/ |
| Image to G-Code | Image or bitmap to g-code | http://www.imagetogcode.com/ |
| Scan2CNC | Image or bitmap to g-code | http://www.gravomaster.com/Tristan_Dean/scan2cnc.html |
| MaxCut | Nesting | http://www.maxcut.co.za/ |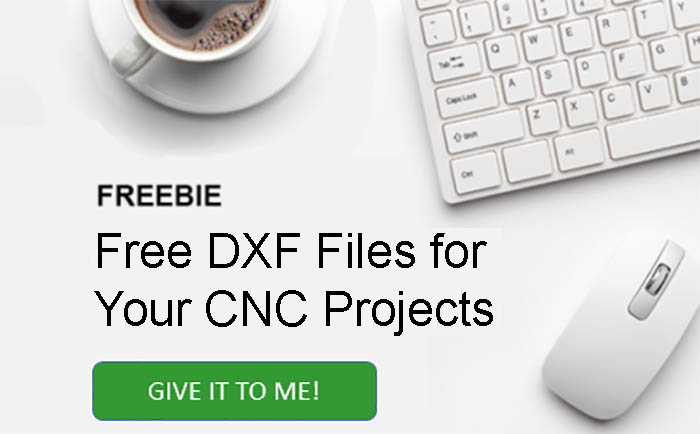 Almost Free CNC Software
As I said way up above, you'll spend more hours in front of your CAD and CAM Software than you will in front of your CNC machine.  It might just be worth your time, considering how many hours you'll spend, to investigate inexpensive CNC Software that may actually be much more productive than free software.   It's hard to underestimate how much having the right CAD and CAM software can improve your CNC satisfaction and success!
Here are some packages I recommend you evaluate because they offer more than most of the free software but they're not that expensive:
MeshCam:  The world's easiest CAM Software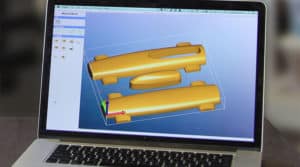 When beginners first hear about CAM Software, they assume it is almost completely automatic:
Load a CAD model into it.
Push a Button.
Output g-code that's ready to cut.
Unfortunately, nothing could be further from the truth for most CAM programs.  You'll spend hours showing it exactly how to machine your part, almost as if it doesn't really understand much about machining.
I dubbed MeshCam the world's easiest CAM Software after trying it the first time.  It literally comes closest to that 3-step ideal beginners expect than any of the other CAM programs I've tried.  Will it be the last CAM you ever need?
No, you will eventually outgrow it.  But you can go very far indeed before doing so.  If you just want to get making parts FAST, MeshCam will greatly accelerate your progress compared to something like Fusion 360.
More good news (and a full disclosure):  I liked the software so much when I came across it that I begged GRZSoftware to let me resell it.  So now you can buy directly from CNCCookbook:
Show Me Your MeshCAM Offerings
Fusion 360, Paid Edition
Fusion 360 can be had for free, but if you plan to make money with it, you'll eventually have to pay.  It has a STEEP learning curve up front, but I want you to know it can carry you for the long haul because it's CAD and CAM Programs are full-featured.  I just want you to consider that it might be worth getting one of the cheaper paid subscriptions up front.
Having wiped out a lot of competition with their initial Free market entry, Autodesk are now engaged in ratcheting up pricing to make actual money for shareholders.  It's an old and somewhat nasty game competitors play, but it is here to stay.
The free version of F360 does some pretty annoying things, like not supporting tool changing and not running rapids for fast moves.  These are artificial limitations that make your CNC work slower and more inconvenient.  Even the cheapest paid version eliminates these speed blocks.
Rhino3D:  My favorite CAD Software
Everyone is different when it comes to which CAD or CAM will be easiest and most intuitive for them.  That's why I encourage you to try 3, and try them seriously.  They're all very hard to learn so it takes time to try 3.  But it will be worth it.
My favorite is Rhino3D.  I found out through spending time with a lot of packages, that Rhino3D makes me more productive than the other packages.  I can bang out CAD models much faster with it, even compared to much more expensive software like Solidworks.  I'd encourage you to give it a try.
G-Wizard Calculator:  "Lite" Versions
In addition to CAD and CAM, you are going to need help with Feeds and Speeds.  CNC'ers tell us it is one of the HARDEST things to master: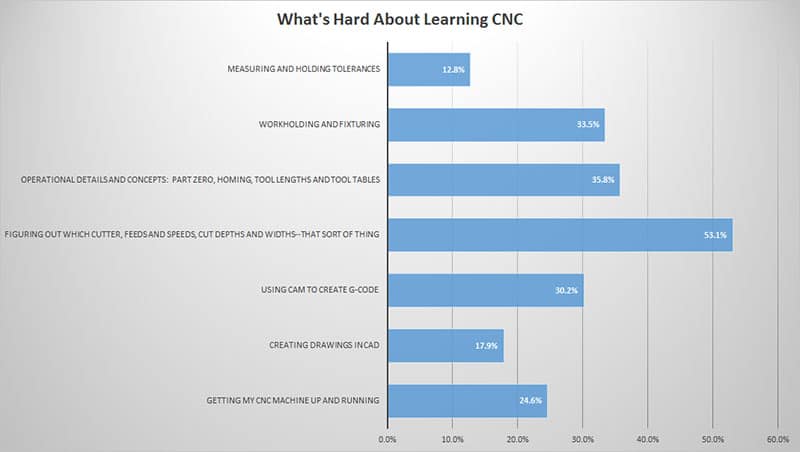 I respectively recommend our G-Wizard Calculator to cover that base and make feeds and speeds easy.  After all, you have so much to learn about CNC, why not knock out your hardest obstacle up front?
And here's the best part–it's CHEAP!
Get the 1 year version of G-Wizard.  It costs little more than a nice end mill.
When the 1 year is over, G-Wizard will become G-Wizard Lite.  The ONLY thing that changes is it will have a 2 Horsepower limit on calculations.  Most hobbyist CNC Machines are less than that anyway!  What a smokin' deal.