Free DXF Files You Can Cut Today on Your CNC
Router, Laser, Waterjet, or Other Machine
Categories

Animal

Helpful Articles:
More DXF Files coming soon: we upload new ones constantly!
Not finding the DXF files you need?
There's a lot of fun to be had with decorative and artistic CNC projects. Such projects don't require a lot of precision and are only 2 to 2 1/2D, so they're easy to make with a CNC Router, Laser, Waterjet, or Vinyl Cutter. Sometimes we're adding a design as a decorative element on top of a precision machined part, like this engraving on a bandsaw mitre gage: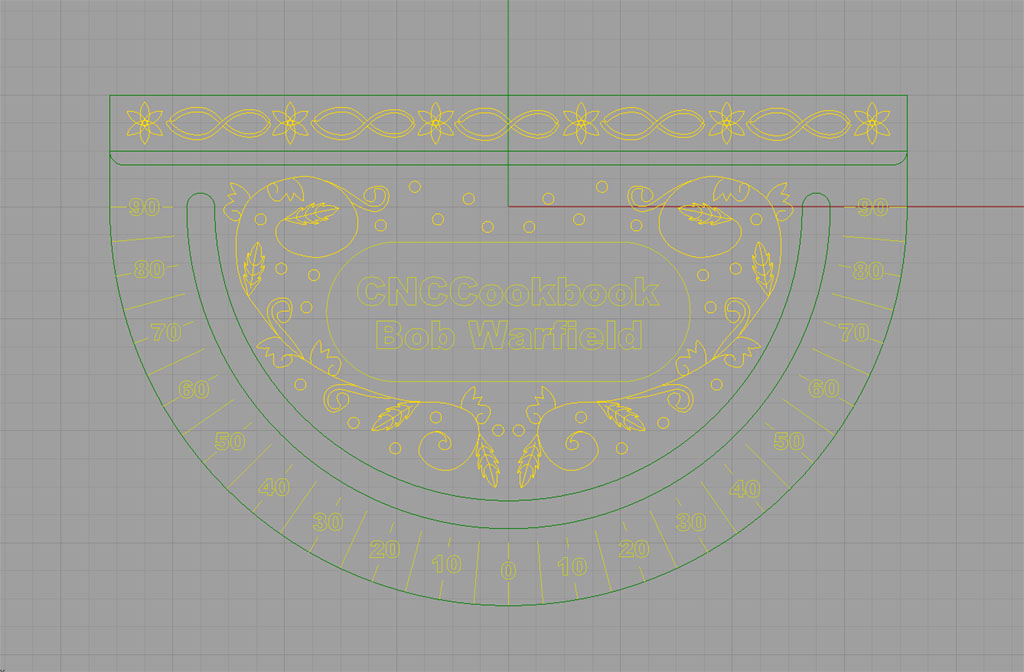 Many times, the hardest part of these kinds of projects is coming up with artwork. It's line art, which is relatively straightforward to convert to CAD and thence to CAM and finally g-code, but getting decent line art to start can be a pain. Especially for non-artists.
I recently was approached by Jason Henry, who has been doing CNC artwork for a long time. He was the original founder of freedxf.com (since sold) and lately is running CNC DXF Files. We were chatting about how we might work together to bring value to our respective customers and I decided one way would be for me to start a Free DXF File page with Jason providing the files. With this page, I'm kicking off that project.
As you can see, we divide the files into Categories like Animal, Holiday, and Vehicles. Jason has very generously provided a LARGE library of free files that you'll be able to download. I don't have nearly all of them up yet, but I will be steadily adding to the page until I have them all available.
He's also provided a lot of information about how to get the most out of the files, so be sure to check out the page on getting the most from your DXF files.
Jason and I have big plans for the page, so stay tuned. If you haven't already subscribed to our email newsletter, get hooked up right below so you don't miss out as new developments unfold.
In collaboration with CNCDXFFiles.com. Special thanks to Jason Henry!