With G-Wizard Calculator version 3.45, we now have support for Corner Rounding Endmills: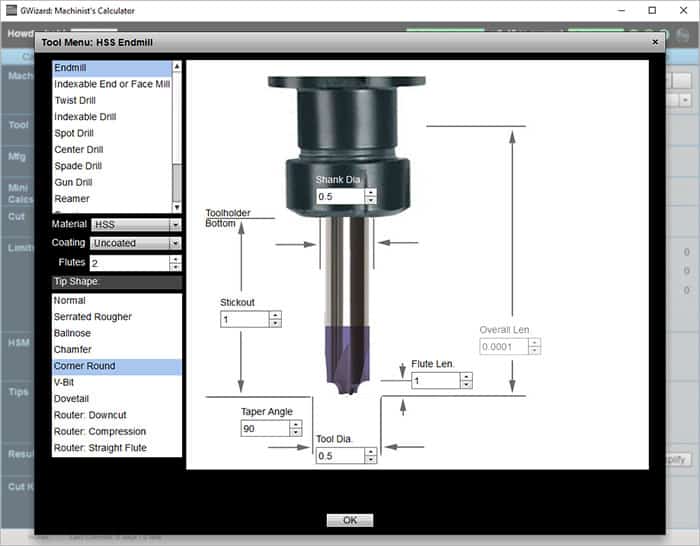 Corner Rounding Endmills: New Cutter Type
Corner Rounding Endmills are super-easy to use.  Just select them as a geometry type from the basic Endmill tool.  Be sure to enter the flute length (which is also the arc radius).  That's all there is to it.  You can let G-Wizard take the Feeds and Speeds from there.
There's several other worthwhile changes in v3.45:
Cut Optimizer is 3-5x faster
Made toolcrib.csv import more robust for those who are tinkering with it in spreadsheets
Refined Feeds and Speeds for composites, chamfer bits, and some plastics which were reclassified from hard to soft per Onsrud's practice.
If you're ever in doubt about what's changed in a release, our change logs for all our products are online and always up to date.  Click the "Help" button near the top of most CNCCookbook web pages, go to the "Getting Started" link for the desired product, and you'll find a Change Log link in the long list of resource links for the product that appears on the left side of the Getting Started page.
Here's the Change Log for G-Wizard Calculator, for example.  As you can see, we are constantly improving all our products.  It's what keeps us the innovation leader, and most of the improvements come via suggestions from you, our readers and customers.
If you've never tried G-Wizard Calculator, give it a spin–take a free 30-day trial on us.  You'll be surprised at all the many useful features to be found there.  And here's the best part:
Even if you don't need or want an awesome Feeds and Speeds Calculator.  Even if you never spend a dime with us.  You'll still get lifetime access to a huge assortment of free machining calculators built into the software.  Most of them are described on our Calculator and Reference page.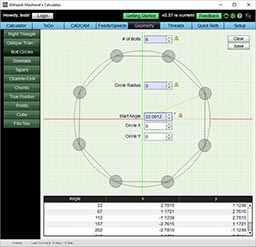 Here are just a few examples of what's there:
 Graphical Calculators for all manner of shop math:  Bolt Circles, Circle Chords, Trig Calculators, Dovetail and Measurement Calculators, and more.  There are 11 different Geometry Calculators built in.
A Thread Database full of UNS and ISO Threads with graphical display of their dimensions and attributes.  Plus, the world's best tap drill chart because it takes into account thread percentages.
Quick Reference Tables and Calculators covering Twist Drill Sizes, Fastener Dimensions, Weights and Volumes with standard material shapes, Thermal Expansion, Ohms Law Calculator, Resistor Color Codes, Servo and Stepper Sizing, G and M Code Quick Reference, Hardness, Rigidity, even a Chatter Calculator.
The list goes on and on.  Go ahead, give G-Wizard Calculator a try.  You may not have to drag out your Machinery's Reference handbook for months.  Wouldn't that be a shame?
Like what you read on CNCCookbook?
Join 100,000+ CNC'ers!  Get our latest blog posts delivered straight to your email inbox once a week for free. Plus, we'll give you access to some great CNC reference materials including:
Our Big List of over 200 CNC Tips and Techniques
Our Free GCode Programming Basics Course
And more!
Just enter your name and email address below:
100% Privacy: We will never Spam you!
Bob is responsible for the development and implementation of the popular G-Wizard CNC Software.  Bob is also the founder of CNCCookbook, the largest CNC-related blog on the Internet.