Here's our free metal weight calculator for pipes, plate, channel, angle, and many more shapes: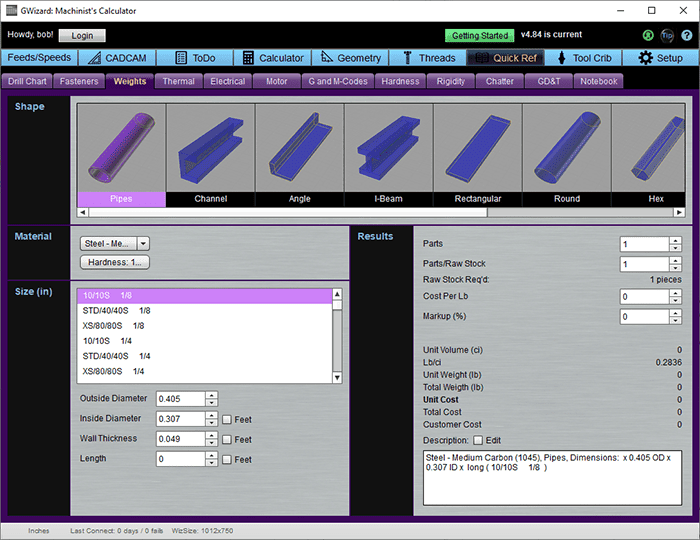 It's built into G-Wizard Calculator under the Quick Ref tab. It's free to anyone who has signed up for the free 30-day trial or has subscribed to G-Wizard Calculator. No purchase necessary to use it and all the other free calculators built into G-Wizard.
How to use G-Wizard's Volume and Metal Weight Calculator
Before we go much further, this is a general Material Weight Calculator. It will figure volume and weight for popular materials ranging from metals (steel, stainless steel, aluminum, brass, titanium, plastic, wood, etc.) in a variety of shapes (pipes, channel, angle, I-beam, etc.) and standard sizes.
After you've installed G-Wizard and gone to the Quick Ref Weights tab, here's how to use it:
Select a shape from the scrolling graphical menu at the top. The following shapes are available: Pipes, Channel, Angle, I-Beam, Rectangular (Plate and Sheet), Round (Cylinder), Hex, Round Tube, Square Tube, and Sphere.
Choose a Material from the Material box.
Choose the Size in the Size box. You can either select from the standard sizes in the list, or choose a custom size below. When you select a standard size, the custom sizes will update to show the dimensions of the standard size.
The Results box will show the results. There's also a handy calculation so that you can figure parts-related costing. G-Wizard Estimator uses these functions to help quote jobs.
That's all there is to it.
Some examples will make it clear.
Metal Weight Calculator Examples
Pipe Weight Calculator
Pipe weights are easy. Here is the Metal Weight Calculator set up for 3 feet of STD/40/40S 1/2″ pipe made of Copper: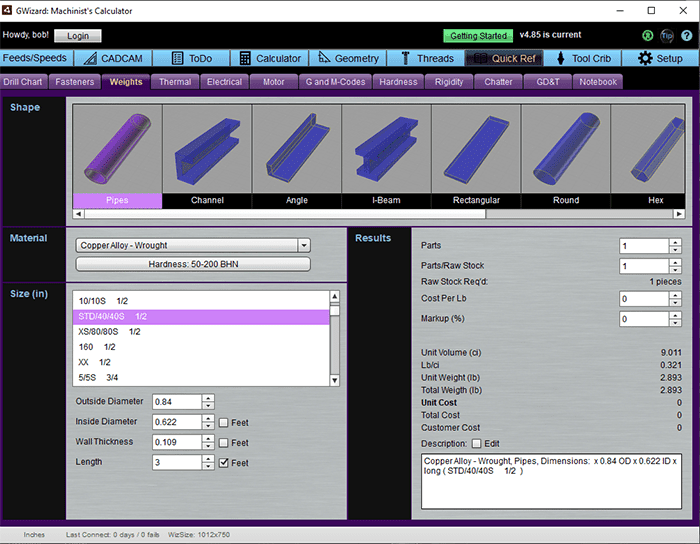 Steel Plate Weight
Plates and sheets are calculated via the "Rectangular" shape. Here is a 6″ x 8″ piece of 1/2″ thick mild steel plate: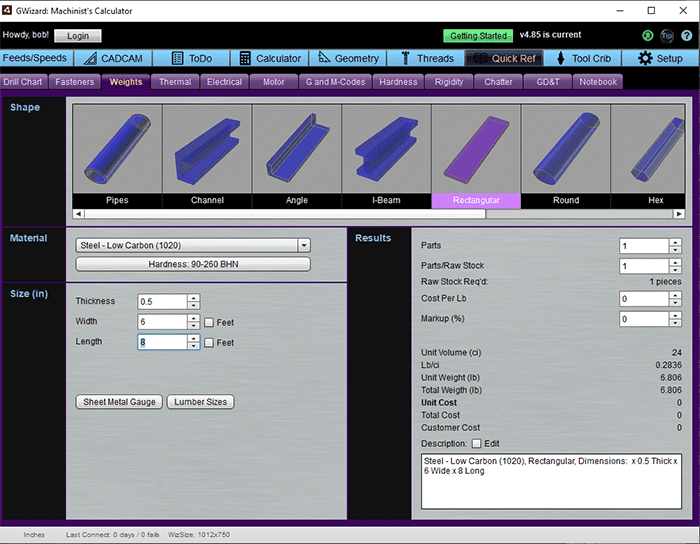 How much does a Hex Bar weigh?
Hex Bars can be handy shapes to work with sometimes. Steel's 12L14 alloy is lovely to turn on a lathe. The added lead ("L") makes is cut like butter.
The Metal Weight Calculator can use G-WIzard's entire Material Database, which is quite large. Try finding 12L14 in some other calculator!
Here's Hex Bar weight calculation for 12L14: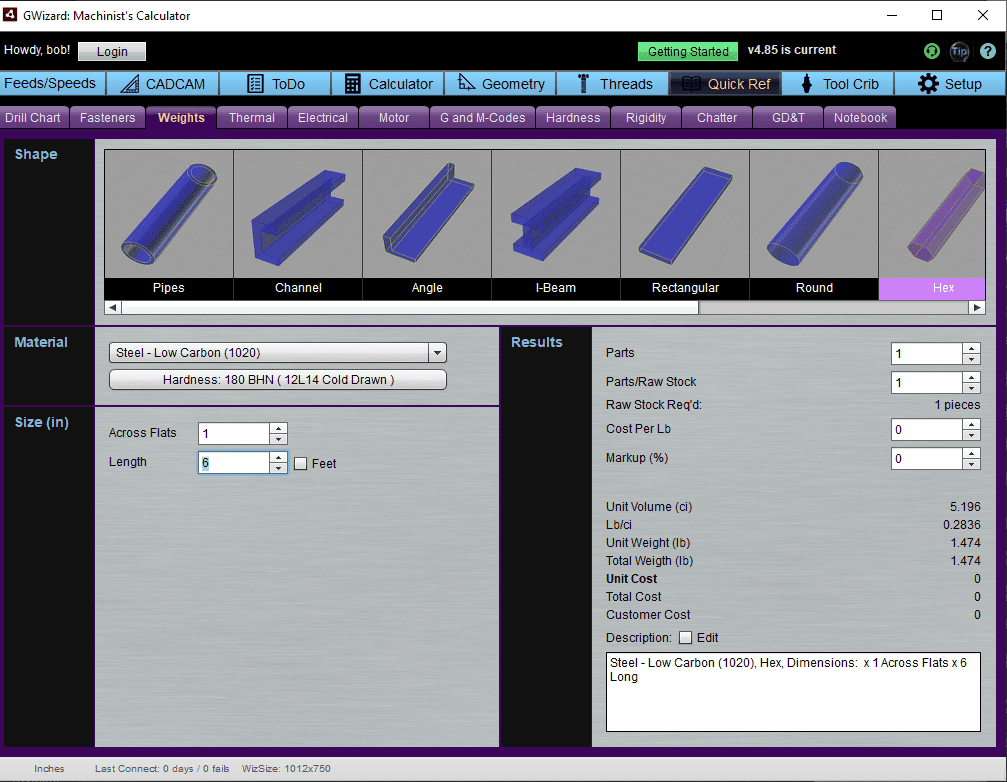 Steel Bar Weight
Steel Bars are just set up with the Rectangular Shape, easy peasy!
Angle Weight Calculator
Angle Iron is a handy structural material, but you'll be glad to have a Metal Weight Calculator if you need to mess with weight calculations for it.
G-Wizard has all the standard angle iron sizes. How about a 3 foot chunk of 1-1/2 x 1-1/2 x 1/8 angle iron in mild steel?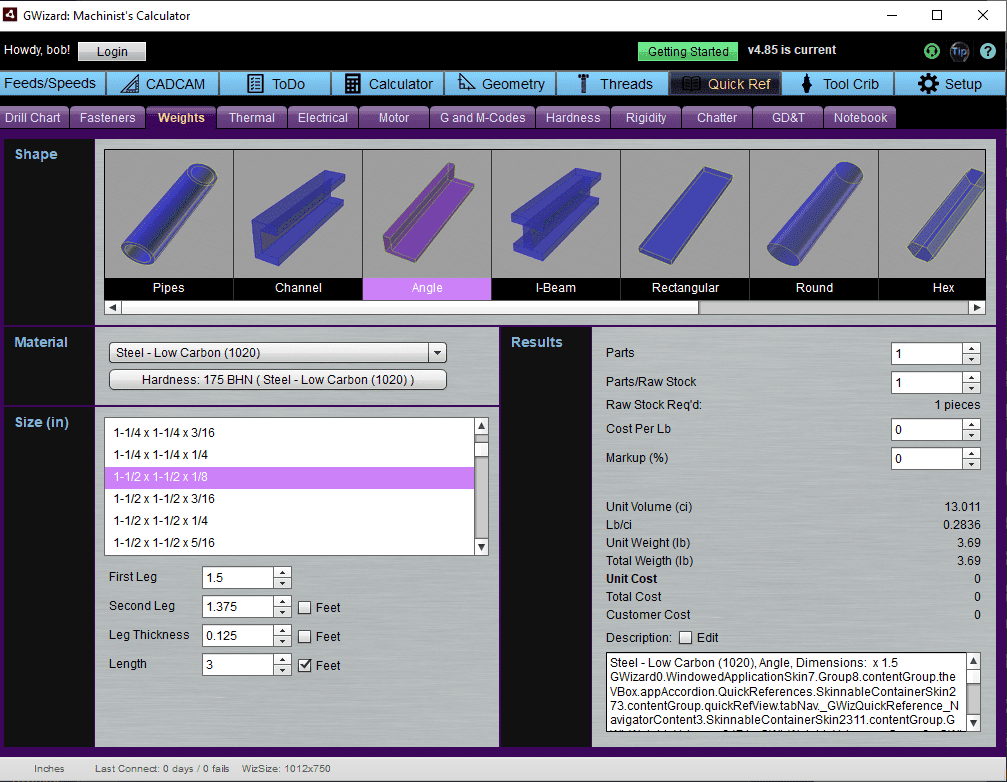 I-Beam Weight Calculator
Setting up I-Beam Weight Calculation is just like angle iron, only start with the I-Beam shape.
Cylinder Weight Calculator
Cylinders weight calculation and Round Bar Weight is done by selecting the "Round" shape.
Square Pipe Weight
Square Pipe Weight can be found by selecting the "Square Tubing" shape.
Sheet Metal Weight
Sheet Metal Weight is calculated by selecting the "Rectangular" shape then using the "Sheet Metal Gauge" button to pick the correct gauge: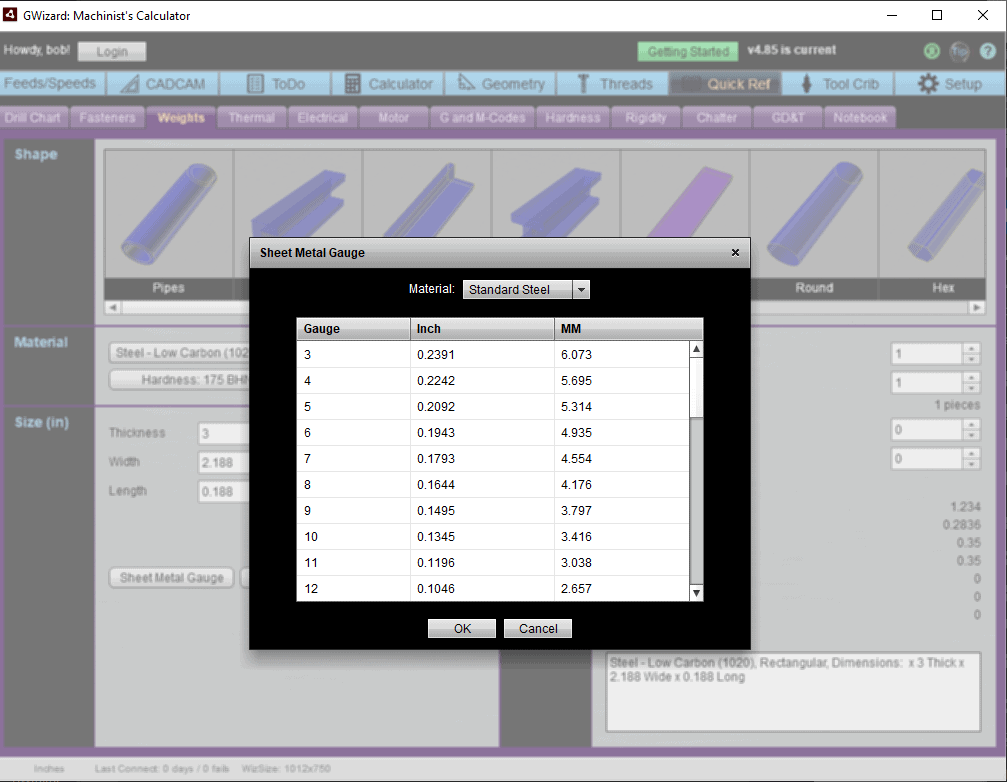 Structural Steel Weight Calculator
All the standard structural steel weight calculations can be made using the available shapes.
Like what you read on CNCCookbook?
Join 100,000+ CNC'ers!  Get our latest blog posts delivered straight to your email inbox once a week for free. Plus, we'll give you access to some great CNC reference materials including:
Our Big List of over 200 CNC Tips and Techniques
Our Free GCode Programming Basics Course
And more!
Just enter your name and email address below:
100% Privacy: We will never Spam you!
Bob is responsible for the development and implementation of the popular G-Wizard CNC Software.  Bob is also the founder of CNCCookbook, the largest CNC-related blog on the Internet.