This page is all about knowing the thickness of various materials based on a Gauge Number. If you know the thickness, you can use it to figure out other useful things such as weight. These thicknesses vary based on what the material is. In general, as the gauge number increases, the thickness decreases.
These charts provide thickness by gauge size for the following materials:
– Standard Steel

– Galvanized Steel

– Stainless Steel

– Aluminum

– Zinc

– Birmingham Scale
Each was determined by a standard established by the appropriate bodies concerned with the material.
Access Gauge Sizes More Convenientyly With a Special Calculator
We'll present all the gauge size data in tabular form below, but before we do that, we wanted you to know about our G-Wizard CNC Calculator. This inexpensive software has built-in gauge size information that's extremely easy to use: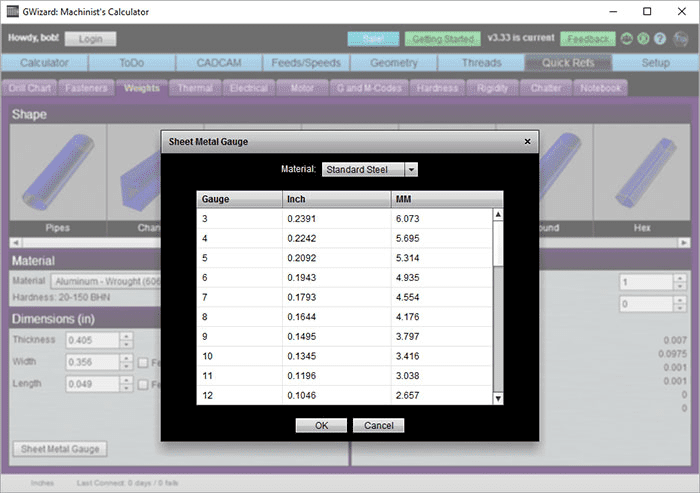 Gauge Size in the G-Wizard Machinist's Calculator…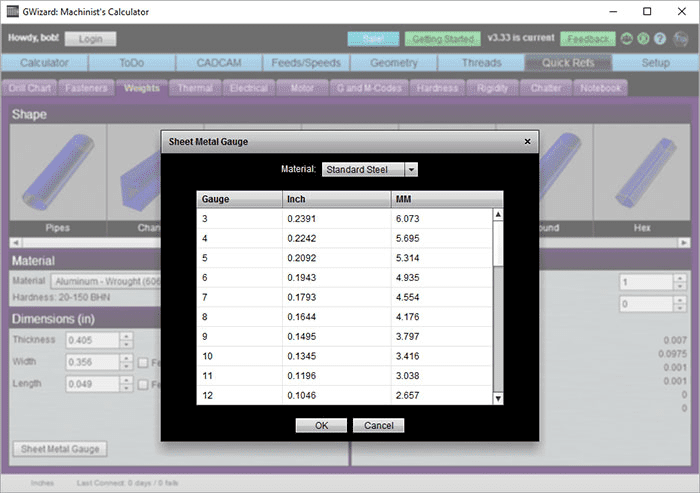 All the standard materials are available…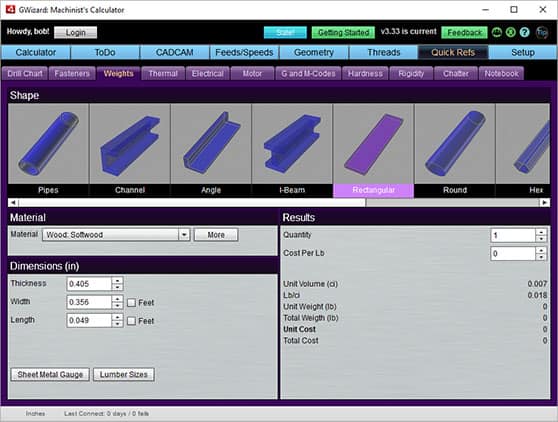 It's accessed by clicking the "Sheet Metal Gauge" button from within our standard Weights Calculator…
Standard Weights Calculator? What's all this then?
Simply put, it has the standard sizes for all the standard shapes you can obtain various materials in. It's all presented in a handy calculator that lets you figure weights and costs. Note that the Sheet Metal Gauge only appears when you select the "Rectangular" shapes.
Some things a free online chart just can't do! G-Wizard makes all this so easy you'll be reaching for your Machinery's Handbook way less often and loving it. Here's something else–you can get lifetime access to all the reference calculators and materials except the Feeds and Speeds Calculator just by signing up for a 30-Day Free Trial of G-Wizard. That's right, it is completely free to access all that just by signing up for a free trial and you'll also get all the upgrades and customer service for life! Plus, buy the $79 version and you get up to 1 HP on the Feeds and Speeds too for life.
So what's the catch? Why does anyone ever pay more than $79?
Many hobbyists don't pay more than $79, BTW. The catch is a spindle power limit. When you buy the 1 year G-Wizard for $79, you get 1 year of unlimited spindle power for Feeds and Speeds. When that expires, you get a spindle power limit of 1 HP. That limit is based on however many years you subscribe for. You can increase it any time you like by renewing the subscription. Or, if you don't like subscriptions, you can also by the product outright. And we never charge for updates or customer service.
Give G-Wizard a spin by taking the free 30-day trial today.
Sheet Metal Wire Gauge Sizes Chart
Okay, we promised free charts, so here they are:
Standard Steel Sheet Metal Gauges
Gauge

inches

mm

3

0.2391

6.0731

4

0.2242

5.6947

5

0.2092

5.3137

6

0.1943

4.9352

7

0.1793

4.5542

8

0.1644

4.1758

9

0.1495

3.7973

10

0.1345

3.4163

11

0.1196

3.0378

12

0.1046

2.6568

13

0.0897

2.2784

14

0.0747

1.8974

15

0.0673

1.7094

16

0.0598

1.5189

17

0.0538

1.3665

18

0.0478

1.2141

19

0.0418

1.0617

20

0.0359

0.9119

21

0.0329

0.8357

22

0.0299

0.7595

23

0.0269

0.6833

24

0.0239

0.6071

25

0.0209

0.5309

26

0.0179

0.4547

27

0.0164

0.4166

28

0.0149

0.3785

29

0.0135

0.3429

30

0.0120

0.3048

31

0.0105

0.2667

32

0.0097

0.2464

33

0.0090

0.2286

34

0.0082

0.2083

35

0.0075

0.1905

36

0.0067

0.1702

37

0.0064

0.1626

38

0.0060

0.1524
Galvanized Steel Sheet Metal Gauges
Gauge

inches

mm

8

0.1681

4.2697

9

0.1532

3.8913

10

0.1382

3.5103

11

0.1233

3.1318

12

0.1084

2.7534

13

0.0934

2.3724

14

0.0785

1.9939

15

0.0710

1.8034

16

0.0635

1.6129

17

0.0575

1.4605

18

0.0516

1.3106

19

0.0456

1.1582

20

0.0396

1.0058

21

0.0366

0.9296

22

0.0336

0.8534

23

0.0306

0.7772

24

0.0276

0.7010

25

0.0247

0.6274

26

0.0217

0.5512

27

0.0202

0.5131

28

0.0187

0.4750

29

0.0172

0.4369

30

0.0157

0.3988

31

0.0142

0.3607

32

0.0134

0.3404
Stainless Steel Sheet Metal Gauges
| | | |
| --- | --- | --- |
| | | |
| 0000000 | 0.5000 | 12.7000 |
| 000000 | 0.4686 | 11.9024 |
| 00000 | 0.4375 | 11.1125 |
| 0000 | 0.4063 | 10.3200 |
| 000 | 0.3750 | 9.5250 |
| 00 | 0.3438 | 8.7325 |
| 0 | 0.3125 | 7.9375 |
| 1 | 0.2813 | 7.1450 |
| 2 | 0.2656 | 6.7462 |
| 3 | 0.2500 | 6.3500 |
| 4 | 0.2344 | 5.9538 |
| 5 | 0.2187 | 5.5550 |
| 6 | 0.2031 | 5.1587 |
| 7 | 0.1875 | 4.7625 |
| 8 | 0.1719 | 4.3663 |
| 9 | 0.1562 | 3.9675 |
| 10 | 0.1406 | 3.5712 |
| 11 | 0.1250 | 3.1750 |
| 12 | 0.1094 | 2.7788 |
| 13 | 0.0937 | 2.3800 |
| 14 | 0.0781 | 1.9837 |
| 15 | 0.0703 | 1.7856 |
| 16 | 0.0625 | 1.5875 |
| 17 | 0.0562 | 1.4275 |
| 18 | 0.0500 | 1.2700 |
| 19 | 0.0437 | 1.1100 |
| 20 | 0.0375 | 0.9525 |
| 21 | 0.0344 | 0.8738 |
| 22 | 0.0312 | 0.7925 |
| 23 | 0.0281 | 0.7137 |
| 24 | 0.0250 | 0.6350 |
| 25 | 0.0219 | 0.5563 |
| 26 | 0.0187 | 0.4750 |
| 27 | 0.0172 | 0.4369 |
| 28 | 0.0156 | 0.3962 |
| 29 | 0.0141 | 0.3581 |
| 30 | 0.0125 | 0.3175 |
| 31 | 0.0109 | 0.2769 |
| 32 | 0.0102 | 0.2591 |
| 33 | 0.0094 | 0.2388 |
| 34 | 0.0086 | 0.2184 |
| 35 | 0.0078 | 0.1981 |
| 36 | 0.0070 | 0.1778 |
| 37 | 0.0066 | 0.1676 |
| 38 | 0.0062 | 0.1575 |
Sheet Metal Tolerances
Steel sheet metal tolerances

Gauge
Nominal
[in (mm)]
Max
[in (mm)]
Min
[in (mm)]
10
0.1345 (3.42)
0.1405 (3.57)
0.1285 (3.26)
11
0.1196 (3.04)
0.1256 (3.19)
0.1136 (2.89)
12
0.1046 (2.66)
0.1106 (2.81)
0.0986 (2.50)
14
0.0747 (1.90)
0.0797 (2.02)
0.0697 (1.77)
16
0.0598 (1.52)
0.0648 (1.65)
0.0548 (1.39)
18
0.0478 (1.21)
0.0518 (1.32)
0.0438 (1.11)
20
0.0359 (0.91)
0.0389 (0.99)
0.0329 (0.84)
22
0.0299 (0.76)
0.0329 (0.84)
0.0269 (0.68)
24
0.0239 (0.61)
0.0269 (0.68)
0.0209 (0.53)
26
0.0179 (0.45)
0.0199 (0.51)
0.0159 (0.40)
28
0.0149 (0.38)
0.0169 (0.43)
0.0129 (0.33)
Aluminium sheet metal tolerances

Thickness
[in (mm)]
Sheet width
36 (914.4)
[in (mm)]
48 (1,219)
[in (mm)]
0.018–0.028 (0.46–0.71)
0.002 (0.051)
0.0025 (0.064)
0.029–0.036 (0.74–0.91)
0.002 (0.051)
0.0025 (0.064)
0.037–0.045 (0.94–1.14)
0.0025 (0.064)
0.003 (0.076)
0.046–0.068 (1.2–1.7)
0.003 (0.076)
0.004 (0.10)
0.069–0.076 (1.8–1.9)
0.003 (0.076)
0.004 (0.10)
0.077–0.096 (2.0–2.4)
0.0035 (0.089)
0.004 (0.10)
0.097–0.108 (2.5–2.7)
0.004 (0.10)
0.005 (0.13)
0.109–0.125 (2.8–3.2)
0.0045 (0.11)
0.005 (0.13)
0.126–0.140 (3.2–3.6)
0.0045 (0.11)
0.005 (0.13)
0.141–0.172 (3.6–4.4)
0.006 (0.15)
0.008 (0.20)
0.173–0.203 (4.4–5.2)
0.007 (0.18)
0.010 (0.25)
0.204–0.249 (5.2–6.3)
0.009 (0.23)
0.011 (0.28)
Stainless steel sheet metal tolerances

Thickness
[in (mm)]
Sheet width
36 (914.4)
[in (mm)]
48 (1,219)
[in (mm)]
0.017–0.030 (0.43–0.76)
0.0015 (0.038)
0.002 (0.051)
0.031–0.041 (0.79–1.04)
0.002 (0.051)
0.003 (0.076)
0.042–0.059 (1.1–1.5)
0.003 (0.076)
0.004 (0.10)
0.060–0.073 (1.5–1.9)
0.003 (0.076)
0.0045 (0.11)
0.074–0.084 (1.9–2.1)
0.004 (0.10)
0.0055 (0.14)
0.085–0.099 (2.2–2.5)
0.004 (0.10)
0.006 (0.15)
0.100–0.115 (2.5–2.9)
0.005 (0.13)
0.007 (0.18)
0.116–0.131 (2.9–3.3)
0.005 (0.13)
0.0075 (0.19)
0.132–0.146 (3.4–3.7)
0.006 (0.15)
0.009 (0.23)
0.147–0.187 (3.7–4.7)
0.007 (0.18)
0.0105 (0.27)
Recently updated on August 15th, 2023 at 01:56 pm