Recently updated on May 23rd, 2023 at 12:13 pm
Because we all like helpful shop tips, even the random ones, right?
Use a Sharpie to Locate Your Vacuum Fixture Gaskets
Vacuum Fixtures are the bee's knees for a lot of jobs, but you need to be aware of where the leaks are going to appear as your part is cut out and use gaskets to avoid losing too much vacuum. So why not chuck up a Sharpie and run a part outline CNC program to make it easy to see exactly where the gaskets go?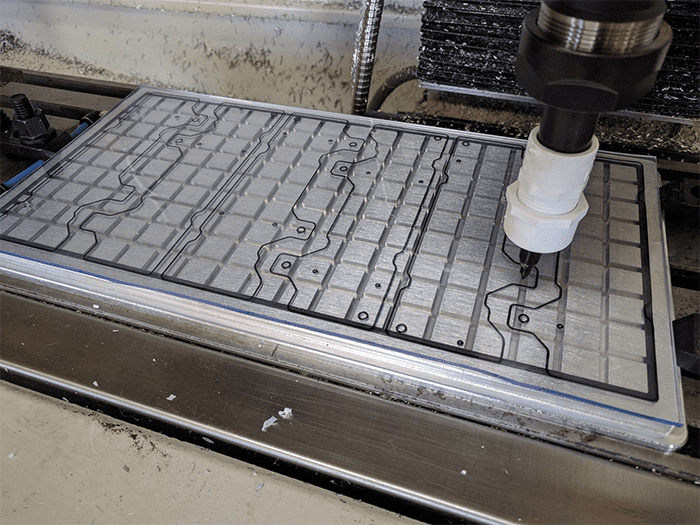 Thanks Steve Hartig!
Nifty "Mini-Me" Vise Jaws for One-Offs
I had dinner with a gentleman recently and we were talking about fixturing and the economics. He really liked our Fixture Calculator, and had taken to recommending it to his customers to help them see the advantages. But we also talked about a firm that had problems because of too much fixturing. They had geared up back in the day for maximum productivity when order sizes were very large. But, over the years, the nature of their business changed. They were now doing tiny quantities, but there weren't set up for success. Seemed like they couldn't do anything without building an expensive fixture to get started.
I thought about that conversation when I saw Rory Des Jardin's cool "Mini-Me" Vise Jaws: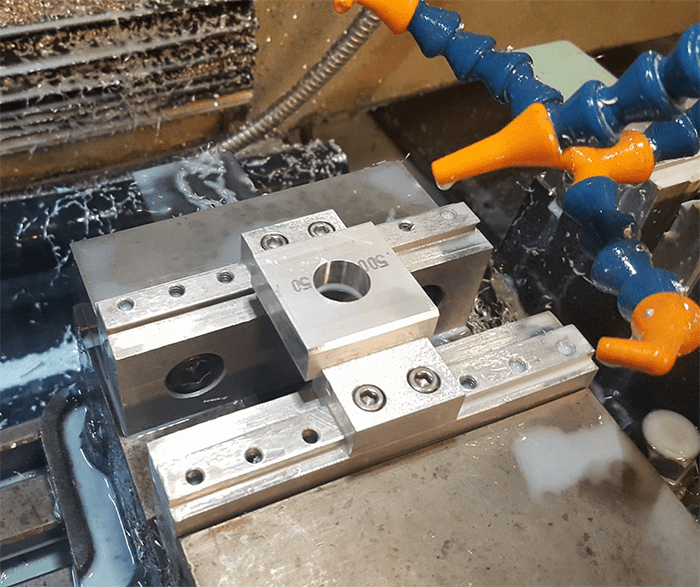 Rory does a business making parts for off-roaders, and he does a lot of prototyping. He's found these jaws are super helpful and save a lot of time. Basically, he can face both sides of the part without cutting into his soft jaws. It's kind of like the old trick of sticking a grinding vise into your milling vise.
What Next? How about this: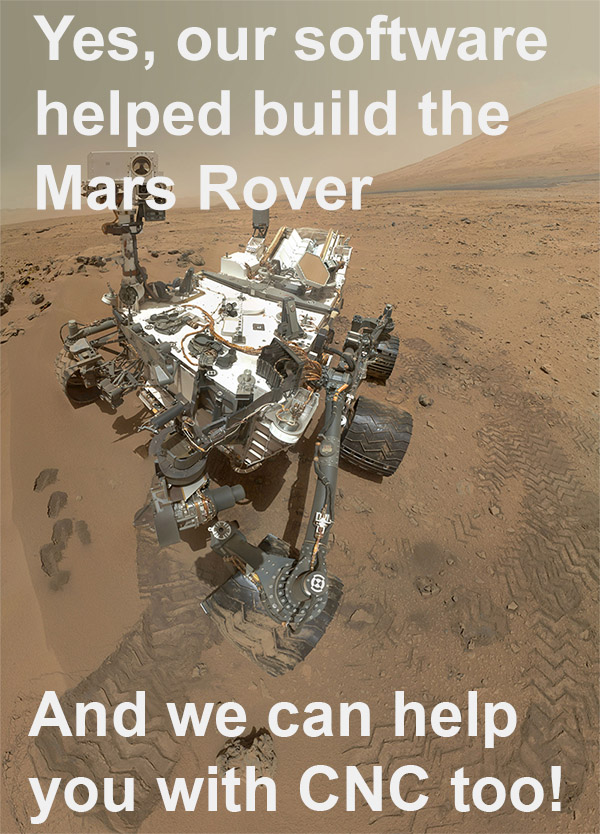 Fixtures for Standard Material Sizes
Rory also has this fixture which holds a standard material size and can be used to make a variety of small parts in small batches: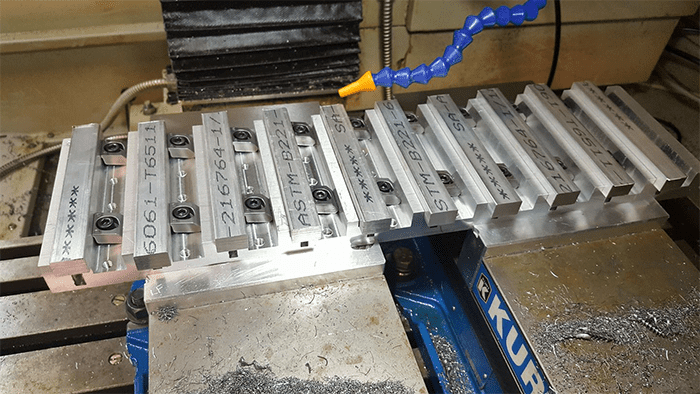 Are you starting to see the wisdom of "generic fixtures" that can work for a variety of parts?
Generic Fixtures #2: Collet Chucks on a Mill
Mount a row of collet chucks on a fixture plate and you've got an instant generic fixture for round stock:
I gotta believe a collection of these generic fixtures of various kinds could make any shop more productive.
Tell us what generic fixtures you use in the comments below!
Chuck Haulers
Chucks can be awkward and heavy, especially for larger lathes. How about a "Chuck Hauler" to make the task of lining up your chuck on the spindle and getting it mounted easy?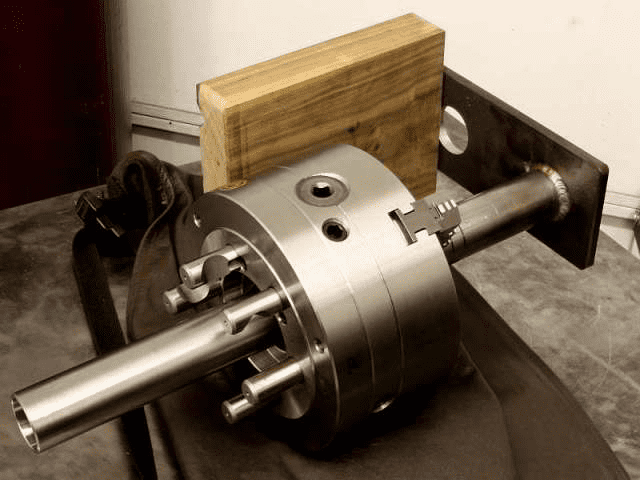 The chuck goes on the hauler like this. You can grab the bar on either side of the chuck to use both hands…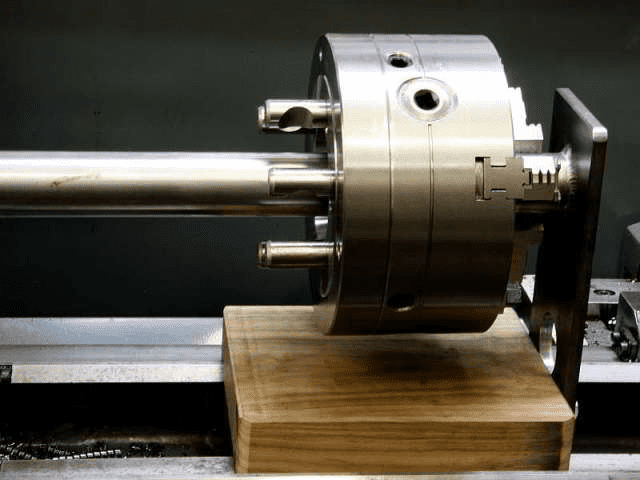 Place the hauler onto your lathe's ways. The hardwood base protects the ways from harm…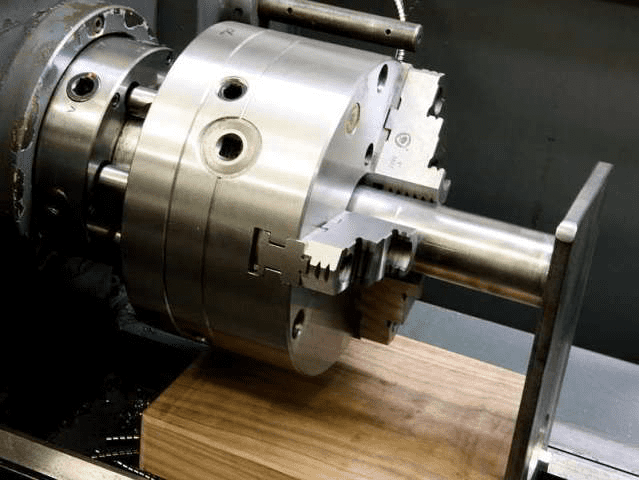 Line up the bar with the spindle bore and slide the chuck into position. Pretty slick!
For really heavy chucks you're going to want some sort of overhead hoist system. In fact, the hoist will even come in handy for loading large workpieces. Here is a nice shot of Ray Behner's setup from PM: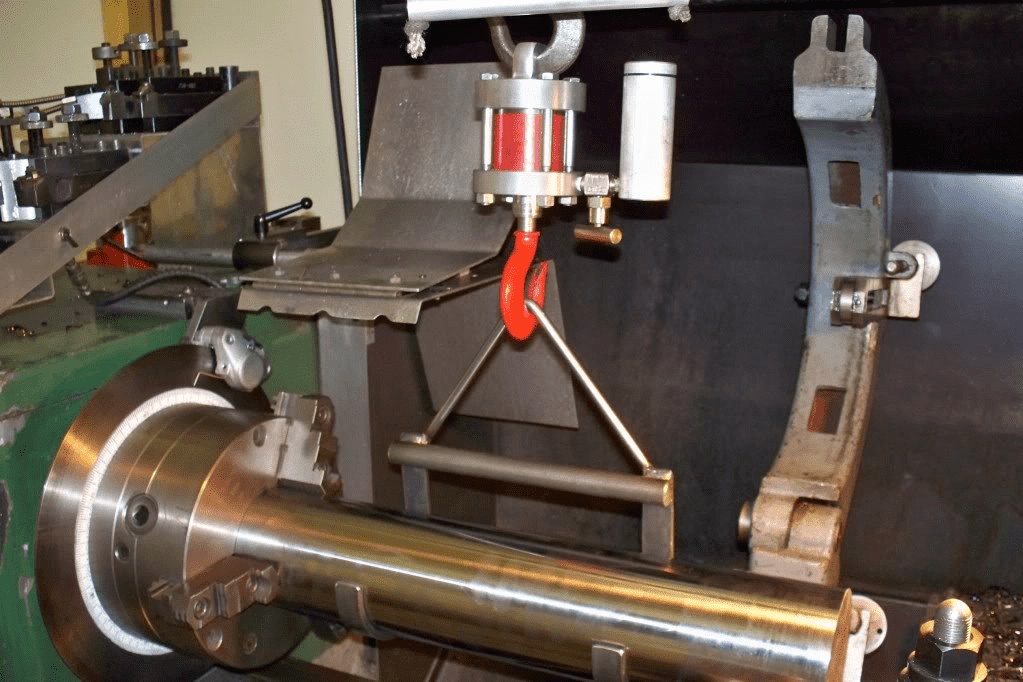 Cradle for round stock, and a little piston unit on the hook for fine positioning. Just open the valve to gently lower the workpiece. Note the disc brake and indexing by the chuck!
Faster Vise Tramming
I love my "Traminator" (what I call the dual indicator tramming tool I received as a gift), but had thought of it as a very special purpose tool only useful for tramming the mill until I saw this picture on a Practical Machinist thread: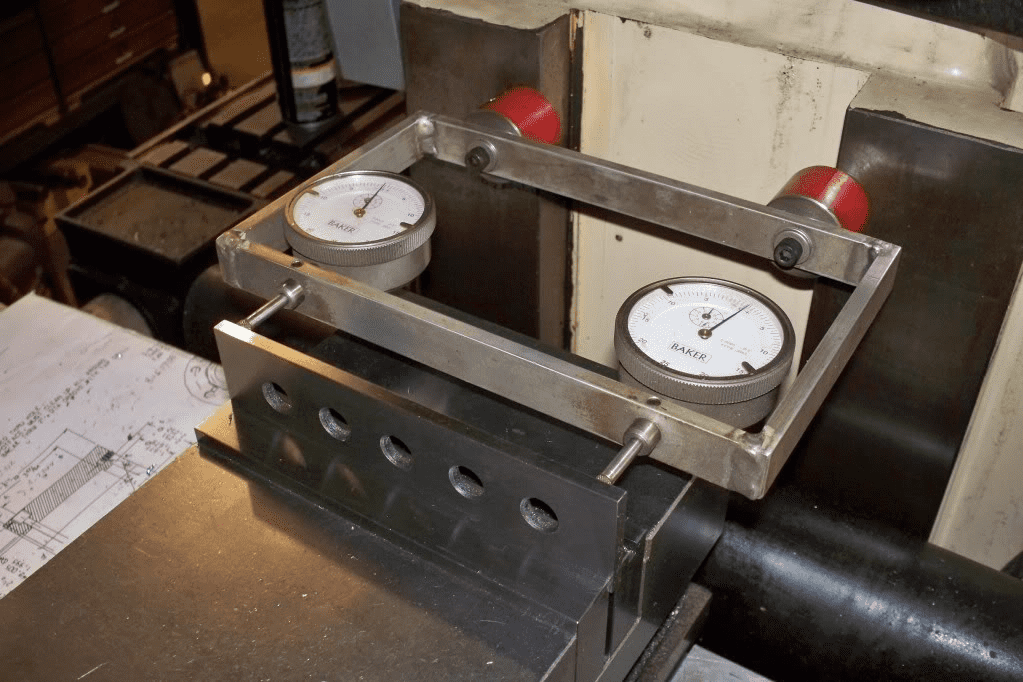 Ray Behner created this tool, and what a cool idea it is! It's shown here tramming a vise, but I can imagine it would be handy to align almost anything into tram on the mill table. It's going to be faster to tap it in this way too since you don't have to wait to sweep the indicator.
Gang Tool a Turret
No matter how large your lathe turret is, there's never enough tool positions. When making holes especially, several tools are needed. Perhaps a twist drill and tap (or single point thread tool), for example. Then you want a nice chamfer too, so that's a third tool.
Well, if your parts are small enough to fit the available spacing between tools, there's no reason you can't put a gang tool block on your turret and gain a couple additional positions per turret slot. Here's an example: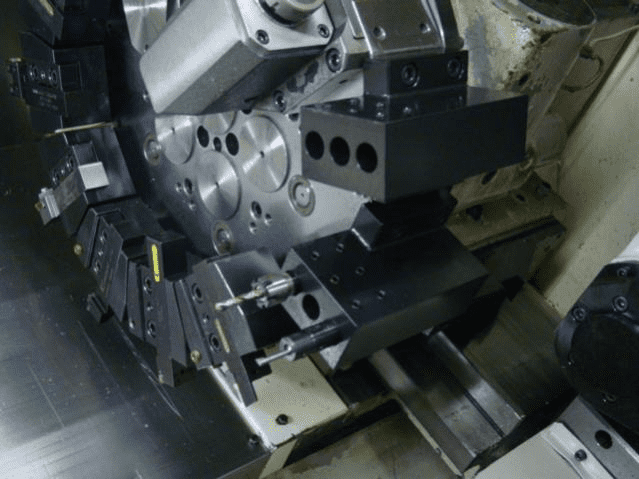 Organize Small Parts in Binders
There are never enough good ideas for organization, but I really liked this idea of using 3-ring binders for small parts storage I saw on the MAKE magazine blog: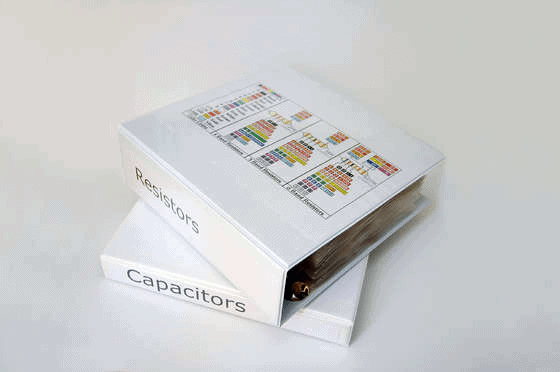 Nice color code diagram on the outside of the resistor storage binder…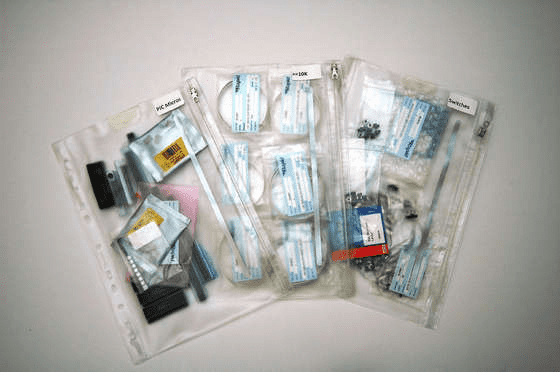 Plastic pockets hold the goodies…
There's no end of things you could put in them.
How about binders for carbide insert storage? Divide them up by type of tooling, put some quick reference info on like the guy did with the resistor color codes (match tooling to insert type, with notes on SFM and chip load for various materials and applicability of various insert grades that have worked) and you're there. Someone probably already makes exactly the right thing to go in the 3-ring binder to maximize its usefulness for this application too.
Cutting Board Tool Storage
I love working with the plastic used for cutting boards–typically HDPE or High Density Poly Ethylene. For cutting boards you usually see it in that milky white color. I buy a few any time I see them on sale just to use as raw material for other projects. Here's some photos showing their use for tool trays from a great tool organization thread over on Garage Journal: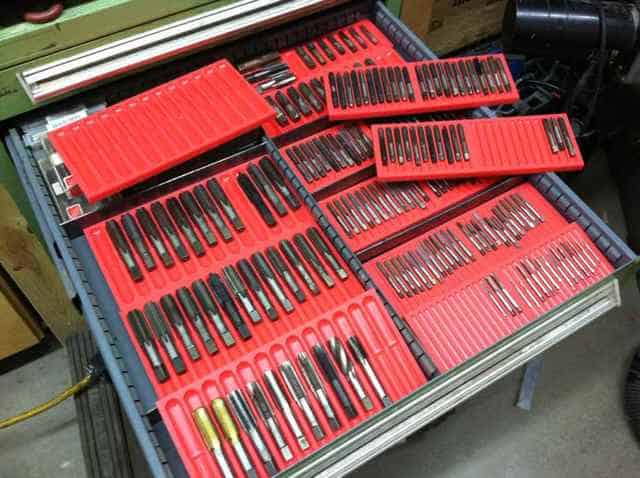 Red looks good…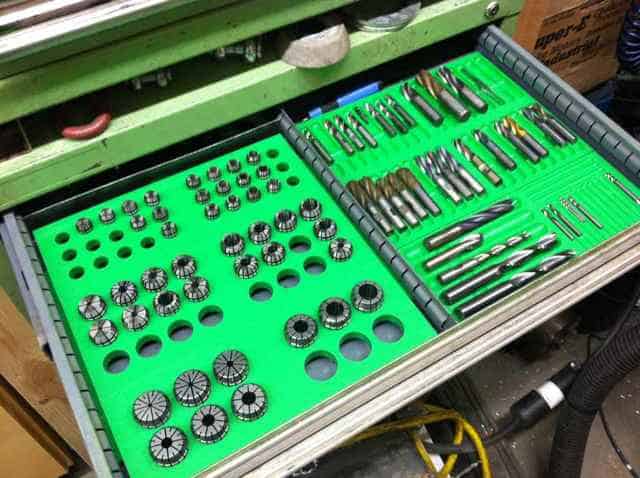 But green is neat too…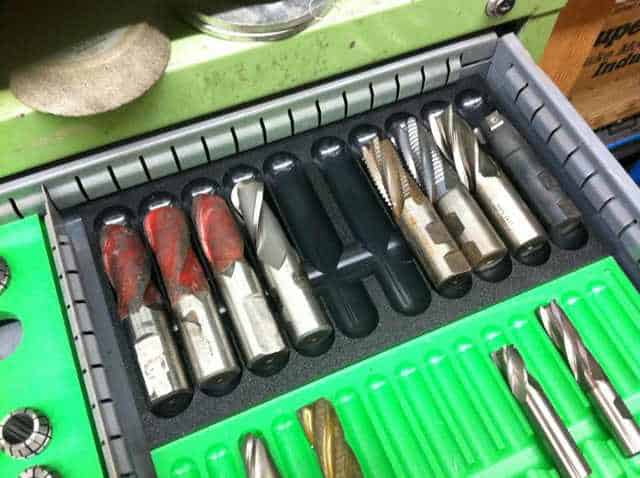 And the snazzy black is something called "Starboard"…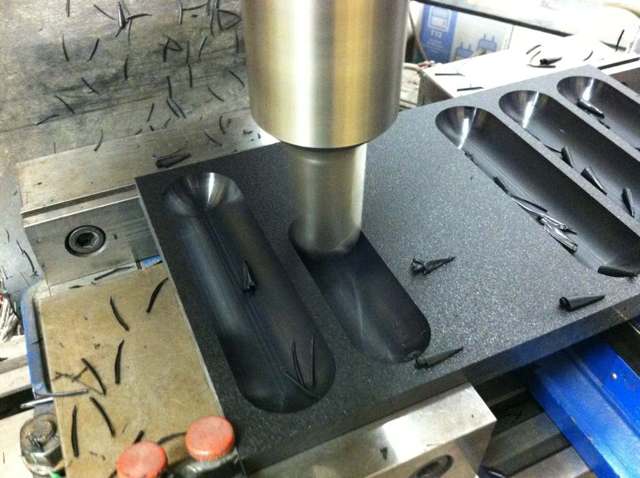 Tool trays are dead simple to make–it just takes a ballnosed endmill…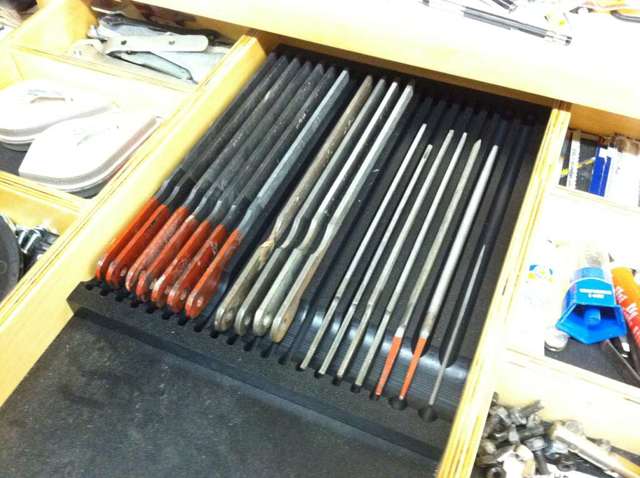 This one is a nice setup for files. I've got wooden handles on my files, so I'd make that handle pocket a little longer and deeper…
Like what you read on CNCCookbook?
Join 100,000+ CNC'ers!  Get our latest blog posts delivered straight to your email inbox once a week for free. Plus, we'll give you access to some great CNC reference materials including:
Our Big List of over 200 CNC Tips and Techniques
Our Free GCode Programming Basics Course
And more!
Just enter your name and email address below:
100% Privacy: We will never Spam you!
Bob is responsible for the development and implementation of the popular G-Wizard CNC Software.  Bob is also the founder of CNCCookbook, the largest CNC-related blog on the Internet.