Recently updated on May 17th, 2023 at 05:02 pm
This is part 4 of our Ultimate Tony Stark Inspired Workshop Series.
In this episode, we'll go to the very heart of the shop, at least for CNCCookbook readers.  Yes, that's right, we're going to take a look at what sort of mills and lathes might be appropriate for a shop like this.
Turning:  Toolroom Lathe
Lathes are somehow fundamental and intuitive machines for many machinists.  We have to make a lot of round parts because rotary motion is so common, and round parts are what lathes do.  Lathes are simpler to get our heads around many times.  There are simpler options for work-holding on lathes than mills.  Tooling is often simpler, at least when we're not talking about doing milling on our lathes.  There are a lot of different kinds of lathes out there too, some very specialized, some being of general purpose use.  For a workshop like this, I envision two different machines.  One is great for prototyping work and especially for relatively large scale parts–this workshop needs a classic CNC Toolroom Lathe.  You know, the kind that has a big chuck at one end and a tailstock at the other.  Ever since playing with a friend's Romi Toolroom Lathe, I've really fallen in love with the whole toolroom lathe concept, and so this workshop will get a Romi.  Their C420 is a 17×40 lathe that seems about right for this sort of thing: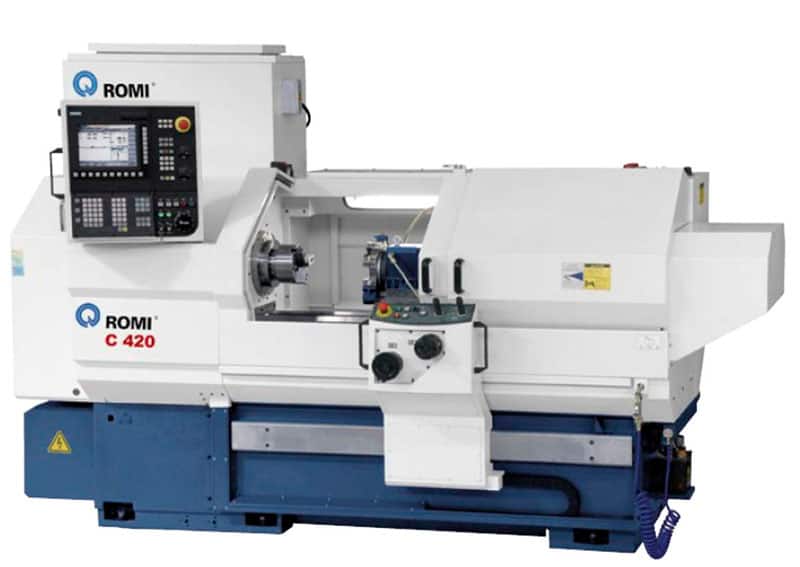 Romi C420 17×40 CNC Toolroom Lathe…
Underneath all the covers is a fairly conventional lathe–looks a lot like a nice manual 17×40.  But add the CNC and the machine is much more powerful, especially with the Conversational CNC capabilities of either add-on software or the controller on the machine.  I wanted to make a part one time that included an R8 taper, and I remember it was total simplicity to do one on the Romi.  Haas offers their TL-series lathes which are very similar in concept.
Tooling on a machine like this is important.  My friend's Romi is equipped with a very nifty chuck made by Schunk in Germany.  This chuck is a clean sheet of paper approach to the homely 3-jaw chuck that is so common: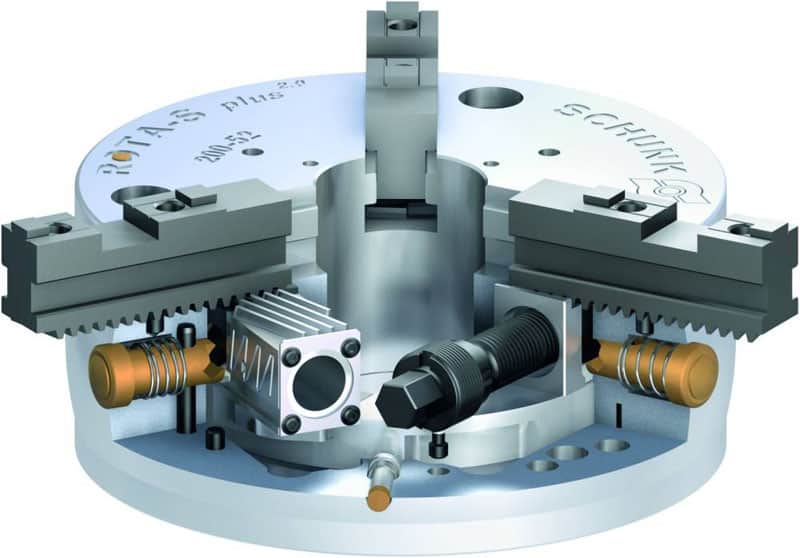 Schunk Lathe Chuck…
Instead of a scroll, they use a wedge system that is more accurate.  In addition, pressing a button allows the jaws to be slid quickly to the proper size so you don't have to wind it there with the chuck key.  These chucks are not cheap, but they sure are beautiful and productive works of machine art.
For toolholding on our toolroom lathe, we'll specify a Multiturn-style toolholder.  I have one of these on my Tormach Lathe.  They're common in Europe but much more rare here in the States.  I like them because they're typically more repeatable than the Aloris-style quick changes and they have a number of other features that are slicker.  Here's the one on my friend's Romi: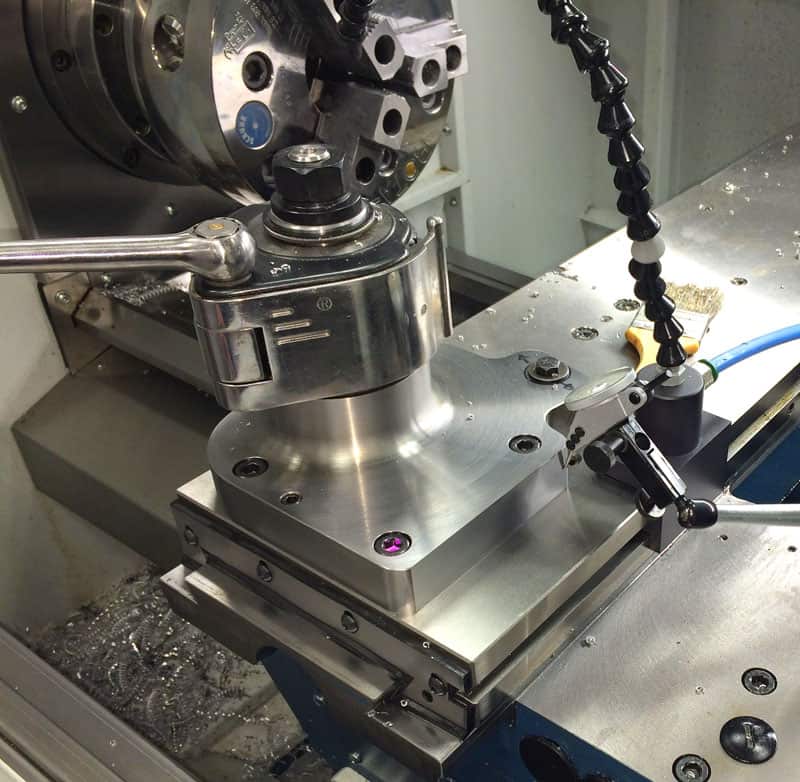 Multiturn Quick Change Tool Post…
There's quite a lot more tooling to consider, but a nice CNC Toolroom Lathe set up like this is very handy to have around.  However, sometimes you need to bang out a bunch of parts for a small run.  Perhaps you're making some custom fasteners or a run of specialized plumbing fittings.  Maybe that Iron Man suit has some hydraulics that need some cutom fittings.  A toolroom lathe like this is better suited to one-offs.  For the man that has everything and wants a workshop with everything, a different machine is needed in addition to the toolroom lathe.
Turning:  Swiss Millturn
There are a ton of different machines in this category.  You want one with a tool changer, power chuck, bar feed capability, yada, yada.  You could spec on with a hydraulic tailstock, but I have always loved Swiss Lathes.  They're such neat machines.  Here's the deal–when turning long parts whose diameter is small relative to their length, they will deflect if they're not supported properly.  That's one of the primary roles of the tailstock, especially on a CNC where you're less likely to use them for drilling operations since you can easily line up the drill on the centerline with CNC.  A lot of production lathes don't even have tailstocks–my Tormach does not although they're rumored to be working on one.  Instead, these lathes must be content making relatively short parts.  How short?  Well the rules for boring bars are suitable here–you don't want an overhang more than 3 to 4x the diameter lest you get too much deflection (for carbide bars, you can hang it out a lot further, but how many of us make parts out of carbide?).  Now there's a huge variety of parts that are no more than 3-4x length relatively to their diameter, and probably a majority of CNC lathes lack tailstocks, so it isn't the end of the world.  But this is a very special workshop–nothing but the best.  As I mentioned, we could specify a retractable hydraulic tailstock, but the other option is a Swiss Lathe.
Instead of a tailstock, Swiss Lathes support the work using what's called a "guide bushing".  Basically, they can extend and retract the workpiece so there's just enough sticking out of the guide bushing to do the job and the cutting happens as close to the bushing as possible–within 3 diameters or so in most cases.  These machines are very versatile and fast, so would make a perfect small production run machine for the Workshop.  Here's a nice video of a Swiss Lathe in action where you can see how the part moves relative to the guide bushing:
[youtube]http://www.youtube.com/watch?v=2KWX5Zp2vSg&w=640&h=385[/youtube]
A Swiss Lathe in action…
Another thing that's very obvious from that video is the gang tooling.  On a machine like this where the Z motion is made by the workpiece and not the tool, quite a lot of tooling can be lined up around the part.  Once the machine is set up, most tool swapping will be limited to getting the right sized twist drill, tap, or reamer as needed by the application.  In addition, gang-tooling is very fast.
The other thing we want to see from this machine is Millturn capability.  This means being able to put a powered spindle on as a tool that can do milling tasks.  The machine in the video starts mill turning some wrench flats on the little fitting at about 2:10.  Very neat to have!
Milling:  The Porsche of CNC Mills
Next, we turn our attention to milling machines.  Like the Turning, we're going to specify more than one to cover a variety of situations and increase our flexibility.  For a lot of parts, it would be hard to go wrong with the machine I've called the "Porsche of CNC Mills"–a Datron Cube.  Here's one in action from a visit I made to their local sales office:
[youtube]http://www.youtube.com/watch?v=1m2hRkZjqxY&w=600[/youtube]
These machines are the epitomy of High Speed Machining, so you'll need to think in their terms.  No big 4″ face mills, but the surface finish from the smaller cutters is awesome.  Little or no deburring is going to be needed–they come off with a near mirror-finish polish.  Perhaps this is one of the reasons so many Silicon Valley companies use them to prototype their expensive high tech gadgets.  That certainly sounds right up Tony Stark's alley.
Milling:  5 Axes and a Decent Work Envelope
While we're on extremely high-tech milling machines, we ought to look for something in 5 Axes with a nice big work envelope.  Check out this video of a 5-axis machining a helmet–this must be how Tony made IronMan's helmet:
[youtube]http://www.youtube.com/watch?v=MwZCuTlSKeY&w=600[/youtube]
Or, perhaps he'd want something even more cutting edge like this hybrid combination of 5-axis mill and additive (3D printing) machining by Mori Seiki:
[youtube]http://www.youtube.com/watch?v=s9IdZ2pI5dA&w=600[/youtube]
Depending on the projects you hope to tackle in such a workshop, perhaps you need a machine with enough work envelope to machine an entire engine block from a solid hunk of aluminum, magnesium, or solid green unobtanium.  After all, Tony is making unlicensed nuclear reactors that fit in the palm of his hand and use unknown technologies. Making one big enough to power a vehicle might require something more like this:
[youtube]http://www.youtube.com/watch?v=zGXWu0XmL_g&w=600[/youtube]
This is part 4 of our Ultimate Tony Stark Inspired Workshop Series.  Stay tuned for more ultimate workshop goodness next week!
Like what you read on CNCCookbook?
Join 100,000+ CNC'ers!  Get our latest blog posts delivered straight to your email inbox once a week for free. Plus, we'll give you access to some great CNC reference materials including:
Our Big List of over 200 CNC Tips and Techniques
Our Free GCode Programming Basics Course
And more!
Just enter your name and email address below:
100% Privacy: We will never Spam you!
Bob is responsible for the development and implementation of the popular G-Wizard CNC Software.  Bob is also the founder of CNCCookbook, the largest CNC-related blog on the Internet.