This is part 3 of our Ultimate Tony Stark Inspired Workshop Series.
Time to dive into some of the beefier areas of our workshop, namely what kinds of machines will inhabit these hallowed halls?
Cutting Rough Stock to Shape
Cutting rough stock to shape is an important early step in most projects for our Ultimate Workshop.  We've postulated an inventory of every imaginable type of material and stock shape, so now we need to cut that stuff down to size.  Ideally, we want to get within 0.1″ of our final target dimension, regardless of the shape of the part.  Being able to do so typically results in high productivity because cutting rough stock is usually much faster than machining the same amount of material today.
5-Axis Waterjet
A workshop like this needs to start with one of the highest productivity machines there is for cutting rough stock:  a waterjet.  These machines are awesome, and shops I've talked to tell me that for many parts, they waterjet and then the milling work is largely a function of finish passes.  Productivity is so much higher.  Since the is an Ultimate Workshop, I think we'll invest in a pretty special waterjet too–how about a full 5-Axis machine?  Something like this Flow Mach 4 will serve nicely:
[youtube]http://www.youtube.com/watch?v=TpDpnmyYraQ[/youtube]
Waterjets, unfortunately, tend to be expensive to run.  That's not a problem for the budget on a facility like this, but there's no sense wasting it.  We'll want to be set up to recycle the abrasive and we'll also want to sign on a service to keep the machine constantly in tip top shape.
There will be times when firing up a beat like the Flow is not worth the trouble–we just need something quick and dirty.  We'll invest in a couple of tools to take care of those situations.
Cold Saw
First up is a nice fully automated cold saw that is a miter saw.  Something like this Behringer will do nicely: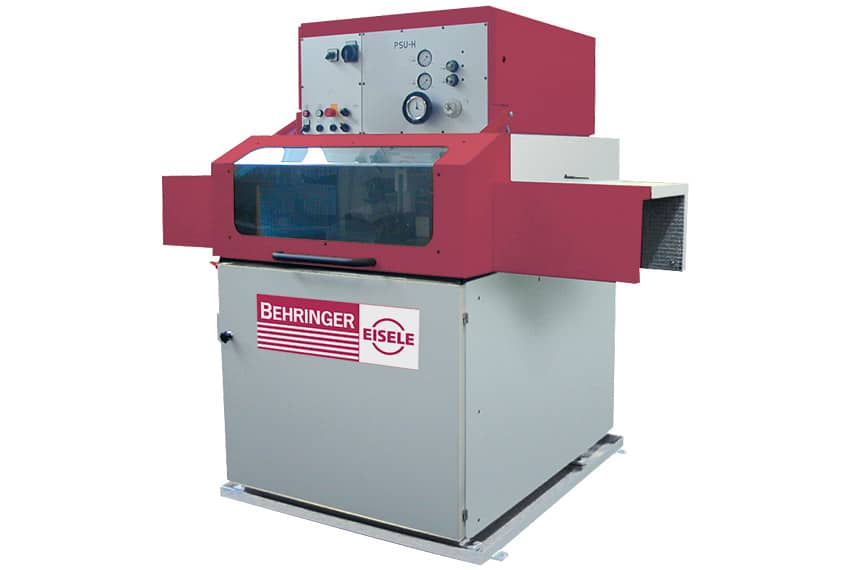 Behringer Cold Saw Miter Saw…
Cold Saws cut through metal quickly and this one can handle miter cuts with fair accuracy.  Should be just the ticket for knocking out some quick structural shapes for a little project.
Metal Cutting Bandsaw
Next up is a metal cutting bandsaw.  These machines are great.  I have an older DoAll that I really like.  Tony Stark inherited the business from his father, and it seems to me a shop like this needs some with some kind of sentimental value, so why not spec an older but still in excellent condition bandsaw?  Something like this burly DoAll should be about right: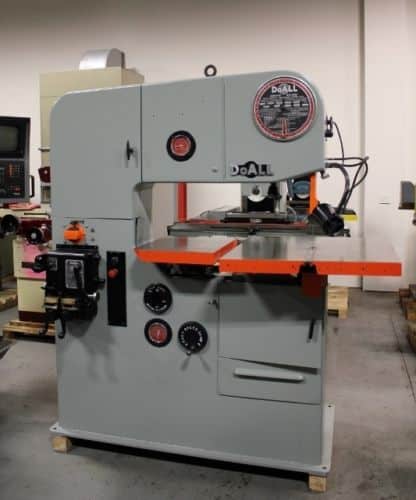 Hey, it's not completely cutting edge, but it has a lot of capacity for doing plate work.  I like it.
I'm sure there are more handy rough stock cutting gadgets to consider.  For example, shop that needs a lot of capacity for wood will likely want a dedicated bandsaw for wood.  And with a lot of sheet metal work, shears and the like come to mind.  I'll leave those details to your imagination, gentle reader, to scope out based on the particular needs of your own personal Ultimate Workshop.
Metal Fabrication
Next up, we'll definitely want a Metal Fabrication Shop to be a part of our facility.  I won't touch on all the machinery, but here are the highlights:
Press Brake
The press brake is one of the most basic sheet metal fabrication machines, and a fine workshop like this should definitely have a state-of-the-art CNC press brake.  A nice Amada with auto-crowning and about 50-ton capacity should do very well: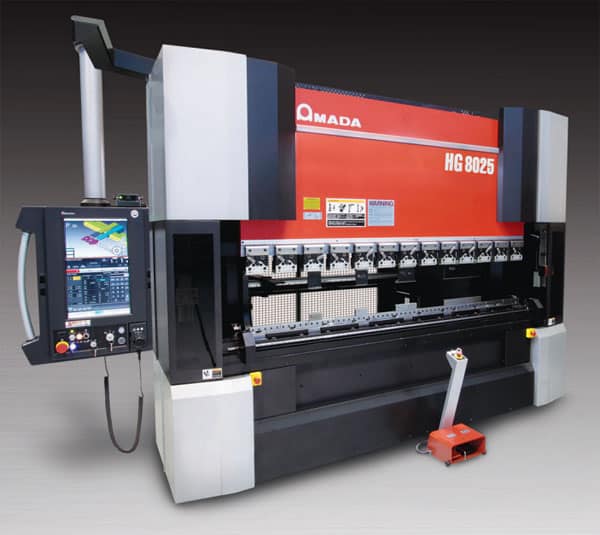 CNC Tubing Bender
Need to make a set of custom tuned equal length exhaust headers for your new race car project?  How about a full tubular roll frame for another project?  Or perhaps an exotic plumbing project of some kind?  Well then you need one of these amazing CNC Tubing Benders:
[youtube]http://www.youtube.com/watch?v=ZhGHALB4_hQ[/youtube]
Now that's the sort of thing we'd expect to see in a shop like this.
Incremental Sheet Metal Forming Machine
Even more exotic than the CNC Tubing Bender is an Incremental Sheet Metal Forming Machine.  Imagine being able to create custom body panels for your muscle car restoration project without recourse to giant presses and dies such as were originally used.  Suppose you cold do it with a machine that's just a little larger than a decent-sized VMC? Every Ultimate Workshop worth it's name is going to need one of these then:
[youtube]http://www.youtube.com/watch?v=Wl5_wUVxRvw[/youtube]
Hey, if it's good enough for Ford Advanced Prototyping, it's probably old news for Tony Stark, eh?
More Metal Fab Goodness
There'll be a lot more in the Fab Area than we can cover here.  English Wheels, Bead Rollers, Spot Welding, heck, the list goes on and on.  If you have any special ideas for Metal Fab items that are a little off the beaten path and interesting, sing out in the comments, we'd love to hear more about it.
Welding
No shop is complete without the ability to weld, especially not an Ultimate Workshop.  For a shop like this, a couple of multi-process welders seem ideal.  A multi-process welder does it all–Mig, Tig, Stick, and lots of options.  I'm envisioning a smaller one on a cart that can scoot around wherever it's needed and a larger one set up more permanently in a dedicated welding area.  Miller's XMT series can be had in a range of sizes suitable for the portable and with a 450 amp machine for the stationary model:
This was part 1 of our Ultimate Tony Stark Inspired Workshop Series.
Like what you read on CNCCookbook?
Join 100,000+ CNC'ers!  Get our latest blog posts delivered straight to your email inbox once a week for free. Plus, we'll give you access to some great CNC reference materials including:
Our Big List of over 200 CNC Tips and Techniques
Our Free GCode Programming Basics Course
And more!
Just enter your name and email address below:
100% Privacy: We will never Spam you!
Bob is responsible for the development and implementation of the popular G-Wizard CNC Software.  Bob is also the founder of CNCCookbook, the largest CNC-related blog on the Internet.