Recently updated on July 3rd, 2023 at 11:41 am
Have you tried Emuge Punch Taps yet?
One of my readers (thanks Michael!) turned me on to this new technology shortly after I published our new Complete Guide to Choosing Thread Taps. It's rare to see a genuinely new technology in something as fundamental as tapping. Usually it's more about the manufacturer's hype and buzzwords than anything that will radically improve productivity.
But the more I looked at Emuge's Punch Taps, the more I decided they're a breakthrough.
What is a Punch Tap?
Basically, it's a really clever version of a Form Tap that can run up to 75% faster than a normal Form Tap.  Audi came up with the original technology and perfected it in partnership with Emuge.  Part of their agreement is that Emuge can't sell Punch Taps to automakers until January 2018, but that's right around the corner and there are plenty of CNC'ers who aren't automakers, right?
Here's a photo of what a Punch Tap looks like: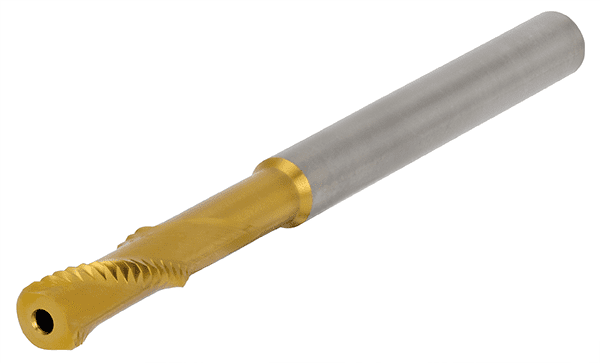 This video shows the wild tool path this thing takes:
The secret is the teeth on the end are little broaches.  They cut a spiral groove just big enough to snake the thread cutters through in the groove.  Those thread cutters are 180 degrees apart.
Now, once the punch tap is at the bottom of the hole, a quick half rotation is all it takes to form all the threads in the hole.  Plus, since we have everything 180 degrees apart the broaches are lined up with the grooves, and we just reverse the entry spiral to back out.
Here's a schematic view of the motions:

Here's what the threads look like:
You can clearly see the broached spiral groove used to get the cutters to the bottom of the hole…
You can clearly see the broached spiral groove used to get the cutters to the bottom of the hole.  What you're left with is a cold-formed thread done 75% faster!
Everything is not rosy, YET
Punch Taps look like the bring an incredible productivity boost to tapping operations, but everything is not roses.  At least not yet.
Here are the issues:
As mentioned, automakers can't buy Punch Taps until January 2018.  That'll be come and gone before we no it, so minor issue.
So far, only Siemens controls have a cycle for the punch taps.  I'm not too sure how you do custom hand programming of one or I'd add a Conversational Wizard to GW Editor to deal with it.  Presumably, if you're a big-time manufacturer, Emuge will help you out with that.
These are form taps, so they're for softer materials like we mention in our Tap Type Guide. You won't be firing these babies up on titanium or hard materials any time soon.
It's unclear, but they may require a special holder.  Very likely it's expensive.  The shanks of these tools have not only the square on the end, but there's also a Weldon-style gizmo there to avoid pullout.  Apparently going so much faster makes these little jewels harder to hold on to!
Realistically, punch taps are a pretty high end option.  But they sure are nifty, and high end options have a way of entering the mainstream if they're all they're cracked up to be.
For more, Emuge has created a whole website around Punch Taps.
Like what you read on CNCCookbook?
Join 100,000+ CNC'ers!  Get our latest blog posts delivered straight to your email inbox once a week for free. Plus, we'll give you access to some great CNC reference materials including:
Our Big List of over 200 CNC Tips and Techniques
Our Free GCode Programming Basics Course
And more!
Just enter your name and email address below:
100% Privacy: We will never Spam you!
Bob is responsible for the development and implementation of the popular G-Wizard CNC Software.  Bob is also the founder of CNCCookbook, the largest CNC-related blog on the Internet.