G-Wizard Calculator is getting its first Major UI Update since 2013, woohoo!
Wow! That seems like such a long time. A little less than 5 years, and so much has happened since then.
It was time to go back into the garden and do some selective pruning, weeding, and moving around. The changes revolve around two major themes.
First, I wanted to improve how the screen real estate was laid out for better usability. Various things were moved around so that their positions relative to one another made more sense. In general, I want you to be able to look left to right, top to bottom, and find that you come upon the most used things first and that the order you need to use the various tools follow that visual ordering too.
So, for example, the Feeds/Speeds and CADCAM tabs got moved all the way left in the lineup. And I moved the Limits and MiniCalcs boxes towards the bottom on the Feeds/Speeds tab.
There's also changes like opening up the Tips to a list where you can see multiple tips at all times. That extra real estate was paid for in part by making boxes like HSM use less space.
Second, I wanted to freshen things up to make the interface look more modern and visually interesting. Towards that end, I've introduced the concept of "Themes". There are three of them that you can choose under the Setup tab:
The Themes are called "Original Flava" (very similar to prior look and feel), "Lighten Up", and "Dark Mood". Here's what they look like side-by-side: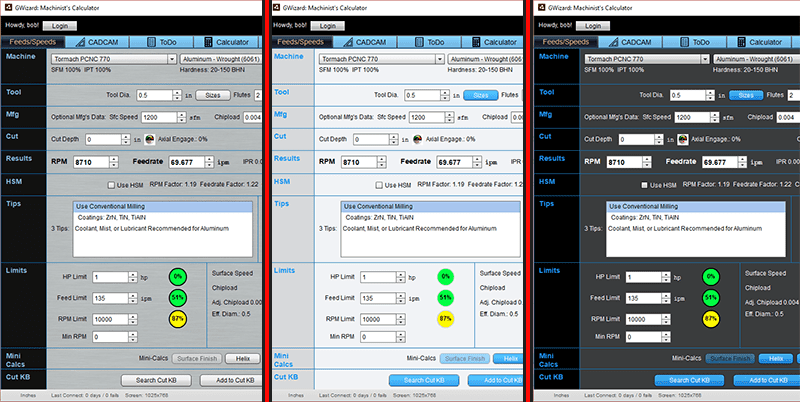 Here are the three new Themes side by side for comparison…
In this iteration, you can switch themes and see the result immediately, except for "Original Flava". You have to exit and restart to get it to take full effect for obscure historical reasons. Of course, G-Wizard will remember your chosen theme from one session to the next, so pick one you like and settle on it.
You'll also notice the visual percentage indicators down in the Limits box. They change colors from green to yellow, orange, and finally red as you get closer and closer to the limits. Note that while the colors get a bit scary, there's no real harm in approaching those limits, so don't worry too much about it. G-Wizard is just keeping you informed about what's going on.
This new release is called version 4.30. For now, it is a silent release and available for Windows PC's only. So, you have to go to the install page and manually download it.
Once it's had some time in the field and I've tightened up a few more details, I will turn on the automatic update feature (aka the "Bat Signal"). Hope you enjoy. Let me know your thoughts and suggestions, if any.
As soon as this new look and feel has settled in I will be updating the docs and the other products to take advantage too.
Like what you read on CNCCookbook?
Join 100,000+ CNC'ers!  Get our latest blog posts delivered straight to your email inbox once a week for free. Plus, we'll give you access to some great CNC reference materials including:
Our Big List of over 200 CNC Tips and Techniques
Our Free GCode Programming Basics Course
And more!
Just enter your name and email address below:
100% Privacy: We will never Spam you!
Recently updated on March 22nd, 2023 at 03:07 pm
Bob is responsible for the development and implementation of the popular G-Wizard CNC Software.  Bob is also the founder of CNCCookbook, the largest CNC-related blog on the Internet.