Drill Press Attachments and Drill Press Upgrades
The lowly drill press is often the first machine any shop obtains, followed closely by a horizontal bandsaw and a bench grinder. While you can't really mill very successfully with one (I've tried, LOL!), they're still darned handy. Mine is a cheezy little Chinese import that cost $60. There are much nicer drill presses to be had, but meanwhile, it's also not that hard to think about improving this one I've got. In particular, once I've got my mill CNC'd, I suspect I'll want an easy way to drill a hole without having to run the CNC. I do sometimes wish I had a nice Clausing or other better made drill press. I may hold out for one rather than tricking out my cheap drill press.
That's my little imported drill press on the right…
These are my notes and idea on various gizmos and ideas to soup up a drill press. When I wrote this, I hadn't attempted any of it, but I hope to get to it over time. These ideas are in no particular order, although anything I actually implement will likely get moved to the top.
Super Quill Stop
Get one of these nifty Morton 1/2-20 Quick Adjusting Quill Nuts from Enco and you are off to the races:
You'll be able to dial in a stop to 0.010″. The bad news? They're not cheap at $44, but they sure seem a wonderful luxury. Grizzly offers a much cheaper version, but I like the look of this one much better.
Quill DRO
Why not put a quill DRO on your drill press? When my mill is CNC'd, I'll likely transfer the quill DRO over.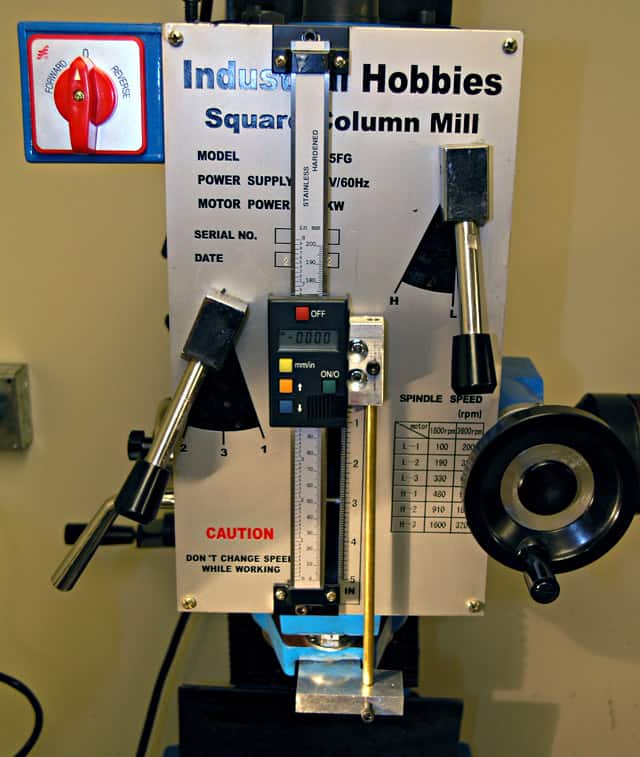 Drill Press Motor: Variable Speed and Tachometer
The motor on my little Chinese drill press is pathetic, and the step pulley system is painful to deal with. The DC treadmill motor on my lathe has been a wonderful addition. At the time, I bought 2 complete sets from eBay that are identical. I figured it would be nice to have a spare, and that I might eventually get one on the drill press.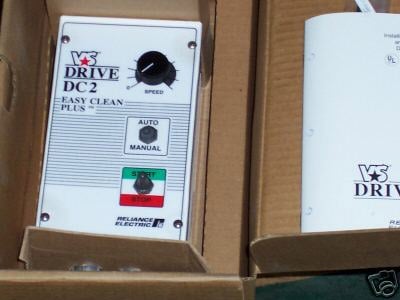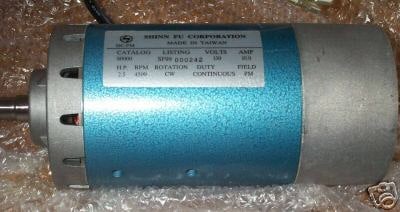 While I'm at it, I would be sorely tempted to ditch the V-belt and have a look at some of these Fenner Link Belts:
They're rumoured to be much smoother and more vibration-free than normal V-belts.
Drill Press Milling Table (XY Table for Drill Press)
The consensus seems to be you can line up on a marked point much faster with an XY table, and you can certainly drill a line of holes more easily too.
Frank Ford's table is from Grizzly. Nicest table I've seen yet that you could buy new. 133lbs! Love the quick release vise too.
Phase II makes some decent ones as well, and Enco has them on sale from time to time.
Cam Lock Drill Press Table Clamp
This is a handy gadget: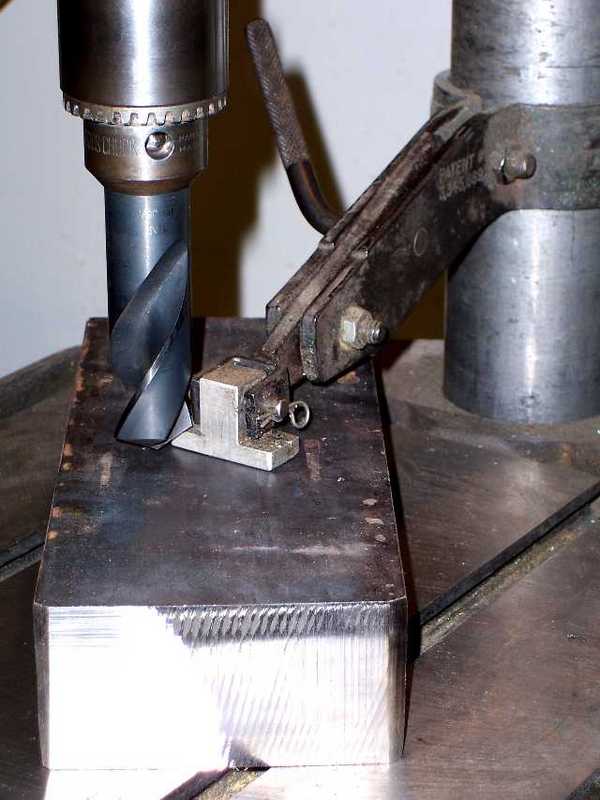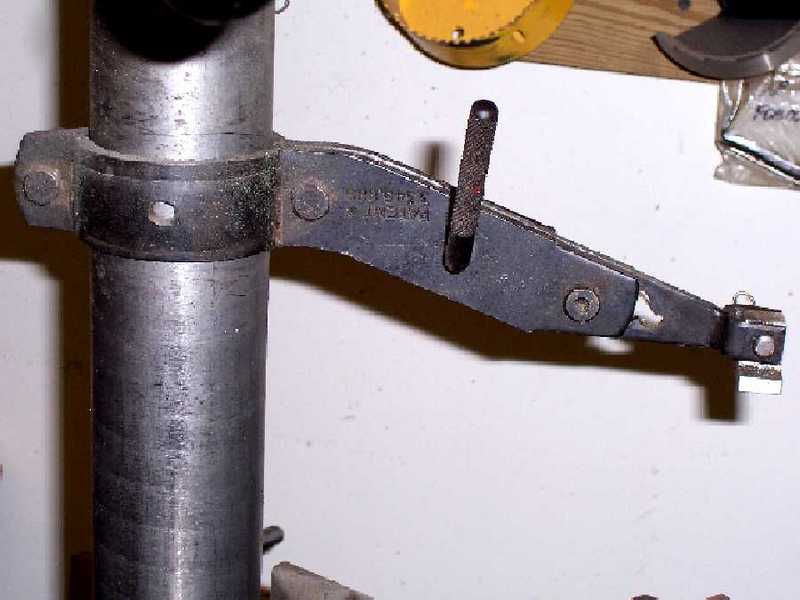 This does not look at all hard to make, but if you'd rather buy one, Travers Tool has the clamp, $77.32 each, part no. 61-171-001. Hooks to the column, swings out of the way when not needed, and has a quick acting cam action.
Most of the trouble in using a drill press is getting your workpiece properly clamped down. The Cam Lock Clamp does it in one quick and easy motion.
Another possibility is something like John Bolander's setup: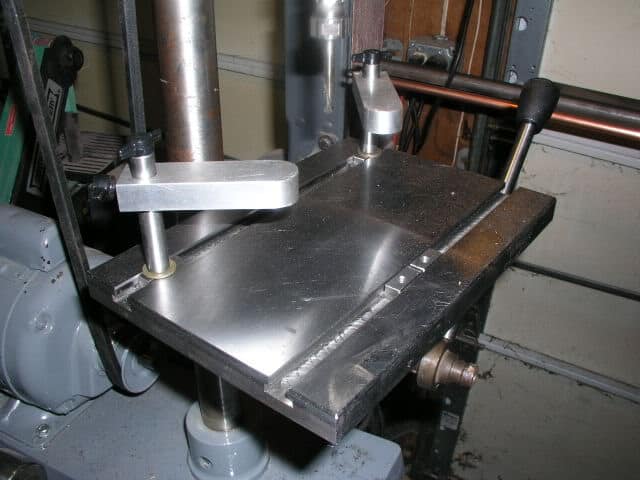 I'm envisioning some way to quickly lock those hold-down clamps. This table, BTW, is for tapping, hence no hole for drilling.
Concrete Filled Column
I'm filling my mill with Epoxy Granite to increase rigidity. Don't think I need the fancy epoxy granite mix for a drill press column, but a number of folks have reported that adding concrete to the column made their mill drills a lot stouter. Why not do it for the drill press?
Improved Head and Table Column Attachments
Mine are iffy. Tons of slop in the table to column pinch clamp, and the head just has a few small set screws holding it to the column. I gotta believe this could be greatly enhanced with a little care. I keep thinking some bearing arrangement, sort of a giant version of what the router gang does on round shafts to create their own linear bearings, would be smooth. I'm imagining 4 bearings that roll on the column arranged in a square configuration with another 4 right below. If I have a motorized jackscrew to lift the table, I can do away with the friction clamp altogether.
Ring Lite
I've seen this done to some mills to good effect, but it would make a lot of sense for a drill press too!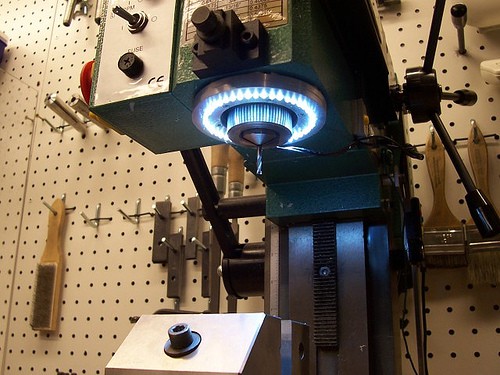 Laser Cross Hairs
Laser cross hairs are an ideal way of getting roughly lined up on where you're drilling. They're certainly up to the standards of most dirll press work. I ordered 3 units from DealExtreme, they're real cheap at a little less than $5 a pop. I heard about the DealExtreme cross hairs from a CNCZone thread. Here they are in use on a CNC router: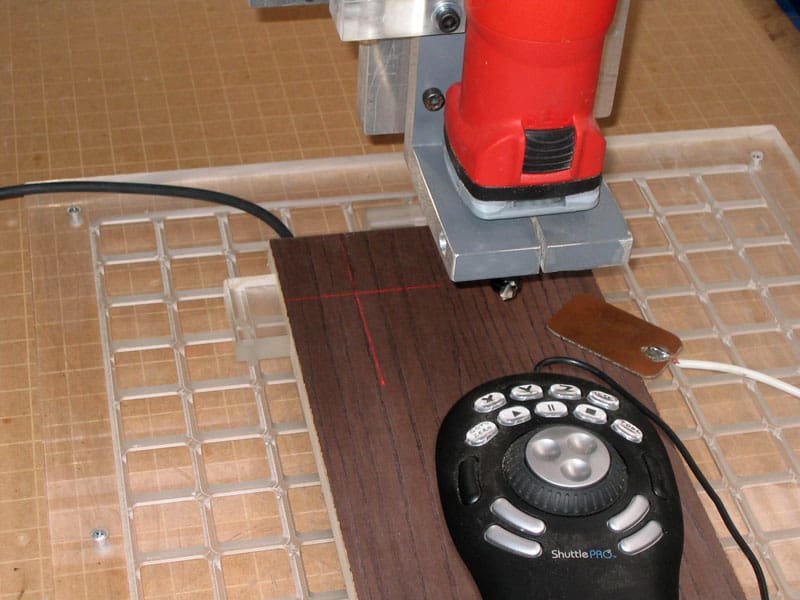 Drill Press Table Lift
This would be another really nice addition. Imagine being able to touch a button and have your table smoothly raise or lower on power. I came across a nice writeup on using a linear actuator for this on the Home Shop Machinist board. Here are some pictures: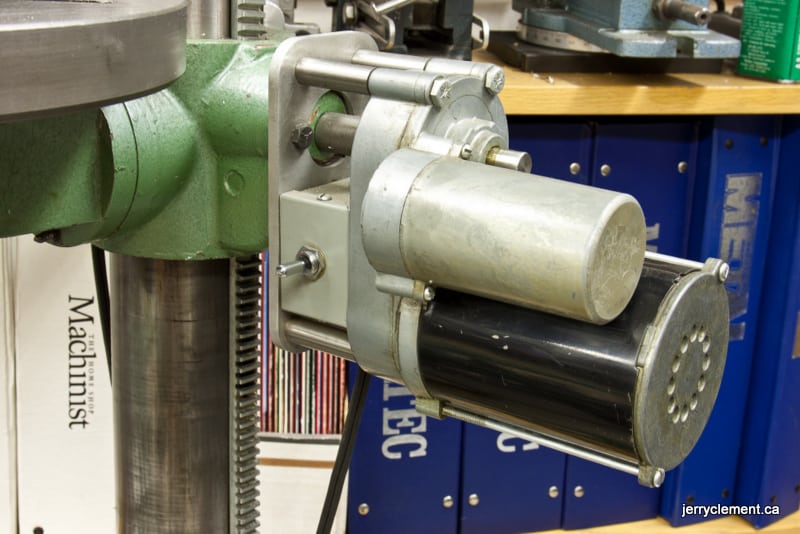 Jerry over on HSM had this nice table lift for his drill press…
There is the linear actuator. Rumor has it this one came off a hospital bed. You can see it is just a driven leadscrew…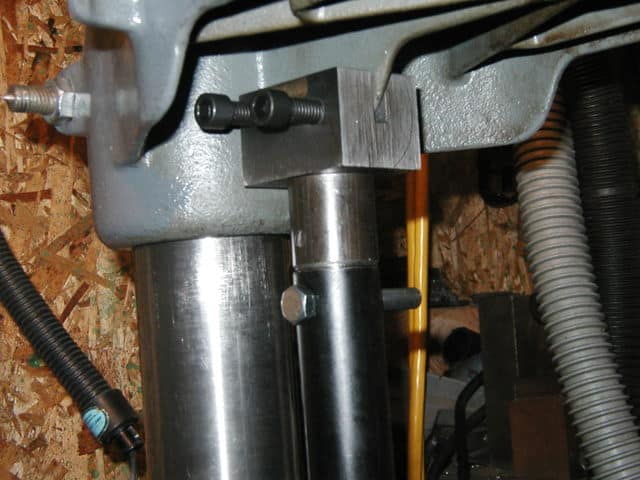 At the top the screw is anchored to the drill press table pretty close to the column so it won't bind…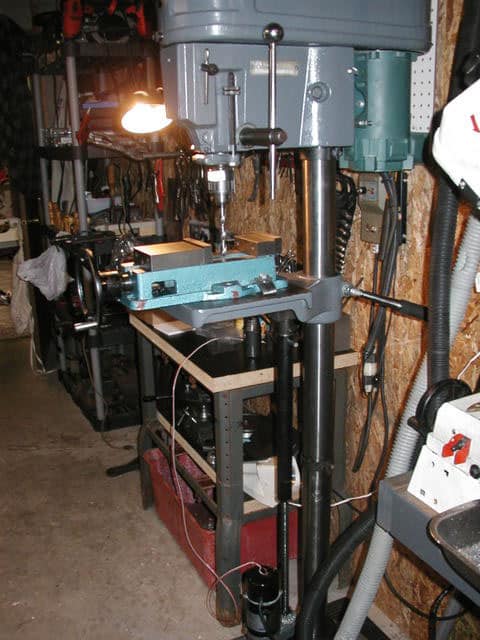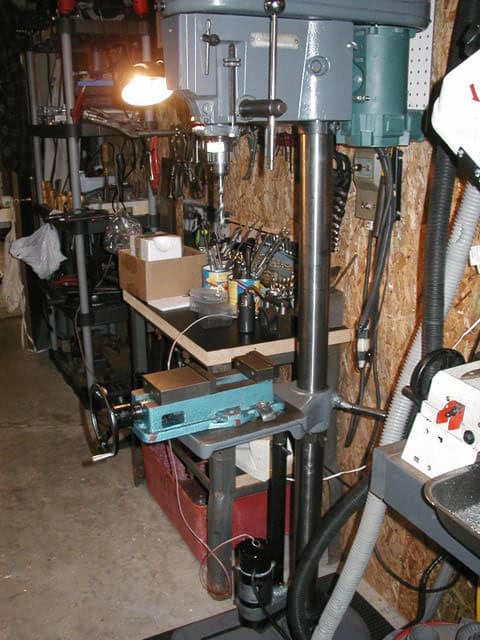 Here it is cranked way up and then all the way down. Nice to have a milling vise on your DP!
Improved Chuck
The Chuck that came with my drill press is frankly horrendous. It's own key doesn't even fit it very well. This is probably the first thing I should tackle changing. I debate whether to stick with a Jacobs or go to a keyless. I love my Lathemaster keyless chucks, but there are disadvantages. For example, they loosen if you reverse the motor, which makes tapping with one problematic. Second, they will tighten if you load up a really big drill in one to the point you have to use a strap wrench to get them loose again. Maybe a nice big Jacobs chuck would be the best answer in terms of flexibility, but the keyless chucks rule for convenience and speed.
Gang O' Drill Presses
You see a gang of small drill presses a lot in industry. They're often available cheap and all mounted to the same base. Conversely, one could certainly track down cheap small drill presses at garage sales and such. What good are they in a home shop? Well imagine leaving your tapping head set up on one, a deburring bit on another, and some commonly used bits on others so you can just walk up and start drilling.
Gang O' Drill Presses in Back…
A Drill Press Table Indexer
This was a slick idea from Chuck Fellows posted to the HMEM Board. One more thing if you're really tricking out a DP table!
The indexer sits in place of the normal table. The indexing arm is attached to the column. The center holds a 5C collet. Neat! Note the cutout to make clamping near the slot easier. This table cries out for a camlock clamp!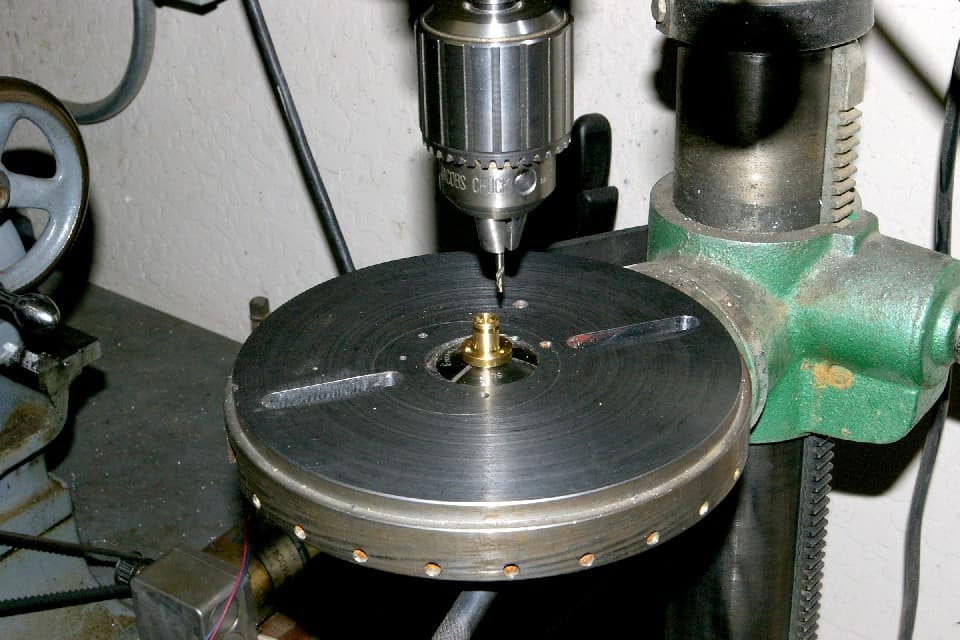 Here is another view. There are 24 indexing holes. Down in the lower left you can see a variable speed DC gearmotor to provide fine feed on his lathe…
Storage on the Drill Press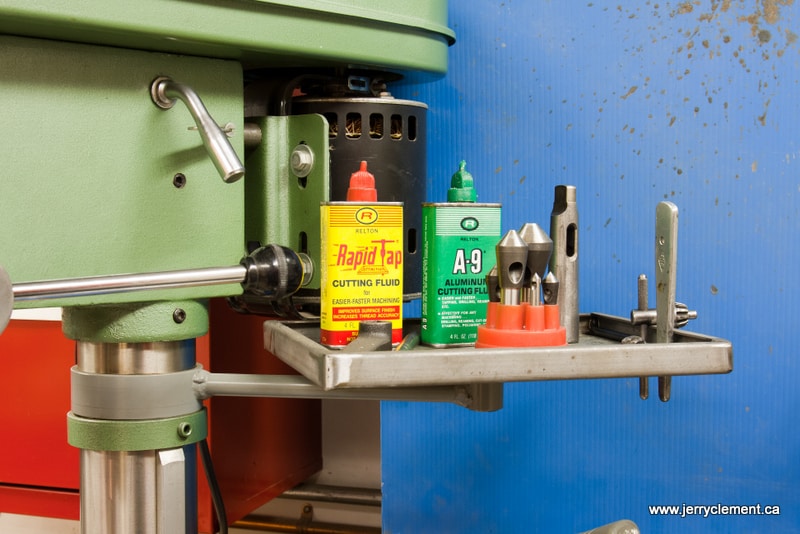 Another great drill press idea from Jerry Clement is this swing arm tray for the accessories. Very well made and extremely handy!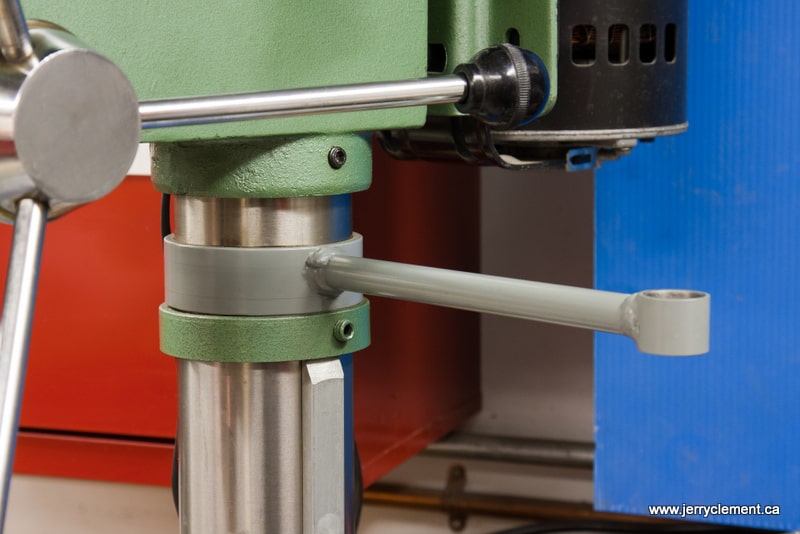 Swingarm is welded up and nicely finished. BTW, if you've never seen Jerry's web site, lots of great craftsmanship there!
Sensitive Drill Press
This is not souping up a drill press per se, but I've always wanted a little sensitive drill press like the ones made by Dumore and others. They're set up to turn at the very high rpms required by tiny drill bits and would be ideal for very small holes such as those involved when making model engines. It's very hard to drill these little tiny holes in a conventional drill press at slower spindle speeds.
Dumore sensitive drill press. Note that the table rises…
A sensitive drill press…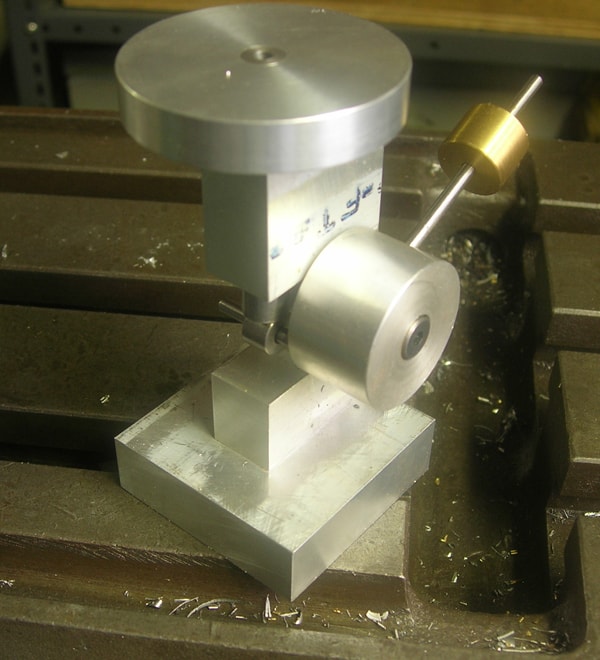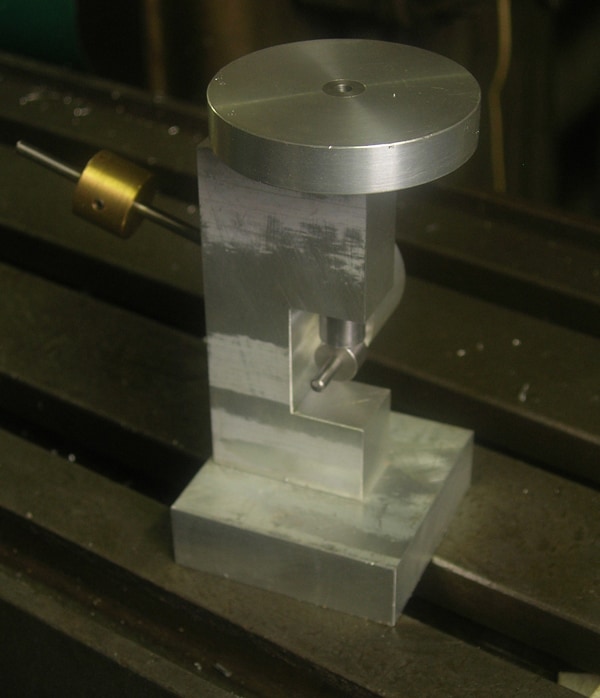 A couple of shots of a little sensitive drill table made by Mcgyver. It has a counterweight to maintain steady pressure…
Here are still from a wonderful series of YouTube videos on a universal pillar tool type of micro-drill press:
The base is cast iron from a barbell set…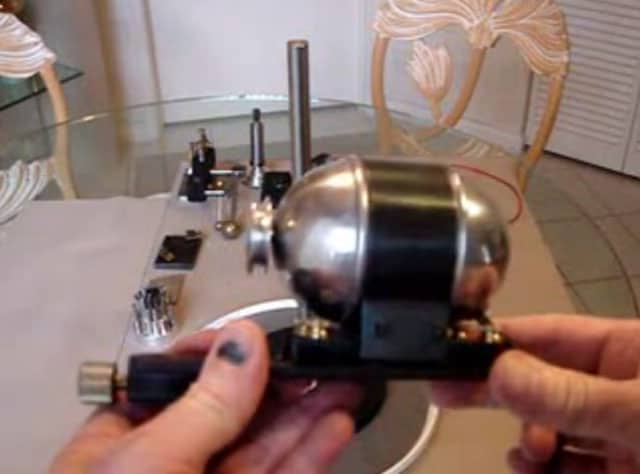 The motor is from a milk shake mixer. The motor end caps are chain link fence post caps.
Sensitive drilling table. The spine is 1″ key stock. You can see the table moves on 2 machined columns, one of which is springloaded for return. There is a setscrew on the lefthand column for height adjustment, and a stop in the middle for lower travel.
The other side of the table reveals the raising mechanism. No stop for depth? Also, a collet fixture in the middle would be handy…
Indicator holder for precision depth. Spindle head.
Pencil shows where tramming shims go.
Spindle. Body turned from drill rod. One bearing in either end. Top bearing is larger. Spindle itself is 12L14, threaded to accept Dremel collets. Collets are turned on the lathe in the spindle to minimize runout.
Gimballed light and figer plate for work clamping…
Ready to go!
Sensitive tapping attachment with counterweight and adjustable handle…
Like what you read on CNCCookbook?
Join 100,000+ CNC'ers!  Get our latest blog posts delivered straight to your email inbox once a week for free. Plus, we'll give you access to some great CNC reference materials including:
Our Big List of over 200 CNC Tips and Techniques
Our Free GCode Programming Basics Course
And more!
Just enter your name and email address below:
100% Privacy: We will never Spam you!
Recently updated on February 23rd, 2023 at 03:35 pm
Bob is responsible for the development and implementation of the popular G-Wizard CNC Software.  Bob is also the founder of CNCCookbook, the largest CNC-related blog on the Internet.