We have a great page that summarizes workholding solutions for turning and lathes. One of the best things about it is a nifty table right at the top that lets you compare and contrast the different workholding solutions from various perspectives. The page goes into some depth on each solution and has great information on:
Collets: Including advantages and disadvantages versus soft-jawed chucks for CNC.
3-Jaw Chuck with Soft Jaws: Including videos on how to make soft jaws.
3-Jaw Scroll Chucks
4-Jaw Chucks: Want to learn the fastest way to dial in a 4-jaw?
6-Jaw Chucks
Turning Between Centers
Constant face Turning: The modern alternative to turning between centers
Expanding Mandrels
The latter is a new section I just added to the page.
Expanding Mandrels are not a workholding solution you'll use every day, but they're ideal for:
– Holding thin-walled parts that would be distorted when too much pressure is applied by an outside clamping force.
– Holding parts whose outside surfaces must be machined in a single operation.
– Holding parts that have many different outside diameters and features that would be otherwise be difficult to clamp from the outside.
They are limited in the amount of cutting force that can be applied without spinning the part on the mandrel.
Expanding Mandrels grip the part by expanding against the walls of an inside bore. Here's a typical example: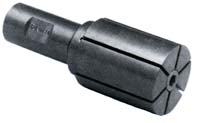 They typically work by tightening a screw in their center that causes the leaves of the mandrel to expand and grip the ID bore of the part. It's possible to machine a profile on a mandrel to fit a part with complex internal geometry. It's also common to see them with shoulders to locate the end of the part and other similar features.
Mandrels don't have a huge range of motion, so it is common to machine them for a particular part's needs.
The one pictured is a simple mechanical type, but you can get power-operated expanding mandrels too. Here's one that Royal makes: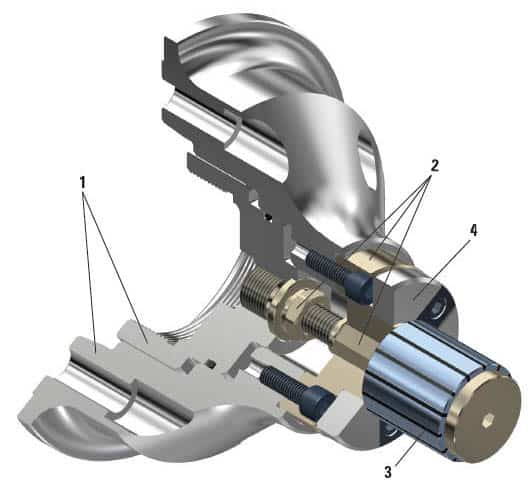 A power operated mandrel like this can be a good choice for a sub-spindle on a CNC lathe because they grip without any possibility of damage to the outside surface and provide complete access to finish that surface in one operation.
Be sure to check out the other workholding solutions on the page, and you might want to bookmark that page so the quick reference chart at the top is handy.
Like what you read on CNCCookbook?
Join 100,000+ CNC'ers!  Get our latest blog posts delivered straight to your email inbox once a week for free. Plus, we'll give you access to some great CNC reference materials including:
Our Big List of over 200 CNC Tips and Techniques
Our Free GCode Programming Basics Course
And more!
Just enter your name and email address below:
100% Privacy: We will never Spam you!
Bob is responsible for the development and implementation of the popular G-Wizard CNC Software.  Bob is also the founder of CNCCookbook, the largest CNC-related blog on the Internet.