50 DIY Welding Table and Cart Ideas and Designs [ Get Inspired ]
Get inspired with Ideas, Designs and Pictures for building your DIY Welding Table or Cart.  See how others have handled storage for welding machines, rods, gas tanks, angle grinders, chop saw, vises, clamping,  and more.  See which work surfaces will work best for you.  See our article on structural steel if you want steel sizes for building your own table.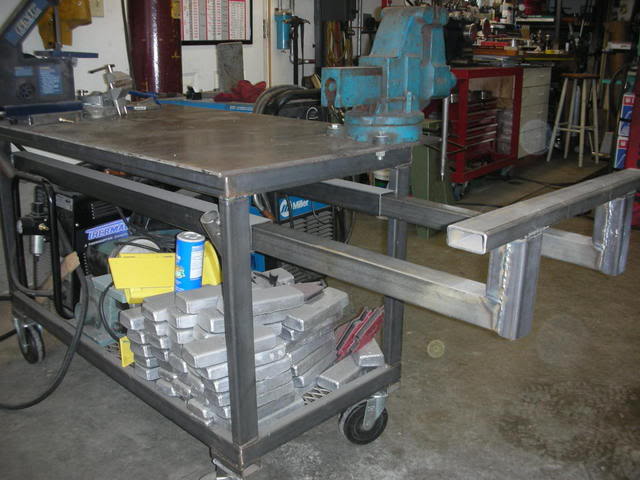 Neat pull out support for larger projects. Big vise is essential too. Lots of great fab projects like this on OffroadFabnet.com…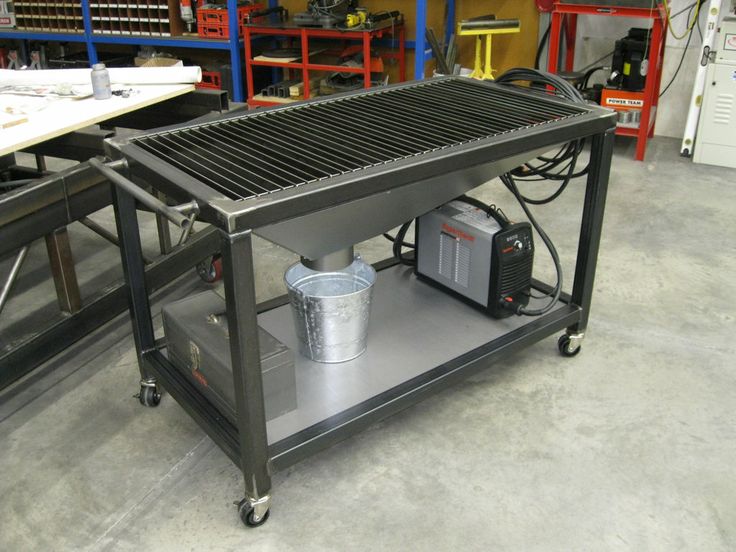 Neat idea for a plasma cutting cart. All the slag and dust funnels down to the bucket. Pirate4x4 is another great source for Fab projects…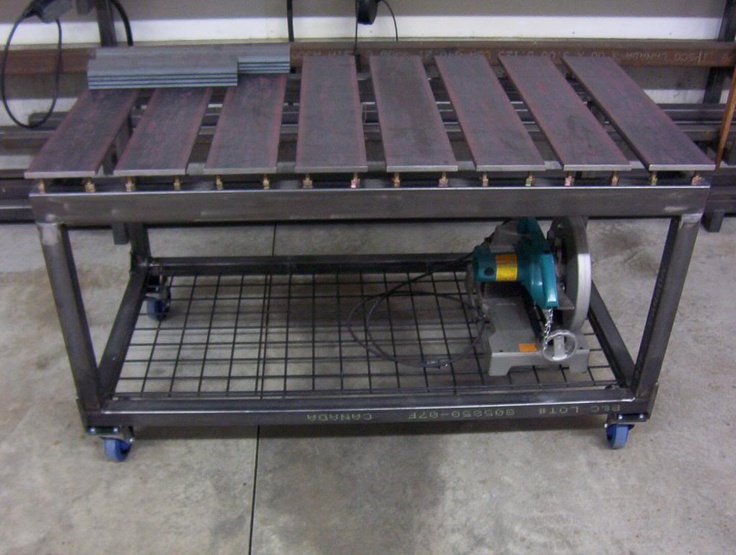 Welding cart set up for clamping. Try Garage Journal for this project and more…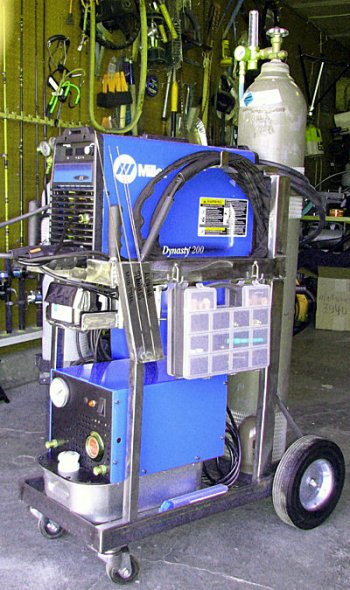 Tig Cart from MillerWelds forums is neat. Storage for the Tig, a homemade Tig water cooler, some rod, gas bottle, and the inevitable plastic box full of accessories.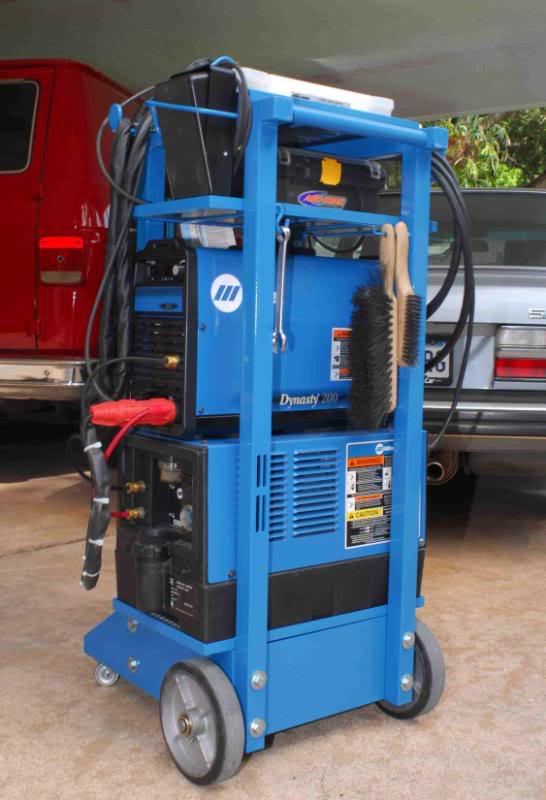 Miller Dynasty Cart. These carts that match the welder's are sharp…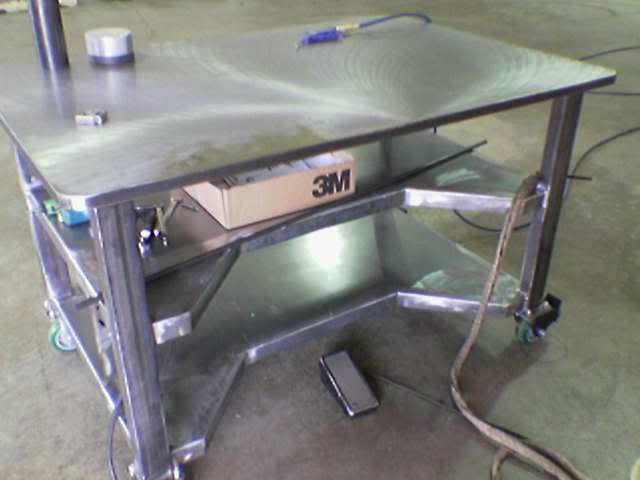 The pro-welders recommend thick plate on top. This table has 1″ steel plate. See Practical Machinist for more, another great source of ideas.  Love the cutout for the Tig pedal.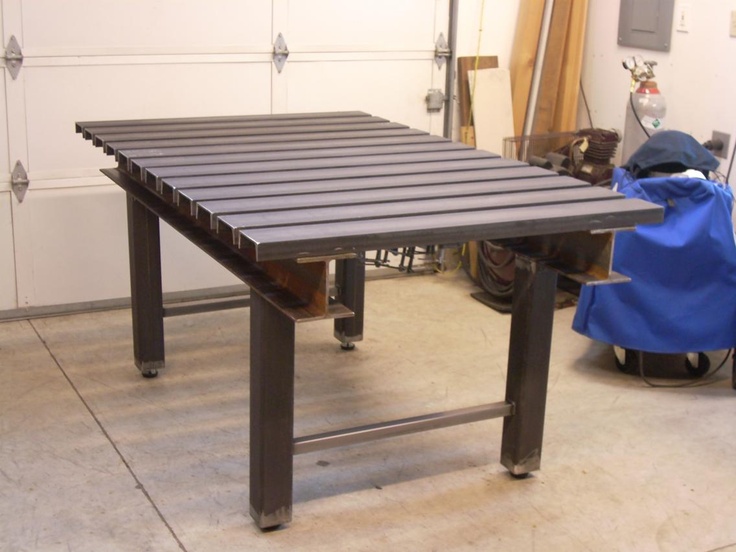 Another very stout table, set up for clamping…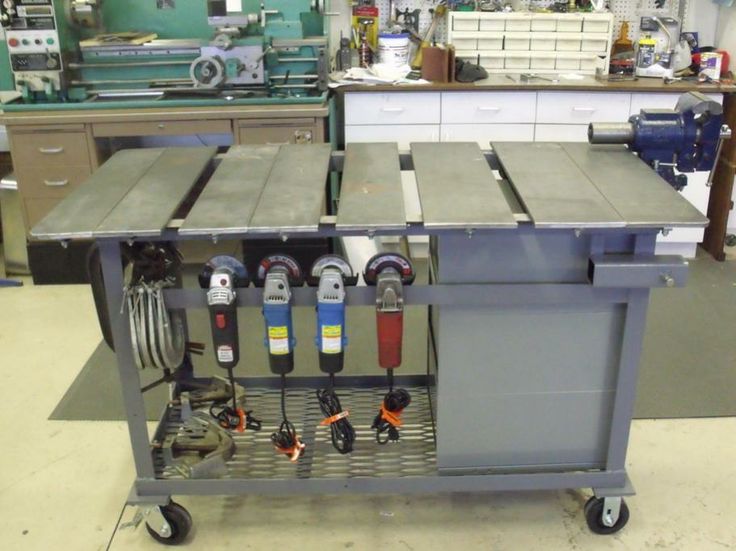 Every welder needs a bevy of angle grinders handy. I like hanging them right on the cart…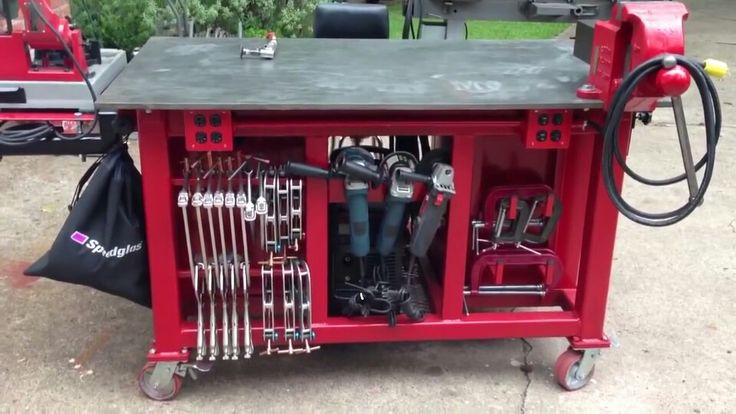 Lots to like about this Big Red Table. Thick metal top, Big Vise, Clamp Storage, Angle Grinder Storage, and look at those handy outlets for angle grinders and whatever else up under the table lip where they're protected. There's even flip up storage for the chop saw. Nice!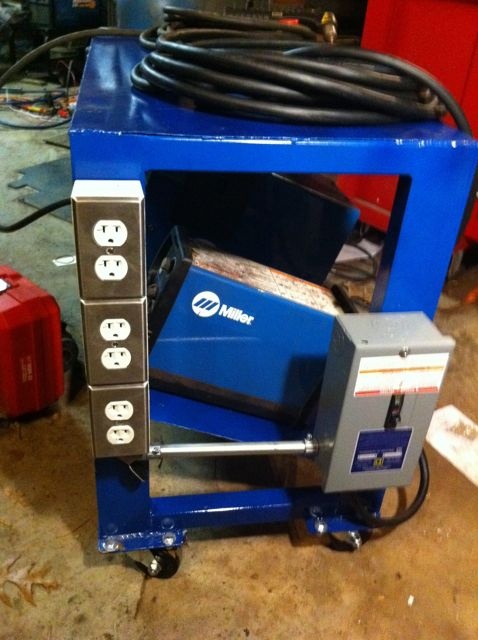 Outlets on the cart seem nice. If you've got multiple welders on the cart, providing them each with a 220 outlet on the cart that goes to a single connection the wall sounds handy too…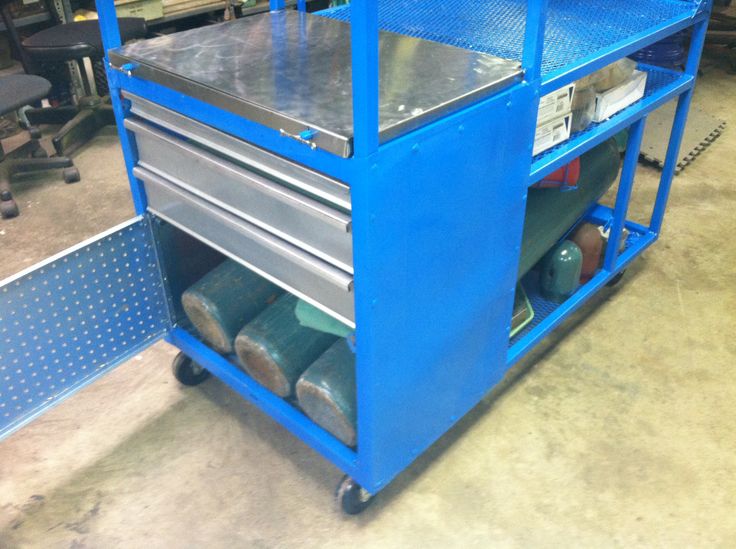 Gas tanks often consume quite a lot of space. This rig lays them in horizontally to recapture some space and keep the center of gravity low. Nice idea, though wrestling them back out of there for refill is probably painful.
Even more welding table and cart ideas: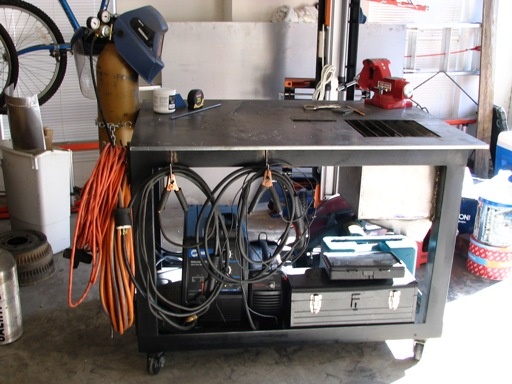 Nice basic table that includes a well for plasma cutting. Seems to me a pullout or flip-up plasma surface that's a little larger would be a neat feature for an all-in-one table + cart…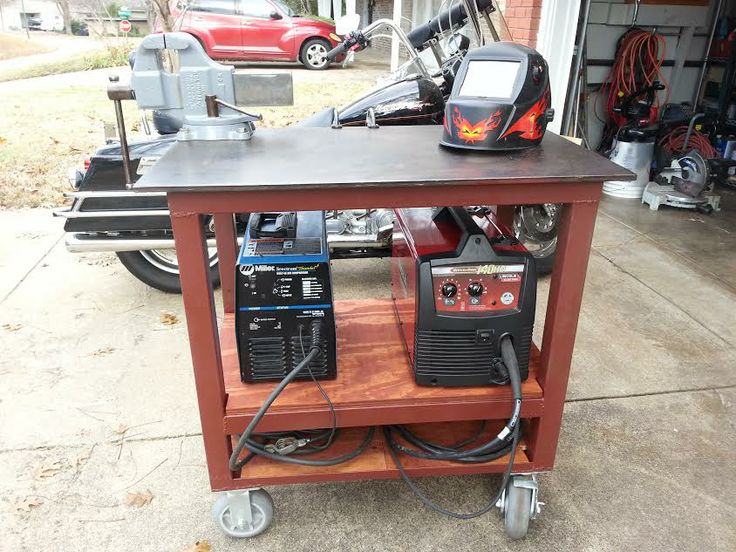 Here's a nice basic cart for welding…
And another neat little cart…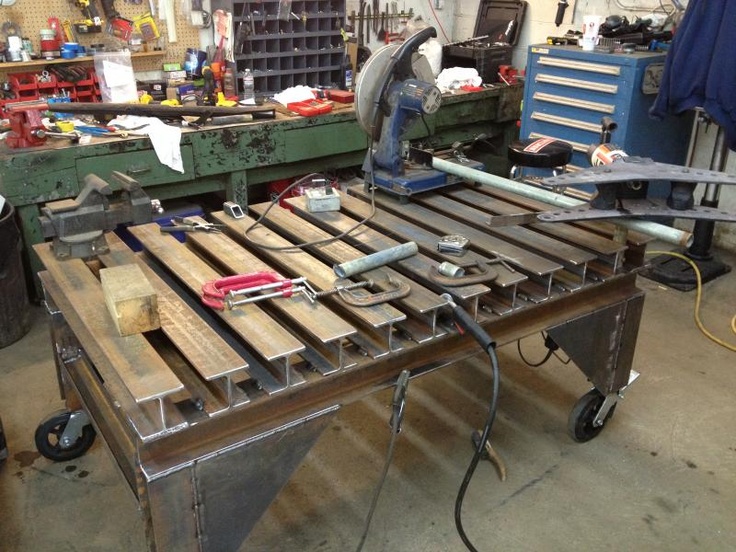 Got some I-Beams available for salvage? They make for a beefy cart. This one's from Welding Web…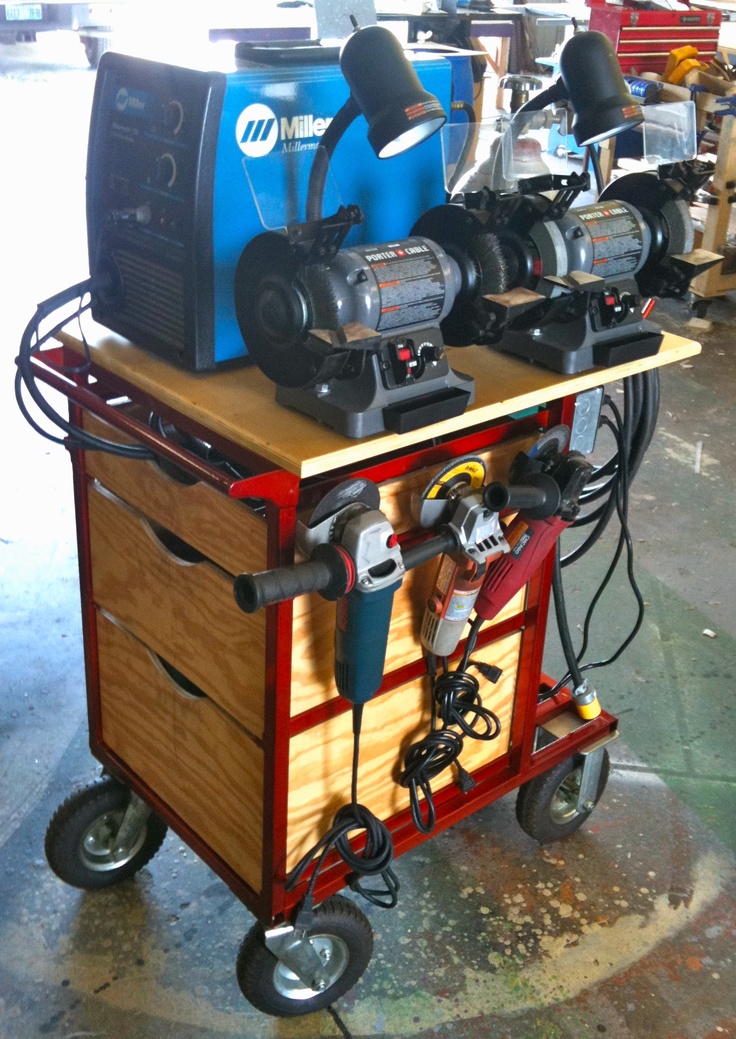 This might just be a grinder cart as much as it is a welding cart, but it is still neat…
Rod Storage right on the Cart seems like such a good idea…
Another Rod Storage Idea: Just Make a Rack for the Tubes They Come In…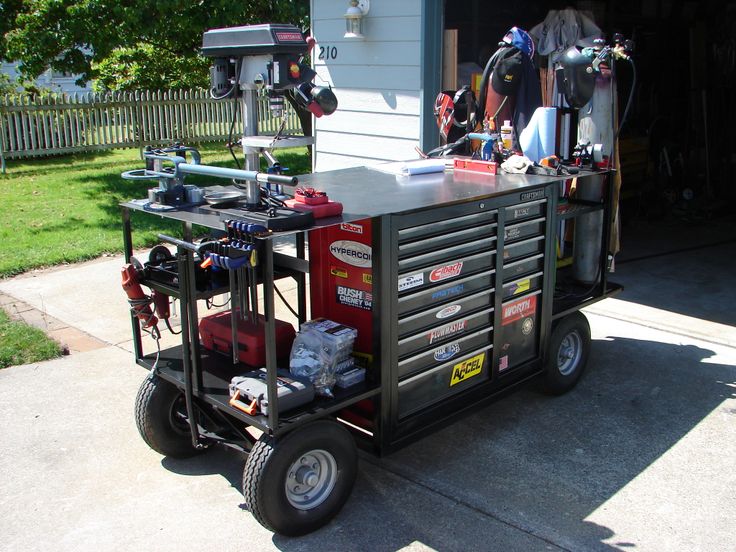 Practically an entire Fab Workshop on a cart. I'm loving the big wheels as I know rolling a heavy cart over the 3/4″ step to my garage would be so much easier with those than regular sized casters…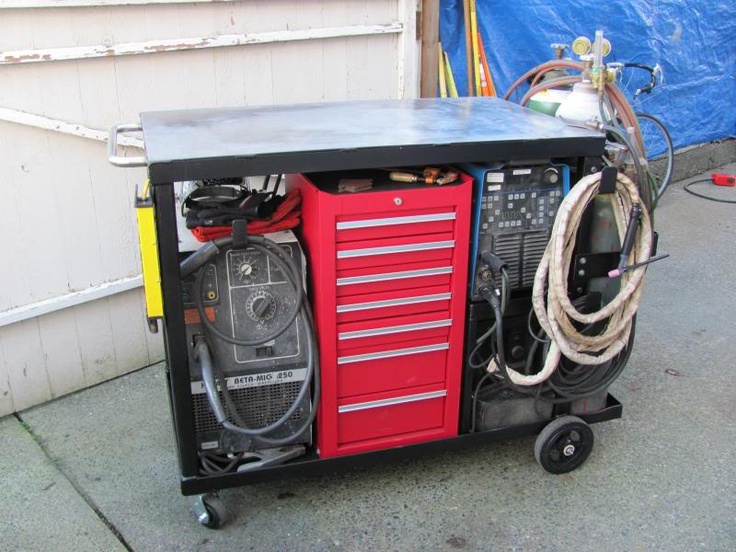 Tig, Mig, Oxy Acetylene, Nice Tool Chest (looks like a side box, which are handy when you want narrow)–All the Essentials…
Thick cast iron with square holes is the ultimate industrial welding table surface. This type of surface is called an "Acorn Table"…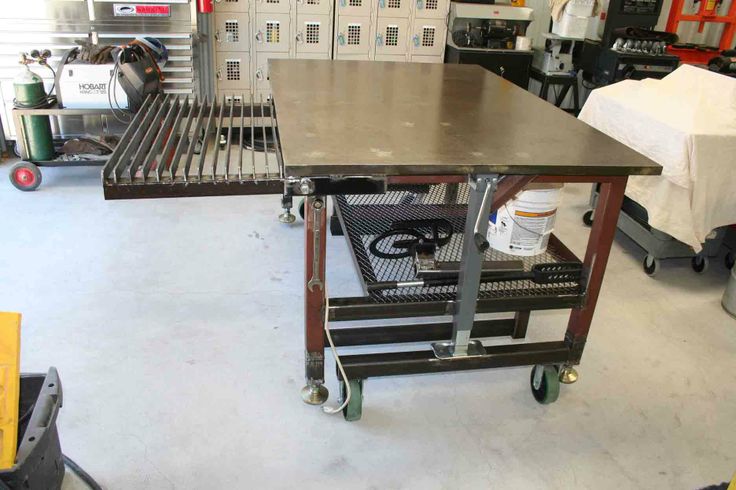 Neat pull out Plasma Cutting Rack. Note the jacking system so you can pull the casters up off the ground when done rolling the table. Thick steel table is awesome too. This one is from the Hobart Welding Forums…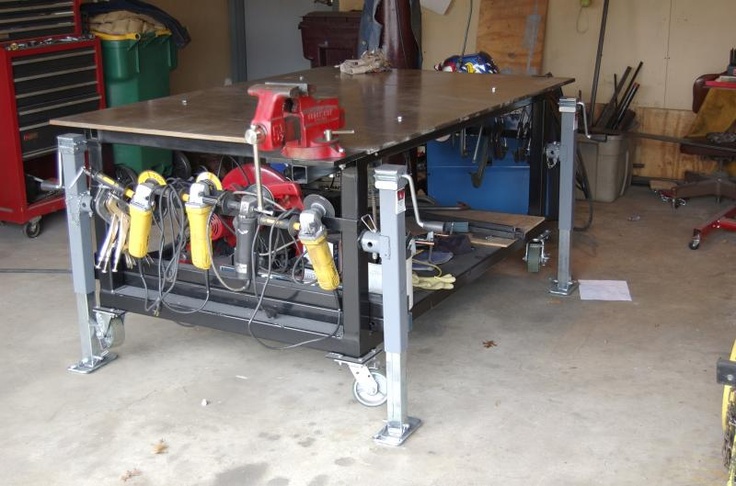 Hitch Receivers are ideal to mount vises, chop saws, grinders, and anything else you may want to get out of the way if you need more room. Here's another example of a jack up system to pull a table off the casters…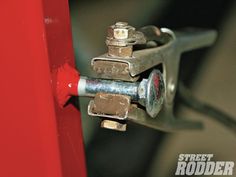 Be sure to weld a nice grounding point onto your table so you can get the ground clamp out of the way and just leave it hooked up…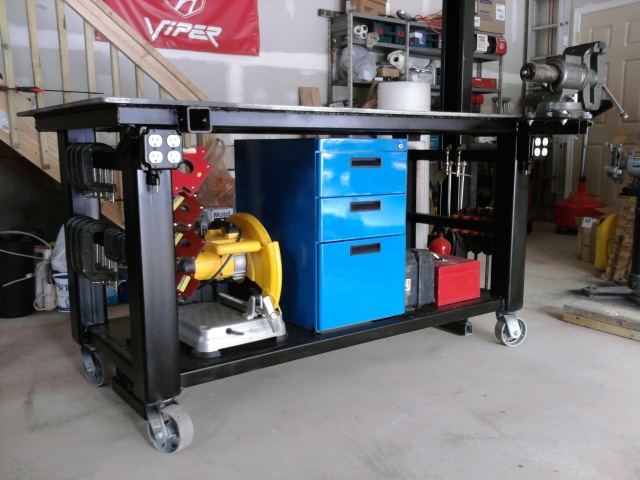 Another very nicely done table. Lots of storage + outlets + hitch receivers for accessories…
My Quick and Easy Welding Table
I recently took one of two car lifts out of my garage to make room for expansion of the machine shop sickness. The good news is that I picked up a large garage stall of floor space, and the bad news was that the lift had been a convenient work surface for many projects including welding. Part of this new push would involved getting things organized and fabricating some custom work surfaces. That meant I needed a convenient place to weld, hence this approach. I'm of the opinion that you can never have too much work surface nor too many drawers, so the idea of building a welding table on top of a rolling tool chest really appealed to me. Here is a brief photo essay of the project:
The idea was to use firebricks to insulate the tool cabinet from heat together with an additional stand-off bracket to increase the air gap…
The stand-offs were made from pieces of 4×4 square tubing that I sectioned on my chop saw…
Brother Dave on the Tig welder. We each did half the welds. Hard to keep in practice for Tig!
Here is the finished table. The square tubing sticking out the front was a last-minute idea. I'm going to mount my vise on there so it is removable as needed. I have a hunch that I'll come up with other things to insert in that "holster" that will be helpful. We'll see!
Is Manual Machining Faster than CNC for Simple Parts?
Recently updated on May 19th, 2022 at 08:40 am