Look, it's time. Your friends all want to know what you're going to make with that fancy CNC gear you've been tinkering with for months. They're not going to be satisfied if you simply tell them (as I often have), "I'm making more tools." It's getting harder and harder to get new CNC-related purchases past your Significant Other–they are not seeing the value. Plus, if it takes you as long to get projects done as I often do, you need to get started on this thing Now to have any hope of finishing it before the end of the Year. Because, you know, THAT certain special holiday is coming. And no, I won't mention it by name yet. It's too early. Let's get past Halloween first. But you know exactly where I'm coming from.
Therefore, to get the juices flowing, I want to present the first in what will probably be several articles on Gift Ideas to make with your CNC Machinery for those you love. In this installment, we're going to consider Jewelry gift ideas. It'll be a largely pictorial idea–just trying to stimulate your free flow of ideas here!
#1 and #2 – Lost Wax Casting
I guess we may as well start with what many probably think of when they think of CNC and jewelry: lost wax casting. This is probably the hardest thing to do, but many of you will find it interesting. You start by CNC'ing a model of the piece you want to cast, like this: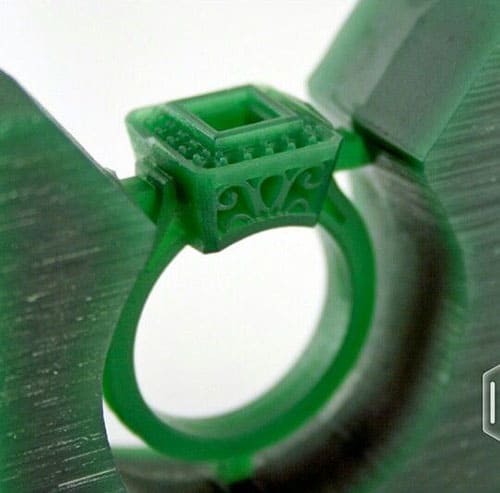 #1 – CNC Lost Wax Casting
You carve the casting model out of wax using tiny little micromills. You'll probably need a 4th axis and some serious CADCAM skills to pull it off. The good news is machinable wax is on G-Wizard Calculator's Materials Database and G-Wizard also has also micro-milling support, so we got your back. But, if you can muster all that up together with some serious design skills, you will be at the top of the CNC Jewelry-making heap.
You're going to take that wax model, cut it loose from the block of machinable wax you used, and embed it in a plaster of paris-like material used for lost wax casting. You will then place this thing, which is in a crucible, into a burnout oven. Think basically of a kiln. The high temperatures will burn away the wax and leave a cavity in your casting medium shaped just like the ring, right down to very fine detail. You will then use either centrifugal force or vacuum to force molten metal such as sterling silver or gold into the mold. Get rid of that plaster of paris stuff, polish it up a bit, and you've got a ring all ready to go!
Here's another typical example you could choose to make this way, somewhat less petite and delicate: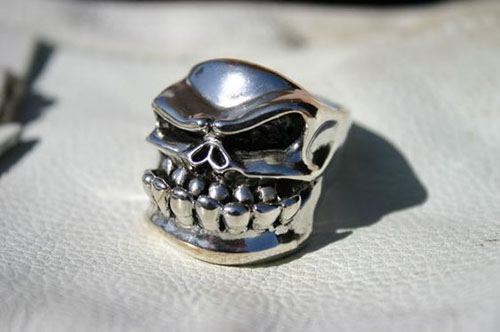 #2 – Skull ring…
A lot of the challenge in pieces like these is workholding. You need to be able to support it while you get at it from virtually every angle. Tabs and a 4th axis help a lot.
#3 – #7: Cut-Out Jewelry, When 2 1/2D is More than Enough
OK, that Lost Wax stuff is cool, but geez, it is a big investment. No problem. You don't need to go that far to get some very cool pieces. Let's consider the choices in this section which I call "Cut-Out Jewelry". These are all pieces that could be done by any CNC'er who can do basic 2 1/2D machining. It's way easier to arrange the CADCAM and the workholding with this style, yet as I hope you'll agree, there is still plenty to delight the recipient of such a neat personalized gift.
Let's start really simple. You're cutting out a silhouette of a design, basically.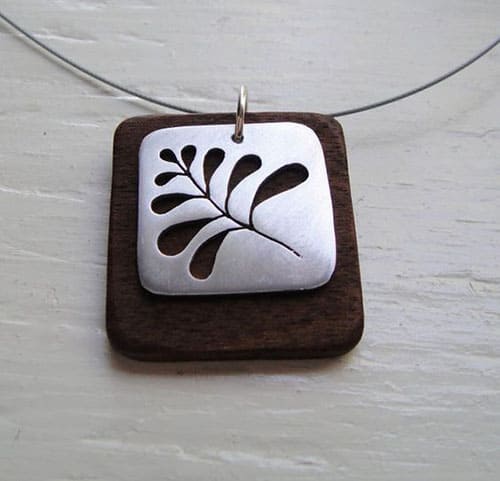 #3 – Silhouette Necklace…
Pick up a chain at a jewelry store for it. Get a program like Photoshop and lookup how to create silhouettes from images. Now use your imagination. What kind of silhouette would delight your gift recipient? Facial silhouette of grand children? Something related to her interests?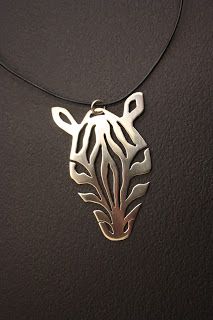 #4 – I love this little guy. Is it a Zebra? A Horse? Could you make a silhouette design similar to this of a cat or dog?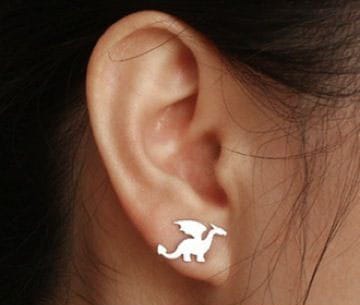 #5 – I bet my daughter would love these little dragon earrings. I'd have to silver solder the posts on, but that wouldn't be too hard. Alternately, make a pendant.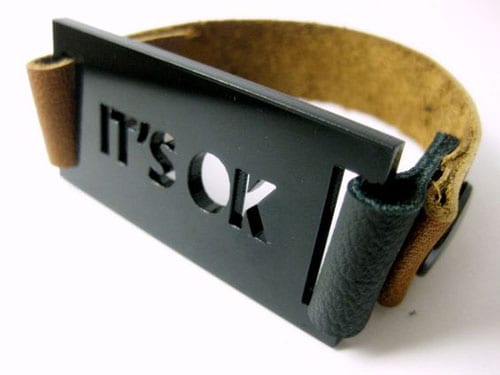 #6 – Silhouette Bracelet with leather band…
How about we kick it up a notch? Here's a lovely and very modern looking bracelet: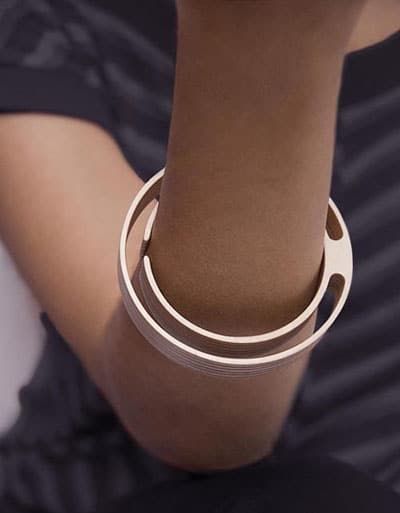 #7 – CNC'd Bracelet?
I know your devilish CNC mind is already processing how to CAM this simple piece, and perhaps what to make it out of. Is there an anodized aluminum color she'd really like? If you're ambitious, machine it, put it in your 4th axis, and engrave something onto the outer circumference…
#7 and #8: Stacked Silhouettes
Are the silhouettes too simple? No worries. We can make them much more visually interesting by stacking silhouettes. Try these stacked silhouette ideas on for size.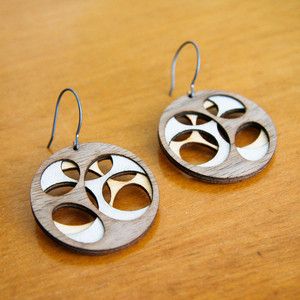 #7 – Three different finishes, laser cut, and stacked…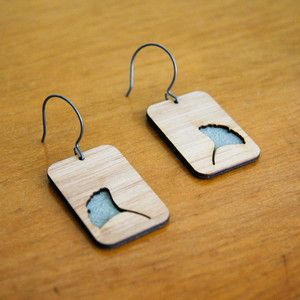 #8 – Stacking can reveal color…
When we stack, we need to join the pieces. You can glue them. In fact, Loctite is just glue for metals and it works really well for this sort of thing, it's dead easy, and you probably have some already kicking around the shop. For a more durable solution, you can learn to silver solder.
#9 – #12: Engraving and Carving
Engraving and Carving are also very useful techniques for this sort of work.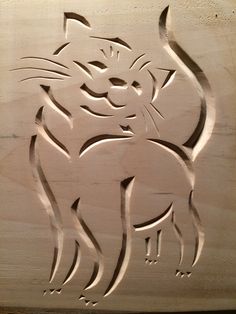 #9 – Abstract cat carved into a piece of exotic wood and hung from a pendant would be nice…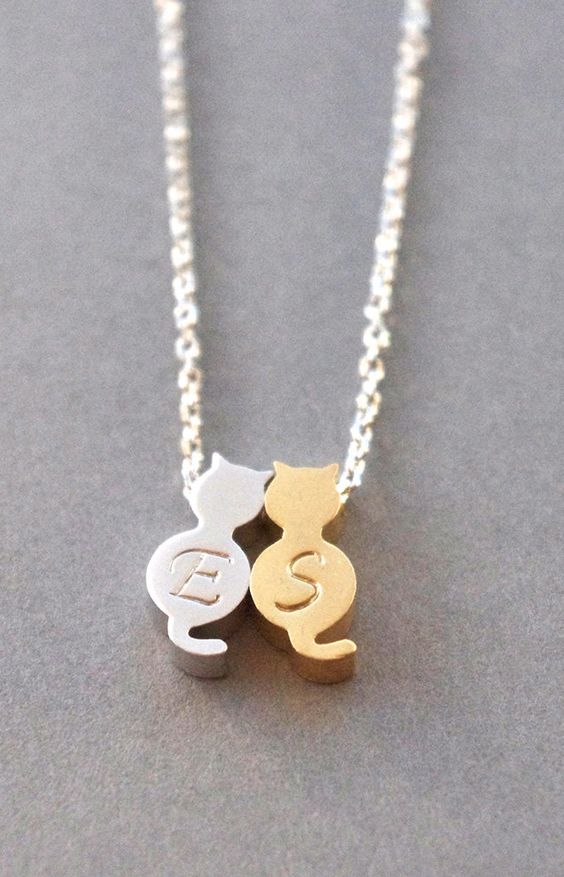 #10 – His and her initials engraved on the two cats make a really neat pendant…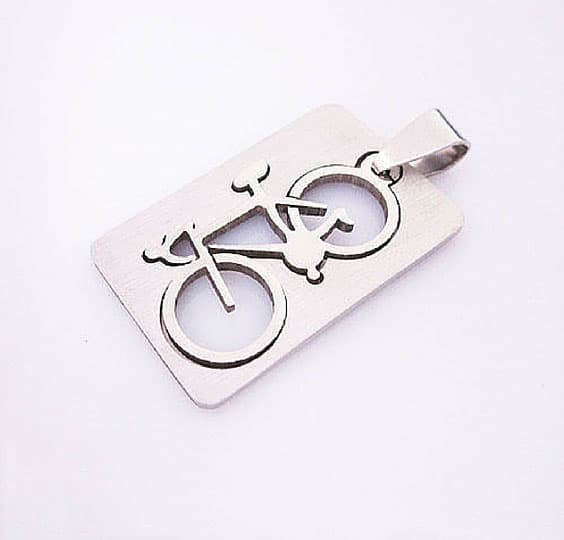 #11 – Combining engraving with 2D Silhouette Cutout is a really neat effect for some projects…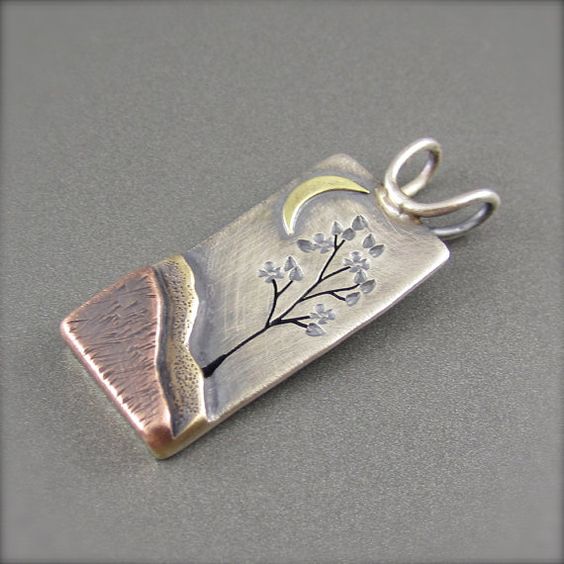 #12 – Engraving, stacking and silhouetting can all go together…
Let's Pull Out Some More Stops!
Because we are all very talented here, let's pull out some more stops and see what's possible, eh?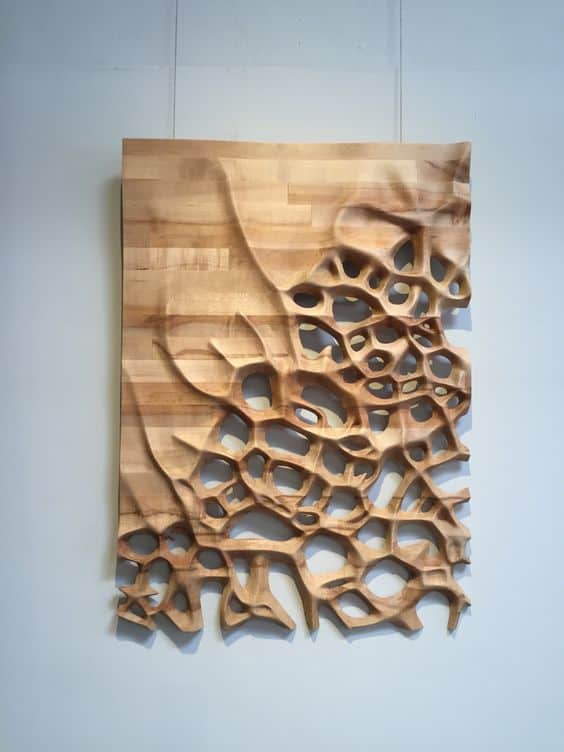 #13 – This is a wall hanging, but I highly textured and abstract piece like this would be neat as a pendant. Serious CAD skills and a penchant for 3D Profiling (or a super easy 3D program like MeshCAM) will be requirements to pull it off!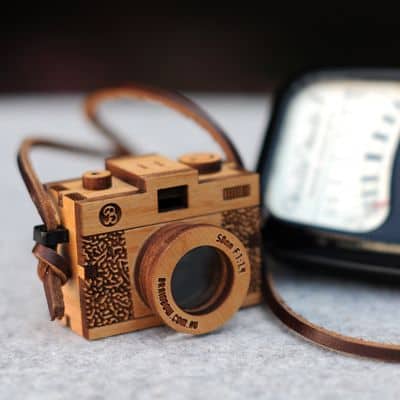 #14 – You know you could do this! It's not all that crazy complex. You could make several parts and loctite them together. Engraving for the textures and logos would be key too! What other everyday object would your gift recipient love to see packaged as a pendant?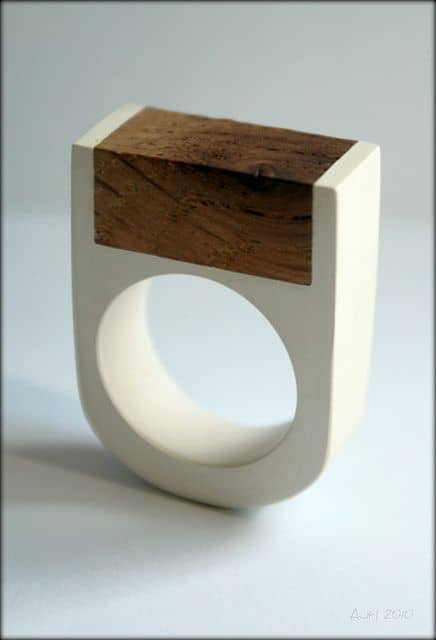 #15 – You've got two pieces to machine and you'd better hold tolerances, but it's doable…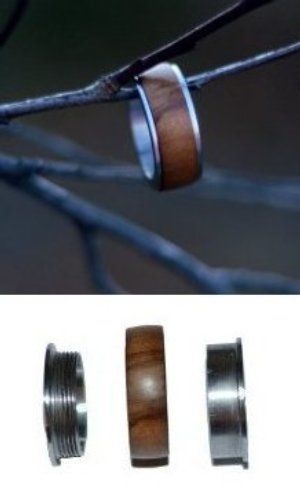 #16 – I know, you were wondering when you'd see some jewelry made like the parts you make every day. How about this wood and metal ring that threads together?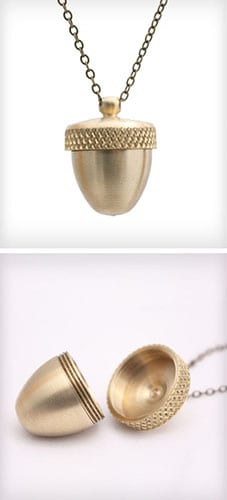 #17 – This acorn cannister locket is also very cool!
Try Some Inlay Work
Inlay always looks valuable and hard to do. And the truth is, it ain't easy. But, with CNC it is entirely doable and by mere mortals. Check out this cool Breitling Dog Tag: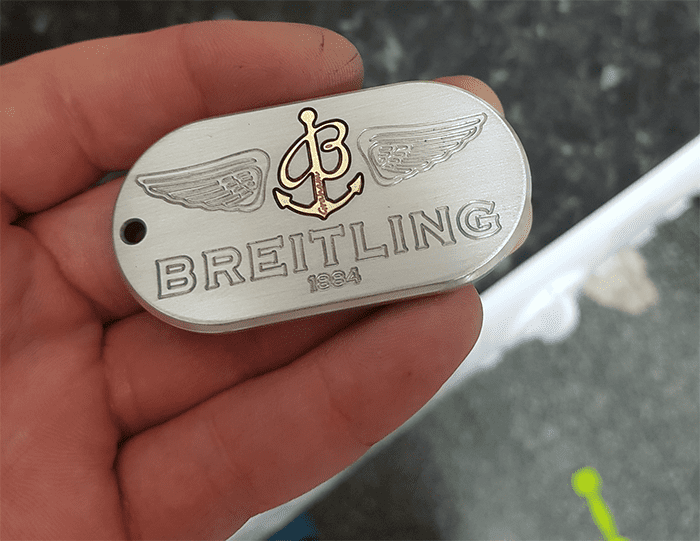 #18 – The anchor is a brass inlay that has been epoxied into place. Looks perfect, doesn't it?
Damascus Makes Gorgeous and Unique Jewelry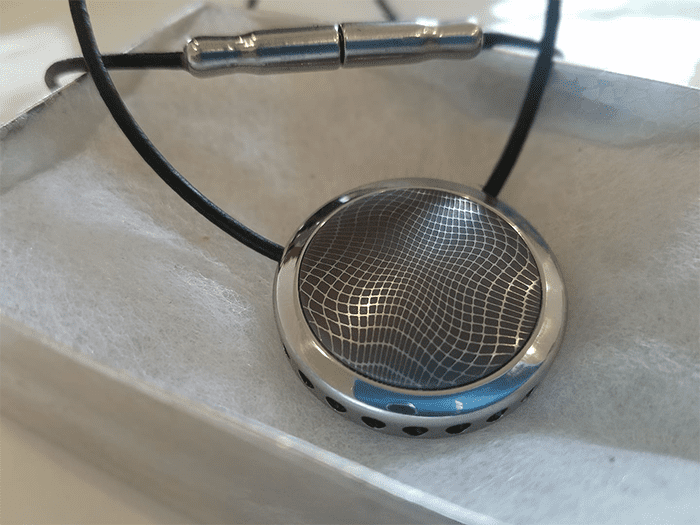 #19 – Damascus Pendant. The Damascus is from Vegas Forge.
Damascus steel is a fascinating material. Take two different alloys, bind them together into a matrix, using heat and pressure, then etch them with acid to show off the resulting patterns. This kind of work is fairly common to knife makers, but it also makes gorgeous jewelry as the pendant above shows.
I'm a Machinist, Not a Designer, Where Can I Get These Great Ideas?
Listen folks, I've mentioned some of the tools. Find a photo you like and convert parts of it to silhouettes. Now you have a design. Stack some silhouettes or use some engraving to call out some features. Learn to use your CAD Software's features for tracing images.
All of that works.
Start simple. Use Google Image Search or Pinterest to track down ideas.
Don't be too literal when you're searching for inspiration. I find another great source of inspiration is signs and similar kinds of work. It's not exactly a sign, but I could imagine a miniature version of this clock perhaps with less engraving being a neat pendant if your gift recipient likes music: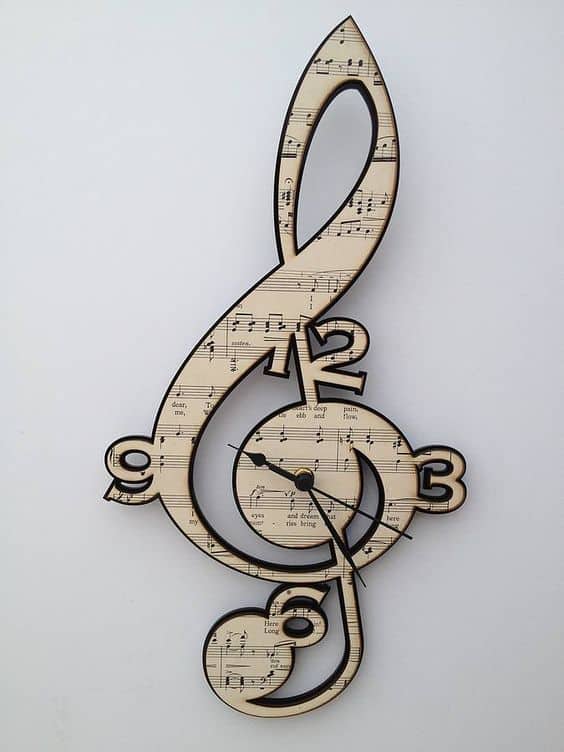 #20 – Imagine this neat clock as a pendant for a music lover done silhouette-style…
I'll leave you with a last thought. The one and only thing my wife ever saw come out of my shop that she liked was a Turner's Cube. One of these days, I need to make a small one to serve as a pendant. She really thought it was cool, and I think she'd like it.
You'll be surprised at what you can come up with by way of design. And when you convert that to a physical object with your mad CNC skillz, I guarantee you will be ready to delight someone with a one-of-a-kind gift they can find nowhere else.
Like what you read on CNCCookbook?
Join 100,000+ CNC'ers!  Get our latest blog posts delivered straight to your email inbox once a week for free. Plus, we'll give you access to some great CNC reference materials including:
Our Big List of over 200 CNC Tips and Techniques
Our Free GCode Programming Basics Course
And more!
Just enter your name and email address below:
100% Privacy: We will never Spam you!
Recently updated on March 16th, 2023 at 03:03 pm
Bob is responsible for the development and implementation of the popular G-Wizard CNC Software.  Bob is also the founder of CNCCookbook, the largest CNC-related blog on the Internet.