Recently updated on March 23rd, 2023 at 02:51 pm
Please welcome Wade Wendorf as our newest Guest Author. He's going to walk us through his experiences choosing a CNC Lathe and getting the most from it.
Wade Wendorf runs and owns a company called Mandala Rose Works, LLC which for the last 8 years has designed, manufactured and produced a unique machine called a Rose Engine Lathe targeted at the home woodworker and hobbyist. In addition to building and selling his Rose Engines, he also does prototyping and short production runs of parts for various customers.
Hello everyone! Thank you Bob Warfield for the opportunity to share my experience with purchasing a lathe on CNC Cookbook.
This post is a bit about the selecting of a new machine for my shop, a cnc lathe. I was contemplating it for several years, and as I was getting to the end of my lease on my mill (a PCNC 770), it was time to start seriously thinking about a lathe. My old lathe was nice, but a bit (quite a bit) under-powered.
I started thinking about a new Lathe probably 2 years ago, as I was starting to see some interesting machines popping up on the internet. I'd started looking at some of the most well known ones, as well as some lesser known ones, and I found there to be SO many different options, I really had to take a step back and think about it in more detail.
The list I came up with after a lot of thought and research was this:
Fast rapids – My current lathe, a Southbend Magnaturn 612 from 1981 did a nice job, but it's rapids were limited to about 45-50 ipm.
Servo Motors – Steppers just don't have the speed, and can skip steps.
Accuracy – at least maintain about 3/10,000ths.
Servo Spindle – I wanted positioning capabilities for the spindle. Worst case scenario, manually attach some sort of drill to it for doing nicely indexed holes. Best case scenario, Full C Axis capabilities.
Reasonable Large Spindle Thru-Bore – at least 1.5″ if not more.
Minimum 8 Position Tool Turret with gang tool options.
When I looked at my list, my thought was something like "Oh, that's an expensive wish list! Gulp!".
So, last year, I decided to take my Vacation to IMTS 2016. I'm sure most of you know what IMTS is, but for those that don't, it's basically one of the top, if not THE top, manufacturing trade show in the country, and from what I've heard, in at least the top 5 in the world. It is almost a week of going thru 1000's of vendors ranging from Tool makers, to robotics, to every type of machine tool known. You walk in, and it's absolutely overwhelming!
If you want to get some ideas of what it was like, I have some short compilation videos from each day I was there. Click this link to get to the videos of IMTS2016. (The videos were just shot with a phone in my hand, so pardon any shaking.)
Internet searching can sometimes only do so much. Sometimes you need to just see the machines in person, and I couldn't think of a better place to do it. I won't bore you to death with the details, but suffice it to say, I talked to dozens of sales guys about machines. There were a lot that I liked, but some were just way to far out of my budget. Some were only slightly out of my budget, but still more than I wanted to pay (or have monthly payments for).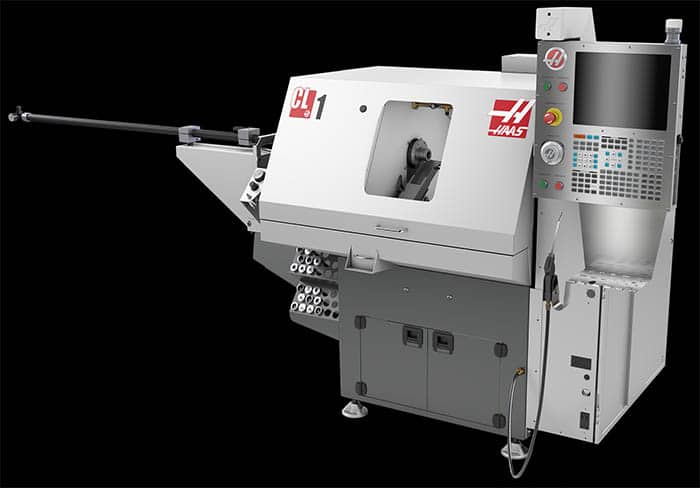 Haas CL-1 Chucker Lathe…
Some machines were amazing, esp the size, such as the new Haas Chucker CL-1 lathe. At first sight, and about the 20th visit, I was almost convinced this might be the lathe for me. It was small, had a turret, and it even had a bar feeder. A few things about it kept me from going that route. The price was a bit more than I wanted to spend, but besides that, the Turret was in a standard chucker orientation, Horizonal, instead of Vertical, and it was a machine designed for mainly collet turning work, and no chuck. They figured they could add a chuck to it, but were not convincing on that topic.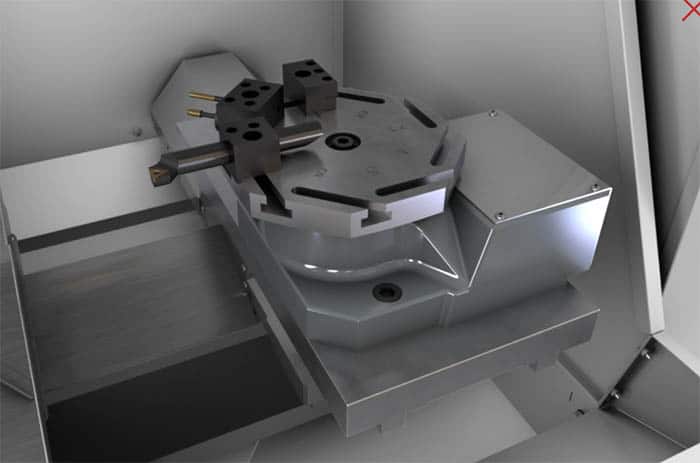 Haas CL-1 horizontal turret…
On the second day I was there, I made it to the 4th convention hall, way down below one of the buildings. On my way down the extremely long escalator, I saw an end booth with a bunch of lathes, they looked smaller that a lot of what I had seen so far, and from a distance, really nice looking machines. It was a machine company out of Ann Arbor, Michigan called Automate CNC. They are also the Smithy company, so they sell both manual machines, and now Automate CNC.
They had a machine I really liked called the Raptor LT-5, but it had a 4 position toolpost style turret, and a small gang plate. I was pretty stuck on having a turret on a machine I bought, but I kept coming back and looking at their other machines. I was also stuck on a shallow depth machine without a large footprint. The LT-5 fit my budget nicely ($17,799 at the show), and it would also fit my space quite nicely, so I really wanted that machine – but again, the lack of a turret was throwing me off.
The features on these lathes were amazing as well:
Industrial Siemens 808D-Basic or Advanced controls.
C Axis functionality
All Servos (including the spindle)
Pneumatic Drawbar
Gang functionality with a turret
Fairly decent conversational programming capabilities
Light enough for me to move it around on my own
Options to add live tooling.
It turns out that the manufacturer of these machines was there, and they felt they could increase the X movement of the lathe from 6″ to 9″ and turn it into a slant with a turret. The LT-5 is a flatbed machine. I was rather anxious for a lathe, but, the ideas they had sounded good, so I waited – and waited – and waited… and the manufacturer just didn't seem to be able to get the machine tweaked to their satisfaction.
By this time, it was the mid-summer of 2017, and I was really in need of a lathe. So I called Automate back up and asked about the status of the modified LT-5, still no progress. Ok, tell me what you have available that fits my needs. Well, they just so happened to have a machine in stock called an FL300-II. This machine is a LOT bigger than the LT5.
AutoMate CNC FL300 II CNC Lathe…
Here's some of the details of this machine:
18″ of X movement
11″ of Z movement
C Axis – 4HP spindle
8 Position Turret plus room for gang-blocks and live tools
The main drawback was it became more of a monthly payment than I wanted, but short story, I said to heck with it, and placed the order. The machines footprint was about double-the LT-5, so I had to do a lot of cleaning and re-arranging to make everything fit, but fit it does!
Once it was ordered, I received the machine in about 2.5 weeks. They had to hook up some extra controls for me as I ordered the machine with 2 live tools to mount on the gang plate. During that time, I got a lot of wiring ready, as this machine (and all automate machines) is 3 phase, so I had to get the proper wiring in place for the rotary phase converter to get hooked up.
The machine itself is 3800 lbs. Before ordering, I contacted a shipping company I used previously who has drivers with flat bed trucks and piggy-back forklifts. There was a lot of calling the the guys at Automate and asking questions to make of details, measurements, etc.. I tried (and succeeded) in covering all my bases and situations that might arise. Everyone at Automate was super-helpful and got me the information that I needed in a timely fashion.
Some of the things I covered in preparation for the arrival of the lathe were:
Talking to American Rotary and making sure I had the correct gauges of wire to the rotary
Making sure I understood how the electrical hookup worked by talking with their tech support people
Purchasing a 3 phase breaker that works with their units
Making sure regular length forklift forks would lift the unit on the pallet (VERY deep pallet).
Talking with the shipper to make sure the forklift could handle the weight of the machine
Scheduling the use of a dock to switch the machine from the Carrier to the local delivery company with the forklift.
I'm sure I've forgotten some of what I all planned for, but you get the gist. If there's anything I can't stress enough, plan plan plan and over-plan. It just makes things go smoother.
Here's a timelapse video of the delivery experience:
[youtube https://www.youtube.com/watch?v=65faTwcLyJA]
My next article will be more about the setup of the machine and making the first cuts with it.
Thanks for reading!
Wade Wendorf
Like what you read on CNCCookbook?
Join 100,000+ CNC'ers!  Get our latest blog posts delivered straight to your email inbox once a week for free. Plus, we'll give you access to some great CNC reference materials including:
Our Big List of over 200 CNC Tips and Techniques
Our Free GCode Programming Basics Course
And more!
Just enter your name and email address below:
100% Privacy: We will never Spam you!