ProtoLabs bills itself as the "Fastest Provider of CNC Machined and Injection Molded Parts." They were founded in 1999 by Larry Lukis, a successful computer entrepreneur who was dissatisfied with how hard it was to get injection molded parts made quickly for his computer company. Lukis decided there had to be a better way and founded a company whose goal was to provide a better way to customers. The company went public in 2012 and had revenues of $209 million in 2014. I'd say Mr Lukis has achieved his goal given the level of success the company has enjoyed.
I first became aware of ProtoLabs as a result of some Google Alerts I had set up to find new articles about 3D Printing. Out popped an article about the company that explained that while it wasn't actually a 3D printing company (at the time at least, they now offer additive manufacturing), it was delivering many of the same results that are attributed to 3D printing. Namely, fast turnaround on prototyping. Being curious, I decided to try it out.
The service I tried is called Firstcut. They promise to ship you 1 to 200+ parts within 3 days–pretty fast turnaround. Getting a quote is free and requires no credit card. What you will need is a CAD model in one of their standard formats.
They can handle quite a large number of formats including:
IGES (.igs)
STEP (.stp)
SolidWorks (.sldprt)
PTC Creo (.prt)
Parasolid (.x_t and .x_b)
ACIS (.sat)
AutoCAD (.dwg, 3D only)
Autodesk Inventor (.ipt)
CATIA (.CatPart)
Compressed folders (.ZIP) can contain any combination of the above model file types
I choose to give it the following in IGES format: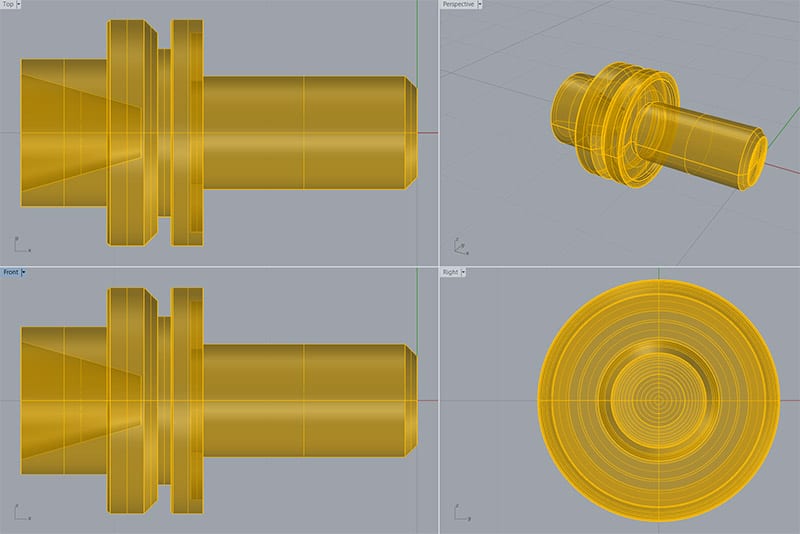 ER20 Collet Chuck with TTS Shank…
It's an ER20 Collet Chuck with a Tormach Tooling System (TTS) shank on it. Submitting it is dead simple: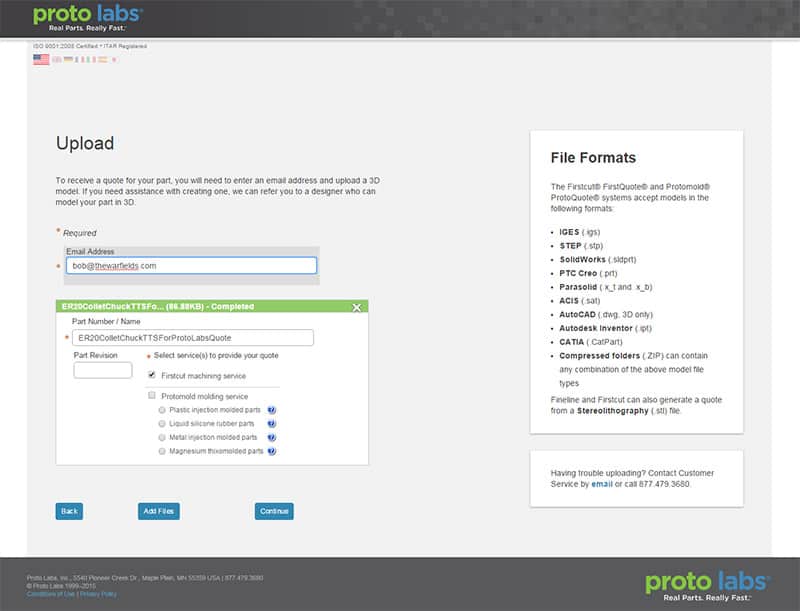 Submitting a CAD model for a quote is super easy…
In addition to your email, a name for the quote, and a CAD model, you need to give it a rough idea of the material in the next screen: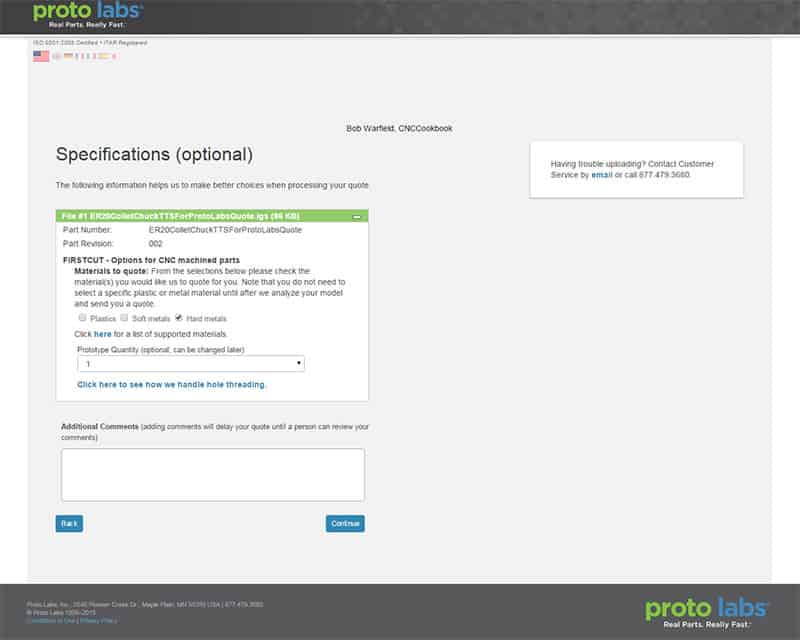 Tell it whether you want a Plastic, Soft, or Hard Material…
Oddly, even though they give you a link to their supported materials, you're asked not to choose a material but to say whether you will be using a Plastic, Soft, or Hard Material. This resulted in some interesting behavior on the quote as we shall see. You also give a quantity desired.
That's about all there is to the process. As you can see, it couldn't be simpler. If you'd like to try it for yourself, head on over to the ProtoLabs web site and click the Firstcut service to get started.
The Proof is in the Pudding, and the Part
Within a very short period of time (mine was overnight on a weekend), you'll get your initial quote back. Fasten your seatbelts, because the quote is likely to be high. After all, it's a rush job for a prototype part. In my case, the collet chuck came back with a quote of $817. You can buy one new from Tormach for about $40. Obviously Tormach is in no danger of being upstaged. Here's the initial response quote: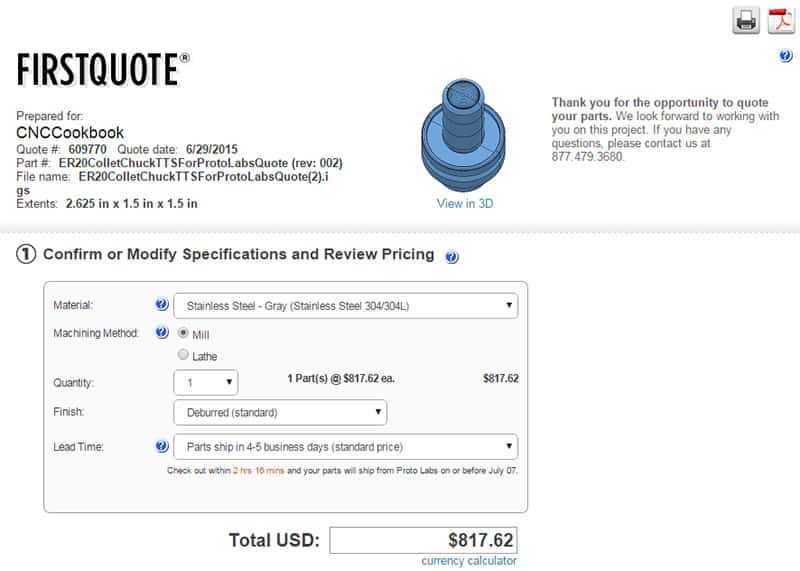 $817–These are the solid green unobtanium collet chucks…
Why so high?
As nearly as I can tell, this was due to two issues. First, the automated quoting system failed to identify the initial quote as a turning job–it was specified to be done on a milling machine. Second, when I picked a "Hard" material, it decided to quote stainless which is just about the most difficult material on their list. No doubt both choices contributed to a high initial quote. I was able to turn it back around to them quickly with a feedback that suggested a mild steel alloy and make it a turning job. Making those two changes got the part down to the $250'ish range. The final step was to bump quantity to 200 at which point I was down to a $119 quote. That's a little more than twice what Tormach charges, but again, it's a prototype one of a kind part being made on a rush basis for the first time.
I went through this process twice, the first time in last April. At that time, I was able to get a price of $73, so their prices have gone up a fair bit since then for some reason.
There were a couple of other flies in the ointment. For example, I did not specify threading the nose for the nut nor is the cost of a ER collet nut included in this price. Also, the final quote I got indicated they would not be able to do the undercut on the part at all. It's fairly critical to this part and no good way to design around it, so that would be problematic for this application.
Still, there are a lot of parts out there that could be made quite happily by a service like this.
What Should the Part Cost?
Our G-Wizard Calculator software has a module called CADCAM Estimator that can be used to put together quotes. I decided to go ahead and run through a quote for this part just to see how it would turn out. Before diving in, I made the following list of features for the part: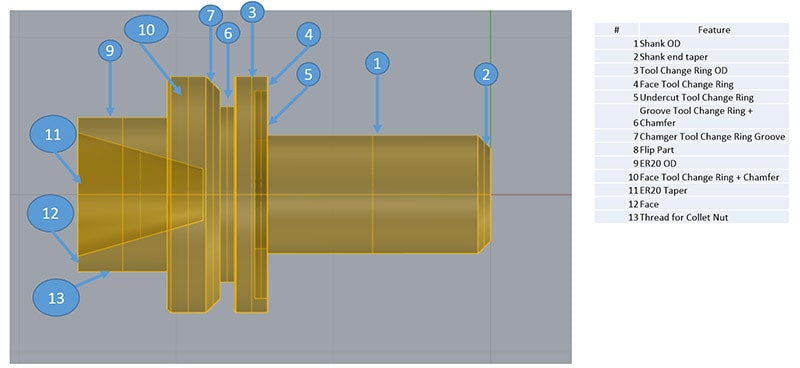 Features required for the TTS ER Collet Chuck…
It wasn't hard to come up with a list of features, and for a simple part like this I normally would have just "winged it" and gone directly into CADCAM Estimator. In this case I wanted to make it clear what was going on for everyone reading. Once you have the list of features, it is pretty easy to use CADCAM Estimator to figure the expected time for each one, apply a machine hourly cost to those times, and get back a spreadsheet that's all laid out for your quote. In addition to these times, you'd want to include some budget for material and for tooling–typically inserts for a lathe unless you needed a special tool. There's even a special calculator to help you figure your machine's hourly cost.
Feature-based estimation like this can be pretty acccurate, and with a tool like CADCAM Estimator, it can be pretty fast to do as well. I came out with a total of 3 minutes for the cycle (with all my fudge factors–want to make sure the quote isn't too low) and I added 2 minutes to flip the part as well as to insert a slug in the chuck since I don't have a bar feeder. At a standard of $60/hour machine rate, that's going to be $5 of machining time. The slugs themselves I priced at $70 precut in quantity 10 from 8620 steel. Collet nuts are available for about $11 apiece.
Put that all together and we're at about $23 each. There'd be more to it than that–setup costs and handling costs, not to mention CAM programming costs, for example. But let's just say we'd come in under the $40 retail price even though my Tormach Slant Bed lathe is no speed demon. With a better lathe, we could likely see significant improvement in those figures. Perhaps Tormach pays closer to half retail and there is still margin left for the manufacturer in that. I think all told it probably took me half an hour to put the quote together. I don't many quotes since I'm not a Job Shop. Someone who was doing a lot of quotes could no doubt get through the process much more quickly.
Analysis and Conclusion
I put together the quote for the part really as an aid to answering the following question:
What does ProtoLabs sell? In other words, what business are they really in?
It seems clear that they are very much not in the business of making parts cheaper than other shops. In fact, they've made an extremely successful business (how many Job Shops are able to go public on the New York Stock Exchange) out of doing something else entirely. I submit that what ProtoLabs does is makes the task of having a part made much easier and more convenient. Their front end quoting process is dead simple. Their delivery time frames are short. Not a lot of back and forth is needed before you can find out whether they can make your part, how much it will cost, and how quickly you can get one. It's interesting to see just how much customers will pay for convenience and how much business is available for shops who can deliver on that promise.
I suspect that Protolabs has invested in a considerable amount of automation along the way. In fact their web site says as much. But I wonder, given the margins available at those prices, how much automation is actually needed for a shop to make a profit? Perhaps the automation is more important for the very short turnaround on the parts than for the quoting process. Nevertheless, one often hears that quotation can be a competitive weapon if you're able to do it more effectively than others. The definition of "Effective" can take on many aspects. It could be all about whether you can quote closer to the bone without losing money, and thereby win more deals. It could be about whether the cost of quoting is lower for your shop than others. In the case of ProtoLabs, it could also be about whether you're making it radically easier for prospects to get quotes from your shop than other shops. Lots to think about here when formulating competitive strategy.
I want to mention in closing that ProtoLabs is a G-Wizard Customer and has been for a number of years.
Like what you read on CNCCookbook?
Join 100,000+ CNC'ers!  Get our latest blog posts delivered straight to your email inbox once a week for free. Plus, we'll give you access to some great CNC reference materials including:
Our Big List of over 200 CNC Tips and Techniques
Our Free GCode Programming Basics Course
And more!
Just enter your name and email address below:
100% Privacy: We will never Spam you!
Bob is responsible for the development and implementation of the popular G-Wizard CNC Software.  Bob is also the founder of CNCCookbook, the largest CNC-related blog on the Internet.