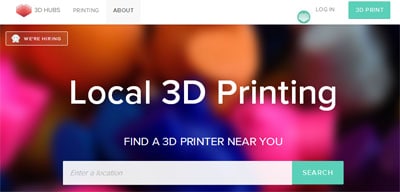 Are you bemoaning the fact that you don't have a 3D Printer but you'd like to have one of your designs 3D printed? 3DHubs will take your STL file, help you locate a nearby 3D Printer that's part of their community, and pretty soon you'll be off to visit the printer and get your part made. That's pretty cool. I have been thinking about prototyping some parts on the CNCCookbook Rostock 3D Printer and then sending them off to one of the services like Shapeways to get a higher quality print. This is another approach. If nothing else, if you live near enough different 3D printers, it would be fascinating to be able to compare print quality from a bunch of them before you take the plunge and buy a particular printer for yourself.
If you do own a 3D Printer, does it sit idle most of the time or even much of the time? Mine does. I mostly fire it up on the weekends when I have time away from writing software and articles for CNCCookbook. I tell myself it's okay to do these kinds of projects during the week because it's all for the greater CNCCookbook good, but there's always too many other priorities. 3DHubs would like me to add my 3D Printer to their community and they promise they will find it work to do. They call the practice "Hubbing" your 3D printer. Hmmm. Interesting. Not sure I have time for to deal with that, but interesting. 3DHubs provides a number of services for their 3D Printer owners:
– Of course their web site manages the ordering process.
– They do some checking to be sure the model is water tight and so on.
– They're creating a marketplace for you.
– They keep up with a lot of details about your printer and capabilities.
– You get to set your own price on a print, so you can clearly make it worth your while.
– You get 24 hours to accept or decline an order.
What really got me going to the 3DHubs web site is that they publish all kinds of fascinating data about their network. Anyone who has read CNCCookbook for long knows we love data, which we usually collect via surveys. Our most recent was all about how shops are investing in Manufacturing Competitiveness. I haven't had a chance to do any 3D Printing surveys yet, but I thought I'd just walk through a little bit of what I found on the 3DHubs site. There's a lot more there than what I'm presenting and it changes and updates constantly, so be sure to go visit the 3DHubs web site yourself.
First thing is that this data is a function of their community which includes 6,720 3D Printers–that's quite a large network, so the data should be pretty interesting. Here's a map and list of the most popular cities where all those printers may be found: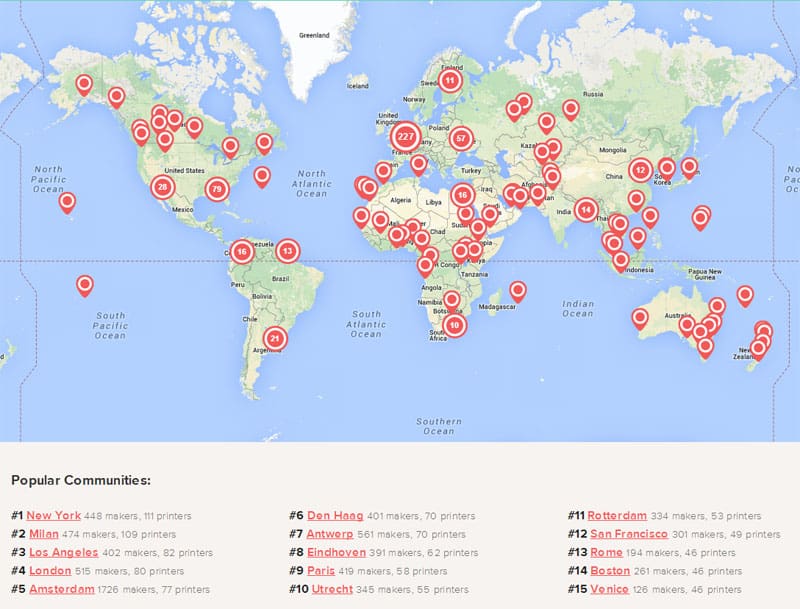 New York is the most popular city for 3DHubs with some 111 printers listed so far…
You can click on any of those red circles (on their web site, not in my screen capture) to drill down onto a particular area and learn a bit more. There's 3D Printers everywhere as you can see!
The bulk of the information is on their special "Trends" page which has all sorts of reports full of data they've gleaned from the community. Here are some samples: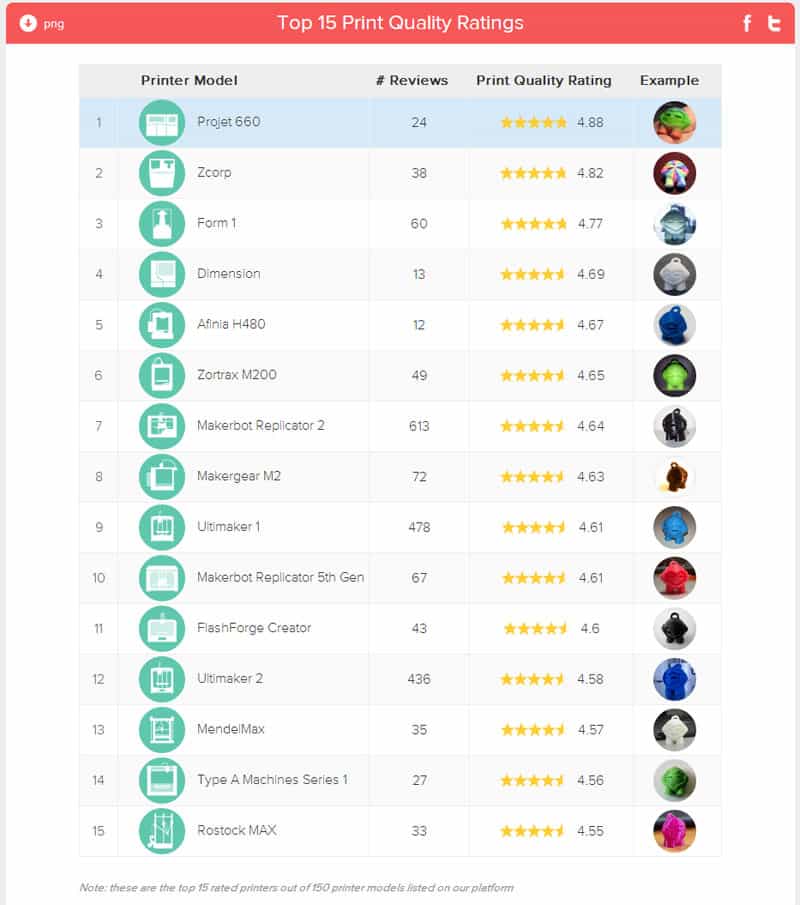 Print Quality ratings for the Top 15 out 150 printer models on the platform. The Rostock Max made it into the Top 15!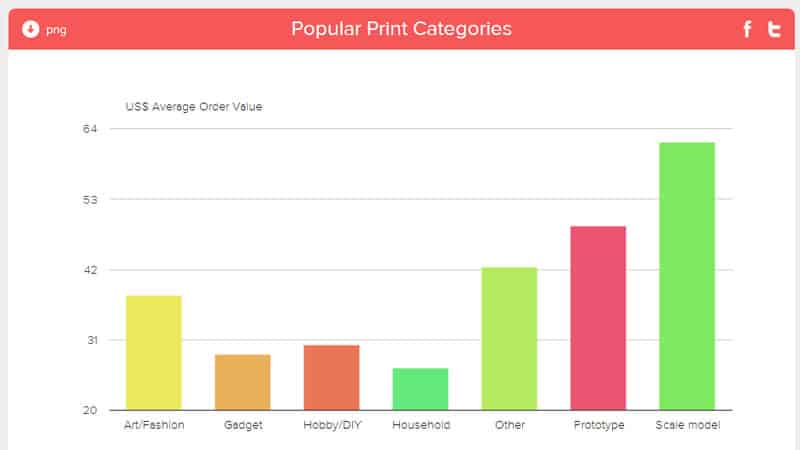 Here's what people are paying to print on 3DHubs in terms of the average order size. Looks like Scale Models, Prototypes, and Art/Fashion are the highest-priced jobs…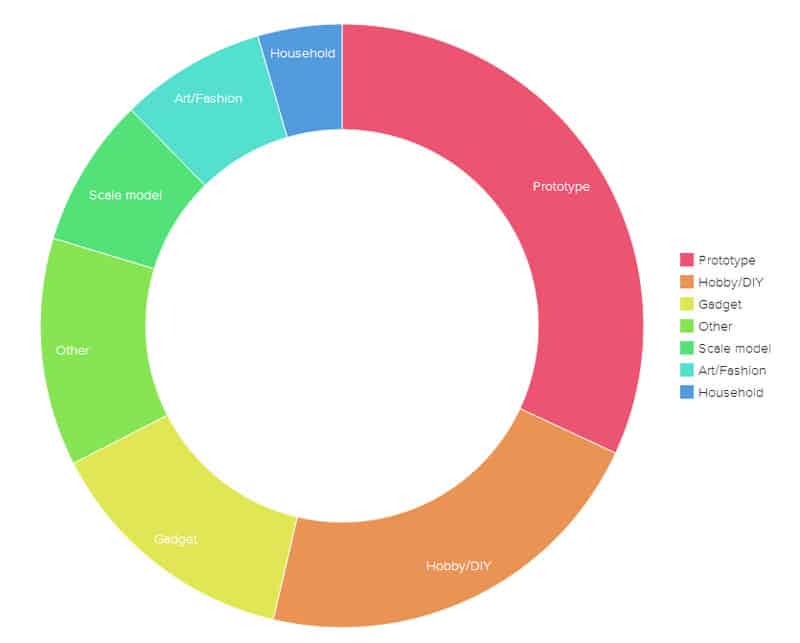 And here it is by total order volume. Most of the work is Prototypes followed by Hobby/DIY, Gadgets, and Scale Models…
There's tons more data available on things like what filament colors are most popular and 3DHubs also has an excellent blog worth subscribing to. Check it out!
Like what you read on CNCCookbook?
Join 100,000+ CNC'ers!  Get our latest blog posts delivered straight to your email inbox once a week for free. Plus, we'll give you access to some great CNC reference materials including:
Our Big List of over 200 CNC Tips and Techniques
Our Free GCode Programming Basics Course
And more!
Just enter your name and email address below:
100% Privacy: We will never Spam you!
Bob is responsible for the development and implementation of the popular G-Wizard CNC Software.  Bob is also the founder of CNCCookbook, the largest CNC-related blog on the Internet.