Long time CNCCookbook readers will have come across my project-in-planning Astronomical Clock.  It's one of those projects I promise myself I will be devoted to when my life is a little less busy (does that time ever come?).  Meanwhile, with a new 3D Printer on its way to CNCCookbook (just got the tracking notice yesterday, very excited!), I started wondering about making a clock with the 3D Printer.  Who knows, maybe this would be a good way to prototype some of the gear trains for my Astro Clock?  This also goes under the category of wanting to do something with CNC that my (nearly all) non-CNC friends would find interesting.  I make a lot of tooling and parts for other projects (spares for some of my cars, for example), but it isn't very often that I get to make something they really think is cool.  The biggest hit to date had been a Turner's Cube, but I digress.
This post is a survey of some 3D Printed Clockwork projects I found interesting.
Plotclock:  An Open Source 3D Printed Clock that Writes the Time
This first one has little to do with clockwork and everything to do with clocks and just plain being cool, so I had to start here.  It's a 3D Printed Clock that writes the time out on a scrap of whiteboard with a marker.  It even erases it so it can write it again, over and over.  Since seeing is believing, check the video:
Plotclock…
This is the kind of crazy over-the-top project nobody would've even dreamed of back in the late 70's when the personal computer revolution started.  Combining computers, CNC/Robotics, and clever programming can produce amazing results.  Not sure how practical some of these things are, but they are definitely fun.  This is one of those Arduino projects, and it uses 3 servos from the radio controlled airplane and car hobby to move the pen.  Full details are available on how to build your own plotclock over on Thingiverse.  The plotclock definitely falls into the category of a "Thingy".  If nothing else, maybe it'll give you an idea for some other machine.  After all, the Arduino computer that powers it made it possible for an extremely simple mechanical mechanism to do some really sophisticated things.  Maybe this kind of a construct is part of your next automated manufacturing invention?
Goofy's 3D Printed Mechanical Clock
Here's a more traditional clock.  All the necessary files are available (links on the video page) as well as this video of the clock:
Goofy's 3D Printed Mechanical Clock…
Makerbot Clock
This is another Thingiverse project, and looks to be a fairly simple 3D printer project to make a clock like this: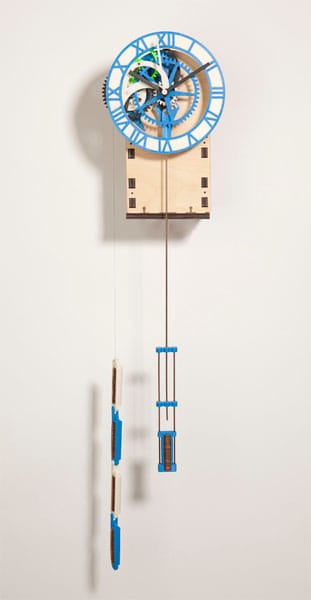 The MakerBot Clock:  Pretty Cool!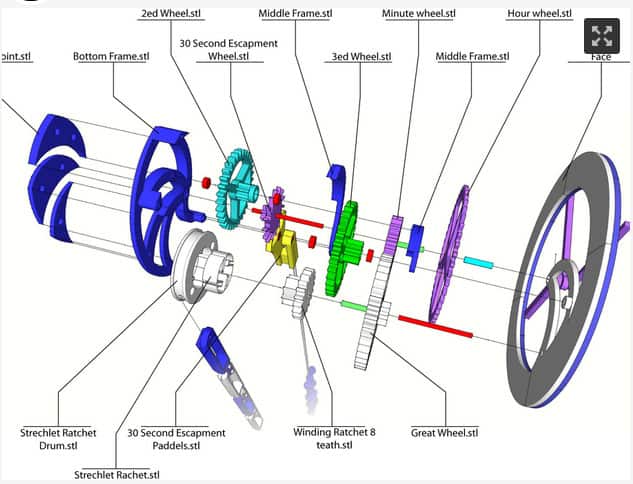 These are the parts you'll be 3D printing for the MakerBot Clock…
Now go on, admit it, it'd be pretty cool to hang that up on your wall and tell your buddies you'd made it with your 3D Printer!
University College London's 3D Printed Clock
I love the exposed gearing of some clocks.  I've written about this for CNC Router Clock Projects before on CNCCookbook.  The thing is, you can take a CNC Router Clock, intended to be made of wood, and change it over to a 3D Printed version pretty easily.  That's what University College London did with their 3D Printed Clock.  They started with a Wooden Clock called Septimus: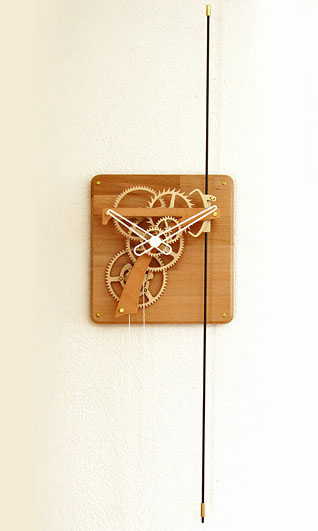 Septimus:  Wooden Clock for CNC Routers…
Pretty soon they had 3D Printed Clockwork: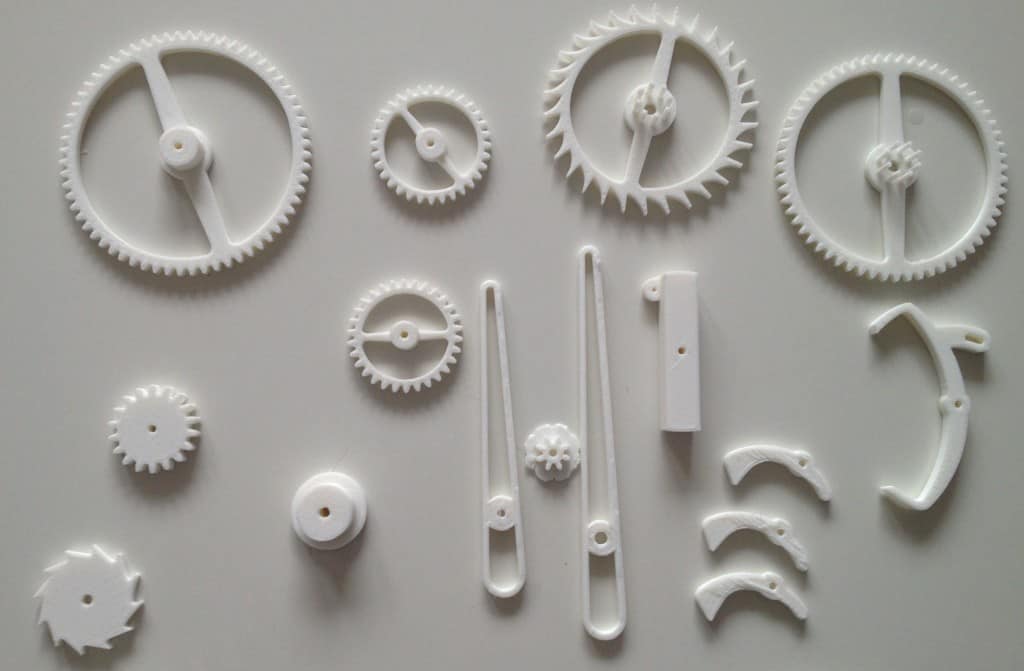 Clockwork for Septimus: 3D Printed…
And pretty soon they had a 3D Printed Clock:
Pretty neat to see in motion…
The point is, there's a world of projects available once you consider taking advantage of things that weren't even done on a 3D Printer originally.  After all, they did start out largely for prototyping.
Clocks as Reskinning Projects
I've coined the term "Reskinning" for projects that are essentially putting a pretty face on some existing thing.  Of course we can do that with clocks too.  How about this whimsical, modern, and iconic clock made of dashboard widgets: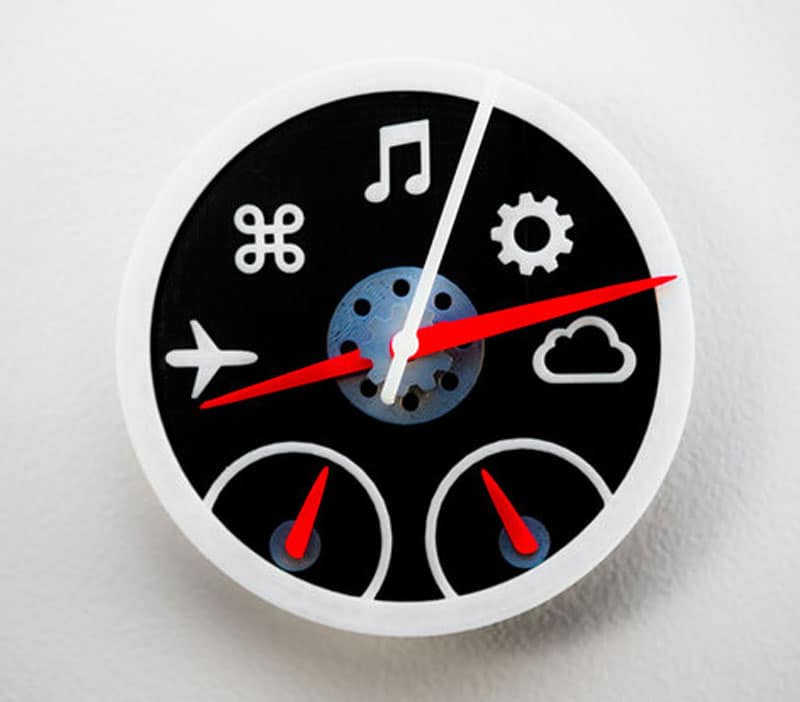 3D Printed Clock…
The 3D Printer made the case and hands, but the actual clockwork is just a purchased quartz movement–they're available cheaply for such projects from a variety of sources.  Now you can see how easily you could make a very personalized clock, perhaps a gift for someone.  Add a little CNC Vinyl work or maybe laser print the face on some shiny transparency it could turn out to be quite a slick piece.  Maybe you've got a friend that loves dogs–come up with a clock that has a different breed for each hour as a gift.  Fly fisherman?  Put a different fly at each hour.  There are endless possibilities.  Shouldn't your shop have a clock that's customized with your own shop logo?  I don't see why not.
I'll end on a much fancier reskinning project that also shows the real potential for 3D printing as well as the ability to sell these things as products.  This is a very cool sculptural clock that's called the "Fable Mantle Clock."  Here it is: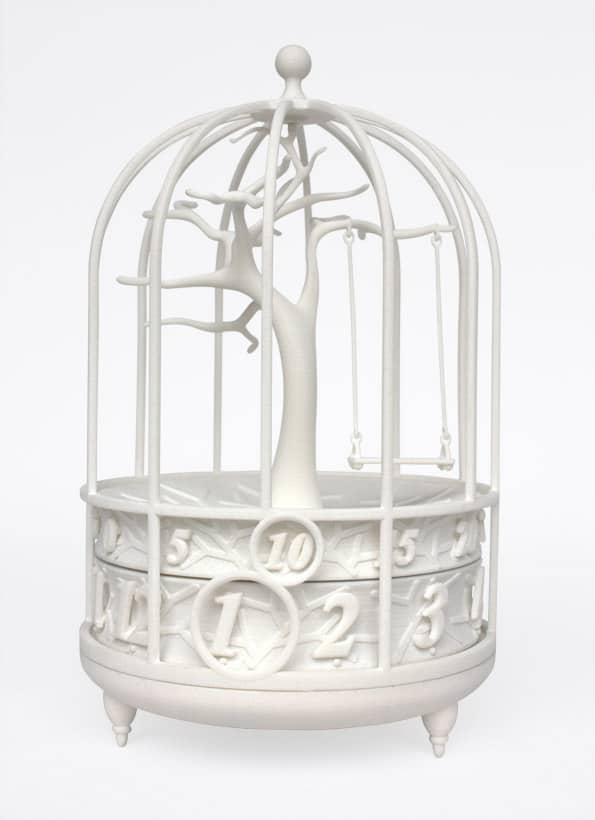 The Fable Mantle Clock…
Isn't it beautiful?  Mechanically, it's fairly simple–the purchased clockwork has been set up to turn two dials in the base, rather than hands.  So, you can read the time digitally–it's about 1:10 in the picture.  The rest is all sculptural art.  They did this with the help of a haptic 3D mouse device: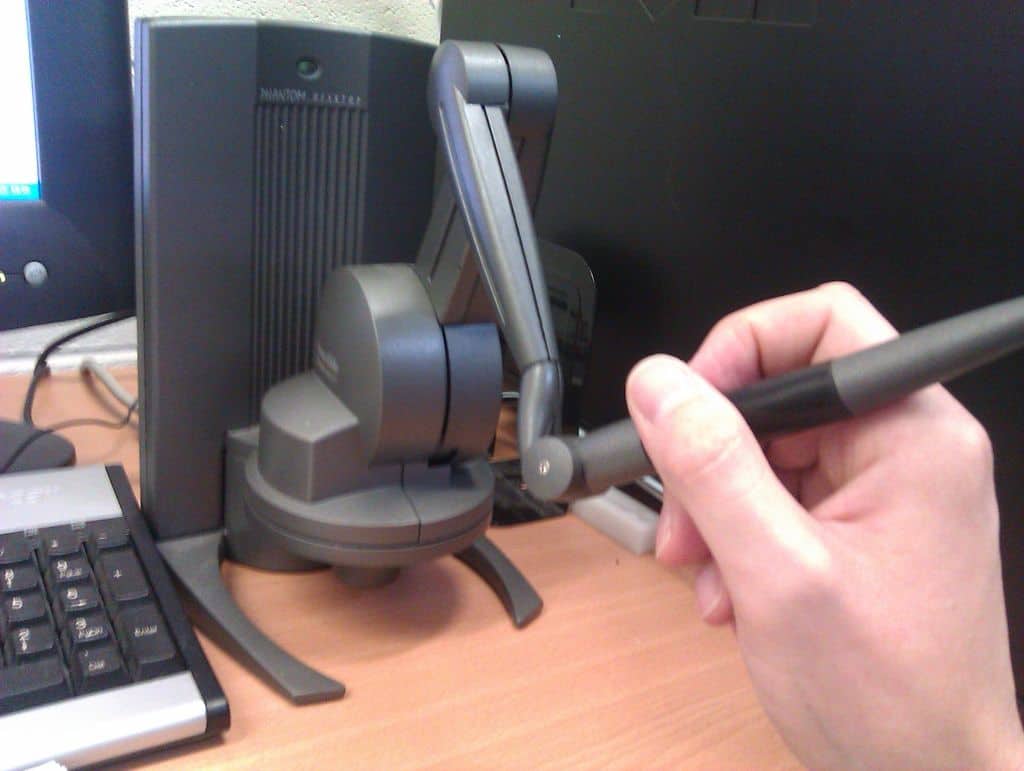 Haptic Arm 3D Input Device gives the artist's "touch"…
There you have it: 5 3D Printed Clock Projects.  Plenty of grist for the old mill.  Have you got a cool CNC project you've made?  Drop me a note, we love to write these kinds of stories.
By the way, if you like clockwork, be sure to checkout Gearotic.  It's special CADCAM software for designing clockwork that was created by Art Fenerty, the father of the popular Mach3 CNC Control software.  It's very cool!
Like what you read on CNCCookbook?
Join 100,000+ CNC'ers!  Get our latest blog posts delivered straight to your email inbox once a week for free. Plus, we'll give you access to some great CNC reference materials including:
Our Big List of over 200 CNC Tips and Techniques
Our Free GCode Programming Basics Course
And more!
Just enter your name and email address below:
100% Privacy: We will never Spam you!
Bob is responsible for the development and implementation of the popular G-Wizard CNC Software.  Bob is also the founder of CNCCookbook, the largest CNC-related blog on the Internet.