Many a small machine shop business or talented home hobby shop is started with an older CNC machine. I can't blame a small shop, let alone a home shop, for not wanting to take on the payments associated with a brand new CNC machine. Once the shop that bought the machine new has fully depreciated it, they may choose to unload it in favor of something that's newer and performs better. Recent economic stimulus has allowed machines to be immediately written off, at least the first few hundred thousand dollars, which potentially brings more new machines into shops and makes more old ones available to the next step down in the food chain. Now is a good time to be looking at the old machines, because there are a lot of them available.
Getting one of these older machines involves overcoming two distinct issues. First is the mechanical side. Are the ballscrews and ways good? What about the spindle bearings? These are pretty expensive to replace. Assuming the mechanical side is good, thoughts turn to the controller. Many a mechanically sound machine has been bought cheap because of a dead or flakey control. If you've got the skills to fit a new control, you can do very well. If not, you've got a potential nightmare on your hands.
But what about the machine that's bought and paid for long ago, is mechanically sound, and has a good control? I hear shop owners all the time talking about these money makers. They sit off on the side and they're almost like printing presses, tirelessly making parts and money for their owners. Every now and again, they need a little help too, if only because of technology obsolesence. For example, suppose you've got a machine that uses floppy disks? When was the last time you bought a new computer with a floppy disk drive? They've gone the way of the dodo bird, not to mention that floppy disks are not the most robust places to entrust your valuable data. Particularly not in a machine shop which has all sorts of contamination and magnetic fields to challenge the data integrity of these obsolete storage devices.
Enter a gadget that a friend recently put me on to. How about a plug compatible replacement for the floppy disk that gives you a USB key instead?
Seemed like a really cool idea to me: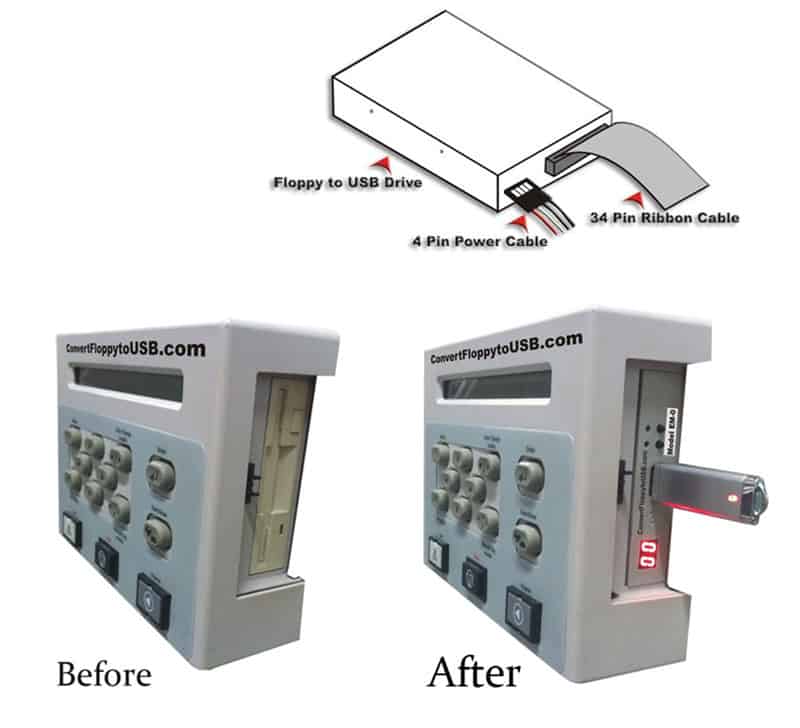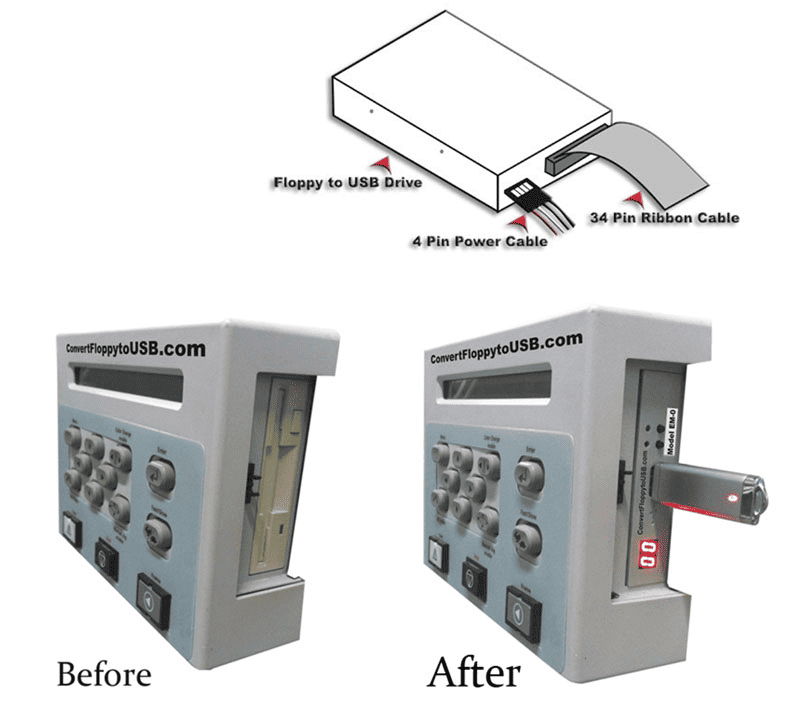 You get a little chassis that fits exactly where the floppy drive used to go, and connects to the same ribbon cable, but instead of a floppy, you plug a USB key into it.
Check out a company with the unlikely name of "ConvertFloppyToUSB" for more details. Take your old controller, replace the floppy with one of these, make sure the machine is on your local area network, and perhaps look into some memory upgrades. Give it the right drip feed software and you'll have a good thing going. At least until that old controller finally dies or the mechanicals need replacing!
Like what you read on CNCCookbook?
Join 100,000+ CNC'ers!  Get our latest blog posts delivered straight to your email inbox once a week for free. Plus, we'll give you access to some great CNC reference materials including:
Our Big List of over 200 CNC Tips and Techniques
Our Free GCode Programming Basics Course
And more!
Just enter your name and email address below:
100% Privacy: We will never Spam you!
Bob is responsible for the development and implementation of the popular G-Wizard CNC Software.  Bob is also the founder of CNCCookbook, the largest CNC-related blog on the Internet.