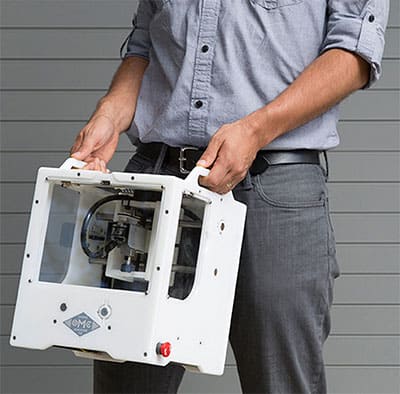 Mobile CNC, anyone? The OtherMILL is easy to tote from place to place…
CNCCookbook recently had a visit from the coolest little CNC machine and its two handlers. This is unusual from a number of standpoints. First, CNC machines aren't really known for being mobile. Sure, there has been the odd exception, but to have one literally come walking in my door is fairly unheard of. Normally I have to go visit the CNC machine if I'm going to see it, and I have done so a number of times. The second thing was that the visit was so much fun, so easy, and so approachable. Imagine a group of friends just getting together to play around with CNC the same way they'd get together to play a card game or throw a football around. This is just not the sort of fun I'm used to having with a CNC machine, though I have no end of fun with them, let me assure you.
The machine in question even has an odd but hip name–they call it the "OtherMILL", and it is sold by the "Other Machine Company." Maybe they're getting us ready for the idea that even the hardcore CNC'ers will want to have both their large and fairly stationary "normal" machine as well as a fun mobile CNC machine?
I'm actually no stranger to the idea of a Mobile CNC machine. I've had a little tiny CNC Router for quite some time made by a very nice fellow called the Fidgeting Widgitmaster: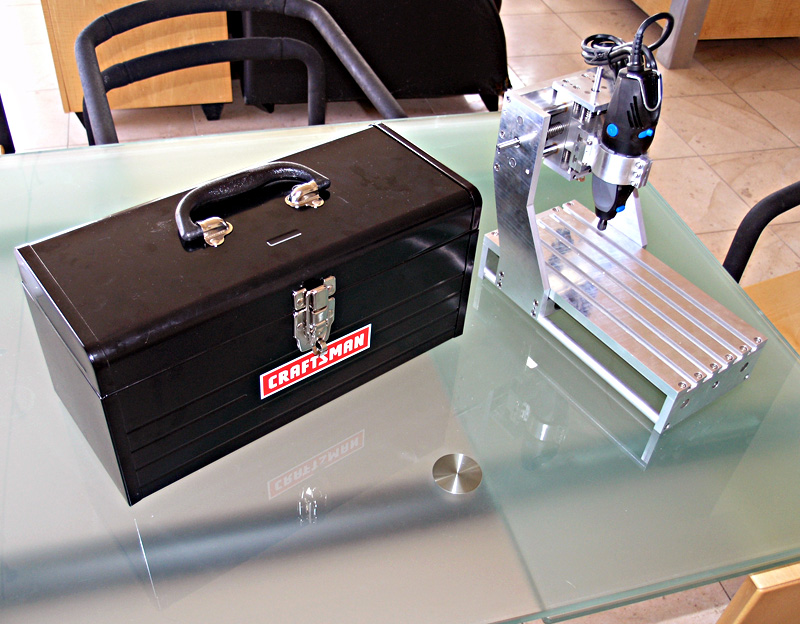 Xylotex controller is inside the Toolbox…
I put the little thing together with the notion it'd be fun to demonstrate CNC to kids and at various special events. I haven't managed to find very many opportunities to take it out for such visits, but it's always fun to see how folks react.
The OtherMILL is in a whole new category for mobility, though.
OtherMILL's handlers were two very nice people from Other Machine Co–Simone Davalos and Ezra Spier. They were nice enough to drive down from Other Machine Headquarters (which is in an old pipe organ factory–cool!) to visit me here in sunny Santa Cruz, California. I ushered them into our dining room at my home, they plugged their OtherMILL into the 110 outlet, and we were making parts almost before we had finished the "pleased to meet you" small talk. Their little mill is infectiously cute. Parents, if you want your kids to play with something more useful than video games, I'd definitely consider hooking them up with an OtherMILL. But it's no toy either–you can do very interesting things with it.
The other thing about it is that it is surprisingly quiet and clean. It sat there on the dining room table making parts while we chatted–no muss, no fuss. It was much quieter than any Dremel or Trim Router-powered mini-router I'd been around.
What can you make with an OtherMILL?
Here's a nice assortment of goodies: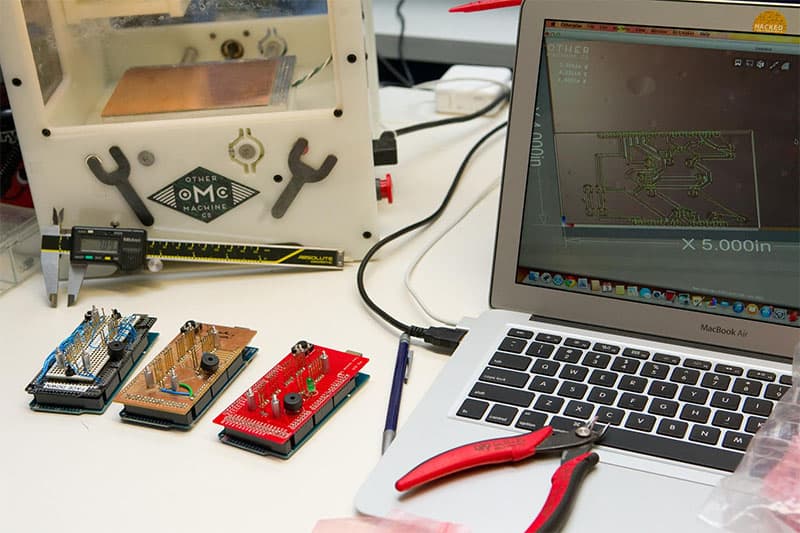 PC Boards are a staple, and in fact the company started out to do quick and easy PC boards in-house for prototyping. The machine's software is loaded with features that make milling one of a kind PC boards easy…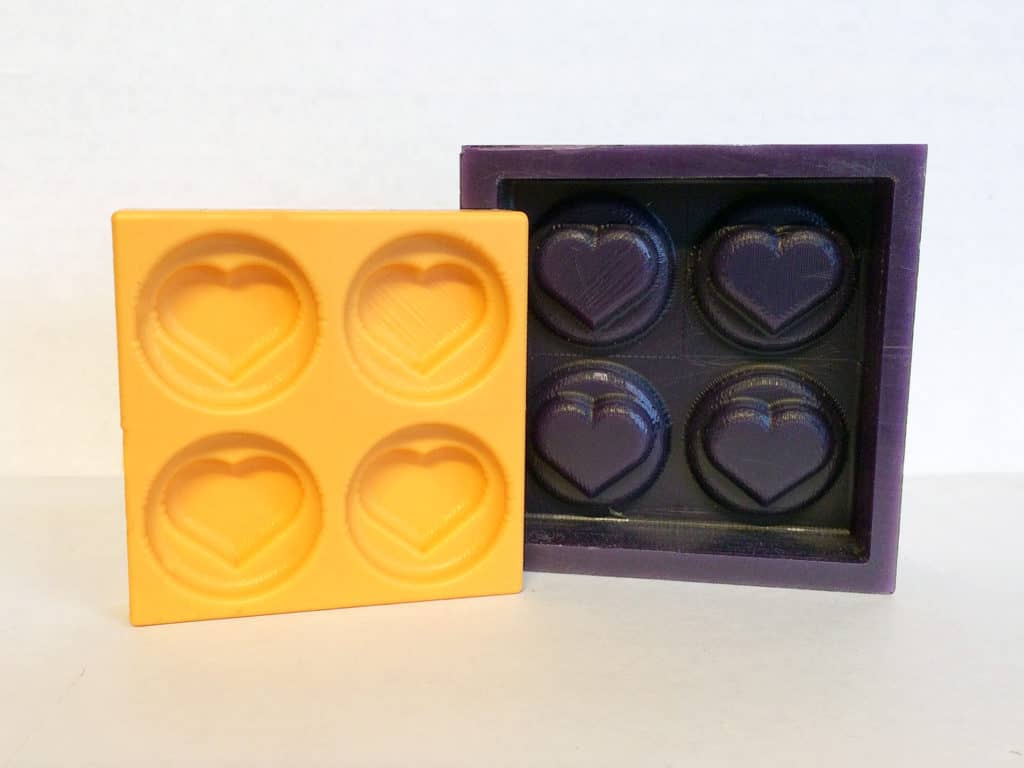 Custom CNC'd chocolate molds, anyone? Their blog shows how to make a model from wax and then create a food safe silicone mold so you can have chocolates in any design you please…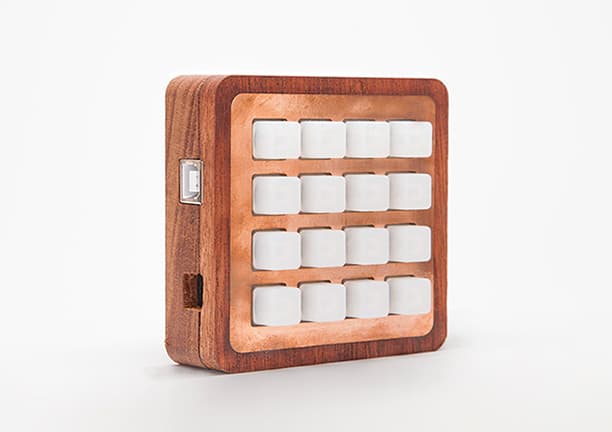 Wooden enclosure for a project…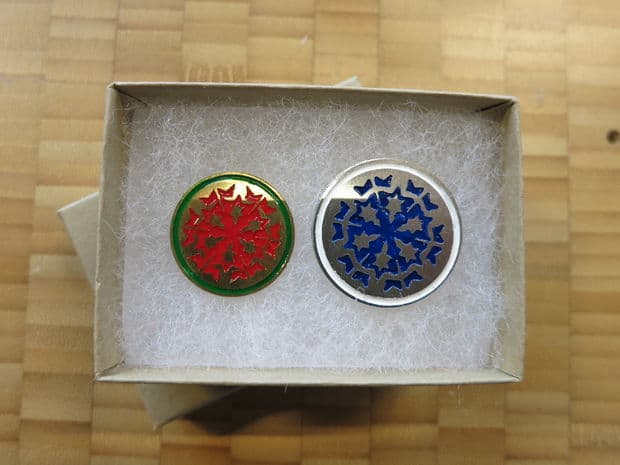 Cloisonne enameled jewelry. The OtherMILL carved the intricate patterns into the metal…
Easy Does It With OtherPlan Software
The OtherMILL is part of that class of "everyone can CNC" small mills that includes products like Carbide3D's Nomad and Carvey. As I've said in the past, the real breakthrough in usability for these machines is in the software, and the best vendors are bundling software that radically simplifies the task of giving non-machinists the ability to create things like those projects pictured above. OtherMILL is no different. It includes software called OtherPlan, and I have to say it looked very slick and easy to use as demoed by Simone and Ezra.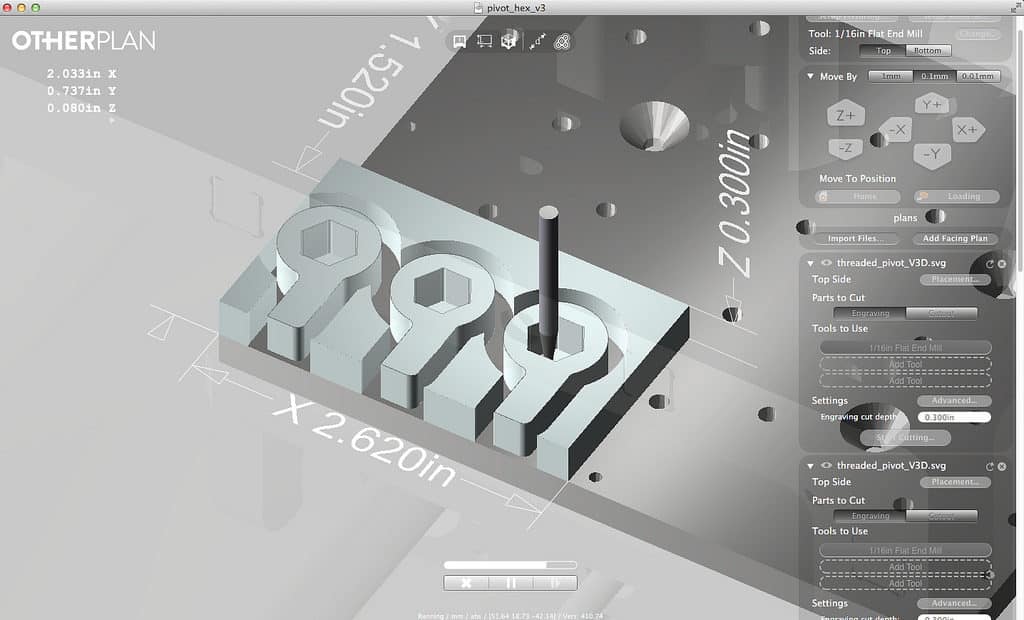 A nice shot of Otherplan's pleasing user interface from Tested's review of the machine. Check out the review–lots more nifty details there…
Specs Please?
The work envelope is 5.5″ x 4.5″ x 1.5″. Small, but not too small for the interesting projects shown above. After all, this is Mobile CNC and not a big honking VMC!
It weighs just 16.8 pounds, and as I mention, you plug it into the computer and the wall and you're off and making things right away. It uses ER-11 collets to hold tools and the largest recommended tool size is 1/8″ diameter. The software is unusual in that it only runs on the Mac, so keep that in mind.
There are lots of little ergonomic features such as the carrying handles and little magnets and troughs that hold the accessories to the case.
Lastly, the machine costs $2199.
Conclusion
These new user friendly mini-routers with bundled in software, full enclosures, and nice quiet spindles are neat. They're great entry-level machines and would be a great compliment to any 3D printer. They're not going to replace larger and more rugged machines any time soon, but that isn't their purpose. Rather, they make it easy to do small prototypes on the desktop and to learn the basics of CNC as you go. OtherMILL, you're a neat little machine. Simone and Ezra, thanks for dropping buy. You're welcome at CNCCookbook any time, especially if you bring your little friend again to make some parts!
Like what you read on CNCCookbook?
Join 100,000+ CNC'ers!  Get our latest blog posts delivered straight to your email inbox once a week for free. Plus, we'll give you access to some great CNC reference materials including:
Our Big List of over 200 CNC Tips and Techniques
Our Free GCode Programming Basics Course
And more!
Just enter your name and email address below:
100% Privacy: We will never Spam you!
Recently updated on May 17th, 2023 at 03:18 pm
Bob is responsible for the development and implementation of the popular G-Wizard CNC Software.  Bob is also the founder of CNCCookbook, the largest CNC-related blog on the Internet.