CNCCookbook is nothing if not one big idea notebook, but I keep special pages I call idea notebooks for things I haven't built yet, but expect to and want to collect notes for. I've got a number of different idea notebooks including: CNC Control Panels: What should be on your control panel? Coolant Collars: A handy way to dispense flood coolant that clamps to your spindle. Mill Fixture Plate: Makes modular fixturing and setups a snap. Souping up a Drill Press: Something to be productive on while your CNC mill is chugging away on its own. Press Brake Attachments for your Press. Better than a brake, not as good as a real Press Brake. Belt Sanders: I built a disc sander, now I need a belt sander. Handy machines! Electronics Boxes: How to build a neatly wired enclosure for your CNC electronics. High Speed Spindle Add-On: Attach a high speed spindle to your existing spindle. Home Shop Hall of Fame: Amazing man caves! Lathe Tooling Organizers: Keep those QCTP holders in order. Machine Aesthetics: Just some good looking stuff. Machine Enclosures: Keeps chips and coolant inside and machinists outside! Parts Gallery: CNC Parts Made in Home Shops. Plasma Table Gallery: Got to build one someday.I got to thinking about them this morning when a friend sent me a note on a nice QCTP racking system he'd found on eBay: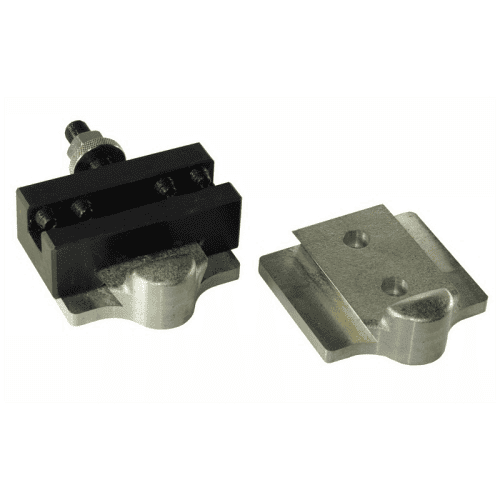 Of course that immediately went to the Lathe Tooling Organizers page.
Like what you read on CNCCookbook?
Join 100,000+ CNC'ers!  Get our latest blog posts delivered straight to your email inbox once a week for free. Plus, we'll give you access to some great CNC reference materials including:
Our Big List of over 200 CNC Tips and Techniques
Our Free GCode Programming Basics Course
And more!
Just enter your name and email address below:
100% Privacy: We will never Spam you!
Recently updated on May 28th, 2023 at 05:18 pm
Bob is responsible for the development and implementation of the popular G-Wizard CNC Software.  Bob is also the founder of CNCCookbook, the largest CNC-related blog on the Internet.