G-Code is Complicated
G-Wizard Editor Makes it Easy
See why thousands of CNC'ers trust G-Wizard Editor to make GCode easy for them too.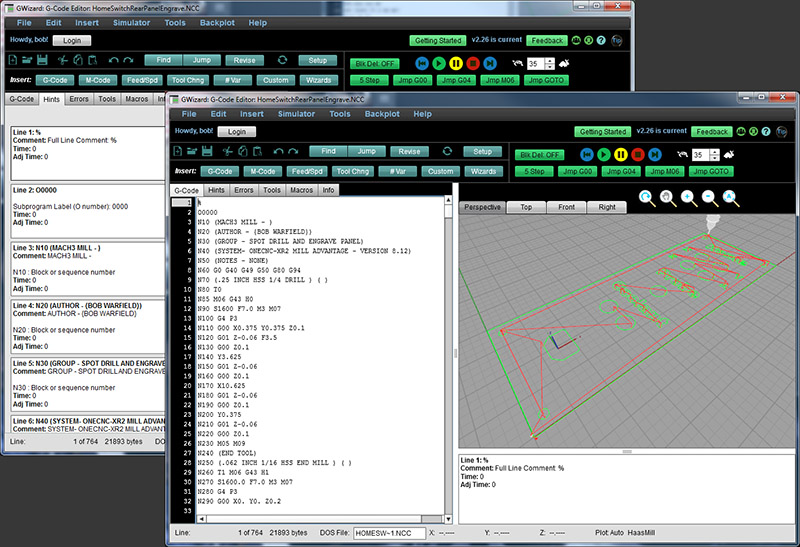 Here you can create the content that will be used within the module.
A G-Code Editor and Simulator with Everything You Need
Conversational CNC: a gigantic timesaver

Remember how easy it was to do simple things before CNC? No need for CAD or CAM, just walk up to the machine and make a part.

Conversational CNC generates gcode quickly and easily without having to fire up CAD or CAM. Make simple parts fast!
Extensive Error Checking

Your machine doesn't just expect you to look at the backplot and figure it out–it has alarms.

Most Editors just give you the backplot, but G-Wizard has an array of powerful error checks, messages, and a dedicated tab that shows you all the errors and warnings for your gcode.
What can G-Wizard Editor do for you?
You're in good company with GW Editor
| | | | |
| --- | --- | --- | --- |
| Made GCode Easier to Understand | Found Errors in CAM Code | Used G-Wizard to Increase Quality | Saved CADCAM Time |
| 40,892 times | 31,507 times | 42,903 times | 30,837 times |
| Improved CAM Code | Used Conversational Wizards instead of CADCAM | Hand Coded First Part Program | Reduced Cycle Time |
| 18,770 times | 18,099 times | 12,737 times | 20,781 times |
SOME OF THE WORLD'S MOST RESPECTED MANUFACTURERS TRUST G-WIZARD

See our Customer List >>
I Want to Make G-Code Simpler Now.
Quick setup. Free for 30-days.
Here you can create the content that will be used within the module.