Recently updated on May 17th, 2023 at 05:04 pm
We've all seen photos of unbelievably spectacular garages filled with exotic cars.  Some of them are more like museums or theme parks than garages.  Jay Leno and Ralph Lauren both have amazing facilities of this kind.  But let's say that in addition to having the time and wealth to do nearly anything you want, you're also the type to get grease under his fingernails.  You know, the Tony Stark type: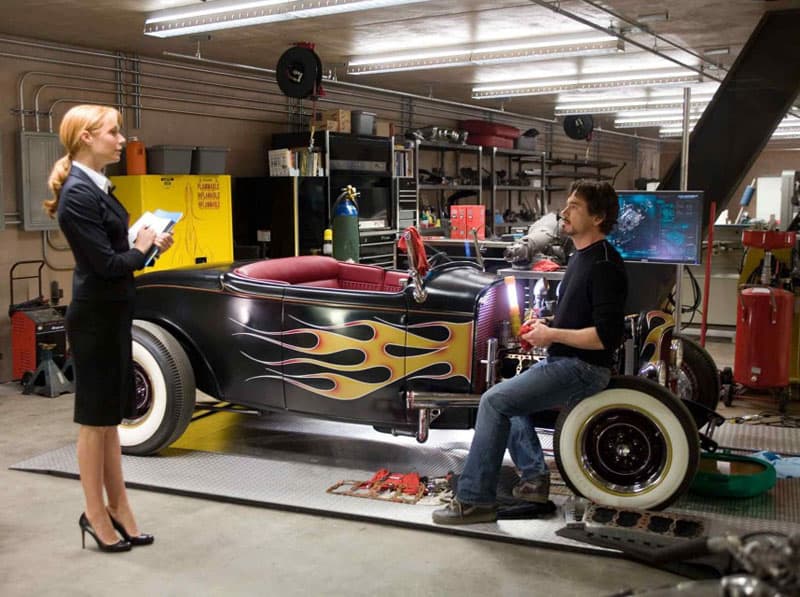 Tony Stark in the section of his workshop intended for working on cars talking to Pepper…
Given that unlimited budget, this article series explores what sort of workshop you might create.  To be sure, every individual will have somewhat different needs.  Our friend Tony builds Iron Man suits with associated weapons systems and works on cars.  Perhaps you fancy something different.  Maybe you want to build custom firearms or create art of some kind.  This series will focus on creating a workshop that's entirely flexible about the sorts of materials and projects it might be useful for.  The main emphasis is on reduction of your labor.  After all, as a billionaire tinkerer the one thing you can't just buy more of is time.  You want to go as quickly as possible from Idea to Finished Object, and we're going to explore how to do that.
The Space
Let's start with the space you'll build the workshop in.  Whether it's in a building that's part of  your estate compound or a short drive away (Jay Leno uses aircraft hangars), you'll want to ensure there is lots of space available.  Square footage helps reduce clutter and keep things organized.  Plus, with your budget, you'll have a lot of things to house in that workshop.  This is no mere weekend car wrenching gig.  Let's say 10,000 to 20,000 square feet at a minimum, with extra if you'll need to store a car collection, Iron Man Suit collection, or other bulky non-workshop items there.
That space needs to be finished in a way that's durable and easy on the eyes.  It also needs to be easy to clean up.  You can go with epoxy coated concrete floors or tile them.  The space should be light and airy, with light colors that bounce the light around into every nook and cranny to eliminate shadows and make it easy to see everything quickly. There needs to be plenty of shop lighting as well as optional task lighting as needed.  From a colors and lighting perspective, McLaren's very futuristic sports car factory is an ideal to shoot for: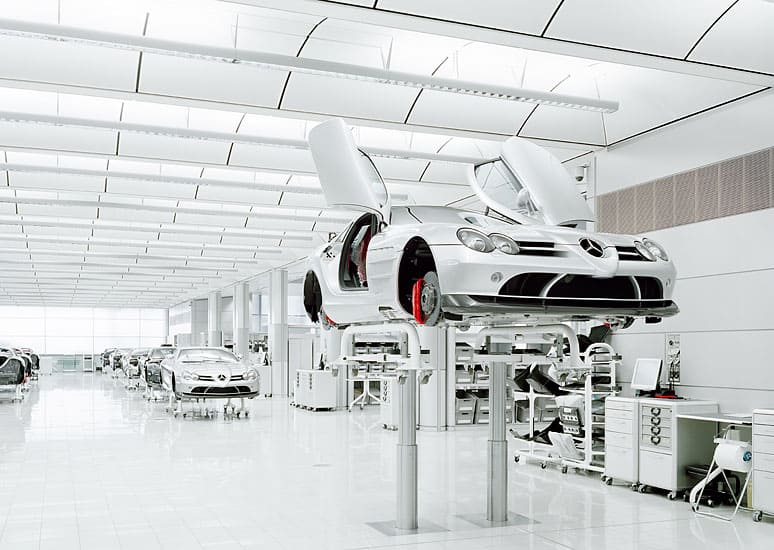 Ideal lighting and clean conditions…
Another thing the McClaren factories have is lots of natural light.  There are windows around 3 sides where people are working.  Storage, which is more visited but not inhabited, and facilities like bathrooms (you are definitely going to need a bathroom and a kitchen/snack room in this workshop!) that are used less and can get by without the natural light are in the center, furthest from the windows.
While we're on the subject of lighting, let's talk electrical and air.  We want electrical sockets in both 110 and 220 (or whatever your country prefers) plus compressed air outlets everywhere.  Here's what a typical air outlet ganged with a light switch might look like: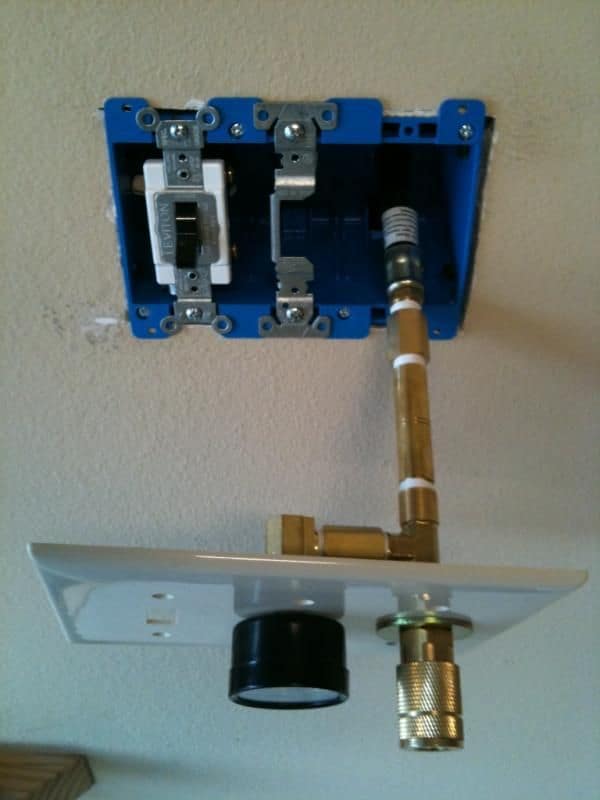 Air outlet integrated into the wall…
Of course nothing but the finest air will do in a shop like this, so we'll spec a rotary screw compressor with huge capacity located somewhere outside the workshop so we can't hear it at all.  In fact, we'll probably put sound absorbing panels on the walls just to soak up any extraneous noise.  Our screw compressor will use a refrigerated after cooler to ensure the air is bone dry, and we'll likely place automatic oilers at stations likely to be used with pneumatic tools.  A unit like this one from my own shop incorporates regulator, oiler, and dryer in one piece for each outlet: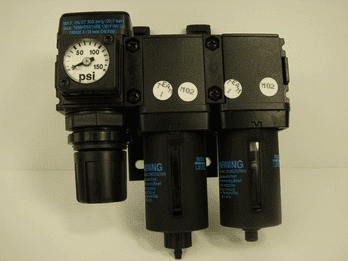 We'll want a sound system to pipe in music as desired.  These work better if you have lots of speakers that are not too far apart so that lower volumes can be heard at acceptable levels from the nearest speaker, and there is always one nearby.
Storage and Material Handling
Given a great bare space, it's time to start putting various things into it.  First up is adequate storage and material handling capability.  Storage needs to be of several kinds.
First, there is storage for raw materials and parts.  Pallet racking and various kinds of bins do well here.  You'll want a full inventory of common materials and shapes as well as all common fasteners, plumbing fittings, and similar things that you'll use often in your projects.  This all has to be organized so it's super easy to find whatever you need, probably via a computerized inventory system.  While you're building the workshop, hire some guys to set it all up, buy a package of virtually everything McMaster-Carr sells, enter it all into the inventory system, and set the system up so that when a bin is running low,  you just scan a bar code and the part is re-ordered from McMaster.
Next up is tool storage.  Here you want endless multi-drawer cabinets.  The choice of whether they should be fixed in place or rolling is yours, but I prefer the ability to roll them around as needed.  I also like to have all the tools in the drawers French-fitted: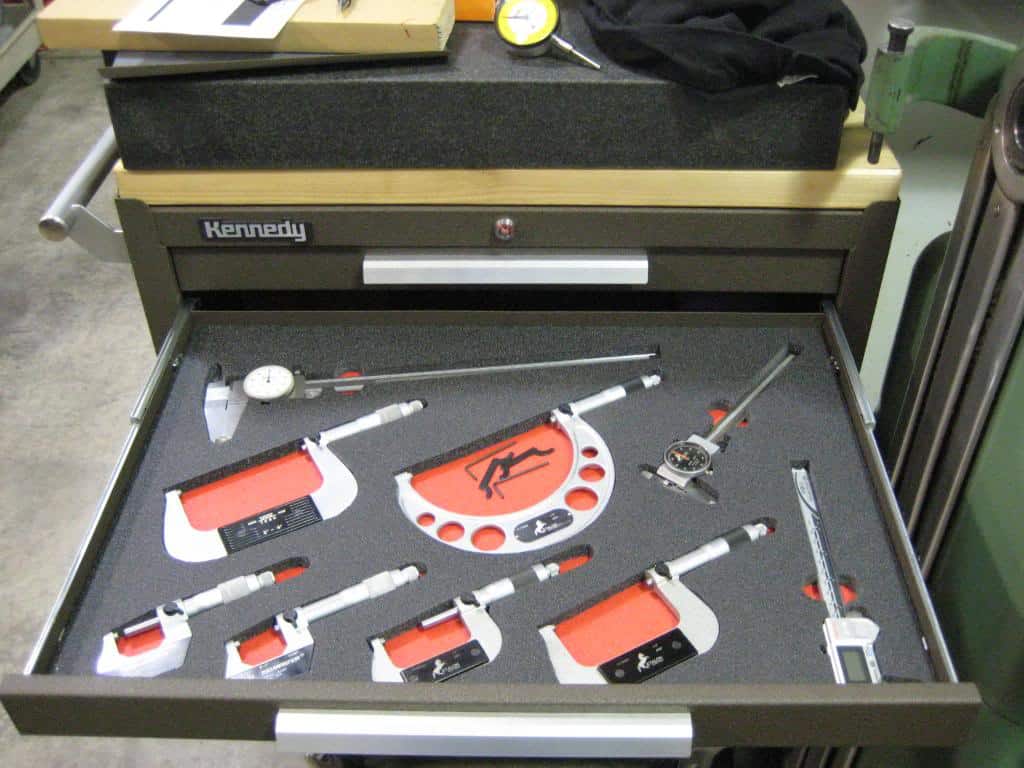 French-fitting tools means giving them a pocket in foam the shape of the tool for storage…
Of course you'll want to stock them with every imaginable tool for every purpose.
Lastly, we have Material Handling needs.  Sometimes things are large and awkward to move around.  The shop will need a forklift and a layout that lets you get practically anywhere with the forklift.  You'll also want a gantry crane that's got plenty of capacity and can be rolled around as needed to lift and move things.  If truth be told, you probably also need a shipping dock on the workshop so you can easily unload deliveries from 18 wheelers, either with the forklift or by hand.  An assortment of carts, scissor lift carts, and other such accessories should also be on hand.
Next Installment:  CADCAM Design Area
Next up, computers figure prominently in Tony Stark's workshop.  What kind of computer stuff and software will we need for our Ultimate Workshop, Part 2 in the series.  In the mean time, sing out with your ideas in the comments below for the topics covered in this post about space, storage, and material handling.  I'd like to keep the comments focused on what each article installment is talking about.
This was part 1 of our Ultimate Tony Stark Inspired Workshop Series.
One more thing–don't miss out on an installment.  Sign up for our weekly blog newsletter below and we'll make sure it gets to you.
Like what you read on CNCCookbook?
Join 100,000+ CNC'ers!  Get our latest blog posts delivered straight to your email inbox once a week for free. Plus, we'll give you access to some great CNC reference materials including:
Our Big List of over 200 CNC Tips and Techniques
Our Free GCode Programming Basics Course
And more!
Just enter your name and email address below:
100% Privacy: We will never Spam you!
Bob is responsible for the development and implementation of the popular G-Wizard CNC Software.  Bob is also the founder of CNCCookbook, the largest CNC-related blog on the Internet.