There's never an end to the reference information a machinist might need. My Machinery's Handbook almost 2700 pages, and there's lots of information that can't be found in there. I get requests from customers to add all sorts of odd information. The chances of being able to put all of this into G-Wizard Calculator any time soon are not good.
What to do?
The answer I came up with is to enable G-Wizard users to add their own reference information and to share that information so that we can all crowdsource useful resources for one another. This ideal is realized through a new feature in G-Wizard Calculator version 1.550 (just out, see the post about V-Bits above) called the Notebook.
The Notebook appears on an additional tab on the QuickRef section of GWC: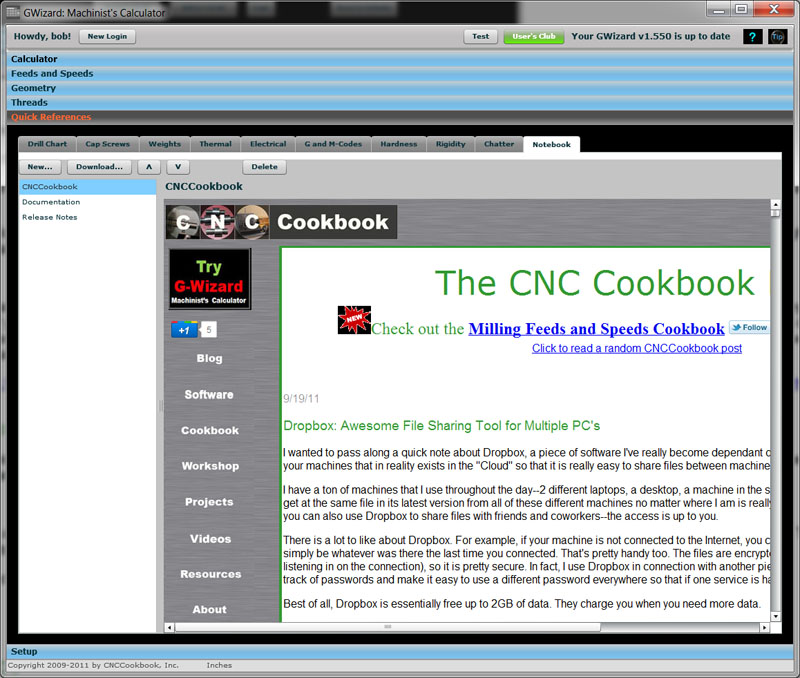 The Notebook appears as the last tab under Quick References…
Every Notebook starts out with 3 default sections:
– CNCCookbook: That's our homepage so you can check on whether there are any new articles posted.
– Documentation: So you can view the doc pages for GWC.
– Release Notes: So you can view the latest release notes for GWC.
To navigate, just click on the Notebook page on the left and the pane on the right refreshes with the information for that page. Each of these default sections is a web page, but not every Notebook page needs to be a web page. Here is the "New…" popup, which shows what page types are available: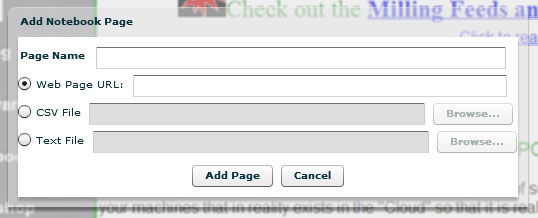 Adding a new Notebook page…
To add a new page, you specify the Page Name, choose a type, and then provide the URL or File for the page. As you can see, there are currently three page types available:
– Web Pages
– CSV Files: Spreadsheets, basically, but each file should have only one table to it, not many.
– Text Files: Text files with no formatting such as you load in the Windows Notepad.
You also have the ability to download crowdsourced Notebook pages from CNCCookbook. If you click the "Download…" button you'll see a list like this: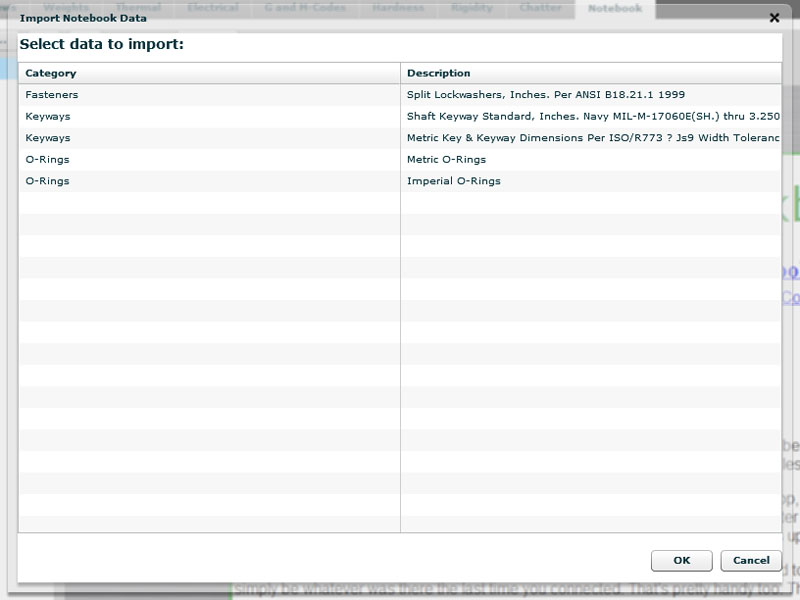 Downloading a Notebook Page…
So far, we have 5 pages available for download. Each page has a category and a description. If you click the page, it will be downloaded to your local machine so you can access the information even when an Internet connection is not available. If you have information sitting in a text file or spreadsheet, send it over and we'll add it to the crowdsourced catalog so others can use it. In addition to the file, please send an URL or PDF that qualifies the data in your file as being accurate.
There you have it. You can use the Notebook to customize the information available in your GWC. Use it to track all sorts of things. Create a page for a shared file that everyone in the shop needs to refer to. I'll be interested to see what sorts of uses people come up with.
I'll also mention that eventually you'll see Notebooks pop up in GW Editor, and that there'll be some future novel uses for Notebooks. We'll be adding PDF and Photo pages to them as well.
Like what you read on CNCCookbook?
Join 100,000+ CNC'ers!  Get our latest blog posts delivered straight to your email inbox once a week for free. Plus, we'll give you access to some great CNC reference materials including:
Our Big List of over 200 CNC Tips and Techniques
Our Free GCode Programming Basics Course
And more!
Just enter your name and email address below:
100% Privacy: We will never Spam you!
Bob is responsible for the development and implementation of the popular G-Wizard CNC Software.  Bob is also the founder of CNCCookbook, the largest CNC-related blog on the Internet.