Recently updated on May 18th, 2023 at 10:57 am
Model Engines [ Miniature Steam, Jet, Stirling, V8 and More ]
Model Engine Projects, also referred to as "Model Engineering: can be tremendous fun for all.  This page brings you the best model engine projects I've found together with my own projects that I've built.  I've got a great interest in these projects, so there's quite a lot of material here!
Model Steam Engines
John "The Engine Man" Bentley does some of the most amazing model steam engines you'll find on the web.  This is his
Compound Marine Launch Engine
, machined from a set of Stuart Little castings.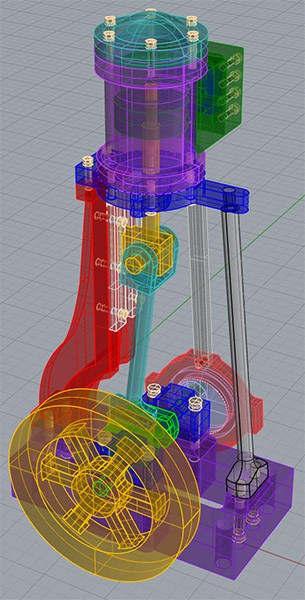 Welcome to the wacky world of
Crabfu
, where model steam engines mix freely with modern robotics and radio control technology to make these wonderful art creations.
Model Steam Turbines are fascinating if for no other reason than they're unusual and make a wonderful noise when running.  Most can't generate as much power as a piston model, so they're more about show. I've documented some history and the build of one such model on my
Model Steam Turbine page
.
This is a really cool little engine that was built as part of a team build.  From time to time, HMEM sponsors team builds.  Each person signing up for the team is responsible for making enough of just one part for every team member to have one.  What's fun is that instead of creating a one off, you get to make several, so you have a little opportunity to refine and learn how to "mass produce" the parts. The Comber Rotary is one of Elmer Verburg's little model steam engine projects. For this team build, I was responsible for the
bearing blocks, and I used my first home CNC converted mill for the job
Unfortunately, I never finished the little engine because not all team members came through with parts. I should go back, finish the missing parts, and get it running.
This
Reversible Wobbler
is another of Elmer Verburg's model steam engines that I started but never finished. What's interesting about this engine, apart from it being visually a little less simple and closer to being a "Big Boy" engine, is that it has a reversing lever. In retrospect it was probably a touch ambitious for my machining skills at the time though the parts I made didn't turn out badly at all.
Miniature Engines
This category is all about Miniature Engines of the internal combustion (IC) variety.
Model Aircraft Engines
V8 Model Engines & Car Model Engines
Quarter Scale V8 Engine
that sounds just like a real high performance V8.  Double Overhead Cams, Fuel Injections, Headers, and all the goodies.
YouTube Video
of the engine running.
V8 Flathead Model Engine.
How about a 1/3 scale model of a classic flathead?  Even better, what if we put the working motor into a 1/3 scale model T-Bucket Roadster? Amazing project by
Jim Moyer
!
The detail on this
Bugatti Chiron Model Engine
has to be seen to be believed.  The model was created by UK firm Amalgam in cooperation with Bugatti.  It's a static display model with no moving parts. If you're the sort of business mogul with enough money to own a Bugatti Chiron, I could certainly imagine your wanting to have one of these on display in your office. A cool $9365 if you'd like to purchase one!
Live Steam Models
Coming Soon!
Model Jet Engines
Coming Soon!
Best Model Engine Forums
Home Model Engine Machinist:  My personal favorite.  There are dozens of model engine projects here with full build logs for many.