Need Some Model Steam Engine Plans?
Here's one from my archives. It's not finished, but wouldn't take much to finish it up and start machining.
This project was inspired by the Engineman's (John Bentley's) gorgeous naval brass version of the original Stuart Turner steam engine. The proportions of this model cannot be faulted, and I've had a hard time trying to make sure my version is at all true to those aesthetics.
You can download the Rhino3D model over on our CAD Download Section.
More Details Added
The 3D model has been pretty far along for some time but I am just now getting an update posted: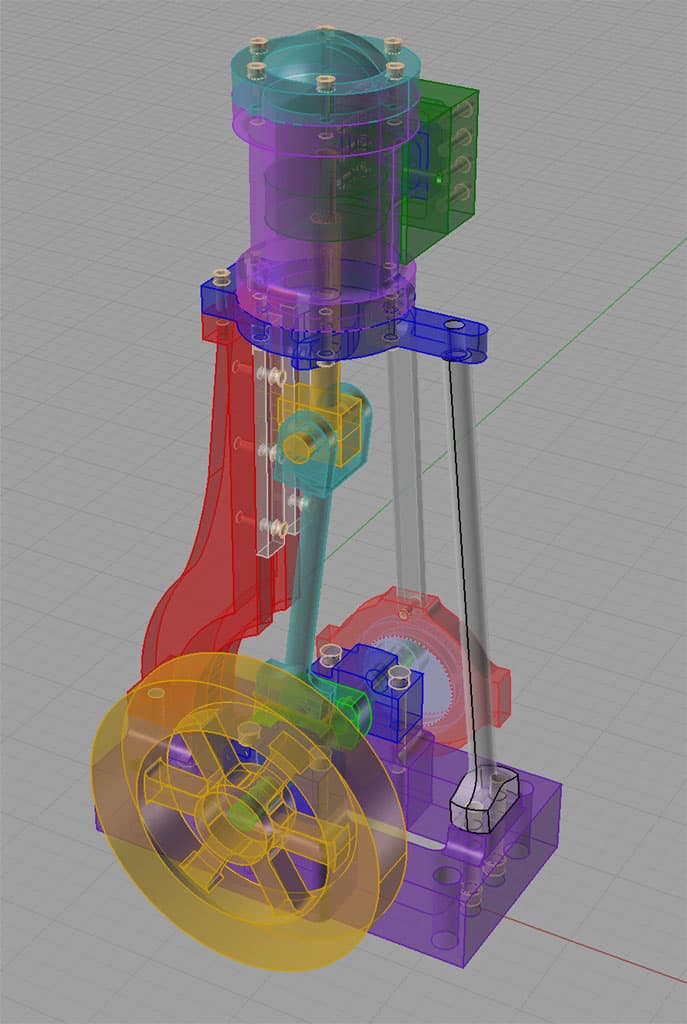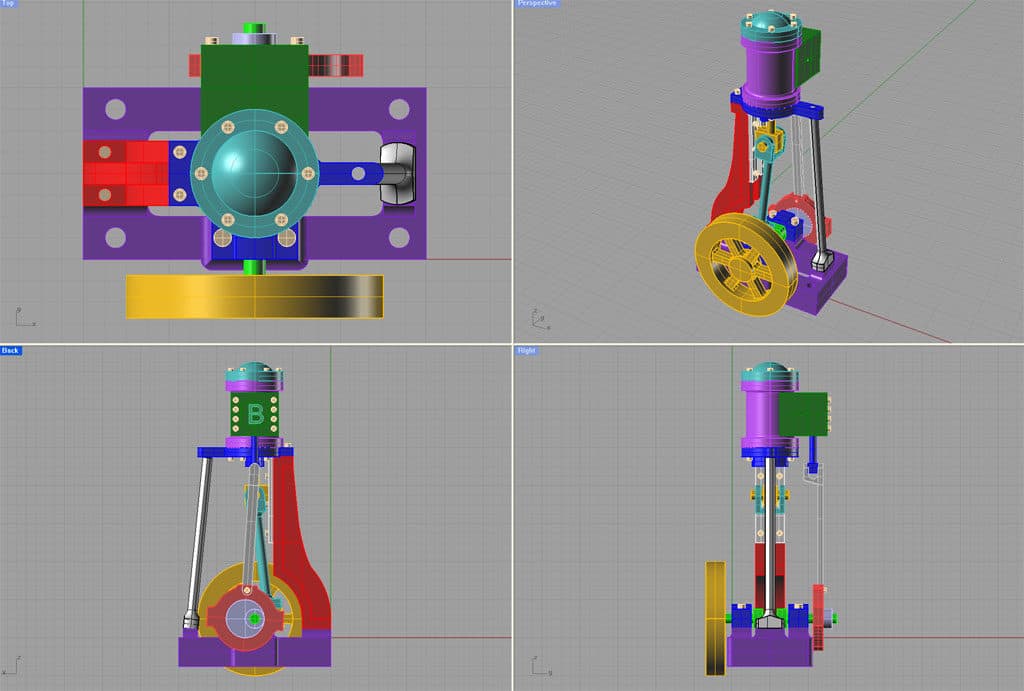 Initial Rhino 3D Model
I've started by creating a 3D solid model of the engine using Rhino 3D. As of July 13, 2008, this was the current status of that model: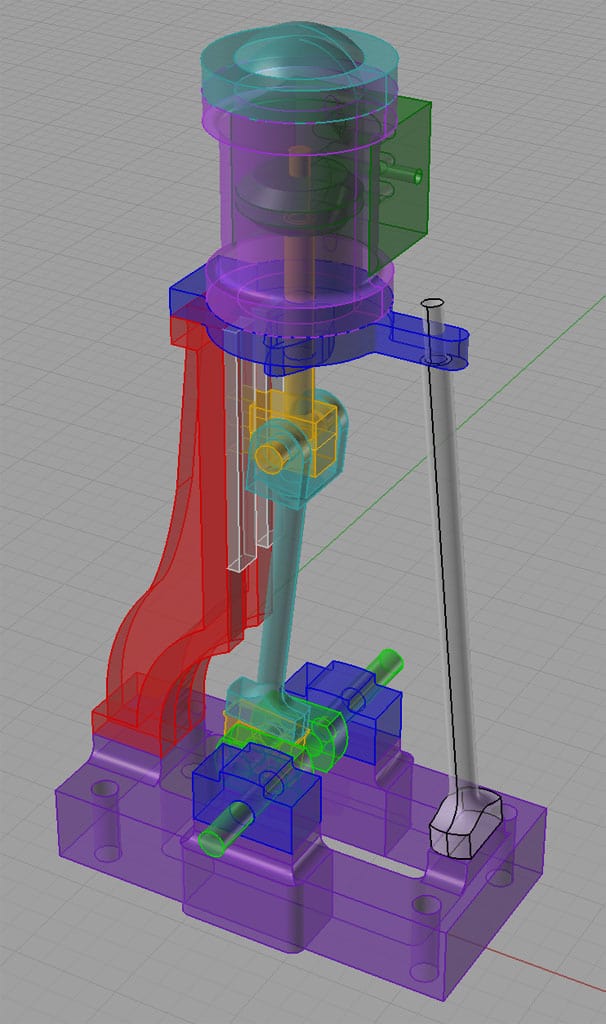 A perspective view…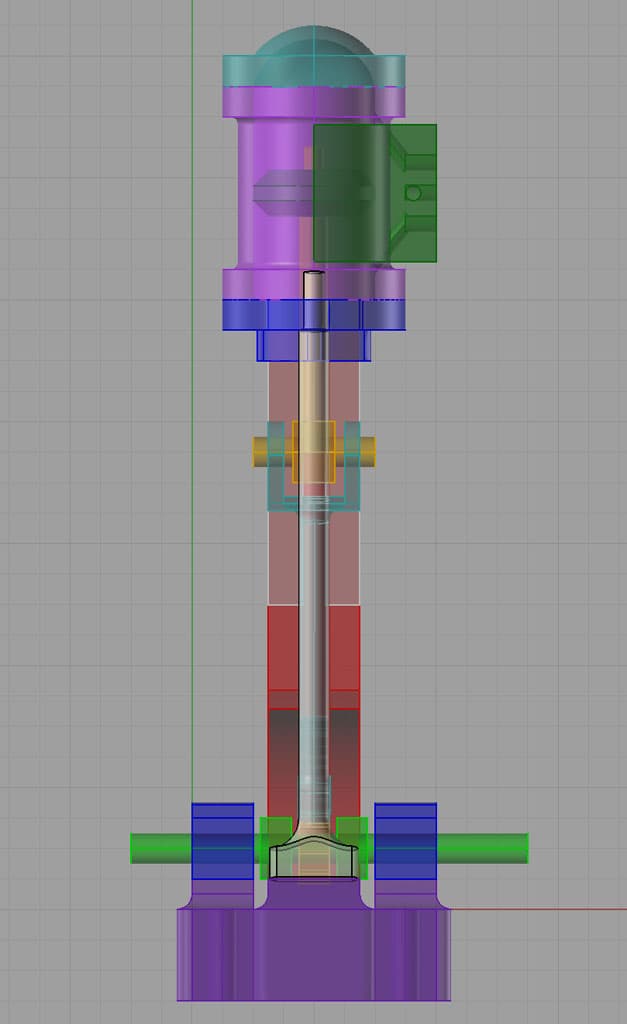 The right hand side view with a better look at the steam chest…
It took me about 7 hours of work with Rhino to bring the model to this stage.
Redesign of the Steam Passages and Hot Rod "Porting" Job
The astute observer will note, as several have, that the piston in the above renderings is very strangely shaped. This was to provide clearance for the steam passages. Someone suggested I could vertically mill a groove into the wall of the cylinder to eliminate the bizarre piston shape and I thought it a good idea. I took things a step further since I'll be using a CNC and did a full "porting" job: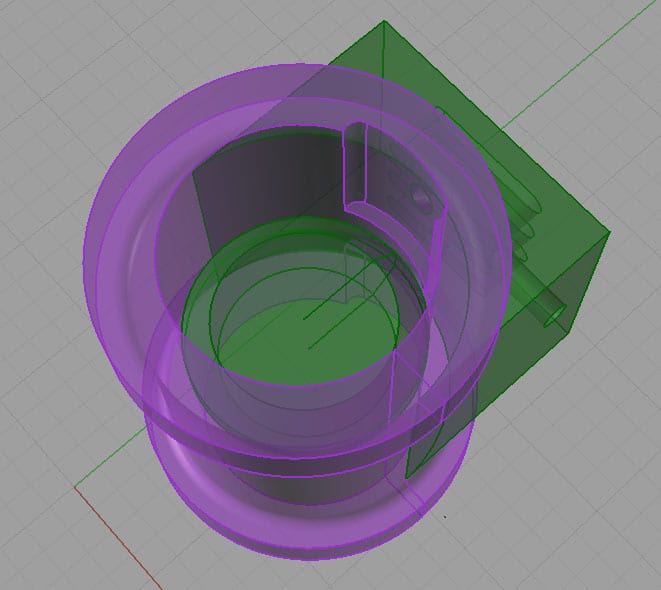 In this improved design, a 1/8″ diameter end mill cuts a short arc into the cylinder wall to provide clearance for steam entry around the piston. This will also simplify and clean up the steam box, as well as eliminating a difficult setup that would have drilled the ports at an angle to position them closer to the ends of the cylinder.
Click here for a page describing how I accomplished the "porting" in Rhino3D.
Design To Do List
What's needed to finish the 3D model:
– Steam inlet fitting to steam chest and gland
– Steam exhaust fitting on steam chest cover and gland
– Detail on connecting rod to slider fasteners
– Slider gland
– Cylinder mount has an extra bolt hole adjacent to standard.
– Con rod bolts
– Eccentric strap bolts
– Slide valve has an interference with the eccentric rod
– Crankshaft length needs to be adjusted at either end
– Drain taps?
– Oil cups on mains?
Other Valuable Links
Encyclopedia Titanica: Article on Titanic's Steam Engines: Great diagram of how a Stevenson Linkage works on a slide valve engine.
Steam Happens: Some good photos of Stevenson Linkages for steam launch engines.
Maximizing the Efficiency of Steam Locomotives: Interesting data on how to make your steam engine more efficient.
Like what you read on CNCCookbook?
Join 100,000+ CNC'ers!  Get our latest blog posts delivered straight to your email inbox once a week for free. Plus, we'll give you access to some great CNC reference materials including:
Our Big List of over 200 CNC Tips and Techniques
Our Free GCode Programming Basics Course
And more!
Just enter your name and email address below:
100% Privacy: We will never Spam you!
Recently updated on February 15th, 2023 at 03:24 pm
Bob is responsible for the development and implementation of the popular G-Wizard CNC Software.  Bob is also the founder of CNCCookbook, the largest CNC-related blog on the Internet.