With Manufacturing on the upswing lately, Michigan's biggest problem is suddenly there are not enough qualified cnc machinists available.  You had to wonder whether this was coming when so many were laid off, right?  Unfortunately for the manufacturers, many of the folks they laid off left the industry and even the state, so there are no longer enough available for hire as machinists.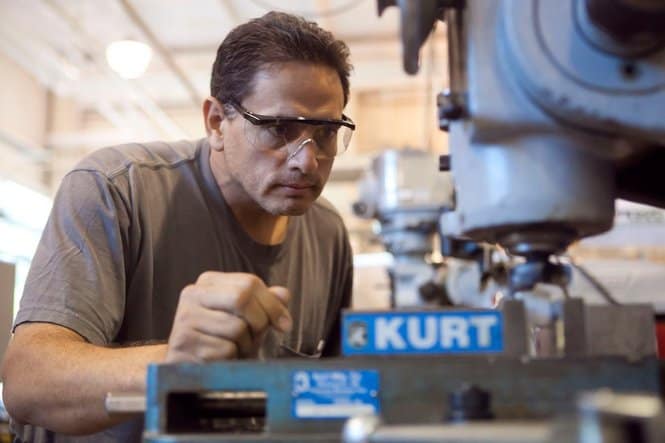 Get SET Trainee is Working on Machining a Set of Dice for Class…
So, employers teamed up with the M-TEC center at Lake Michigan College to try to put together a crash program to produce new machinists in just 6 weeks.  The Get SET curriculum, which was jointly developed with these employers to satisfy their needs is designed to produce machinists who can do a lot more than just press the buttons (apparently there is no shortage of the button pushers).  The courses the employers asked for will cover:
–  Basic blueprint reading
–  Basic machinist measurements using measuring tools such as calipers and micrometers.
–  Basic operation of the CNC machines.
–  Simple g-code programming.
There's even talk of adding some basic welding skills, which is another commonly-requested skill.  Area manufacturers are running flat out with overtime to keep up with orders, and apparently are starting to turn some business away.  The goal is to be able to add skilled help in a timely way so they can keep growing.  Enrollment is limited, as one of the program's secrets for success is they look for applicants that already have 30% of the skills needed and then work to get them to 80% by the time they graduate.  The other 20% will be learned on the job.
So far, they've only gotten one class through the program, but 100% of those students have jobs.
I thought that was a neat story, but it's a real shame those companies lost so many of their most experienced machinists.  Hopefully they can build back the manufacturing capacity and will be smarter the next time about retaining the talent.  This is something the Germans are much better at than we are in the United States.
Like what you read on CNCCookbook?
Join 100,000+ CNC'ers!  Get our latest blog posts delivered straight to your email inbox once a week for free. Plus, we'll give you access to some great CNC reference materials including:
Our Big List of over 200 CNC Tips and Techniques
Our Free GCode Programming Basics Course
And more!
Just enter your name and email address below:
100% Privacy: We will never Spam you!
Bob is responsible for the development and implementation of the popular G-Wizard CNC Software.  Bob is also the founder of CNCCookbook, the largest CNC-related blog on the Internet.