There's a new version of our G-Wizard Editor and CNC Simulator uploaded today. If you're a registered user, the install page is here. If not, click that first link and register. It's free since we're still in Beta test and you'll find a lot of great features there.
This is our first release to require Flash Player 11, the latest release. While we're not yet taking much advantage of FP 11's performance enhancements (native access to your graphics card), we want to start requiring it to get everyone on the same page.
In terms of features, there are a couple of them in this latest release. First, we've got all the extended Work Offsets going. This means the appropriate System Variables are saved, and you can access, for example 300 offsets on the Fanuc, or 256 on Mach3.
The second new feature is Custom Cycles. These basically let you create a library of g-code snippets that are easy to paste into your program by hitting the "Custom" button on the Toolbar. When you do that, you get the following popup: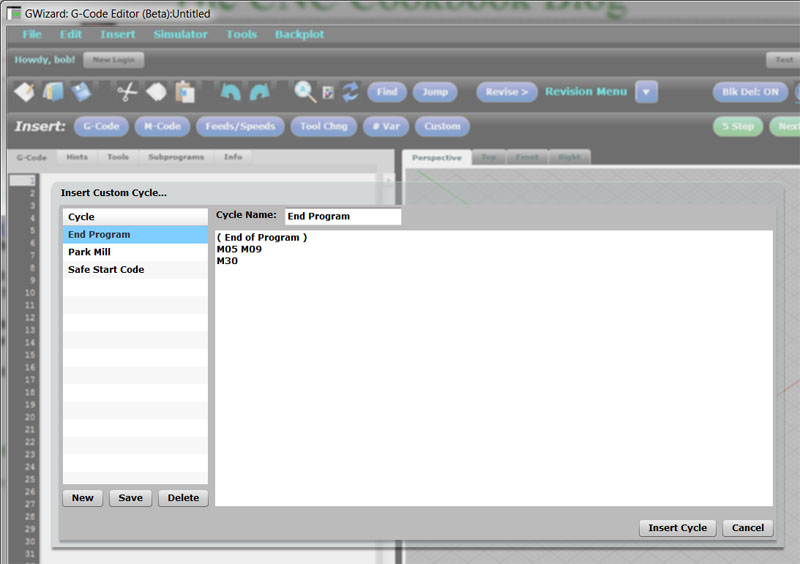 Insert or Define Custom Cycles…
The Cycles are selected via the box on the left. You can see what they do on the right. The buttons below let you create a new cycle, save changes to a cycle you may make, delete a cycle, or insert the text of the cycle at the current cursor position.
You get three pre-defined cycles by default:
– End Program: This is the one you can see. Use it for the code you like to put at the end of every program.
– Park Mill: This one returns to the toolchange position, shuts off coolant and spindle, and then moves the table to the operator. You'll need to edit it for your prefered operator position.
– Safe Start Code: This is the code you should put at the beginning of every program to place it in a known state before you start executing g-codes.
Custom Cycles are an easy way for you to organize the macros you may use in many of your programs.
Like what you read on CNCCookbook?
Join 100,000+ CNC'ers!  Get our latest blog posts delivered straight to your email inbox once a week for free. Plus, we'll give you access to some great CNC reference materials including:
Our Big List of over 200 CNC Tips and Techniques
Our Free GCode Programming Basics Course
And more!
Just enter your name and email address below:
100% Privacy: We will never Spam you!
Recently updated on August 18th, 2023 at 11:00 am
Bob is responsible for the development and implementation of the popular G-Wizard CNC Software.  Bob is also the founder of CNCCookbook, the largest CNC-related blog on the Internet.