Recently updated on March 21st, 2023 at 04:51 pm
If we go back to our 15 most popular production CAD packages, here is the breakdown on what percentage of the respondents are using Free/Educational/Pirated versions for each package: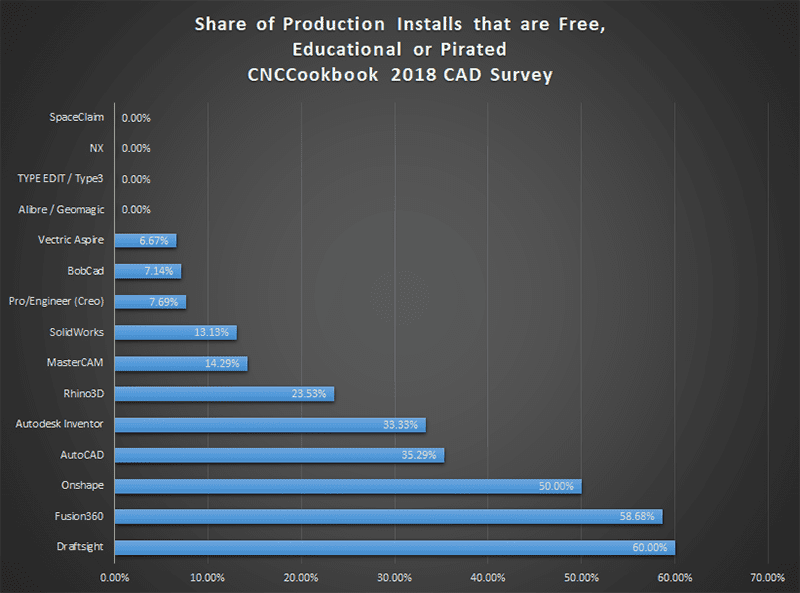 There's no denying that free is a powerful tool to drive adoption, so I find it all the more impressive when a tool that has very low percentages of free users does so well in the market share comparison.
In fact, if we take out the free users, the market share situation changes pretty radically: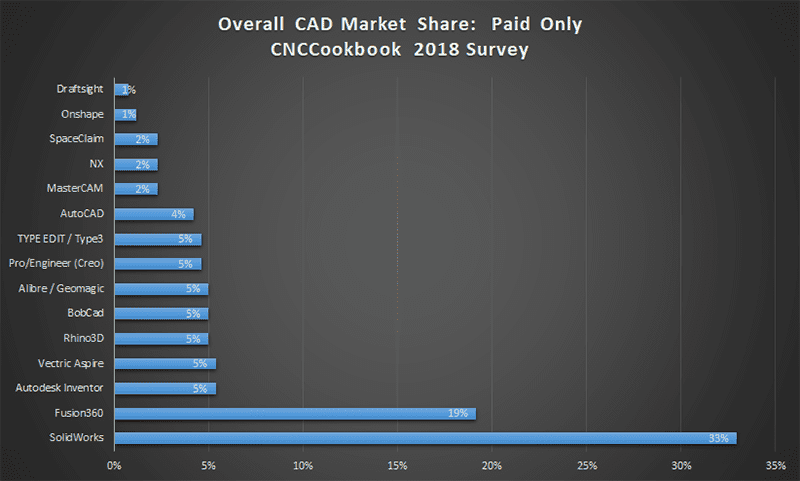 That changes the picture quite a bit, doesn't it? We still have the same three on top, but they trail Solidworks by a much larger margin. Packages like Vectric and Rhino3D also start to look a lot more competitive.
Good on Vectric, BTW, for coming from 8th place on the paid market share to 4th this year. We have a copy of Vectric Aspire here at CNCCookbook and I can tell you it's an excellent package.
The interesting thing about free, is just as nature abhors a vacuum, shareholders abhor a lack of profits. Sooner or later most free things tend to get a lot less free. Free is typically used as a tool to accelerate growth until market dominance can be achieved.
Hobby vs Pro Market Share
I'm introducing something new that a number of readers asked about in this year's survey results–I'm going to break down the market share by Hobby vs Pro users. The survey asked which you consider yourself, so let's start by seeing the overall split:
56% of respondents identified themselves as Pro and 44% as Hobbyists.
Here is the CAD market share for Pro users: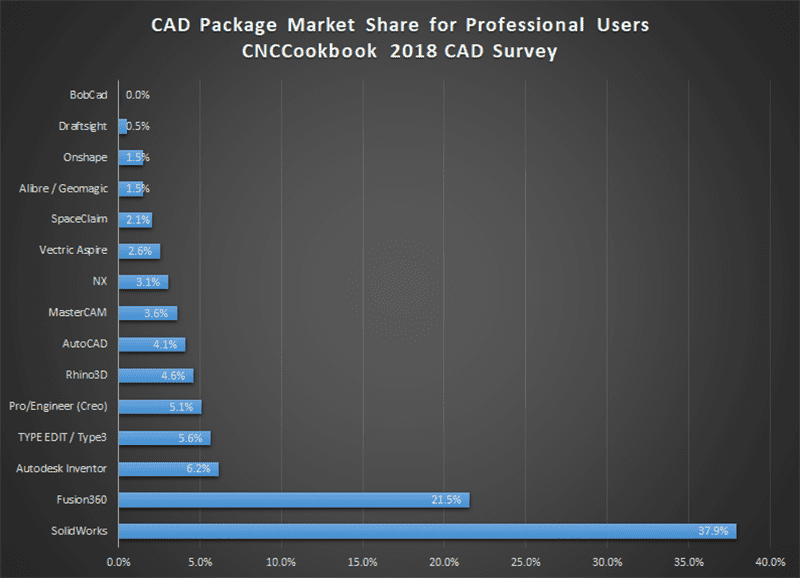 This survey really lets the more technical and often more expensive packages shine. Type3 pops up here fairly high for example. And SolidWorks is way ahead of Fusion 360 for the pole position.
One thing to consider about Product CAD:
Compatibility with what your customers use is very important. So, market leaders tend to hold their position for a particularly long time.
Here is the CAD market share for Hobby users: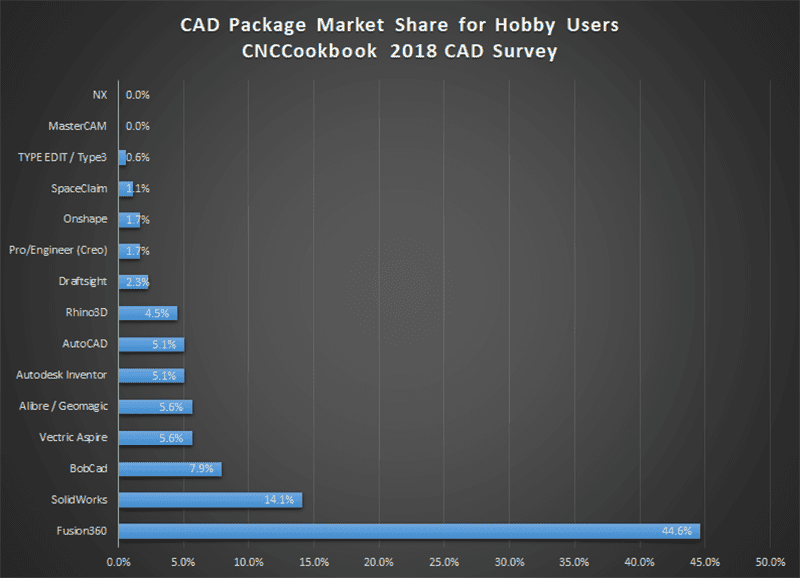 Of course since a free version for Hobbyists is readily available, Fusion360 rules the roost here. But I was surprised to see just how well SolidWorks does too.
Customer Satisfaction Awards
I've saved the best for last.
Respondents were asked to rank satisfaction with their production package as:
It Rocks!
It's Okay
Not Very Satisfied
We awarded 2 points for It Rocks!, 1 point for It's Okay, and -2 points for Not Very Satisfied and then combined it all to get our final Customer Satisfaction Scores. Based on those responses, we award a Gold and a Silver Customer Satisfaction Award to the first and second place packages.
Without further ado:
Gold Customer Satisfaction Award: Fusion 360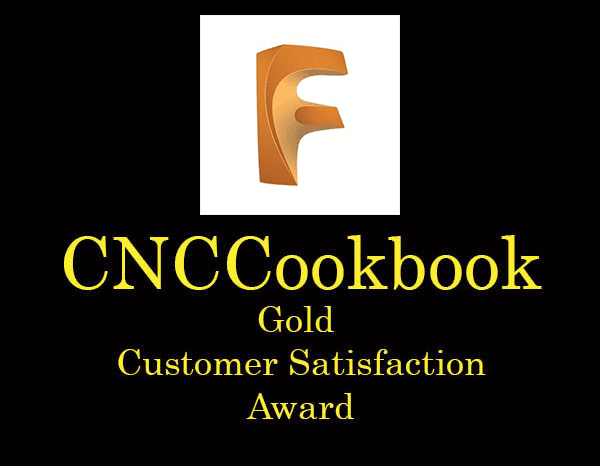 Congratulations to Autodesk and the Fusion 360 team for taking the Gold Customer Satisfaction Award!
Coming in with a strong score of 2.73 shows customers really love their Fusion 360. It's a standout score that shows tremendous growth from 2017's already excellent score.
Silver Customer Satisfaction Score: SolidWorks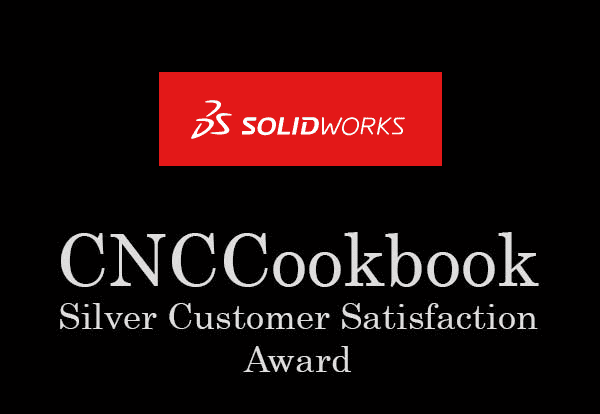 Congratulations to Dassault Sytems and the SolidWorks team for taking the Silver Customer Satisfaction Award.
The score showed strong growth since our last survey. SolidWorks is giving users what they want, which is as it should be.
Customer Satisfaction Details
Here are the Customer Satisfaction detail scores for 2018 (blue) and 2017 (orange):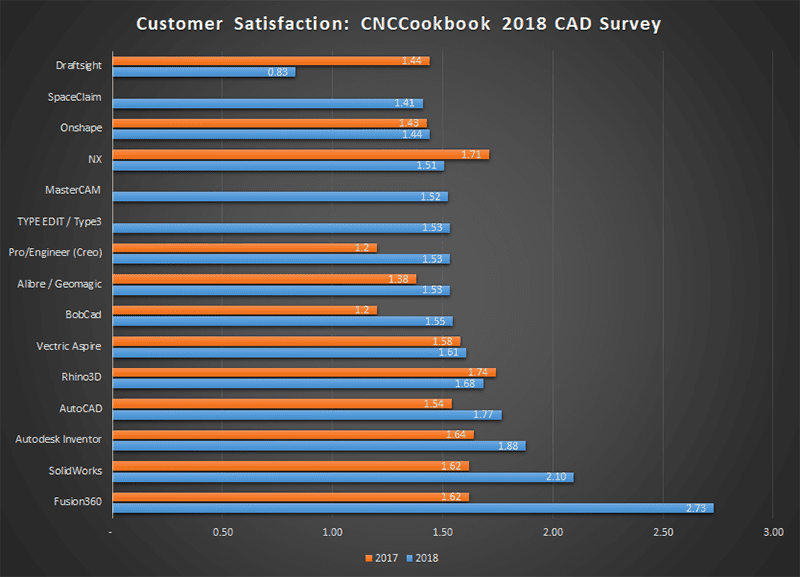 Comparing the rankings to 2016, here were the biggest moves:
Fusion 360 moved up 4 positions to take the top score.
SolidWorks is up 2 positions to take 2nd place.
Inventor held on to 3rd place for another year.
Last years #1 ranked Rhino3D has fallen 4 places to 5th place.
Last year's #2 ranked NX fell 10 places.
AutoCAD is up 4 places to 4th place.
In short, there was a lot of movement, but the highest market share players apparently made their installed bases happy during 2018. Competition is apparently a good thing for customers.
Still to Come: What Best and Worst
In our next and final installment, we'll be analyzing what CNC'ers like most and least about their CAD packages. This drilldown on features and functionality is always fascinating. Make sure you don't miss it by subscribing to our email newsletter. There's a form right below for it if you're not already getting our bulletins.
Like what you read on CNCCookbook?
Join 100,000+ CNC'ers!  Get our latest blog posts delivered straight to your email inbox once a week for free. Plus, we'll give you access to some great CNC reference materials including:
Our Big List of over 200 CNC Tips and Techniques
Our Free GCode Programming Basics Course
And more!
Just enter your name and email address below:
100% Privacy: We will never Spam you!
Bob is responsible for the development and implementation of the popular G-Wizard CNC Software.  Bob is also the founder of CNCCookbook, the largest CNC-related blog on the Internet.