The results of our 2018 CNC Machine Customer Satisfaction and Reliability Survey are in!
Buying a CNC Machine is a big investment. They're about equivalent to a car at the least and a very expensive very high end exotic sports car at most. Yet it is notoriously hard to get hold of the kind of Customer Satisfaction information we're used to seeing for cars.
We've all seen the drive-by love fests that disgruntled customers create when they post about problems and the online trolls pile on. But those are anecdotes about individual experiences. And let's face it, every brand has a few unhappy customers. The real questions are:
How many unhappy customers are there relative to other brands?
How well does each company's Customer Service perform when they're called in to help an unhappy customer?
After considering all this, which machines are their owners most likely to recommend to others because the overall experience (including any warts) was good?
Those are the questions we set out to answer with our survey. And we got right at 300 responses, so we know there are enough answers to form some real judgements about at least some of the machines.
We heard back about 83 different CNC Machine brands. Of those, 25 had sufficient responses that we deemed them significant. So let's go through and see how the 25 fared.
Overall CNC Machine Customer Satisfaction
Our first order of business was determining overall customer satisfaction. Customers were asked to rate their CNC Machines as either:
It Rocks!
It's Okay
Not Very Happy
We used those ratings to create an overall score ranging from 0 to 2.0. To get the 2.0, everyone needed to rate the machine, "It Rocks!". A rating of 1 essentially means the consensus is that the machines are "Okay".
Here are the Overall CNC Machine Customer Satisfaction Scores: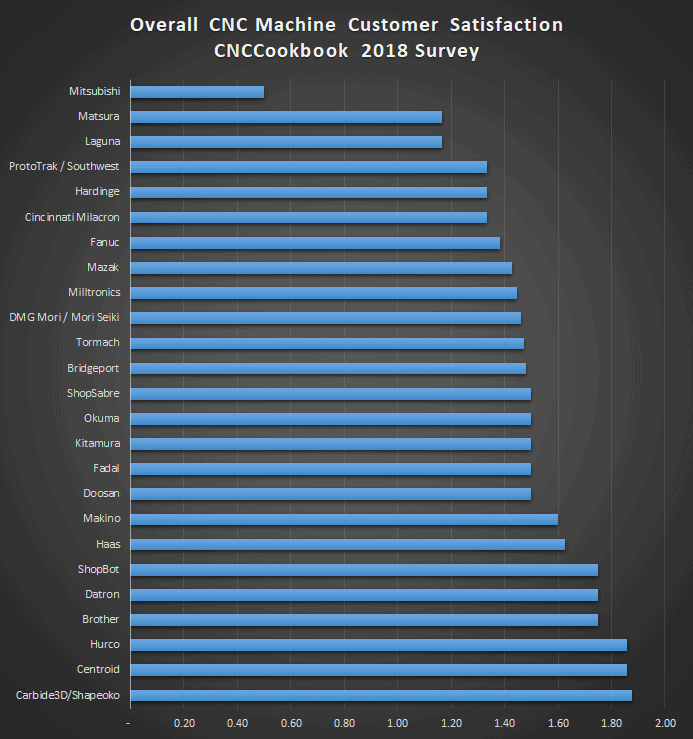 We awarded our Gold Medal for the highest rating to Hobby/Consumer Brand Carbide3D/Shapeoko. Congrats guys!
In the Pro Category, Hurco and Centroid were basically tied and get Gold Medals as well.
Brother, Datron, and ShopBot also did very well for the Silver Medal, and Haas took the Bronze.
Watch these brands as we see them show well in the other categories. I must admit to personally hearing nothing but good about them as well.
CNC Machine Customer Service Satisfaction
If your machine arrives and everything is perfect, life is grand. But, if there's a problem, it's time to contact Customer Service. In this category, survey responders rated their satisfaction with Customer Service just as with the Overall category. In other words, they gave either "It Rocks!", "It's Okay", or "Not Happy" ratings.
Here are the results;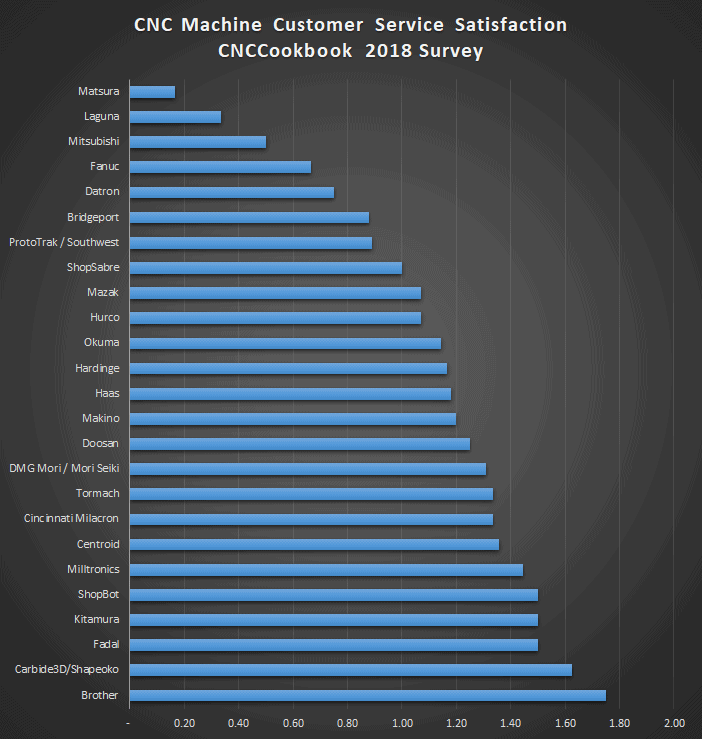 Brother took top honors, with Carbide3D / Shapeoko following closely. Way to go, folks!
CNC Machine Net Promoter Scores
Many marketers are obsessed with something called a "Net Promoter Score". This score is a measurement of how likely a Customer is to recommend a product to someone else. High Scores mean wonderful word of mouth out there. Any Marketing gets a nice tailwind of happy customers who are pleased to help get the word out.
Here are the Net Promoter Scores for our CNC Machines: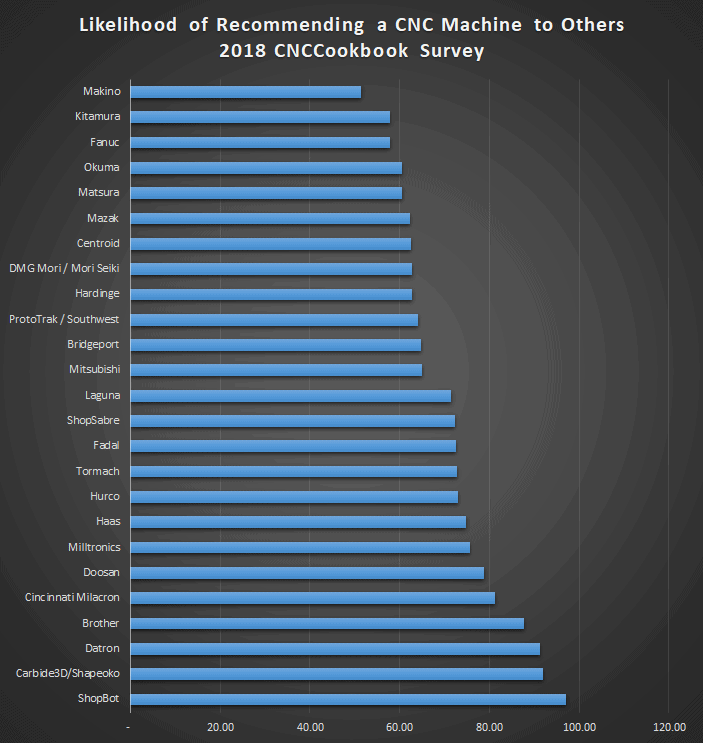 ShopBot came in #1, followed closely by Carbide3D / Shapeoko (again!) and Datron.
More Data: % Used, % New Machine Problems
We learned a number of other things from our survey, such as:
New vs Used
81% of respondents had brand new machines while 19% had used.
Machine Usage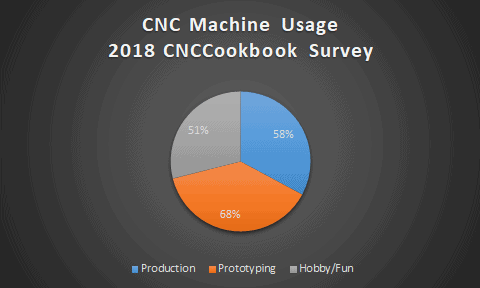 Among our respondents, 68% use their machines for prototyping, 58% for production, and 51% for Hobby & Fun projects,
Just to answer a question I see come up constantly on Tormach boards about whether you can make money with a Tormach or whether it is just a toy:
40% of Tormach respondents use them to do full on production of parts.
81% are doing prototyping.
65% are having Fun and doing Hobby work.
Yes Virginia, you can use a Tormach to make money. Keep in mind that doesn't mean they're competing as Job Shops.
Major New Machines Problems
Given the level of investment, you have to wonder how many folks suffer some issue with a brand new machine. It's actually more common than I would have thought. On average, 12% of new CNC Machine purchases experience a major problem.
Conclusion + Why I Don't Do Negative Reviews
I launched this review after wading through another long food fight in an online forum triggered by the disgruntled customer of a CNC Machine. Folks were seriously emotional about it, the online Trolls were having a field day, but very little that was helpful to future buyers was being communicated.
Here's the really crazy thing–Bad news and bad reviews travel roughly 12x as far as positive reviews. That is, it takes and average of 12 positive reviews to offset a single negative review. That's all other things being equal.
If I have a bad experience with some product and write a negative review, how do my readers know whether I just got a lemon and most others are loving the product? Plus, putting the gigantic circulation CNCCookbook gets behind a negative review just makes matters worse.
Guess what? Overall, across all the CNC Machine Brands, a whopping 65% said their CNC Machine Rocks! Only 4.7% had a bad overall impression. That's pretty amazing, and just goes to show that overall, our industry is making very satisfying products. No wonder new machine days are so exciting for any shop.
Here's the thing:
Any product can show up with a problem. That's really disheartening! In fact, we've seen 12% of CNC Machines on average are going to show up with a problem.
Improving quality control so there are fewer problems is awesome and the most important thing. But you will never eliminate all the problems.
Second best is delivering awesome Customer Support so that when problems do occur, they're dealt with in a way that repairs the disappointment the original problem brought on.
With this survey, we've delivered for the first time some hard numbers around the CNC Machine Customer Satisfaction experience. We'll be making this one of our annual surveys so we can see emerging market trends over time.
I will refresh this article in a week with some more data that I can squeeze out. Specifically the qualitative data takes a lot more work to crunch than the quant data. It takes longer to process lists of 3 favorites and 3 negatives than just a customer sat score, in other words.
What are your thoughts on this sort of thing? Please tell us in the comments below!
Like what you read on CNCCookbook?
Join 100,000+ CNC'ers!  Get our latest blog posts delivered straight to your email inbox once a week for free. Plus, we'll give you access to some great CNC reference materials including:
Our Big List of over 200 CNC Tips and Techniques
Our Free GCode Programming Basics Course
And more!
Just enter your name and email address below:
100% Privacy: We will never Spam you!
Bob is responsible for the development and implementation of the popular G-Wizard CNC Software.  Bob is also the founder of CNCCookbook, the largest CNC-related blog on the Internet.