One of the most interesting parts of our
CNCCookbook 2016 CAM Survey Results
is the Customer Satisfaction. We ask respondents to rate their CAM packages on a scale of:
It Rocks
It's OK
Not Happy
Having only 3 values keeps it simple. In addition, we ask whether they're actively seeking a new package, which would be a sign that Customer Satisfaction was not 100%. We convert those responses to a numerical score.
A perfect score would mean everyone voted "It Rocks" and none of the voters were considering a new package. That would be a score of "2". If everyone was unhappy and looking for a new package, it'd result in a score of "0". A "1" would therefore be fine for a package that gets the job done, but that nobody really loves or hates.
We divide the products into Gold, Silver, and Bronze Award categories. There is only one Gold, one Silver, and one Bronze awarded for each of our Market Segments, unless there is a tie on scores.
While it is tempting to assign importance to Gold being better than Silver and Silver better than Bronze, the reality is that capturing any of these awards is no mean feat.
Every user is different, and many will find they prefer the Silver or Bronze choices to the Gold based on what they need to get from their CAM software and how intuitive they find each package to be. If you're evaluating CAM software, you owe it to your self to look at all of the winners to find the one package that makes the most sense for you.
Without further ado, here are the CNCCookbook 2016 CAM Software Customer Satisfaction Award Winners:
Gold Customer Satisfaction Awards
High-End CAM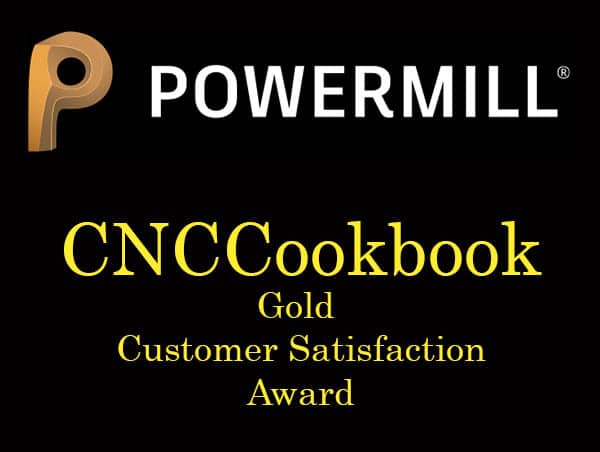 Top of the heap, best of the best: Powermill had the highest marks not only in the High-End CAM category, but out of all the packages rated. It's score was 1.88 out of a possible perfect 2.0. 100% percent of the respondents gave it the "It Rocks!" choice, and the only reason it didn't score a perfect 2.0 was that a tiny 13% of the respondents are looking at other CAM packages.
Bravo, Powermill!
Tier-Priced CAM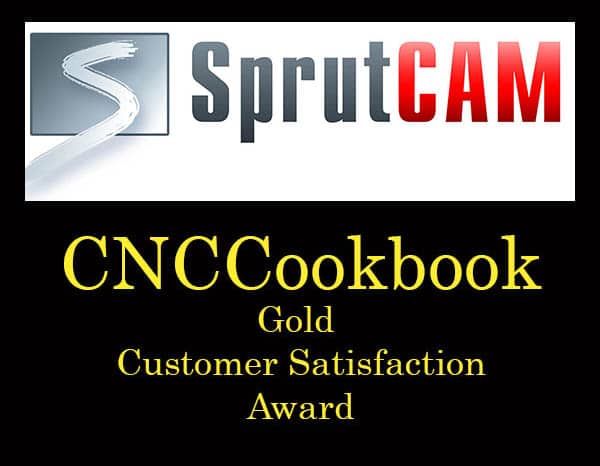 Among the tiered CAM packages, Sprutcam received our Gold Award for Customer Satisfaction this year. Respondents rated it 1.42 out of a possible 2.0 perfect score. 70% of respondents gave it the "It Rocks!" choice and only 12% of those respondents are considering other CAM packages.
Well done, Sprutcam!
Low Cost CAM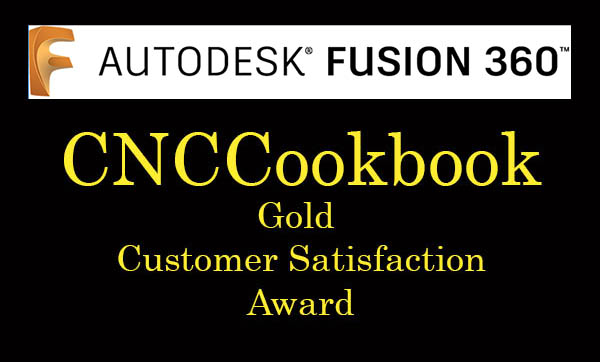 Autodesk's Fusion 360 has been taking the world by storm since it came out. It's much more than just a CAM package since it includes full-featured CAD and much more in one easily affordable package. If you've never used it, you've probably wondered whether it would live up to all the attention it's been getting.
Wonder no more:
Fusion 360's users absolutely love the product. It took our coveted Gold Customer Satisfaction Award handily with a score of 1.45 our of a possible 2.0. Only 17% of users are even considering an alternate CAM package, and that says a lot. Obviously Fusion 360 is going to continue to break the records if it can keep customers this happy going forward.
Silver Customer Satisfaction Awards
High-End CAM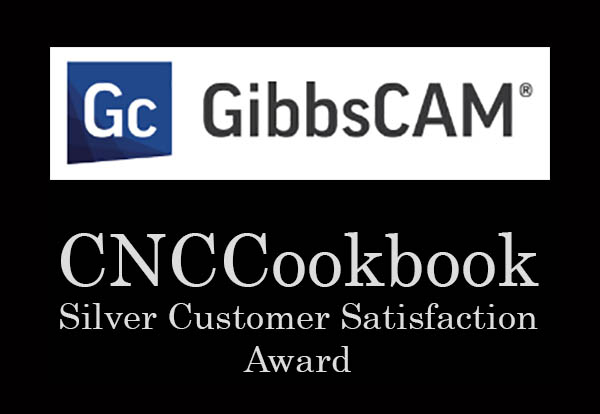 GibbsCAM has always been popular with its user base, so I'm not surprised they received a Customer Satisfaction Award. Gibbs received a score of 1.46 out of a possible 2.0 perfect score, which is very good indeed!
Tier-Priced CAM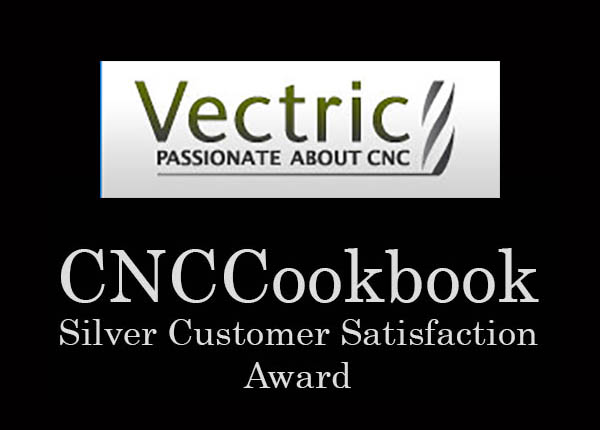 Vectric has an admirable array of CAM Software in their lineup and they've built a loyal customer following, especially among CNC Router users. In aggregate, their Customer Satisfaction Score was 1.33 out of a possible 2.0.
Great score!
Low Priced CAM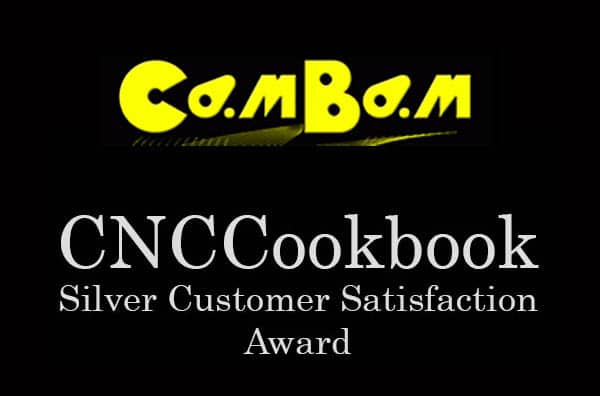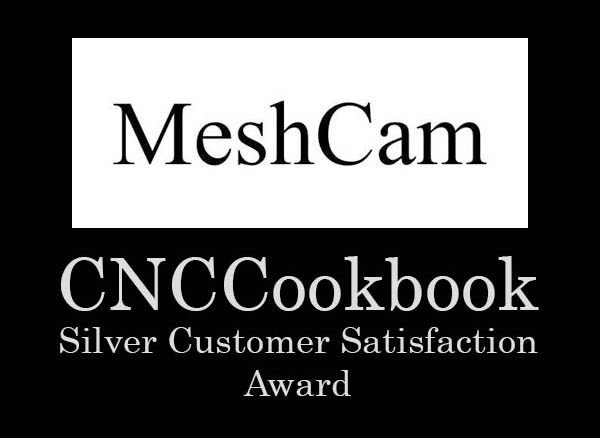 The Low Priced CAM category was a dead heat between MeshCAM and Cambam–a total dead heat with identical scores, so we are awarding both products the Silver Customer Satisfaction Award.
To try to put things in perspective, I have always viewed these two programs as wonderful starting points for new CNC'ers. Everyone starting out tends to think CAM is something quite different from the reality:
You load a CAD model, push a button, and out comes g-code ready to machine!
If only that were true!
But, MeshCam comes closer to that ideal than any other product I know. It can convert complex 3D designs to g-code with a minimum of effort. That's why we started selling it, here at CNCCookbook. It can literally catapult begins forward to making great parts in the shortest possible time without learning a more complex traditional package.
CamBam is also great at keeping things simple. I see it as more for the 2D crowd while MeshCam is 3D. Either package is far easier to learn that something like Fusion 360. But, they will both give up a bit on ultimate power compared to some other packages.
I'm a big believer in helping folks make parts as soon as possible without insisting they learn the world's most powerful CAM systems up front. Down the road, when you've happily made a bunch of great parts, you'll find those more powerful packages much easier to master. That's the right time to take them on for most folks.
Bronze Customer Satisfaction Awards
High-End CAM
Siemens NX: Bronze Customer Satisfaction Award
NX did quite well, scoring 1.38 out of a possible 2.0. It also got the lowest evaluation score (which is a good thing)–only 8% of users are actively considering other CAM packages. That's a wonderful testimonial when so few users think they can do better with another package.
Tier-Priced CAM
Visual Mill: Bronze Customer Satisfaction Award
Mecsoft has been in the CAM business for a long time constantly improving their software. In aggregate, users gave their packages a 1.2 out of a possible 2.0 perfect score. Good job, Mecsoft!
Low Priced CAM
We're not awarding any Bronze Awards in the Low Priced Category. While there were other packages, they did not achieve high enough Customer Satisfaction Scores. We felt that in order to receive an award, a package needed to score over 1.0. A score over 1.0 means the majority of users are rating it in the "It Rocks!" category and not too many are looking for a replacement.
Conclusion
We reported on CAM Software Market Share in our last installment, which tells you how large and active a community exists for a particular CAM product. Obviously, it also tells you how many others have chosen various packages. While one size definitely does not fit all CNC'ers, it's important information to have when building your own short list of which packages to have a look at.
In this installment, we covered Customer Satisfaction. That's another important dimension to consider when building your short list. Knowing what folks who use the package every day think of it can be really helpful when choosing which package will make you happy every day.
There's still a lot more information to be gleaned from further analysis of our survey results. Next up will be taking a look at the specific strengths and weaknesses of the various packages as their users see them. We asked everyone to tell us the 3 things they like the most and the 3 things they most dislike about every package.
Understanding strengths and weaknesses will be another valuable guide to your own selection process. For example, if you know specific functionality will be very important to you, yet the users rate that as a weakness of the package, that's a good signal the package may not be right for you.
Be sure to sign up for our weekly blog newsletter so you don't miss out on the next round of survey analysis that's coming soon. Just sign up right below!
Like what you read on CNCCookbook?
Join 100,000+ CNC'ers!  Get our latest blog posts delivered straight to your email inbox once a week for free. Plus, we'll give you access to some great CNC reference materials including:
Our Big List of over 200 CNC Tips and Techniques
Our Free GCode Programming Basics Course
And more!
Just enter your name and email address below:
100% Privacy: We will never Spam you!
Recently updated on May 23rd, 2023 at 04:10 pm
Bob is responsible for the development and implementation of the popular G-Wizard CNC Software.  Bob is also the founder of CNCCookbook, the largest CNC-related blog on the Internet.