I'm fascinated by the mill-turn machines. They combine the best elements of a lathe and a milling machine to turn out complex parts quickly that would be much less productive if done as multiple ops across different machines. Here's a great video of a Haas CNC lathe turning out such a part:
[youtube]http://www.youtube.com/watch?v=smGuas9ral8[/youtube]
The secret behind these machines is two-fold:
First, they have the ability to treat the spindle as another axis, called the C-Axis. This allows positioning the part with great position to any angle.
Second, they have live tooling. Instead of an ordinary lathe tool in a turret position, there's a miniature motorized spindle that can hold endmills, twist drills, saws, or whatever else is needed.
How does one convert a spindle into a C-Axis indexer?
One obvious answer, used in many machines, is to use a servo as the spindle motor. Think of it as the brute force approach.
Another approach is to use a secondary servo that may be engaged or disengaged. Here is such a setup on an Emco lathe: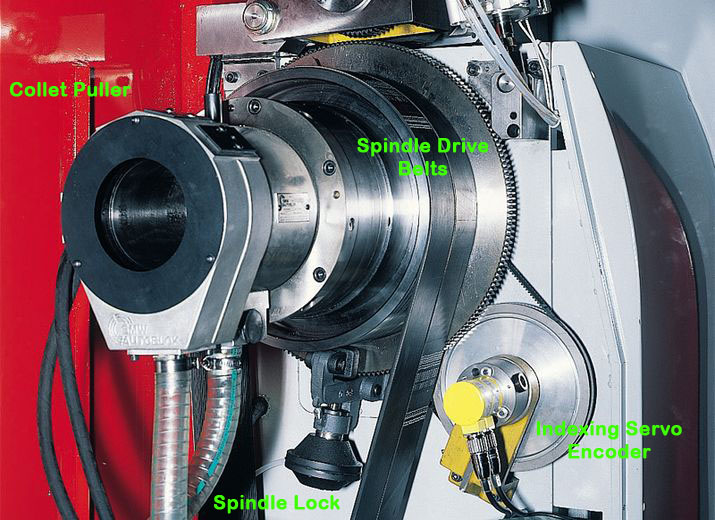 Lathe C-Axis Mechanicals…
We can see a number of interesting functions from the photo:
– There is a collet pulling mechanism to open or close the collet or chuck.
– There is a toothed gear and hydraulic spindle lock. Considerable side force can be applied during C-Axis operations and it is often important to be able to lock the axis while that happens.
– The spindle is driven by a couple of large multi-groove belts.
– There is an auxilliary spindle indexing servo. It's not visible in the photo, but it's encoder (or possibly a transmission to engage/disengage it) as well as the cog belt system it uses to drive the main spindle are there.
Construction is pretty straightforward. Here's another lathe with a sub-servo for the C-axis: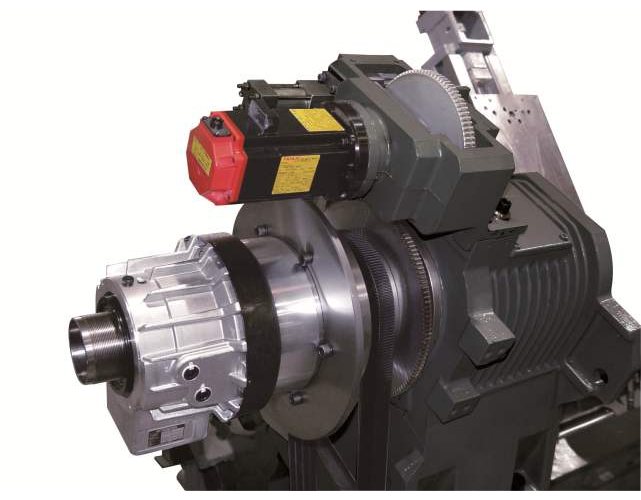 Lathe C-Axis uses a gear-driven sub-servo. Note the disc brake for locking the axis…
The gear-driven C-axis makes me wonder how the avoid backlash? Here's one more that is cog belt driven: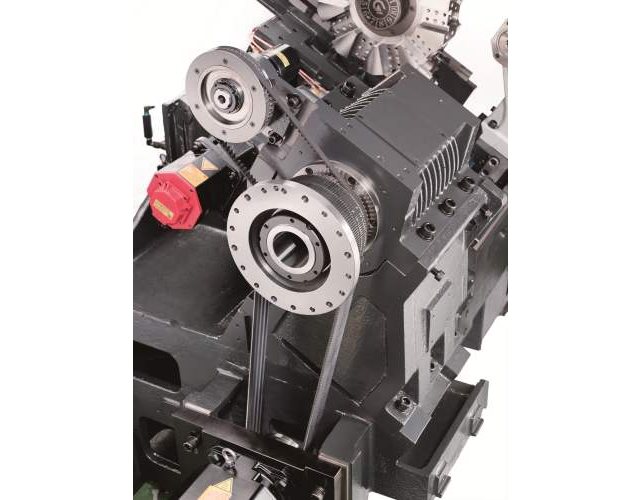 Some sort of clutching mechanism would be used to decouple the C-Axis position servo when the main spindle drive is in operation.
Live Tooling: When a toolholder becomes a milling spindle
Most live tools include a coupler that allows the turret to drive the live tool spindle: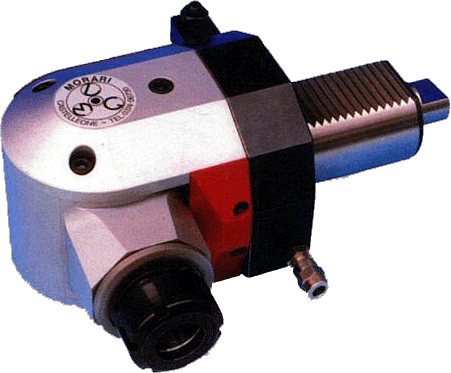 A Live Tool Angle Head: Power coupler is on the right, collet for tool on the left…
A simpler approach adaptable for lightweight work and gang tooling is to use an air-driven spindle: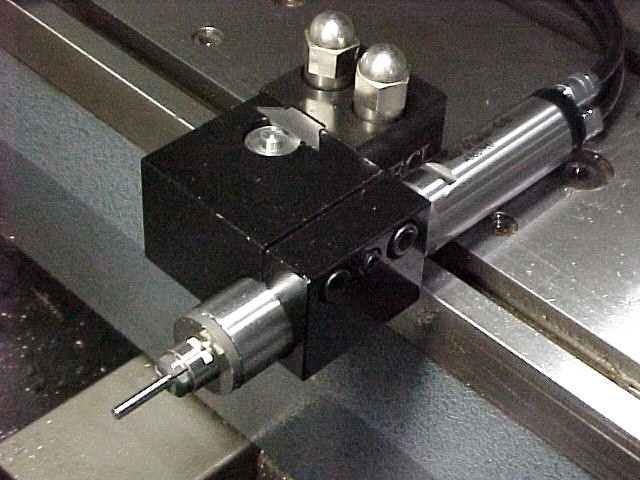 Air-driven spindle on a gang lathe…
Even a small router motor could be pressed into service as this gang-tooling rig on a mill shows:
[youtube]http://www.youtube.com/watch?v=1lldpvmDcb8[/youtube]
Like what you read on CNCCookbook?
Join 100,000+ CNC'ers!  Get our latest blog posts delivered straight to your email inbox once a week for free. Plus, we'll give you access to some great CNC reference materials including:
Our Big List of over 200 CNC Tips and Techniques
Our Free GCode Programming Basics Course
And more!
Just enter your name and email address below:
100% Privacy: We will never Spam you!
Recently updated on March 1st, 2023 at 03:45 pm
Bob is responsible for the development and implementation of the popular G-Wizard CNC Software.  Bob is also the founder of CNCCookbook, the largest CNC-related blog on the Internet.