Recently updated on March 1st, 2023 at 02:51 pm
One of the critical problems you must solve when 3D Printing is getting the print to stick to the printer bed. Failure to do so leads to warping and all sorts of other nasty problems. In the worst case the whole print comes lose in the middle of printing and is ruined.
People go to great lengths to avoid this problem, invoking glue sticks, hairspray, ABS + Acetone Slurries (the "Juice"), and who knows what all else. We've touched on this problem in a prior article to give you some idea of the different approaches. I am pleased to report that there is an easier way. I contacted the BuildTak people to ask for a sample of their material in a round size that fit my Rostock's round glass bed. I got the sample from them fairly quickly and proceeded to apply it to the bed. The process is simple, you peel off the backing paper and stick it on. Take a little care that it is well centered on the bed, and peel the backing paper off a little at a time. I used a credit card to help smooth out any bubbles as I was applying the BuildTak disk. The last step is to recalibrate the printer for bed height, as BuildTak will change that a bit.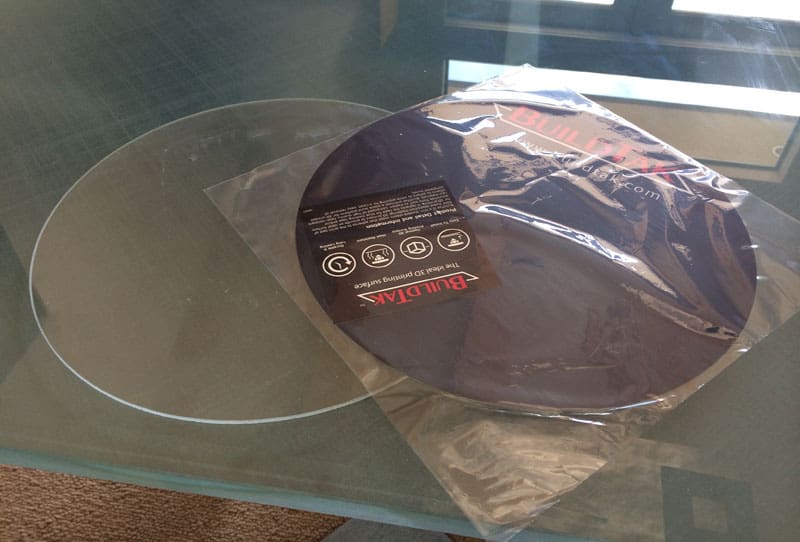 The BuildTak disk as it arrived in the mail…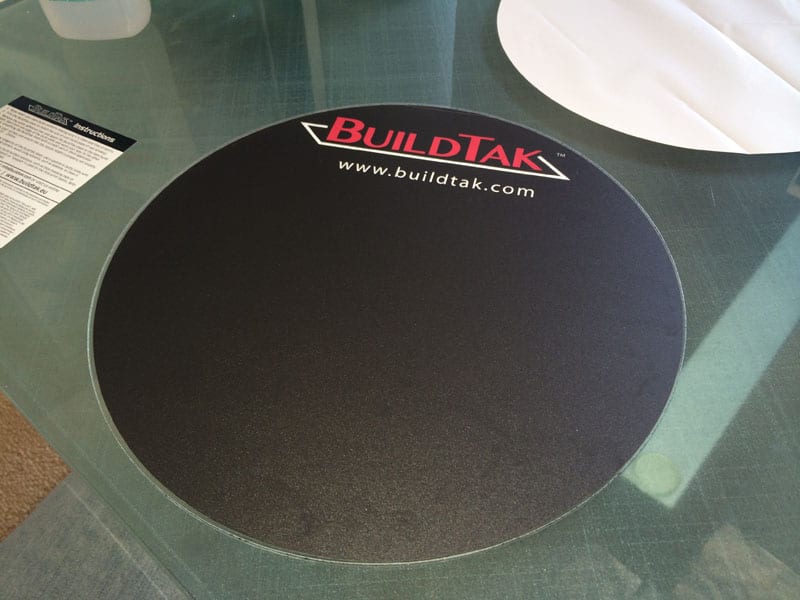 Install it on the glass by removing backing paper a little at a time. Use a credit card as a squeegee to get rid of air bubbles. Take care it is well centered before starting to glue it down.
Next it was time to try BuildTak. I found it worked great–no slippage whatsoever. In fact, it was almost too good–I was having a hard time getting my ABS prints to let go of the BuildTak. The solution to this problem proved easy–I just lowered my bed temperature slightly from 90C to 80C and things went a lot easier. The prints are still on there pretty solid, but let the bed cool a bit and you can pop them off cleanly.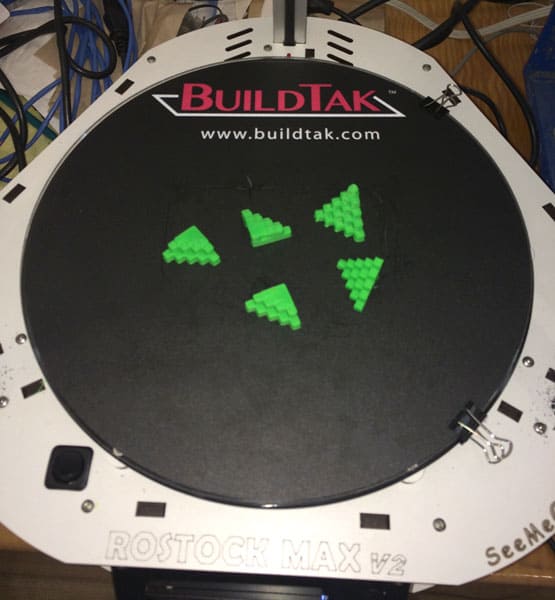 Here is the BuildTak equipped glass printing bed on the Rostock printer. Works great!
With BuildTak in place, rather than having to apply hairspray or some other adhesive, you just give it a quick wipe with rubbing alcohol between prints and go for the next print. It really does make printing a lot easier. The product is reasonably priced (about $21 for my Rostock's 12″ diameter glass bed) and the maker says one sheet is good for about 60 parts. I've only done about 10 as I write this, but the sheet still looks brand new. I'll report back if it fails any time soon.
Like what you read on CNCCookbook?
Join 100,000+ CNC'ers!  Get our latest blog posts delivered straight to your email inbox once a week for free. Plus, we'll give you access to some great CNC reference materials including:
Our Big List of over 200 CNC Tips and Techniques
Our Free GCode Programming Basics Course
And more!
Just enter your name and email address below:
100% Privacy: We will never Spam you!
Bob is responsible for the development and implementation of the popular G-Wizard CNC Software.  Bob is also the founder of CNCCookbook, the largest CNC-related blog on the Internet.