Get a quick injection of Feeds and Speeds knowledge just by watching these two short videos:
Part 1: Things You May Not Know About Feeds and Speeds
Including Chip Thinning, Ballnose Compensation, and Tool Deflection…
Part 2: Feeds and Speeds with G-Wizard
Full Demo of G-Wizard to calculate Feeds and Speeds for pocketing, profiling, and slotting…
Wait! You're Not Done:
There's a lot more to Feeds and Speeds than we can cover in a short course on basics. The more you know, the better you'll be able to use Feeds and Speeds.
Did you know that most consider it to be the hardest thing about learning CNC? Here are the results of our survey on what's hard to learn in CNC:
Let's remove that big learning speed bump right away with two steps.
#1 Get yourself a copy of G-Wizard Feeds and Speeds Calculator to use free for 30 days.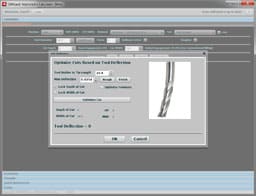 Get My G-Wizard Calculator Free for 30 days
#2 Check out some more articles on Feeds and Speeds in our Feeds and Speeds Cookbook. It's the biggest and most popular resource of its kind on the Internet, and it's 100% free to you:
Recently updated on February 15th, 2023 at 03:24 pm