One of things I try to do on this blog is pass along some entrepreneurial insights.  CNCCookbook is the fourth company I've started from scratch and the 7th startup I've been a part of.  I love being a small business owner and I want everyone who wants to do the same to get as much help as possible.
The Internet and cheap CNC have opened up opportunities to start niche manufacturing businesses that would've been a lot harder 10-15 years ago.  It's easier to market than every before, whether directly on the Internet as CNCCookbook does or using a 3rd party vehicle like Kickstarter to help get the word out.  In many ways, being able to do both is a powerful combination.  Use Kickstarter (and similar services) to launch each new product and then bring those new customers to your web site where they can access your other products.
I talk to a lot of entrepreneurs who want to start a business, but they're stuck trying to figure out a product.  My advice is to choose a product from some area you love.  I've done both kinds of companies–ones that built something I would never personally use and ones that build products I would love to use.  Both can be successful, but if I'm starting up a one-man band, I want to do something I love.  It just makes it easier to keep going strong, it gives you some important insights into the customer, it means you probably already know where you customers hang out on the Internet, and so on.
I recently ran across a great example of someone doing something they love.  Check out Mike Whitehead's Kickstarter project for CNC'd cast iron skillets: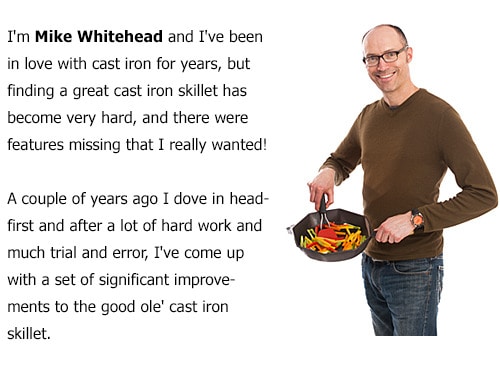 Mike likes to cook and he is a CNC'er…
It's an interesting project.  He dove in to reinvent a very mature product category:  cast iron skillets.  Who would think you could get a product in there edgewise, and how would you make yours stand out?  Here's where doing a product related to something you love really stood out.  Since he likes to cook, Whitehood came up with a collection of innovations that make his skillet significantly better: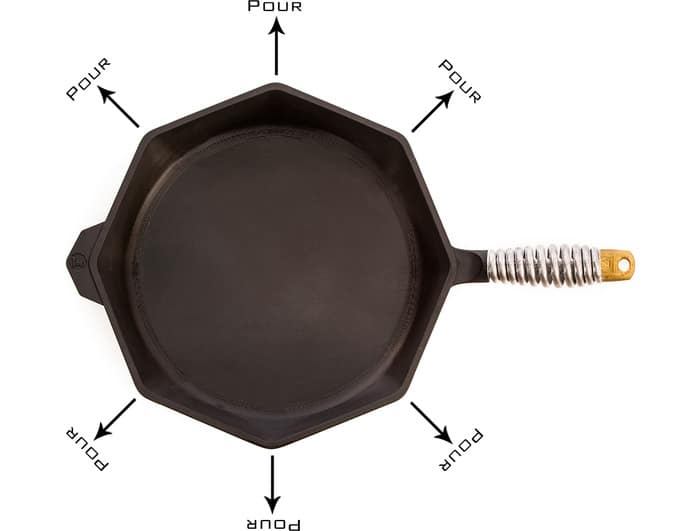 Innovation #1:  Pour Spouts!
Skillets are heavy and kind of unwieldy.  Yet, you often want to pour the contents into your serving dish or take them along to the next stage of cooking.  It's a mess.  The stuff goes over the side and onto the hot underside of the skillet.  With pour spouts, it just got a lot easier.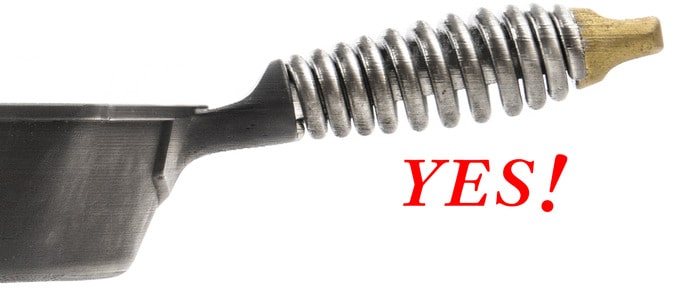 Innovation #2: New handle design means you get a better grip and you don't need to scramble for a pot holder…
I like this innovation the best–it just makes sense to anyone who uses a skillet very much.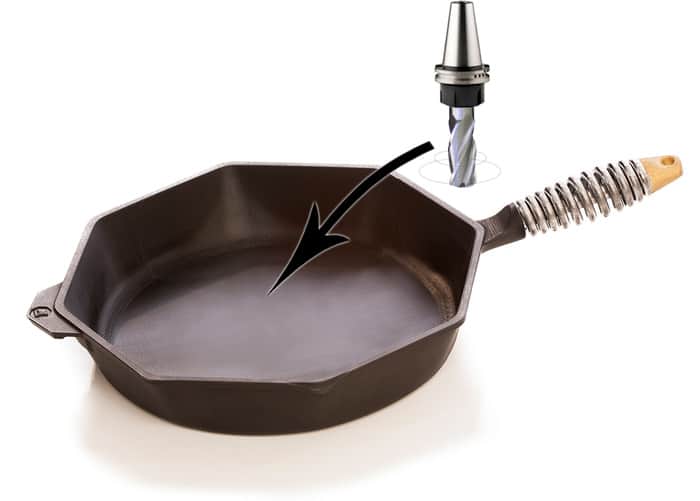 Innovation #3:  Smooth finish via CNC…
The CNC comes into play for the smooth finish.  Cast iron skillets are generally made via sand casting.  The process works, but leaves a rough bottom that's hard to clean.  Sure, you can go for a Teflon frying pan, but a lot of folks don't want that stuff in their food.  This gives you the best of both worlds–easier cleanup and the Old World cast iron cooking experience.
Whitehead's Kickstarter has been a runaway success.  Who would of thought you could re-invent the frying pan?  Well, anyone who loves to cook sees it immediately.  I'm in that category, BTW, and have been a guest chef at one of our local restaurants several times.
I've seen a lot of products in a lot of categories.  There's always a market for an even better version of what's already out there, and often CNC is the answer to making it better.  What do you love to do, and what product has the market missed for the tribe that loves doing the same thing?
Like what you read on CNCCookbook?
Join 100,000+ CNC'ers!  Get our latest blog posts delivered straight to your email inbox once a week for free. Plus, we'll give you access to some great CNC reference materials including:
Our Big List of over 200 CNC Tips and Techniques
Our Free GCode Programming Basics Course
And more!
Just enter your name and email address below:
100% Privacy: We will never Spam you!
Bob is responsible for the development and implementation of the popular G-Wizard CNC Software.  Bob is also the founder of CNCCookbook, the largest CNC-related blog on the Internet.