I've been using my Tormach Lathe a bit more lately and got tired of tripping over the crated tool turret, so I decided it was time to get it installed on the machine. In Part 1, we're just rigging it into the position. The turret is substantial and you wouldn't want to do this without a hoist: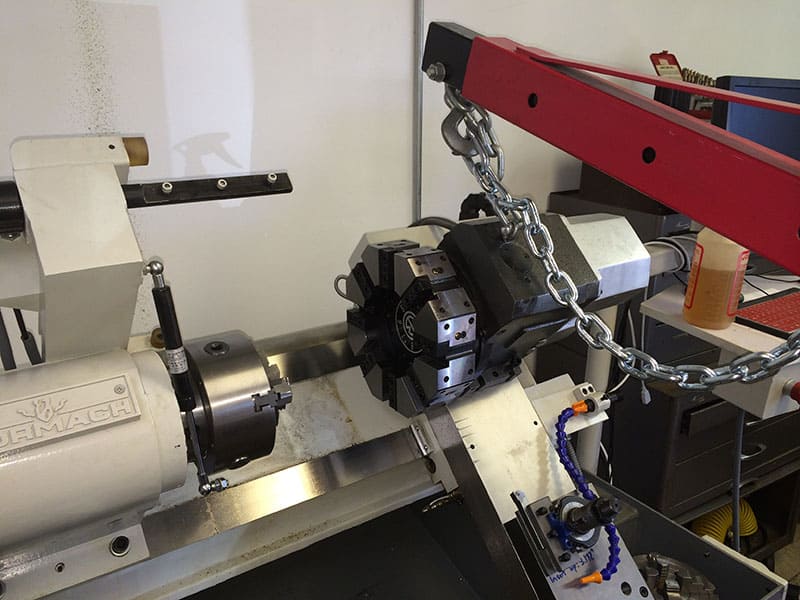 An engine hoist works great to rig it onto the slide. Chuck guard was removed for this task.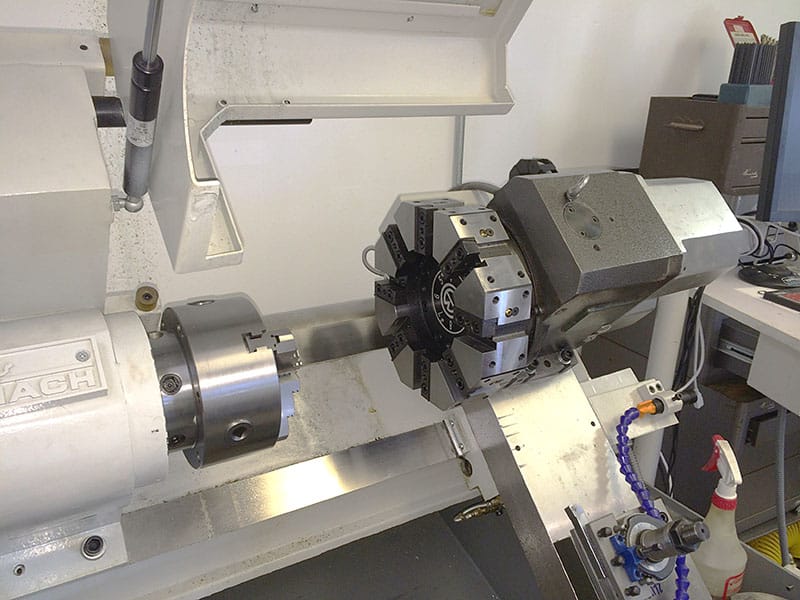 And here it is in position with the chuck guard reinstalled…
An engine hoist works great to rig it onto the slide. It's held in place by 6 M8 x 50 socket head cap screws on hardened washers. Before hoisting it up, we installed two of the front bolts so we could slide it down onto them. Getting the rest into position was easy after that. In the view above we went to travel limits to get it close and out from under the chuck guard so we could position it. In practice, you can see from the alignment of the turret to the chuck it will never be operated this low as all the tooling is way past the centerline.
You can also see the clearance between the turret and my QCTP. I'll be moving the QCTP a little further South just to open that up. It isn't that the extra room will be needed so much as I just like things to be a little more spacious so I'm less likely to inadvertently bump anything. Once the turret is operational, I will be installing a 2/3's gang plate that provides a T-slotted gang plate for the slide area below the turret. I'll make a new QCTP pedestal to go onto that gang plate. At that point my tooling options will be wide open–turret, QCTP, or gang tooling can all be run. I doubt I'll ever remove to turret to enable a full-length gang slide, but even the 2/3's provides ample room for gang tool blocks.
To finish the turret installation I need to connect up the wiring, indicate the turret in so the face is parallel with slide travel and tools wind up in a repeatable position, and then set up some tools in it. More pix to follow as I get those tasks done.
One thing I should mention is that Tormach had said the turret would only be available to those who purchase an enclosure. The reason I have a turret without the enclosure is that I was one of the Tormach Beta Testers. I don't know if they're sticking to that policy or not, but I will say the turret is nicely set up for coolant as is the rest of the machine. When coolant hits a spinning chuck it goes everywhere. Even if you're trying to run without much coolant it still slings junk off the chuck. You can see a band of dark droplets on the wall behind this lathe. I'm eager to see the new lathe enclosure as I think it's a good idea for any Tormach Lathe to have one.
And incidentally, I believe every Beta Tester wound up buying a turret. I was the holdout, but when I actually got the chance to see them in action, I ponied up too. These are really nice turrets with 8 tool slots. You could say they're over-engineered for the machine, meaning you don't see a turret this nice on a machine this size very often. The other Beta Testers really like using theirs and have said they're solid and repeatable. By comparison, Haas offers a little 4 station turret for the TL-1 that they say is not compatible with a QCTP. By having this very long slide, Tormach created a situation where not only can they mount a bigger turret, but 2/3's of the slide is still available for gang tooling and/or QCTP. I couldn't help but wonder as I was installing this beast what it would take to fit one to a TL-1. I'm sure the hard part would be interfacing it to the controller properly.
Like what you read on CNCCookbook?
Join 100,000+ CNC'ers!  Get our latest blog posts delivered straight to your email inbox once a week for free. Plus, we'll give you access to some great CNC reference materials including:
Our Big List of over 200 CNC Tips and Techniques
Our Free GCode Programming Basics Course
And more!
Just enter your name and email address below:
100% Privacy: We will never Spam you!
Bob is responsible for the development and implementation of the popular G-Wizard CNC Software.  Bob is also the founder of CNCCookbook, the largest CNC-related blog on the Internet.